Let us help you explore the great state of SA, and its capital Adelaide with our South Australia Travel Guide. Located on the South Coast of Australia and has borders with ALL of the mainland states (Victoria and New South Wales to the South East, Queensland in the North East, Northern Territory in the North and Western Australia in the West). It's got beaches, national parks, a UNESCO world heritage site, native wildlife, regional towns, mountain ranges and so much more.
You could spend years exploring and never leave the state! But if you are short on time, our guide will hopefully narrow down your own highlights of the state to include on your visit.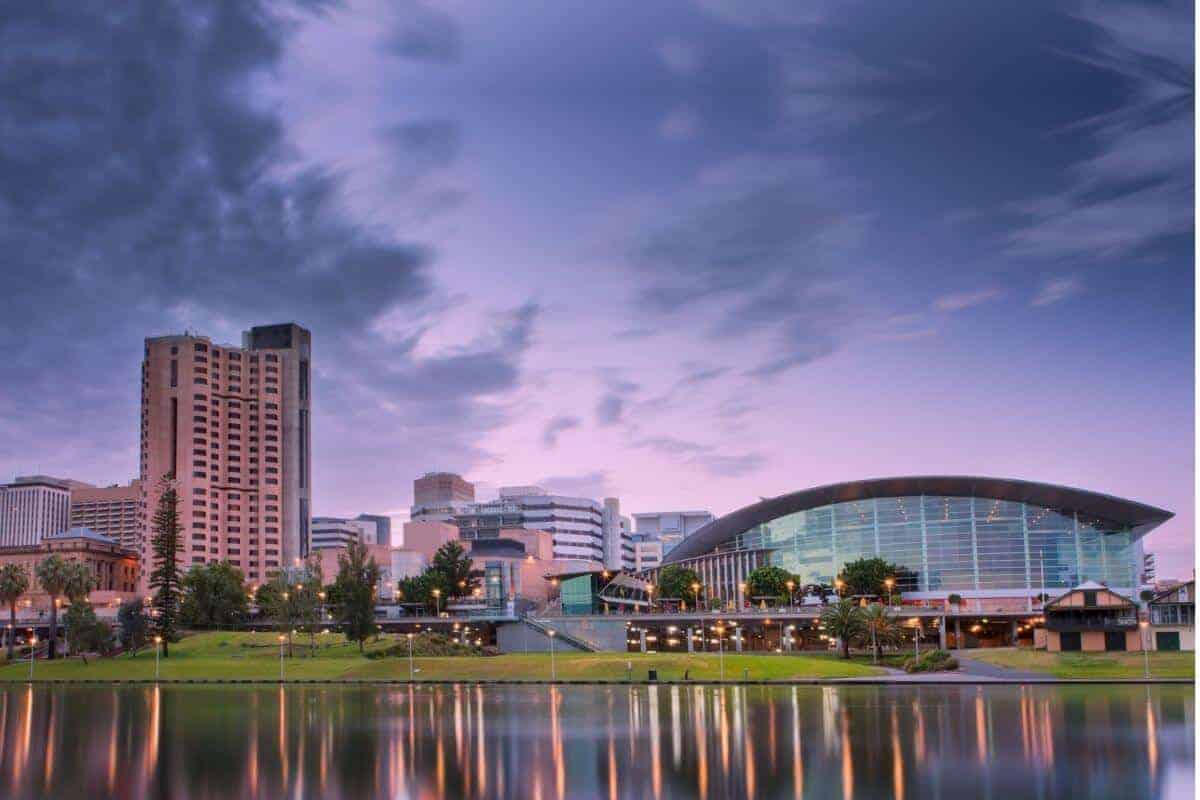 Disclaimer: Almost all posts on this site contain affiliate links, and this South Australia Travel Guide is no different. This means that if you click on any of the links in this post (and make a purchase) I may receive a small commission at absolutely no cost to you. Each post is carefully crafted to (hopefully!) answer all your questions and recommendations are made where we believe they will improve your trip and help with your planning. As such we thank you in advance should you decide to click & buy. Read my full disclosure here.
Fun Facts About South Australia (SA)
SA has a population of 1.76 million people (in 2020)
Adelaide – the capital of SA has a population of 1.34 million people in 2020
The SA Coastline is 5,067km long (combining the mainland (3,816km) & Islands (1251km))
Some of SA's most popular attractions include Flinders Chase National Park, Ikara-Ranges National Park, Kangaroo Island, The Murray Basin, Coober Pedy and The Barossa Valley Wine Region.
The SA border (with Victoria, New South Wales South Australia, Western Australia and Queensland) is 3,185km.
South Australia has 1 UNESCO World Heritage site: the Australian Fossil Mammal Site at Naracoorte.
Getting To & Around SA
Arriving via Air into SA:

Adelaide International Airport; plus
There are several smaller domestic terminals located around the state.

Arriving into SA via Interstate Train or Interstate Bus:

You can take interstate trains to Melbourne, Alice Springs, Darwin or Perth. The most famous of these being the luxurious Ghan and the Indian Pacific.
There are 2 Interstate Bus Companies – Greyhound (offers national routes), Firefly (Routes between Adelaide, Sydney and Melbourne)

In Adelaide: Walking, Trains, Bus, Tram and Taxis/Uber.
Around the State: Trains, Regional Coaches & Buses, Driving
Major Festivals, Events & Holidays in South Australia
Santos Festival Of Cycling (Adelaide – 19-24 Jan 2021)
Crush Festival (Adelaide Hills – 22-24 Jan 2021)
Australia Day: 26th January 2021 (Public Holiday)
Adelaide Fringe (Adelaide – 19 Feb – 21 March 2021)
Adelaide Festival (Adelaide – 26 Feb – 14 March 2021)
WOMADelaide (Adelaide – 5-10 March 2021)
Adelaide Cup Day: 8 March 2021 (Public Holiday)
Barossa Vintage Festival (Barossa – 14-18 April 2021)
Easter: 2nd – 5th April (Good Friday, Saturday, Easter Sunday, Easter Monday)
Anzac Day: 25th April 2021 (Public Holiday) – observed on 26th April 2021
Queen's Birthday: 14th June 2021 (Public Holiday)
Labour Day: 4th October 2021 (Public Holiday)
Christmas & Boxing Day: 25th & 26th December 2021 (Public Holiday)
Proclamation Day: 28th December 2021 (Public Holiday)
New Year's Eve: 31st December 20201 (Public Holiday)
RELATED – For more detail take a look at our detailed guide to all the Festivals in South Australia
SA School Holiday Periods
We list these because as with any country, school holidays generally mean that prices increase, and crowds can be larger. They may be unavoidable depending on your own vacation or family situation, but it is good to keep them in mind when planning your trip and being aware of the effect it may have on your stay.
2021
Summer: 21 December 2020 – 26 January 2021
Autumn: 10 April – 26 April 2021
Winter: 3 July – 18 July 2021
Spring: 25 September – 10 October 2021
2022
Summer: 11 Dec 2021 – 30 January 2022
Regions in South Australia (with Highlights & Things to do in Each)
Adelaide (+ Adelaide Hills)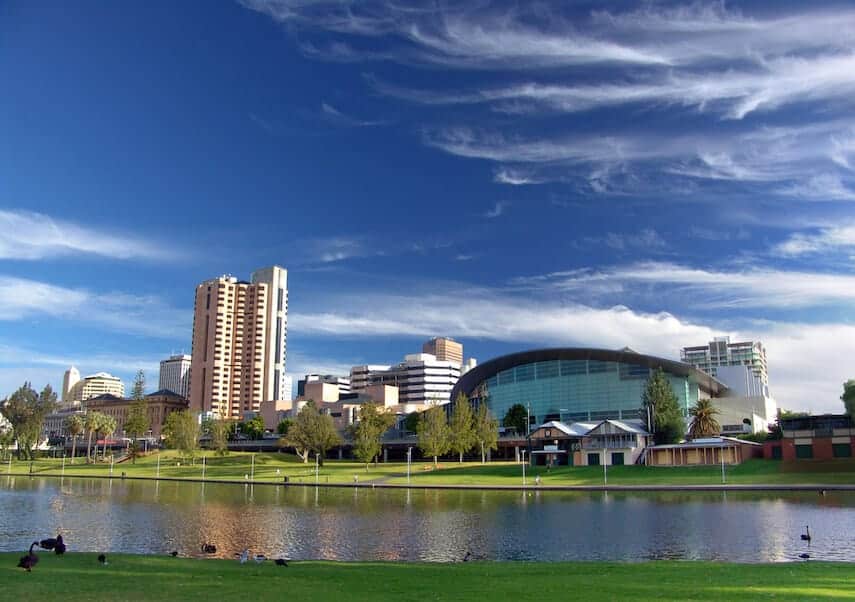 The capital of SA, Adelaide is bursting with life in the form of culture, food, festivals, events and entertainment with world-famous wine regions and stunning beaches within a 30-minute drive of the CBD (central business district).
Adelaide Highlights
Shop 'til you drop at Adelaide Central Markets
Take a 20-minute drive into the Adelaide Hills for world-class wine and incredible local food producers.
Hop on a tram and head down to the beach to soak up Adelaide's sand and surf (and try and be at Glenelg for sunset – you won't be disappointed!)
Watch a game at the Adelaide Oval – or climb to the top of it! (My vote would be for a cricket match, but if it's not the season, an AFL game will do!)
Barossa Valley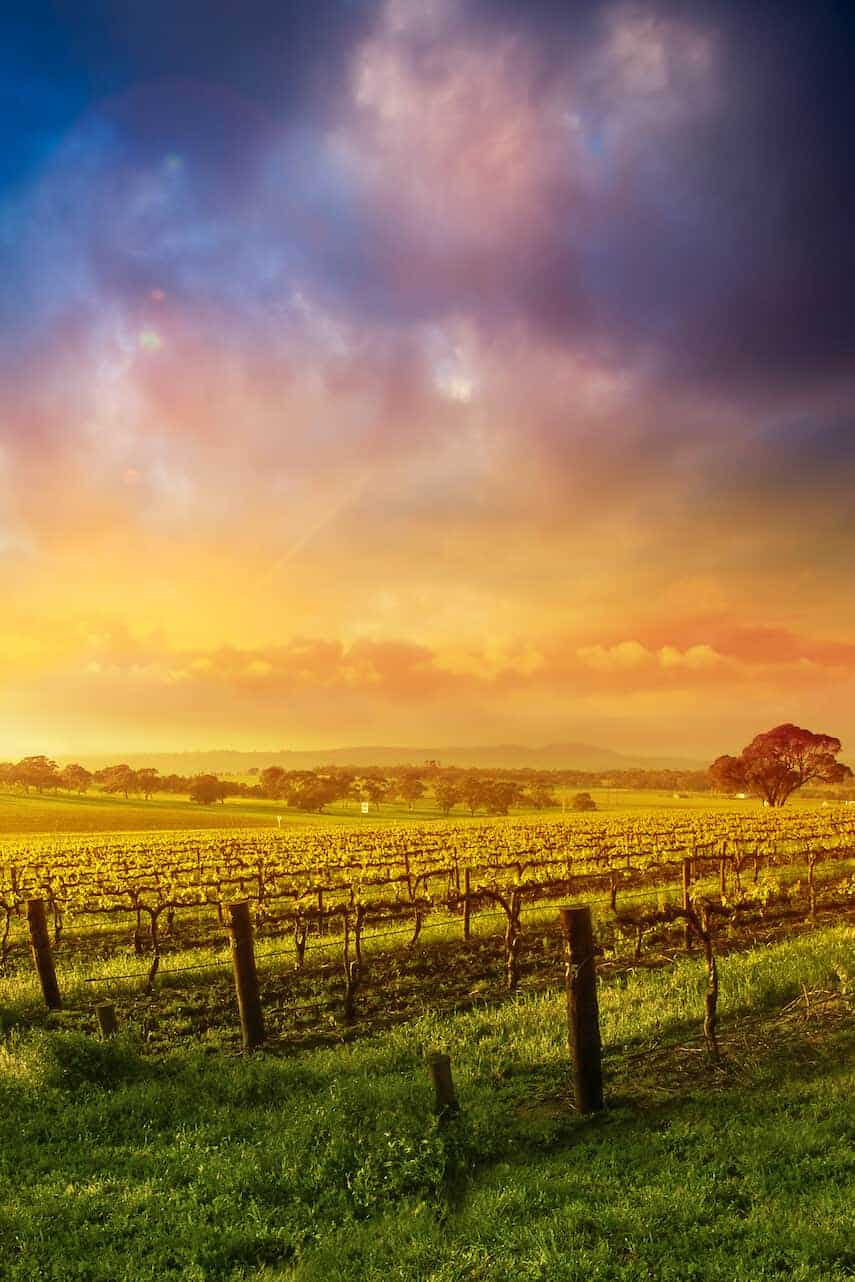 The towns of Tanunda, Angaston and Nuriootpa sit within the internationally acclaimed wine region of the Barossa Valley, which is under a 60-minute drive from Adelaide CBD. With 80 cellar doors throughout the region, you are going to want to stay a few days so that you can swap designated driver duties with fellow travellers so nobody had to miss out on tastings!
Barossa Valley Highlights
Drink wine as old as you are at one of the Barossa's most iconic vineyard's, Seppeltsfield, established in 1851.
Take a walking tour of the Barossa Farmers Market
Get a unique view of the Barossa as you glide over it in a hot air balloon.
Clare Valley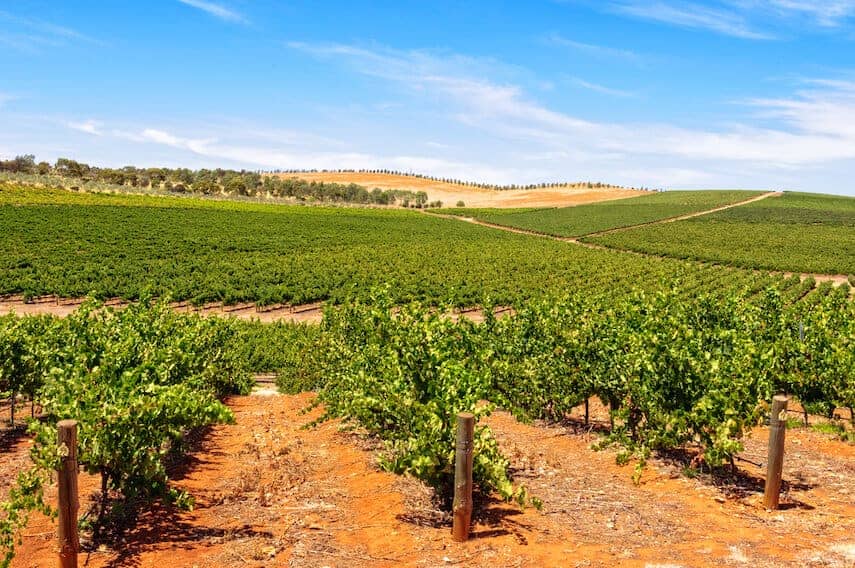 If you haven't got your wine fill in the Barossa, or are just looking for something a little off the usual tourist trail, the Clare Valley is at your service. And with 50 cellar doors in a 40km area between Auburn & Clare, you'll be spoilt for choice.
Clare Valley Highlights
Grab a picnic and head to Inchiquin Lake – Clare's main water storage facility complete with recreation area, walking trails, play equipment and fishing.
Explore the Clare Valley by bicycle or on The Reisling Trail, the 25km rail-trail along the old Riverton to Spalding railway line.
Explore the red earth gorges of the Red Banks Conservation Park – one of the richest mega fauna sites in Australia.
Eyre Peninsula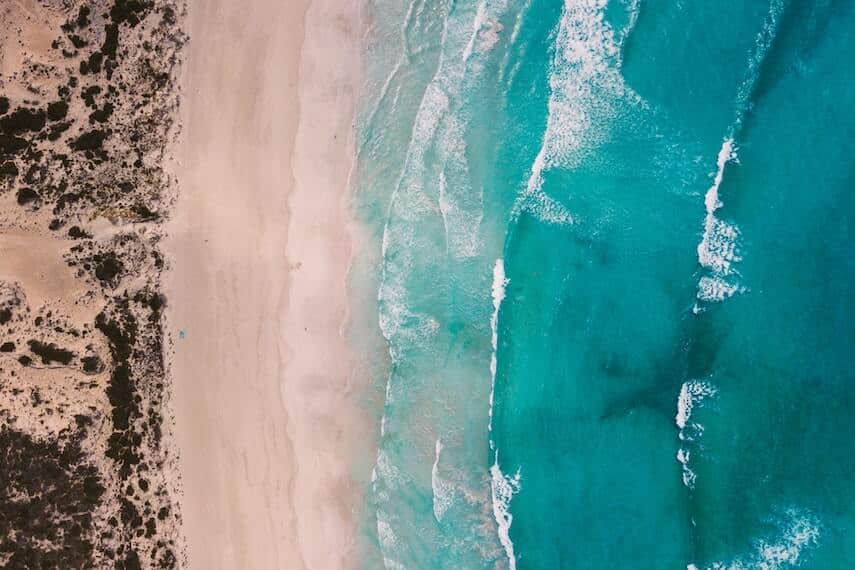 Another South Australian region that is famous for its incredible food and wine – the Eyre Peninsula also boasts access to some incredible marine life. Hop in the water with great whites (in a cage, of course), swim with sea lions or watch the whales at Port Lincoln before enjoying the Eyre Peninsula's legendary Coffin Bay oysters and freshly-caught seafood at the local fishmongers.
Eyre Peninsula Highlights
The limestone stack of the Cummings Monument rivals those of the 12 Apostles on the Great Ocean Road – be sure to drive down the coast to see it. And if you're lucky, you'll catch some of the big wave surfers enjoying the powerful waves at this relatively isolated spot.
Cage dive with Great White Sharks; or Swim with dolphins, sea lions or giant cuttlefish
Taste freshly shucked oysters from Coffin Bay
Experience the red earth and spectacular granite peaks of the Gawler Ranges National Park, relax on pure-white shores in Coffin Bay National Park or camp in the picturesque Lincoln National Park.
Fleurieu Peninsula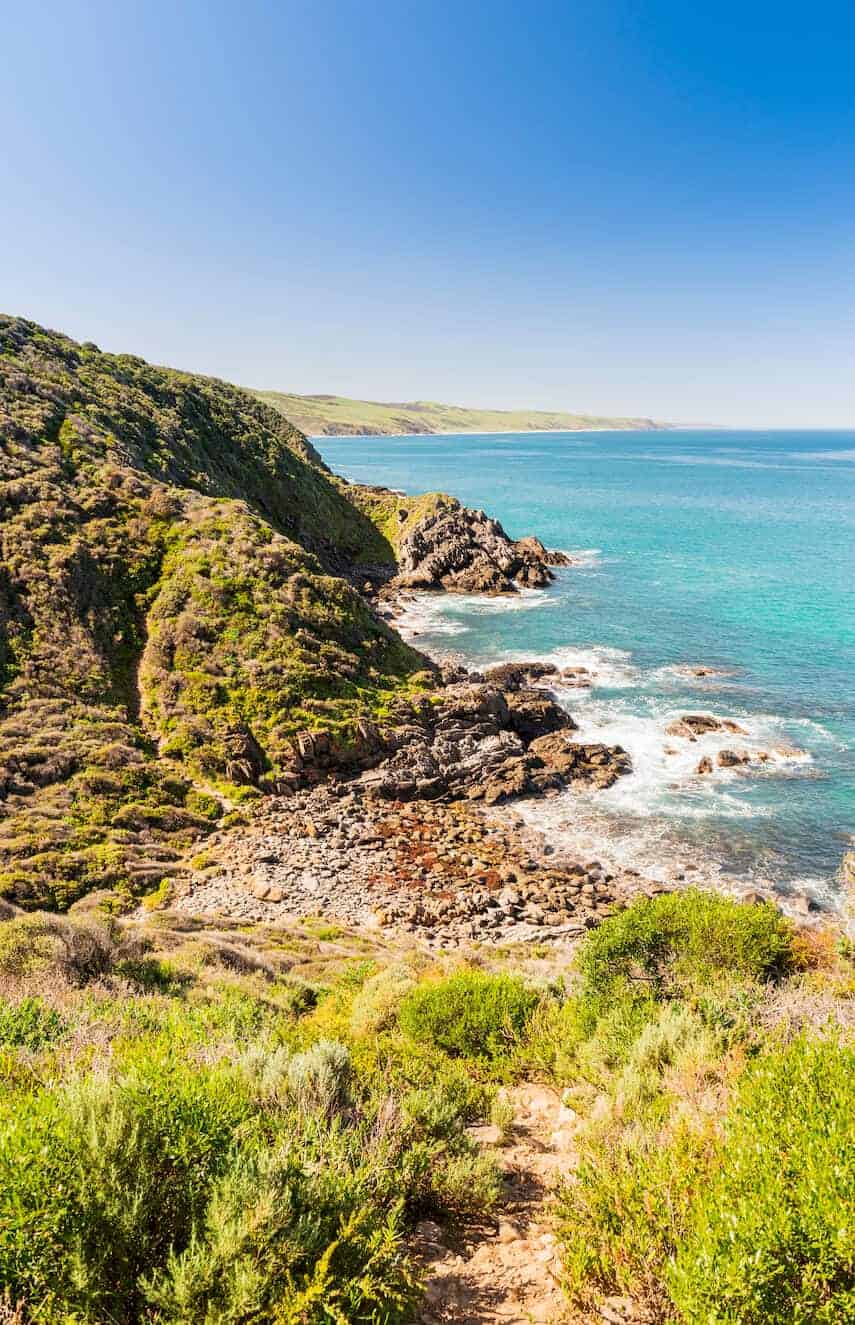 Just 40 minutes south of Adelaide CBD, visitors are offered incredible coastal views and even more incredible wine in the McLaren Vale region of South Australia.
Fleurieu Peninsula Highlights
Sip wine in a Rubik's Cube at d'Arenberg Cube – one of the most unique and iconic cellar doors in Australia.
Hop in a helicopter for an aerial adventure above the impressive coastline.
Flinders Ranges & The Outback

If you're looking for other-worldly landscapes, the South Australian Outback and Flinders Ranges do not disappoint. A Mars-like appearance gives way to Wilpena Pound – a massive natural amphitheatre carved out of the rockface over millions of years of erosion and leads onto the underground town of Coober Pedy.
Flinders Ranges & The South Australia Outback Highlights
Don't forget to look up – the remoteness of the region lends itself to some of the best clear night skies you'll see anywhere in the country.
See what it's like to live underground in the iconic town of Coober Pedy.
Immerse yourself in Indigenous history as you drive along the Aboriginal Dreaming Trail
Kangaroo Island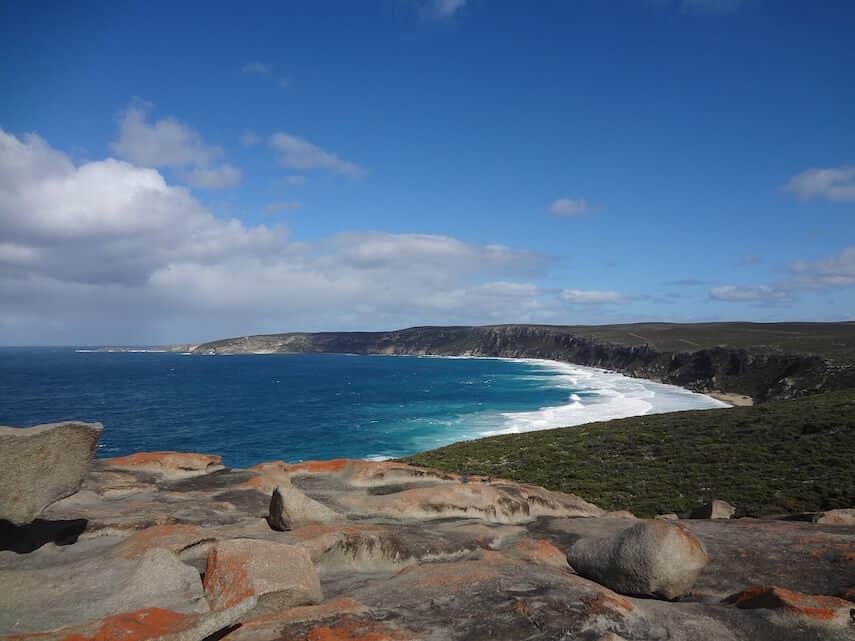 With its raw and rugged coastline, impeccably clear waters, natural wonders and wildlife, Kangaroo Island is one of the most incredible islands in Australia. Add in incredible local food and wine, and a laid-back lifestyle, if you're looking for a place to escape the busy cities, Kangaroo Island is the spot for you.
Kangaroo Island Highlights
Stand in the shadow of the naturally sculpted Remarkable Rocks
Take a picture of the view under the Admirals Arch
Beach hop from Emu Bay to Vivonne Bay, Stokes Bay and beyond.
Wander through the Little Sahara Desert
Limestone Coast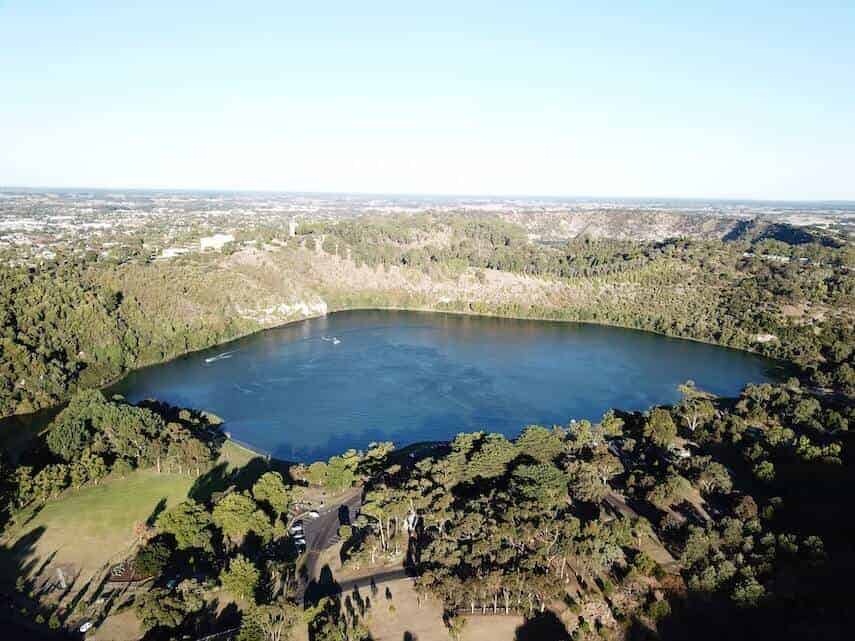 Wine and natural wonders are the order of the day on the Limestone Coast. (I guess by now you're understanding why South Australia is known as the 'wine state' – there's so much of the glorious liquid created here!) The Limestone Coast has the stunning Mount Gambier, and at it's centre the unique Blue Lake (above); along with two cenotes (sinkholes) that make for epic swimming spots!
Limestone Coast Highlights
Check out the Big Lobster in Rosetown (it's one of the Best BIG Things in Australia)
Scuba in the Skilby Sinkhole or take a 'little dip' in Little Dip Conservation Park
See the Blue Lake & The Little Blue Lake
The Murray River & Riverland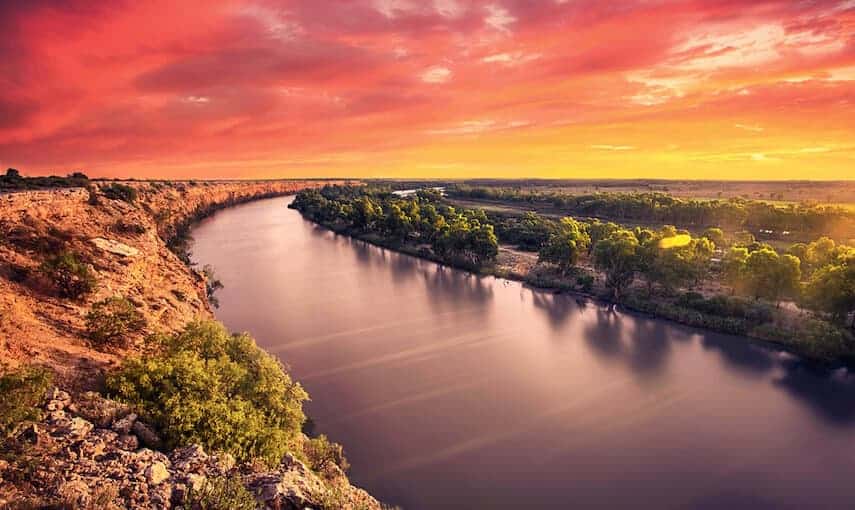 The Murray River is over 130 million years old, and running from the Snowy Mountains in NSW down to Coorong in South Australia, flowing with it rich aboriginal culture and heritage. Stay in a houseboat or relax on the banks, before getting your Rev-Head on at Bend Motorsport Park.
Murray River, Lakes & Coorong Highlights
Watch the sun set over the 'Big Bend' (above)
Camp at Coorong National Park
Ride a paddle steamer and stay overnight in a Houseboat for the ultimate Murray River experience.
Yorke Peninsula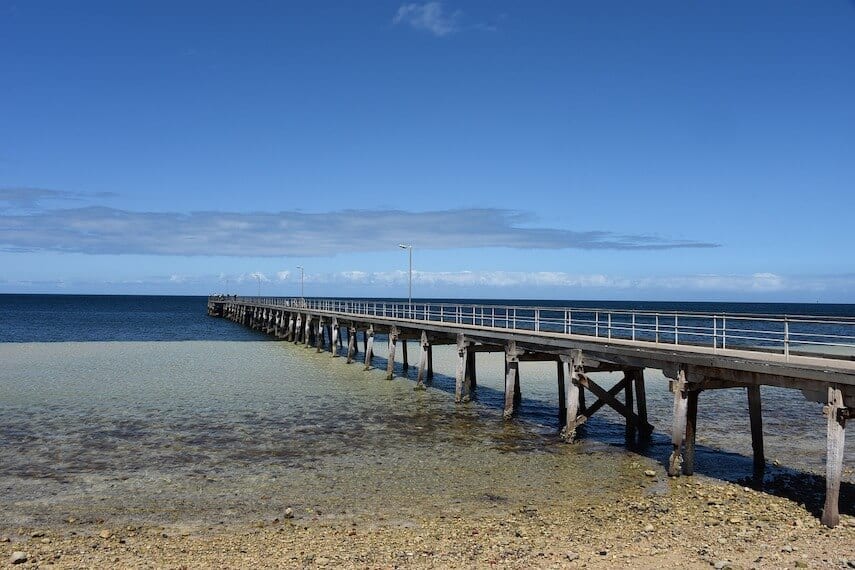 700 miles of pristine coastline are waiting for you along the Yorke Peninsula – perfect for fishing, boating, surfing, swimming, and camping – with a little bushwalking thrown in for good measure. Combine sandy white beaches with local breweries, The Sole Walk at Hiillocks Drive with a swim in the Edithburgh Tidal Pool or drop a line at the Port Hughes Jetty (above).
Yorke Peninsula Highlights
Get your walking shoes on to Walk The Yorke – a 500km trail along the coastline of the peninsula.
Explore the stunningly beautiful Dhilba Guuranda-Innes National Park
Stay in the lighthouse keepers cottage on Troubridge Island – where there will probably just be you, 1000 penguins and up to 30,000 shore birds (and up to 9 other people – only 10 people can stay in the cottage on the island at any one time!)
All Our Posts About South Australia