If you're looking for a slice of Australiana in the form of some inspiring quotes and sayings, then you are definitely in the right place. This collection of 50+ quotes about Australia has quotes about travel in Australia, life in Oz, the landscape of Australia, our deadly Aussie animals, what famous people think of the land down under and includes some words and Australian proverbs from our indigenous people and First Nations people. (aboriginal Australians is a term you may have seen or heard before, as 'Aboriginal' in Latin means 'from the beginning', and was initially used because there is no First Nations word that refers to all First Nations people in Australia).
So whether you are planning a trip to Oz – or just want to get in the mood for an Australia day style celebration – these Aussie quotes are sure to get you in the mood!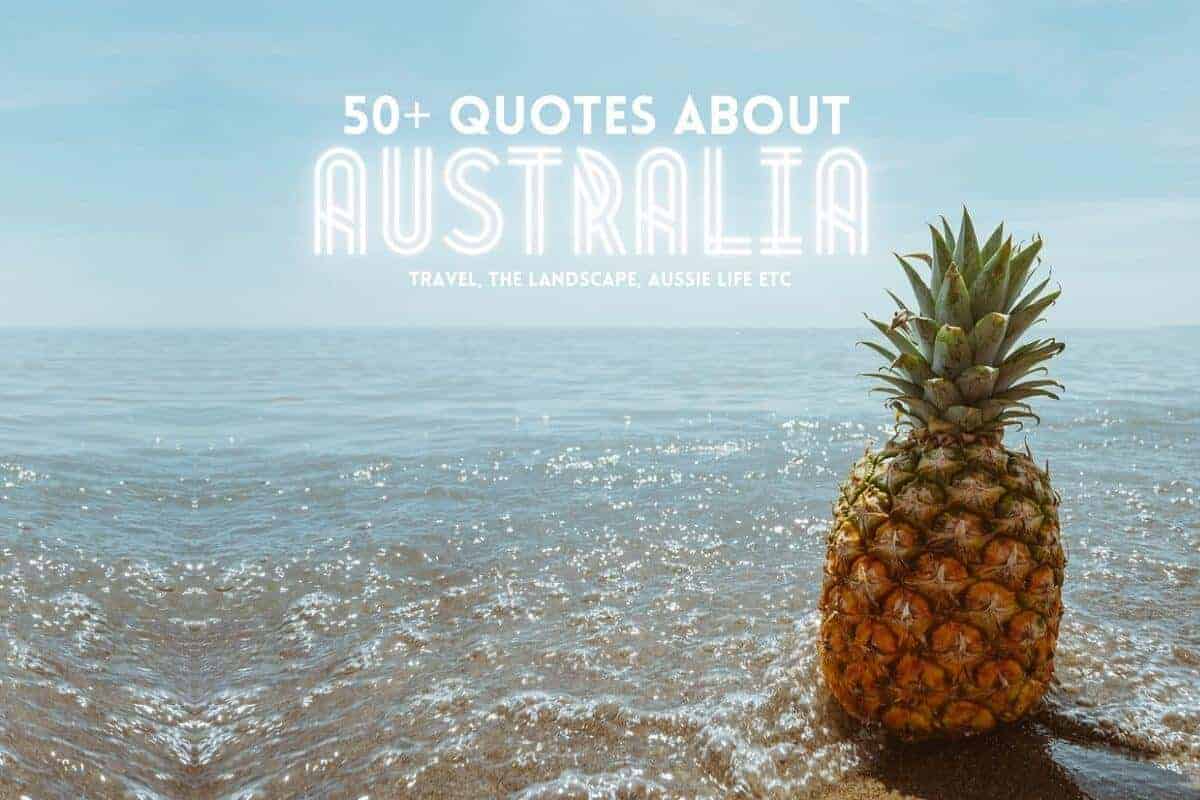 Disclaimer: Almost all posts on this site contain affiliate links, and this one with 50+ Quotes About Australia to Fuel Your Wanderlust is no different. This means that if you click on any of the links in this post (and make a purchase) I may receive a small commission at absolutely no cost to you. Each post is carefully crafted to (hopefully!) answer all your questions and recommendations are made where we believe they will improve your trip and help with your planning. As such we thank you in advance should you decide to click & buy. Read my full disclosure here.
Travel Quotes About Australia
1. "Being lost in Australia gives you a lovely sense of security." – Bruce Chatwin, The Songlines
2. "We are all visitors to this time. This place we are just passing through. Our purpose here is to Observe. To Learn. To Grow. To Love. And then we return home" – Australian Aboriginal Proverb (such wise words from our indigenous Australians, we can learn so much from aboriginal culture.)
3. "I am not the same having seen the moon shine on the other side of the world" – Mary Ann Radmacher
4. "Don't worry about the world ending today. It's already tomorrow in Australia" – Charles M Schulz (one of the great motivational quotes to remind us tomorrow is only a day away)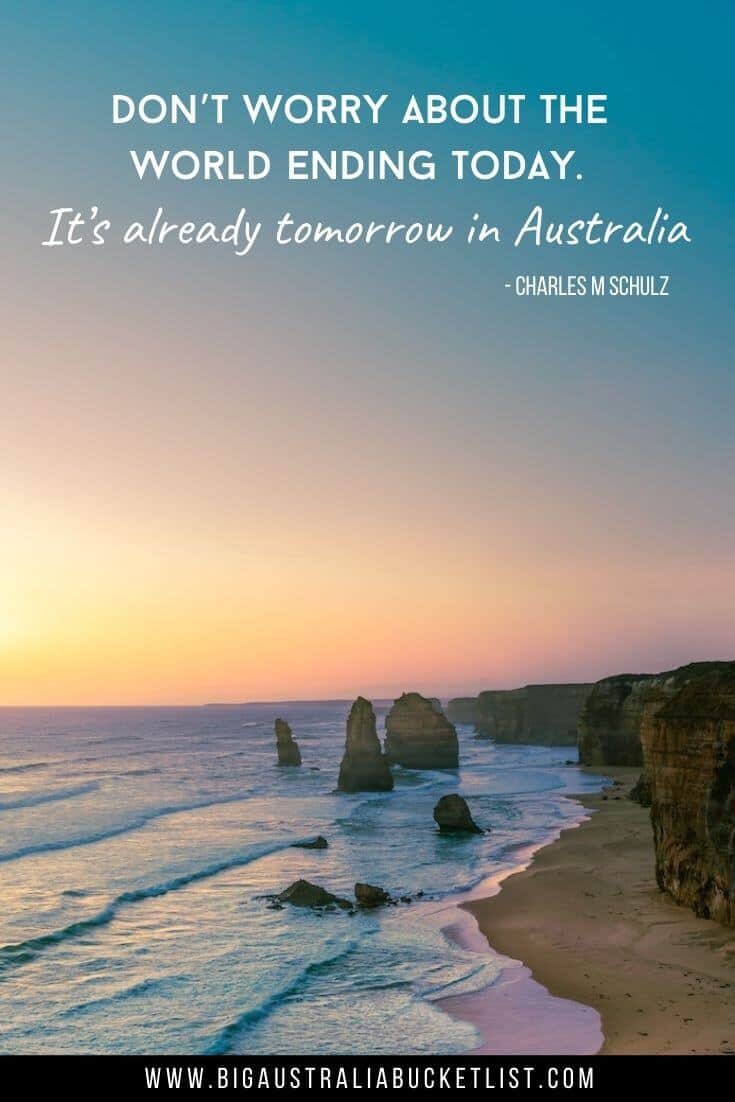 5. "I love a sunburnt country,
A land of sweeping plains,
Of ragged mountain ranges,
Of droughts and flooding rains.
I love her far horizons,
I love her jewel-sea,
Her beauty and her terror –
The wide brown land for me!" – Dorothea Mackellar
(an inspiring quote – or rather poem – I fully agree with. It's the wide brown land for me too)
6. "Australia is about as far away as you can get. I like that." – Andre Benjamin
7. "The potential for adventure makes life worth living" – Vicki Garside, MakeTimeToSeeTheWorld (and is ALWAYS my quote of the day. I am biased though!)
8. "Every country is like a particular type of person. America is like a belligerent, adolescent boy; Canada is like an intelligent, 35-year-old woman. Australia is like Jack Nicholson. It comes right up to you and laughs very hard in your face in a highly threatening and engaging manner" – Douglas Adams
(this is one of my favourite Australia quotes – it always makes me smile. I think we've all met that Aussie!)
9. "Australia is a phenomenally beautiful country, and every time I go away and come back, it never ceases to amaze me" – David Wenham
10. "Australia is breathtakingly beautiful, and I can't wait to visit again" – Joe Nichols
11. "Traveler, there are no paths. Paths are made by walking" – Australian Aboriginal Proverb (according to many sites, but may in fact be from Antonio Macado)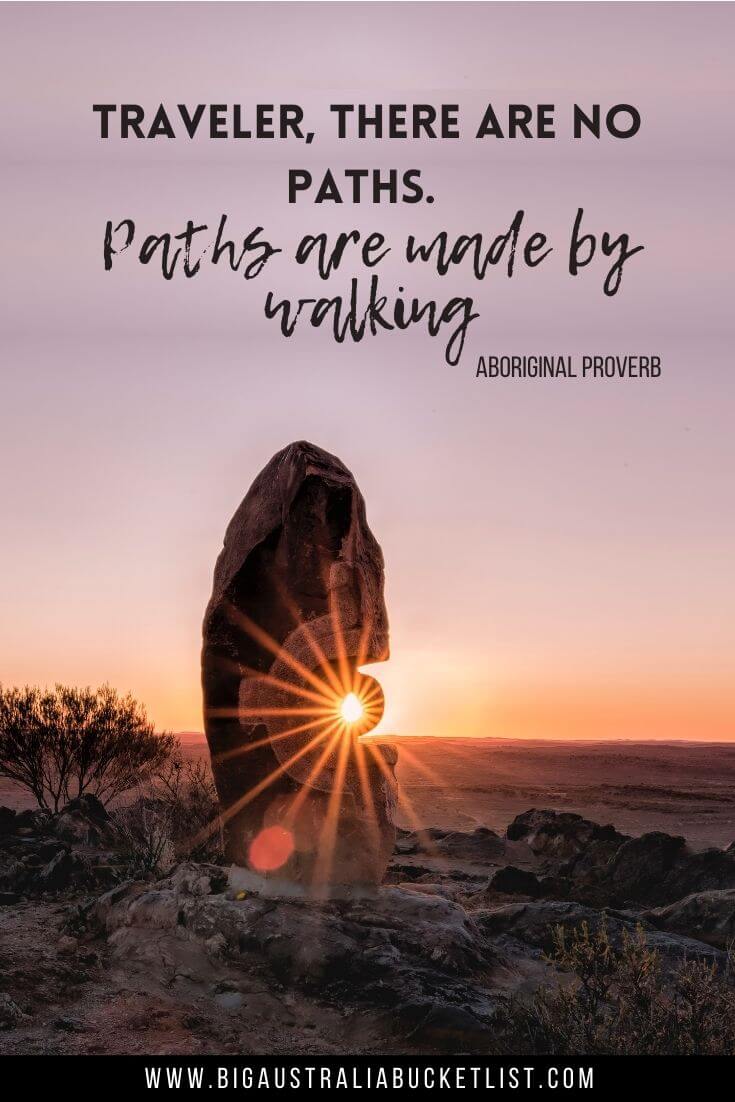 12. "It's a perfect day here in Australia, glorious blue sunshine." – Christopher Martin-Jenkins
13. "Australia is just so full of surprises" – Bill Bryson
14. "Fill your life with adventure, not things. Have stories to tell, not stuff to show." – Unknown
15. "There is nothing more Australian than spending time in somebody else's country." – Anonymous (Aussies do like to get around (the world) a bit!)
16. "I found myself drawn to the remote Kimberley region of Australia – in the far Northwest corner of the country – our last frontier. I still can't explain why. I kept coming back over many years and started shooting material." – Brendan Fletcher
17. "I'm in the love with the city. You can impress an Australian with a city, but you can't impress them with a beach." – Rose Byrne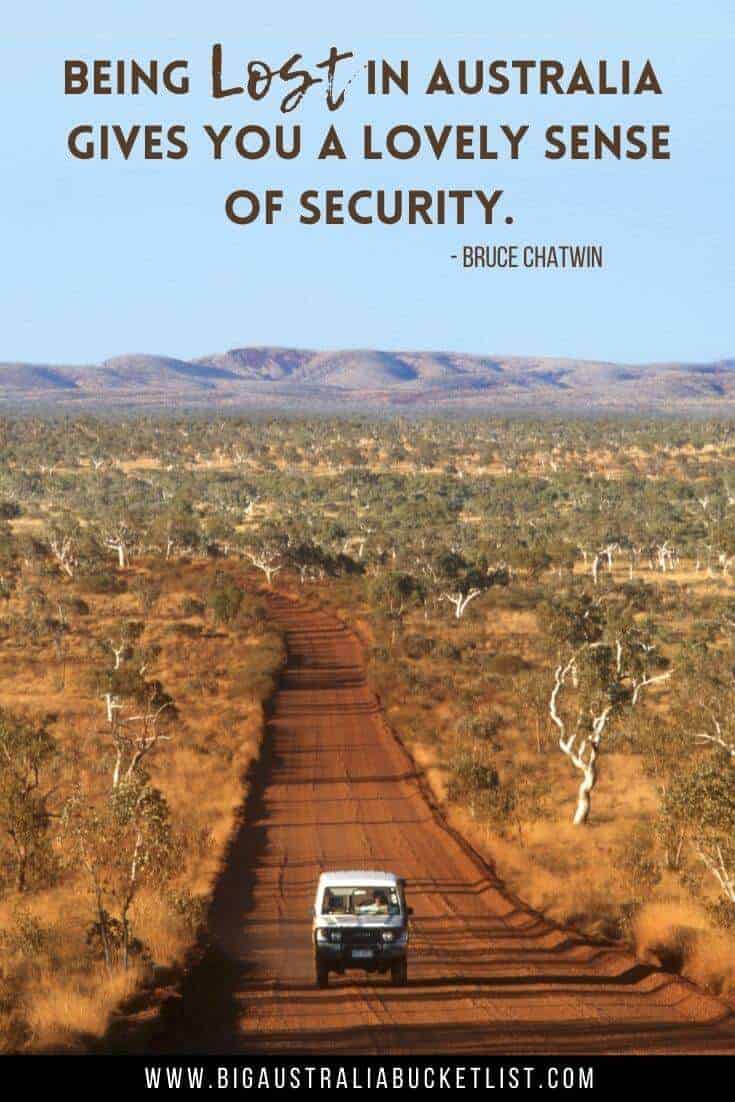 Quotes About Australia from Famous People
18. "God Bless America. God Save The Queen. God defend New Zealand and thank Christ for Australia." – Russell Crowe
19. "I want people to throw on a hat, head out into the outback and see the real Australia. You can do it how you want – independently in a 4WD, camping under the stars, or being treated like a king in a luxury homestead or on a cruise." – John Torode
20. "There's an expression in Australia that's called 'Go Bush,' which means to get out of the city and relax. I try and 'go bush' to places where there's no cell reception. But, I don't get to do that often, so for the most part, it's just a state of mind." – Cate Blanchett
21. "There is no place in the world quite like Australia. Not even it's beautiful neighbour New Zealand" – Henry Rollins
22. "There's as ease that I have living in Australia. The best things about Sydney are free: the sunshine's free, the harbour's free and the beach is free" – Russell Crowe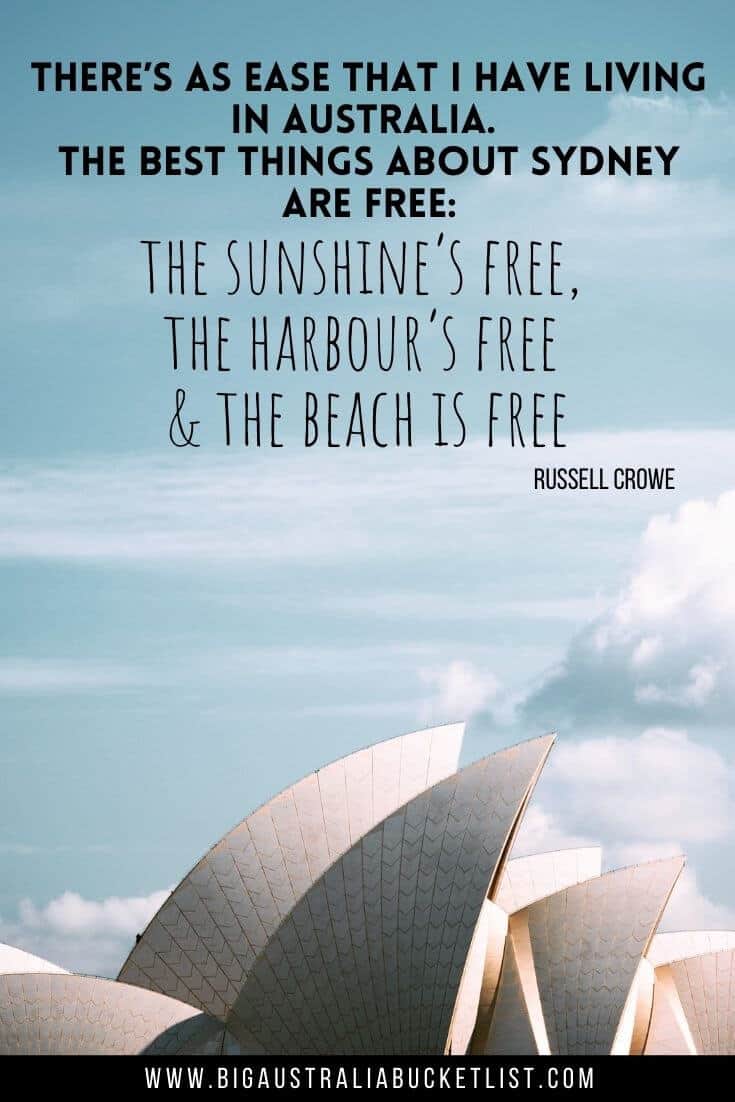 23. "You know, I'm Australian, and we have got the worst sense of humour. We are cruel to each other." – Steve Irwin (of Crocodile Hunter – and unfortunate stingray accident – fame)
24. "Australia is my lens. I can't see the world any other way." – Peter Carey
25. "Such is life" – Ned Kelly (more a quote about the mentality of the Australian nation, than a quote about Australia itself, but one we just had to include. I mean, Ned Kelly is one of the most famous Aussies there has been)
Australian Quotes About the Landscape & Its Animals
26. "[Australia] is the home of the largest living thing on earth, the Great Barrier Reef, and of the largest monolith, Ayers Rock (or Uluru to use its now-official, more respectful Aboriginal name). It has more things that will kill you than anywhere else. Of the world's ten most poisonous snakes, all are Australian.
Five of its creatures – the funnel web spider, box jellyfish, blue-ringed octopus, paralysis tick, and stonefish – are the most lethal of their type in the world. This is a country where even the fluffiest of caterpillars can lay you out with a toxic nip, where seashells will not just sting you but actually sometimes go for you.
… If you are not stung or pronged to death in some unexpected manner, you may be fatally chomped by sharks or crocodiles, or carried helplessly out to sea by irresistible currents, or left to stagger to an unhappy death in the baking outback. It's a tough place."
– Bill Bryson, In a Sunburned Country
(so many sayings and quotes have tried to describe our unique Australia wildlife – but I find this one the most complete!)
27. "Whoever authorized the evolution of the spiders of Australia should be summarily dragged out into the street and shot." – Mira Grant, How Green This Land, How Blue This Sea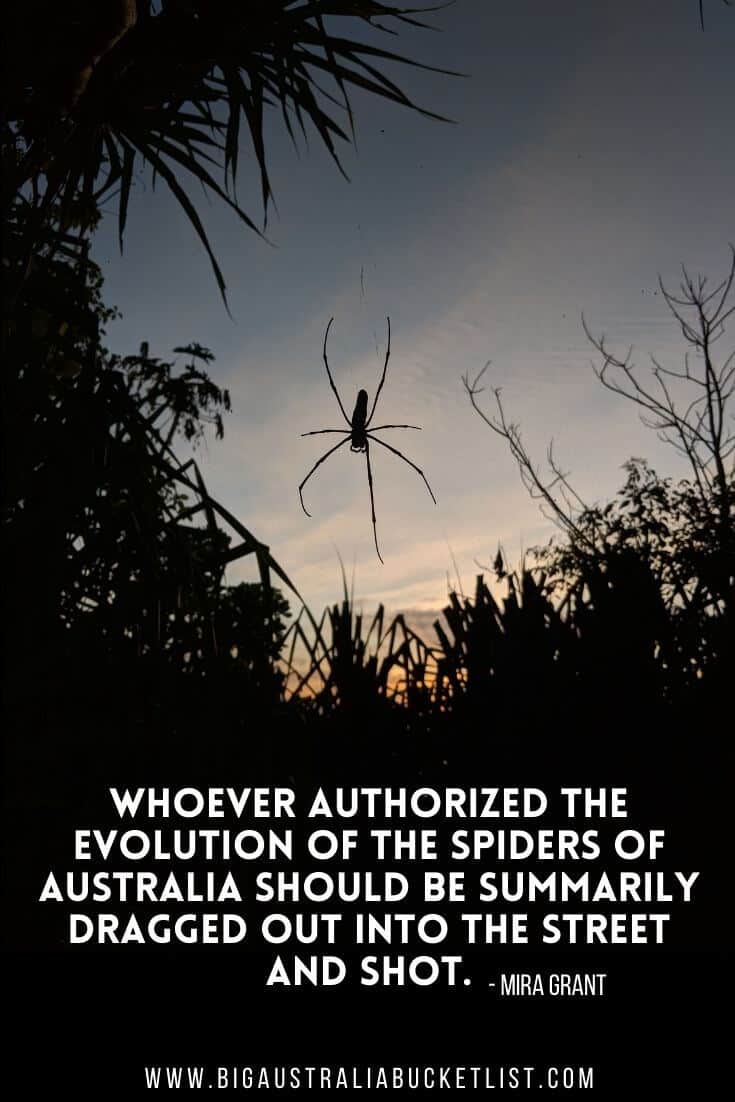 28. "No one knows, incidentally, why Australia's spiders are so extravagantly toxic; capturing small insects and injecting them with enough poison to drop a horse would appear to be the most literal case of overkill. Still, it does mean that everyone gives them lots of space." – Bill Bryson, In a Sunburned Country
29. "I was lucky enough to grow up in Western Australia and know that the Australian Outback is vast and spell-binding and heart-stoppingly beautiful, and the characters that inhabit it are unique and hilarious and tough and cheeky." – Tim Minchin (one of the Australian life quotes that provide a snapshot of what it is like to grow up in WA)
29. "There was one thing no one considered, however: Australia was populated by Australians. While the rest of us were trying to adapt to a world that suddenly seemed bent on eradicating the human race, the Australians had been dealing with a hostile environment for centuries. They looked upon our zombie apocalypse, and they were not impressed." – Mira Grant, How Green This Land, How Blue This Sea
(we might not quite be at zombie apocalypse stage just yet (but after 2020 – who knows) and I think this funny quote will still be relevant when we get there!)
29. "Unlike New Zealand, which has nothing especially predatory, Australia is full of spiders and crocodiles and all kinds of animals that will eat and sting you" – Brain Cox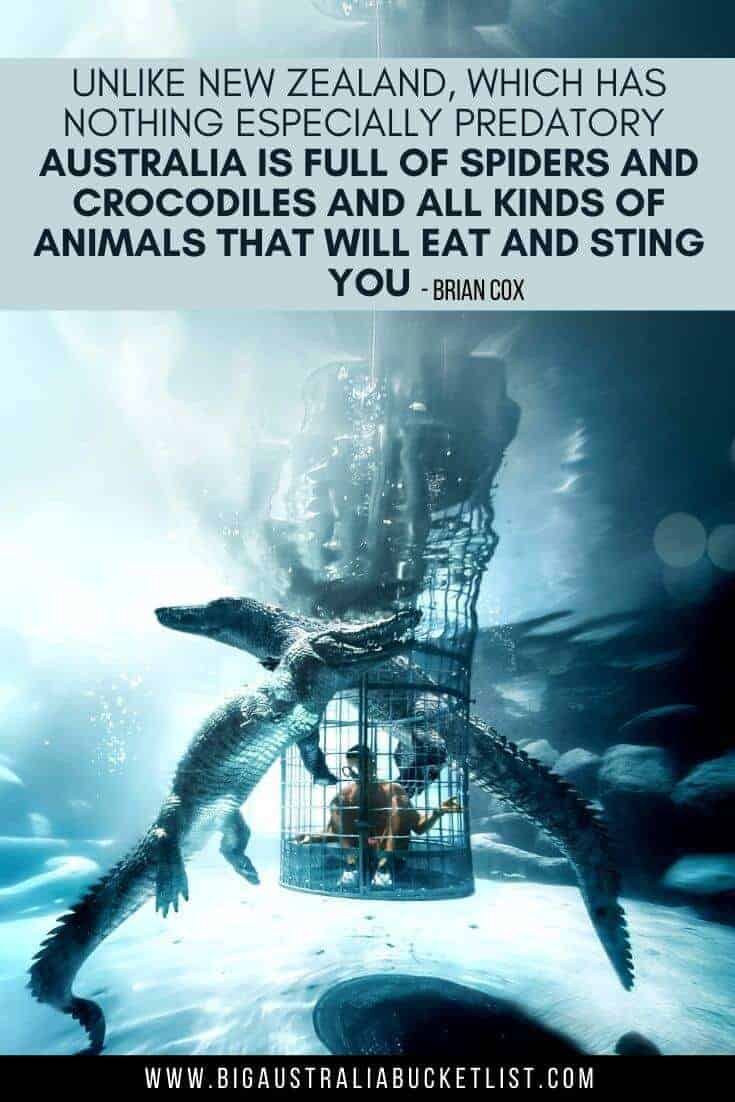 30. "The beauty of the air, from the air… You haven't seen Australia unless you see it from the air. The coastline, the colours of the inland. The claypans, the forests. It's just all so beautiful. You'd never see that from the road. People climb mountains to see these things. You see that every time you take off." – Nancy Bird Walton
31. "It's the colours, the light, the space. It's really very deep in my soul… In the Australian bush and inland deserts, there is a sense of being the first person in a place." – Suzanne Cory
32. "Land is a central part of the connection to country and to our identity as people. Many of our significant sites, landscapes, customs and stories focus on connection to land. Land is therefore very important to our culture, history and future." – First Nations Quote
33. "The more you know, the less you need." – First Nations saying / Australian Aboriginal saying
Quotes About The Aussie Way of Life
34. "There is no better way of life in the world than that of the Australian. I firmly believe this. The grumbling, growling, cursing, profane, laughing, beer drinking, abusive, loyal-to-his-mates Australian is one of the few free men left on this earth. He fears no one, crawls to no one, bludges on no one, and acknowledges no master. Learn his way. Learn his language. Get yourself accepted as one of him; and you will enter a world that you never dreamed existed. And once you have entered it, you will never leave it." – John O'Grady
35. "The Australians, it seems to me, thrive on their remoteness from the world and see it as a way of keeping up a code of "No worries, mate," while peddling their oddities to visitors: nonconformity is at once a fact of life for many, and a selling point." – Pico Iyer, Falling Off the Map
36. "Mates such as they must stand by one another" – Mary Grant Bruce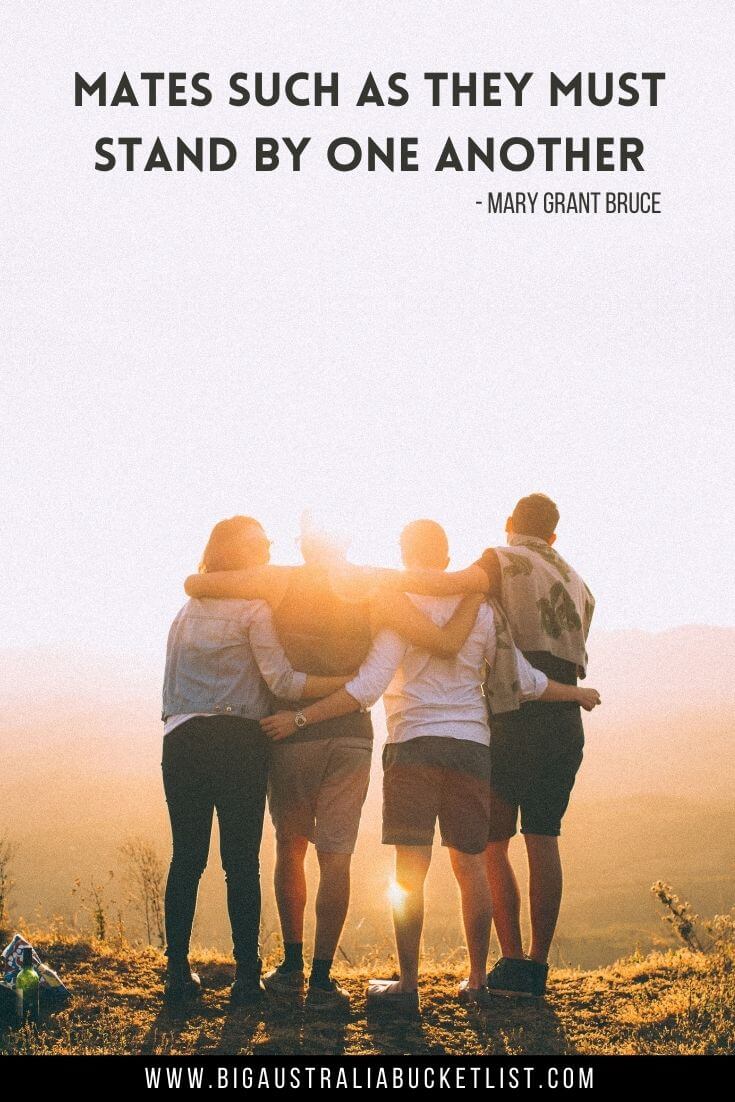 37. "Australia is a land of compassion. Courage and compassion. And the third of these great values: resilience" – Kevin Rudd
38. "Once people come to Australia, they join the team." – Tony Abbott
39. You feel free in Australia. There is great relief in the atmosphere – a relief from tension, a relief from pressure, an absence of control of will or form. The skies open above you and the areas open around you." – D. H. Lawrence
40. "I love food, all types of food. I love Korean food, Japanese, Italian, French. In Australia, we don't have a distinctive Australian food, so we have food from everywhere all around the world. We're very multicultural, so we grew up with lots of different types of food." – Hugh Jackman
41. "In Australian culture, people are just more laid back, people aren't as serious, they just take their time with things. It's just like, whatever, if I don't get it done I don't get it done." – Andrew Bogut
42. "It's Australian to do such things because, however uncivilised they may seem, it's human to do them" – Hugh Mackay
43. "Australia lives with a strange contradiction – our national image of ourselves is one of the Outback, and yet nearly all us live in big cities. Move outside the coastal fringe, and Australia can feel like a foreign country." – Kate Grenville
44. "The only time an Australian ever walks is when his car runs out of petrol" – Barry Richards
Australian Quotes & Australian Sayings from Films
These are the soundbites and quotes that have entered the everyday language of people around the world. We bet you have heard at least 1 or 2 of these before (even if you were not sure from where!)
45. "That's not a knife. THAT'S a knife!" – Mick Dundee in Crocodile Dundee
46. "Tell them they're dreaming." – Darryl Kerrigan in The Castle
RELATED: The Castle is one of the most iconic Aussie movies ever made – click through to the link to find out the rest of them!
47. "How's the serenity?" Darryl Kerrigan in The Castle (and referring to the tranquillity of Bonnie Doon)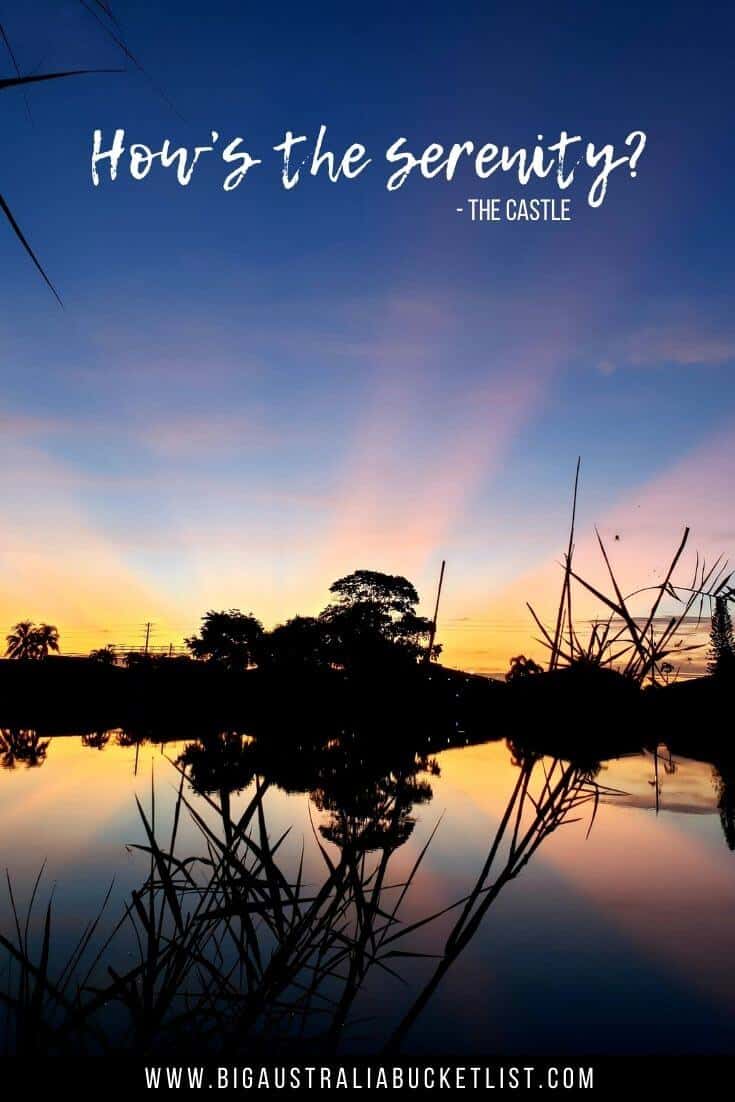 48. Chopper: "Why would I shoot a bloke BANG, then drive him to the bloody car and whizz him off to the hospital at a hundred miles an hour? It defeats the purpose of having shot him in the first place." – Chopper
49. "You're terrible, Muriel" – Joanie in Muriel's Wedding
50. "The thing I can't stand about you, mate, is you're always so bloody cheerful." – Frank Dunne in Gallipoli
51. Debbie Vickers: "Oh, god. Do I look alright?" Tracy: "Rootable." – Puberty Blues
52. "I am a nice shark, not a mindless eating machine. If I am to change this image, I must first change myself. Fish are friends, not food." – Bruce in Finding Nemo
53. "I've been to Australia. I've met the devil, drank beer and snogged kangaroos." – Alan Martin, Tank Girl 2
54. On Australia: "So where the bloody hell are ya (you)?!" – Australian Tourism Campaign in 2006 (which coincidentally was banned on release in the UK!)
And that's a wrap. We hope you enjoyed our top quotes about Australia and found something that you either identify with or are inspired by.
And if you don't mind sharing the love for these Aussie quotes, a tweet, flip, pin, or Facebook share would be much appreciated! (Full-sized pins available by clicking the share bar on the left – and all the images above are pins too!)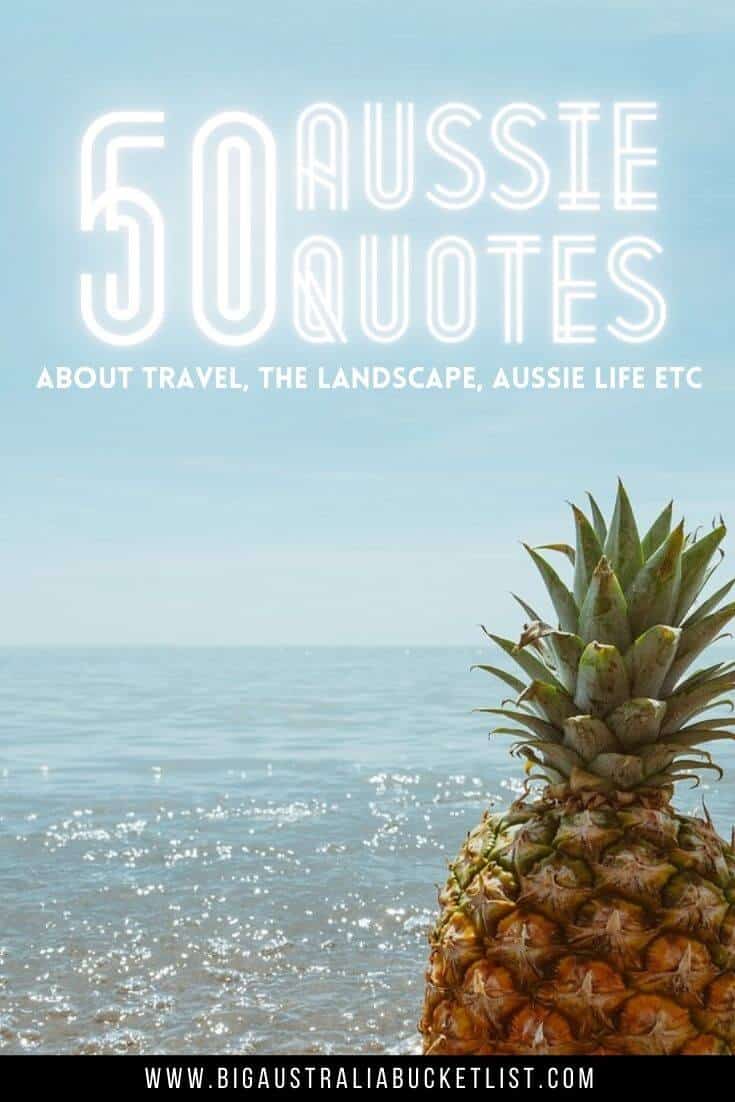 READY MORE TRAVEL INSPIRATION? YOU MIGHT BE INTERESTED IN THESE RECENT POSTS, TRAVEL ARTICLES, DESTINATION GUIDES, TRAVELER RESOURCES, TRAVEL GEAR GUIDES AND RELATED POSTS ABOUT OTHER AMAZING PLACES AROUND AUSTRALIA: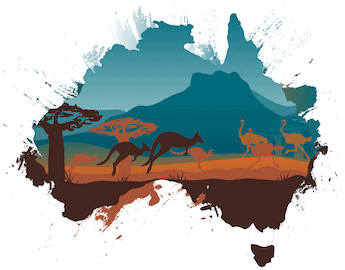 Hi There! Thanks for reading our post about 50+ Quotes About Australia to Inspire Your Travels! I just wanted to let you know that this post contains affiliate links, which means if you purchase something after clicking a link, I may get a small commission – which is at absolutely no cost to you. If you enjoyed this article and are going to be searching for some of the things I mention anyway, I would love it if you could click through from the links above & thank you in advance! Read my full Disclosure here.