Discover some amazing and colourful terrain, explore untouched gorges, and visit unique areas of Australia. This is what you will experience when checking out the 50 Best Things to do in Outback Queensland. It's a huge area covering 900,000 square kilometres across ever-changing scenery.
The locals are always welcoming, having been there for generations. This can bring you history, culture, and the True Blue Aussie atmosphere. There are obviously lots of opportunities or sights to see when discovering this area of Australia. Therefore, we have put together some of the highlights of Outback QLD below that you should consider adding to your list + some planning tips to help you tick them off!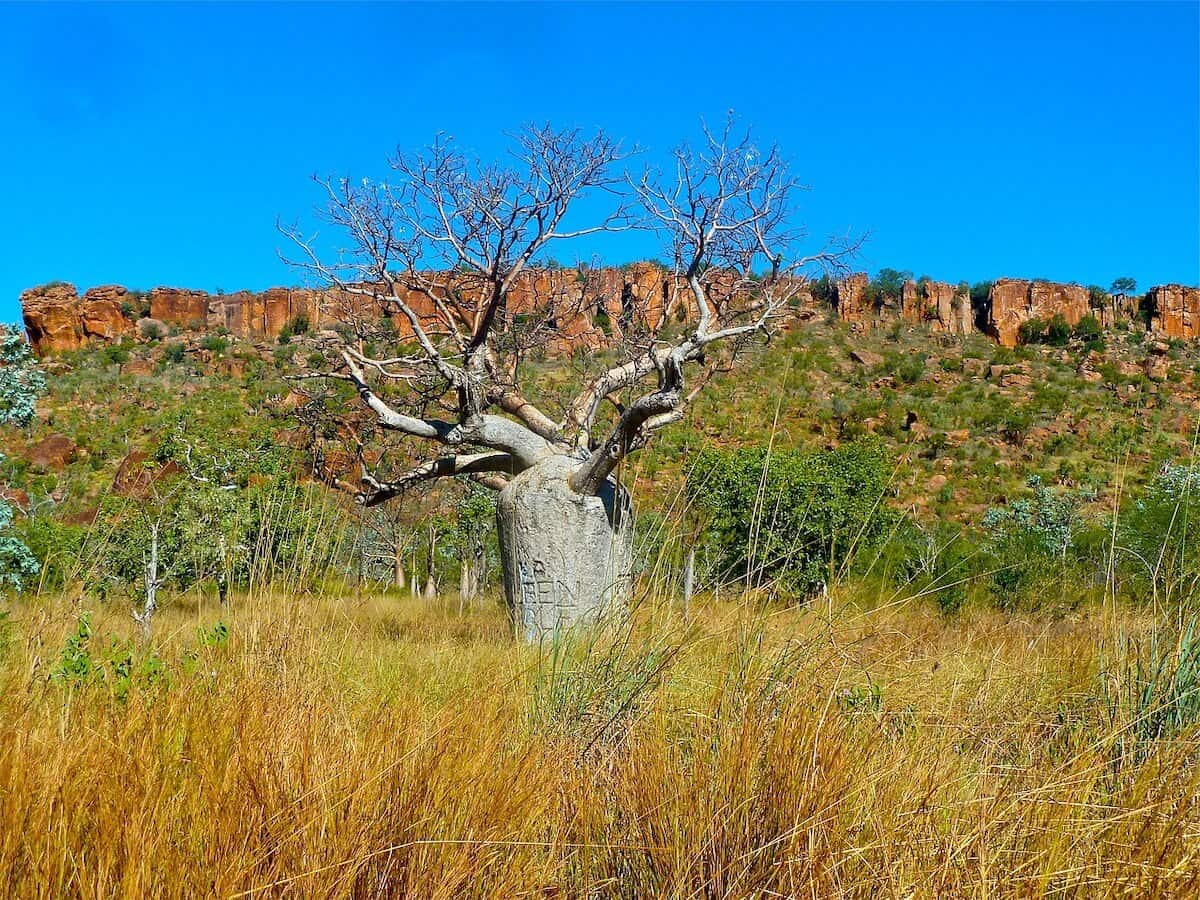 Disclaimer: Almost all posts on this site contain affiliate links, and this one about The Top Things to do in Outback Queensland (+ Planning Tips) is no different. This means that if you click on any of the links in this post (and make a purchase) I may receive a small commission at absolutely no cost to you. Each post is carefully crafted to (hopefully!) answer all your questions and recommendations are made where we believe they will improve your trip and help with your planning. As such we thank you in advance should you decide to click & buy. Read my full disclosure here.
This post was written by Chris of Aquarius Traveller
Essential Planning Tips for Your Visit to Outback Queensland
How to Get Around Outback Queensland
Most of the common routes or journeys are provided on comfortable and sealed bitumen roads. This makes most of Outback Queensland viewable by any mode of transport.
Keep in mind though, that some of the sites to see are recommended for four-wheel-drive vehicles. Taking a four-wheel-drive or high clearance vehicle along for the journey will open up different and unique areas and well worth the extra consideration.
Not only that, but driving early morning or at dusk will attract Kangaroos to the roads, and therefore become more dangerous driving in a smaller vehicle. It's best to avoid these times for driving, in any case.
Best Time to Visit Outback Queensland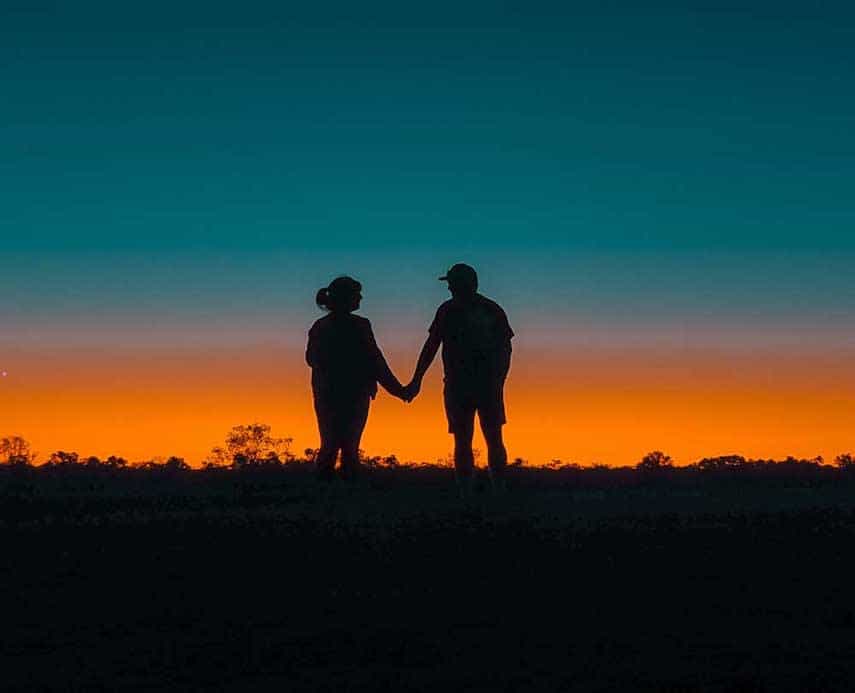 Due to large temperature differences and scorching summers, heat will become a major factor to consider when visiting Outback Queensland.
The touring season tends to be around the winter months, and anything between April and October is more tolerable. Also, be aware that the nighttime temperatures can drop more than 15 degrees. In winter, this could be down as low as 1 or 2 degrees, so it's advisable to pack options for clothing layers.
Rain in Outback Queensland is limited, and you will see this with the dry and desolate surroundings.
During the day, always carry plenty of water to protect from dehydration. In the summer, allocations to water supplies need to be increased.
Outback Queensland Accommodation (Where to Stay)
This is where you most likely to see the Great Australian Aussie Nomad, camping their way through the country. This means caravans, campers, tents, and swags are probably the most commonly used. Caravan Parks allow you a cheaper style of accommodation while carrying your personal creature comforts with you.
Alternatively, there are plenty of cabins, hotels, or motel accommodations to suit your style or budget. Although, some of the more remote regions can get a little higher priced, depending on the area.
Safety Tips for Outback Queensland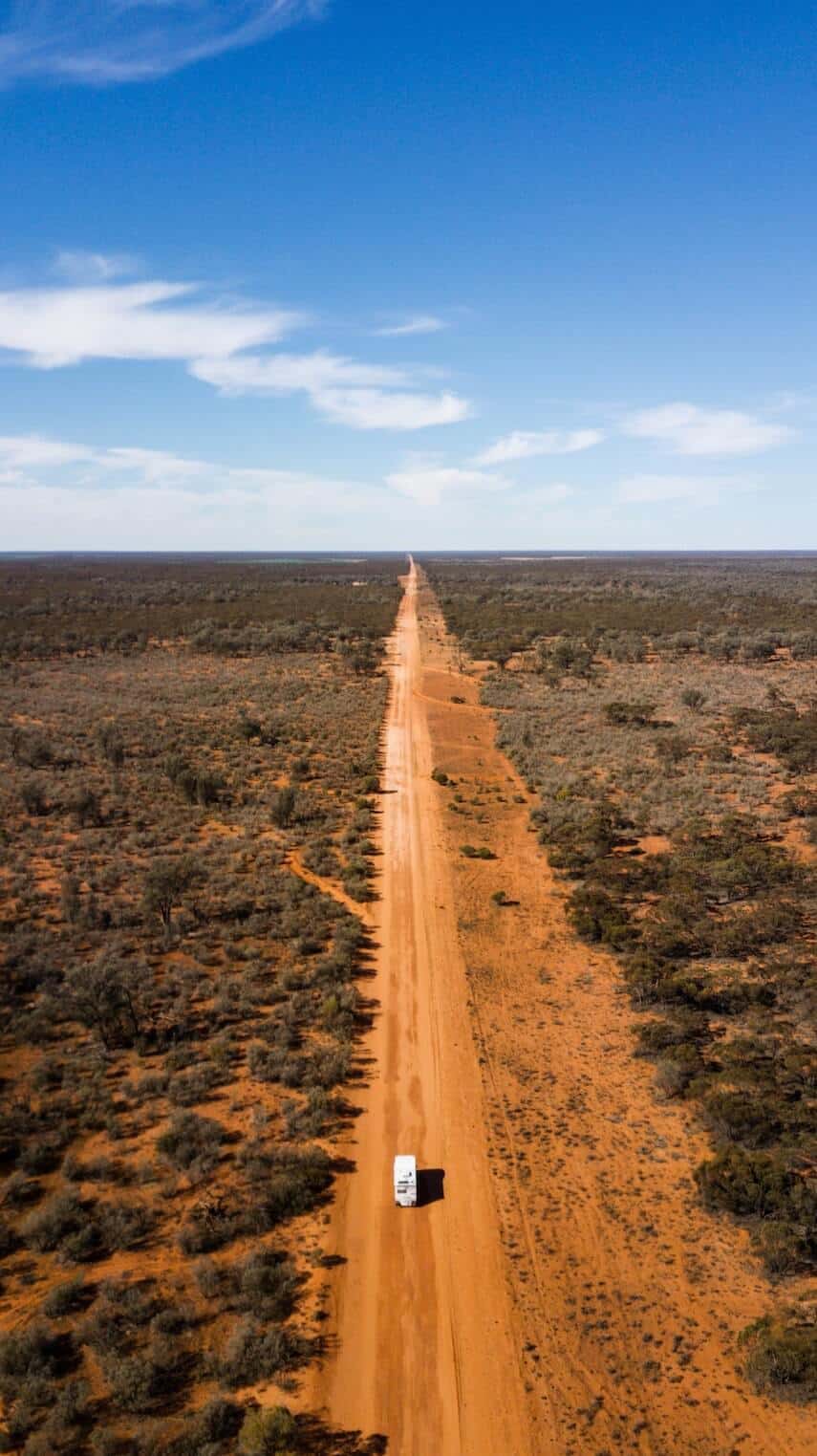 Travelling anywhere in Outback Queensland, you do need to be mindful that phone service is limited. Although, there's sometimes Wi-Fi in fixed accommodations, and data could be available in the towns.
You should always carry extra supplies (especially water) for the long road trip journeys or exploring the sites to see.
Travelling during the day will deter animal accidents, ensure service stations are open, and other cars will be on the road to help if needed.
If you don't know already, Australia is known for its deadly animals, so don't approach or touch anything. This includes the wild Kangaroos! Most wildlife will probably run away from you, but best to stay aware and admiring from a distance.
It's always handy to carry a first aid kit with you for any minor issues.
Places to Visit & 50 Things to do in Outback Queensland
(we've bolded the 50 things to do in Outback Queensland under each of the headings below, I hope it makes it easier for you to plan your trip and gets you super excited to get out there!)
Things to do in Winton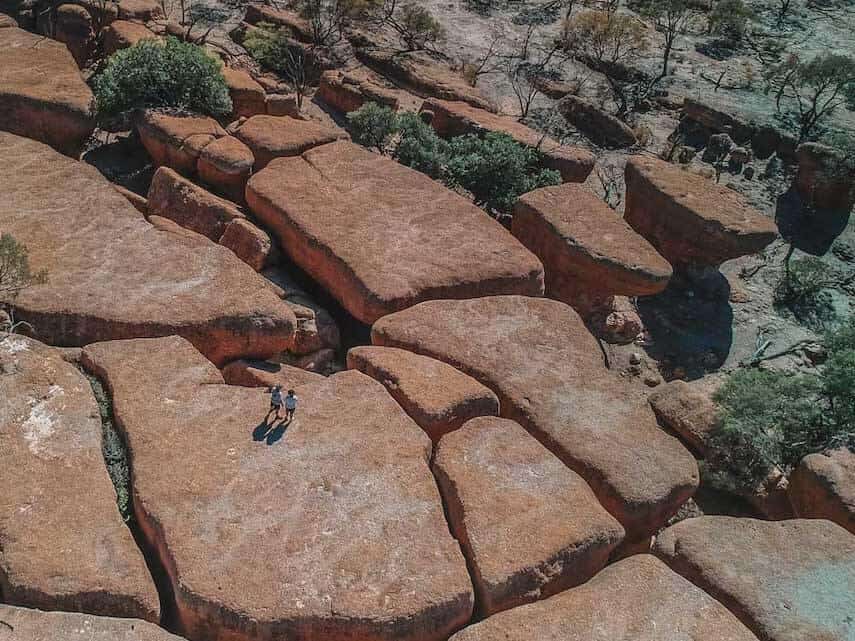 The small town of Winton has a population of 1600 people and is located in central Queensland. It's a major point of interest for everyone to discover the Outback Dinosaur trail and should not be missed. This draws thousands of tourists each year and a popular one for educating the kids about the Dinosaurs roaming the earth, millions of years ago.
The Age of Dinosaur Museum is a popular exhibit that takes you to three different areas of digging the bones up, surmising the stories of how they got there, and a replica canyon creation.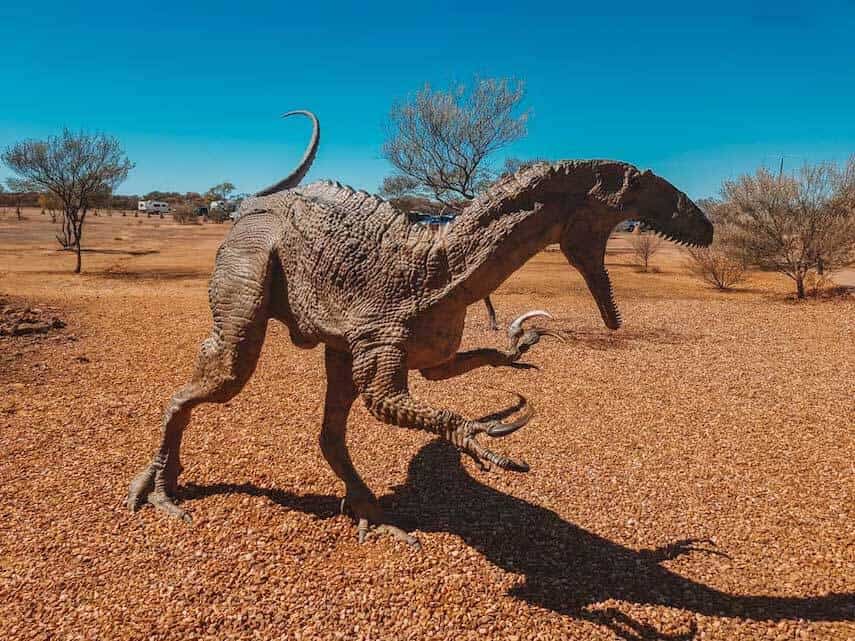 Alternatively, Winton also holds one of the largest collections of old trucks in the Diamondtina Truck Museum. As well as an exploration into the Bladensburg National Park and seeing very unusual rock formations at Rangelands Station. If you're feeling artistic, then visit the Musical fence and try to band some chords together on their welded instruments.
No visit to Winton would be complete without seeing the Waltzing Matilda Centre, which doubles as Winton's Tourist information centre. The museum tells the story of Banjo Patersons creation of Waltzing Matilda and the role of the Combo Waterhole, the Exhibition tells about WW1, the Art Gallery displays travelling exhibitions, and the Qantilda Museum tells the story and history of the Winton Shire.
Things to do in Longreach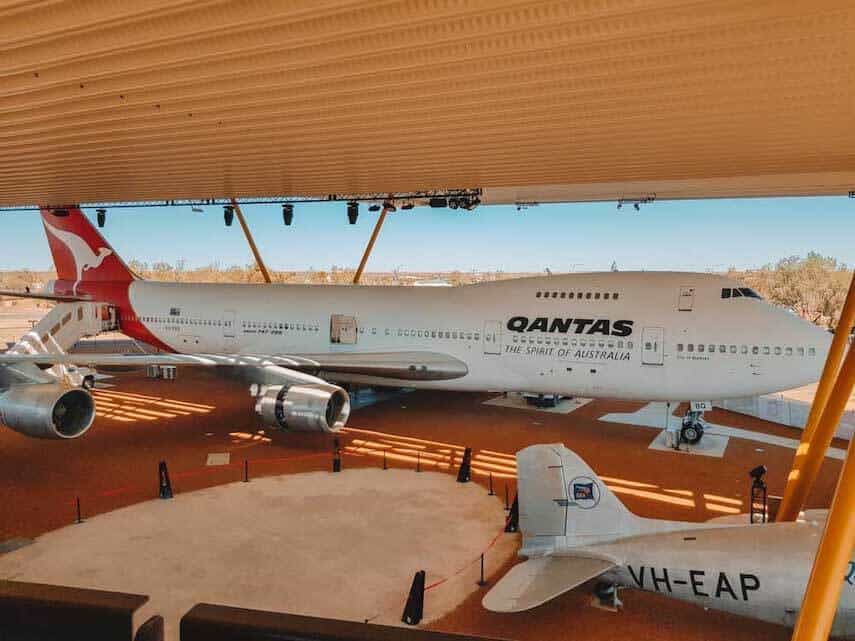 Two of the biggest drawcards you will find in Longreach are the Qantas Founders Outback Museum and the Australia Stockman's Hall of Fame Museum. Both facilities are museums to teach or show you the history of Outback Queensland and the rest of Australia.
Firstly at the Qantas Museum, you will see how flight transport has been used and changed over the years. Find out the differences between how they were built back then, to the variances of today's machines. In the Airpark, you can tour four different Qantas planes, pretend to be a pilot in the cockpit or even walk out onto the wing of a 747 plane. All this can be done in a day, and you won't regret your visit.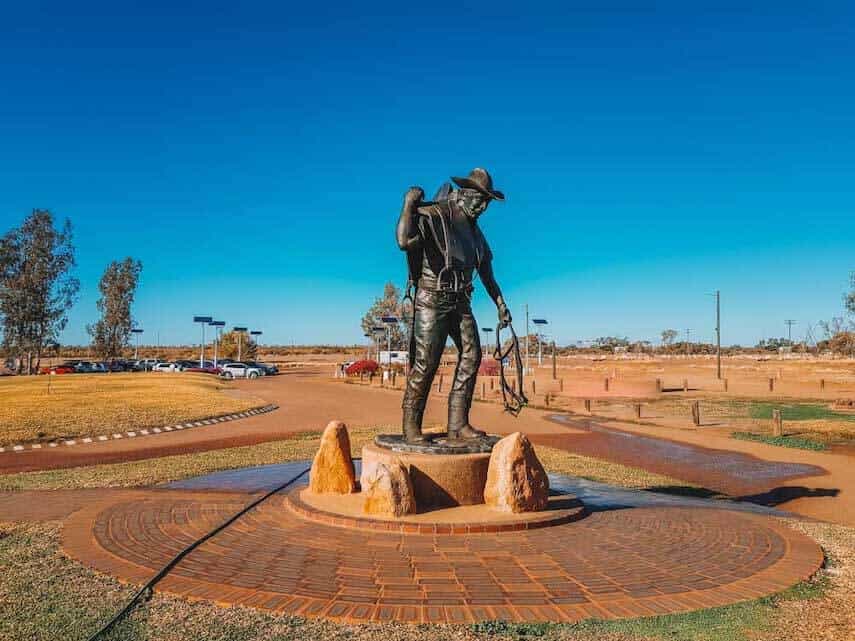 The Australian Stockman's Hall of Fame holds so much history of Outback Australian Life. See how the men and women worked the land, the types of machinery they used, and the tough conditions they endured. You have several levels of exhibits to walk through, as well as a live performance, sheep, and dog show.
Longreach also has some great big sky moments, making it a fantastic place to catch an outback sunset (as can be seen from the photo higher up the page!), or to spend a night stargazing.
Cobbold Gorge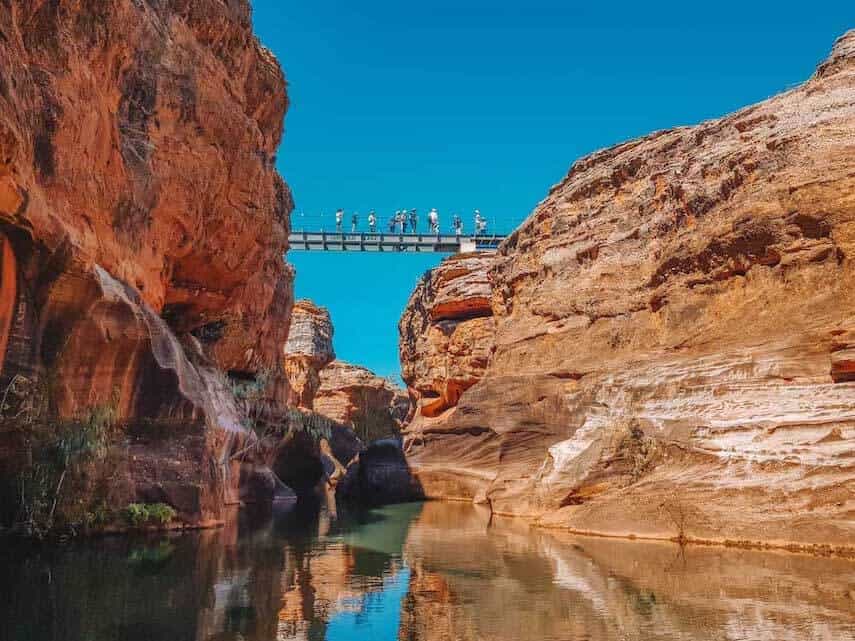 Cobbold Gorge is located in the northern part of Outback Queensland and only 5 hours drive from the coastal highway. It's grown in popularity over the years, having the first-ever glass walking bridge over the gorge. (photo of the spectacular glass bridge is above)
Cobbold Gorge is not very large, but one boat trip down the narrow slot canyon, and you will be amazed at its beauty. This is one spot situated on private land, and you will need to book tours with the onsite company to see it.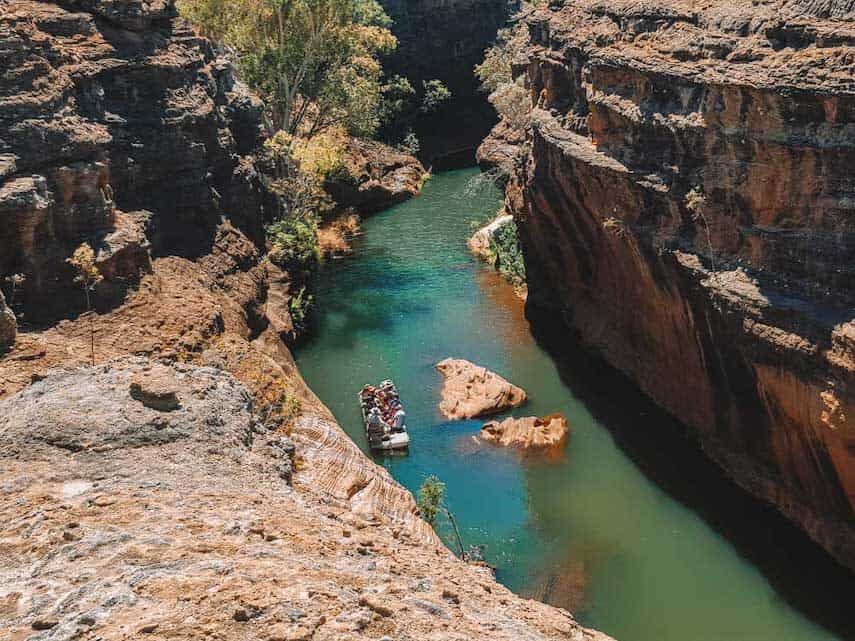 You have 3 choices between boat tours, stand-up paddleboarding, and helicopter tours. The boat tour is obviously the most convenient and the most popular, but the stand-up paddle boarding tends to have fewer people and a more quiet and peaceful experience.
The whole area has been fitted with campsites and other accommodations, along with a restaurant, bar, and infinity pool. If you enjoy natural water-formed rock canyons, then you need to add Cobbold Gorge to your list.
Things to do in Barcaldine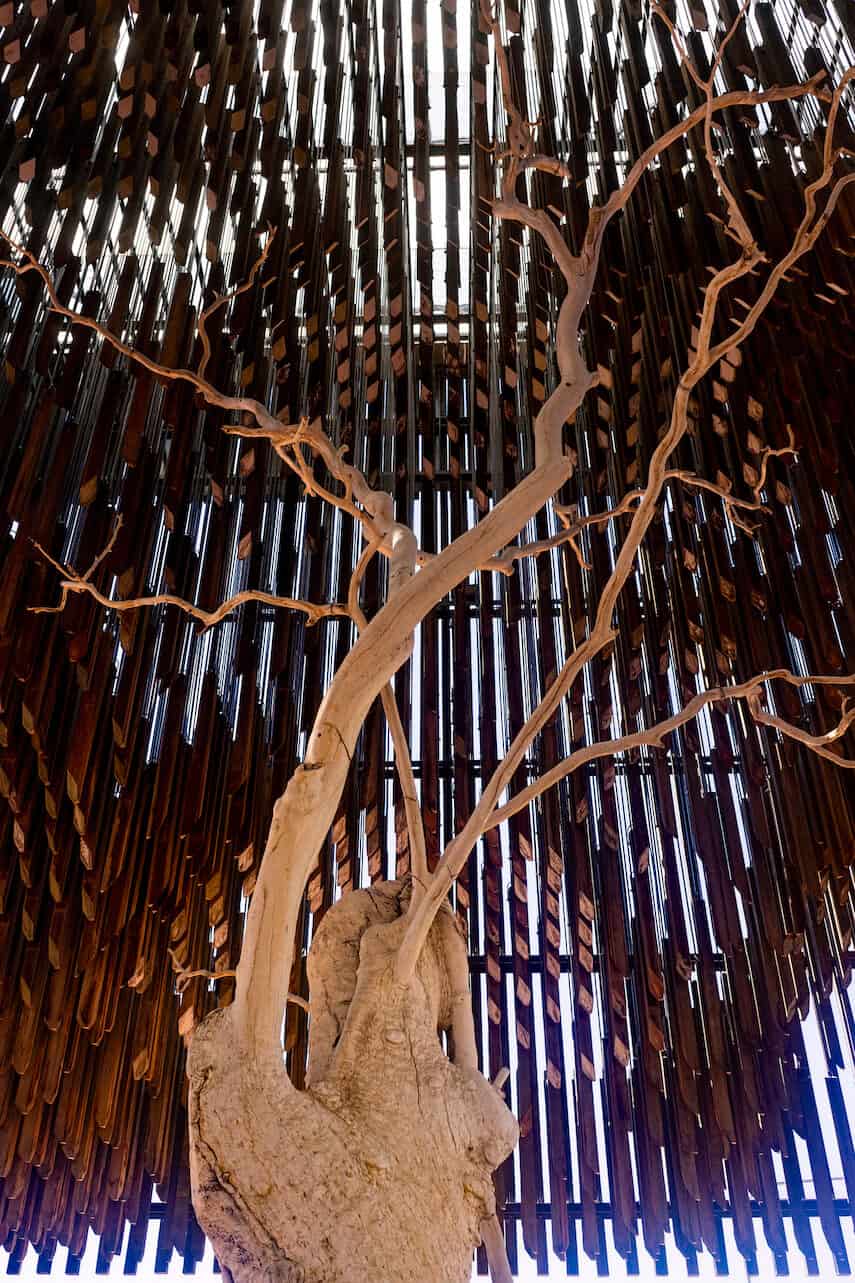 Known as the Garden City of the West, Barcaldine (named after a region in Oban, Scotland), is the home of the Tree of Knowledge, a historical site that is credited as the birthplace of the Australian labour movement.
The tree was inscribed in the Queensland Heritage Register in October 1992 but was poisoned and killed in 2006. The culprit was never found. However, several cuttings from the tree that were propagated before its death are now growing in Barcaldine and there is a dedicated memorial on the spot where the original tree stood, which is lit up at night and makes for a highlight of any visit to the town.
While you're there we also recommend you immerse yourself in the history of the region with a visit to the Australian Workers Heritage Centre, Barcaldine and District Historical Museum and a visit to the Dunraven Station (a sheep station that has been run by the same family for over 100 years); and when you're cultured up, go wildlife spotting on the Lagoon Creek Track, take a dip in the Lara Wetlands or channel your inner college kid with a bar crawl along Oak Street (the main street in town).
Girraween National Park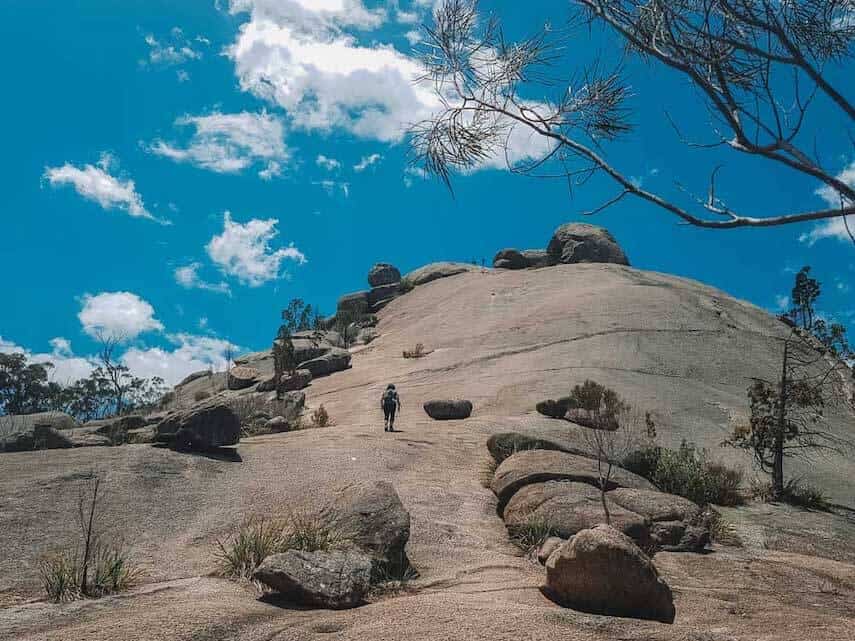 If you're into some brilliant hikes and fantastic views, then you might like to visit the Girraween National Park. It's located in Southern Country Queensland and just 30 minutes south of the town of Stanthorpe.
One of the more popular hikes is the Pyramid Track, which can be very challenging at the end. The extra effort is worth it for the views at the top while visiting the famous Balancing Rock. Unusual rock formations are in an abundance in this area, and you will witness natural creations like Australia's version of the Sphinx and another shaped like a turtle.
Porcupine Gorge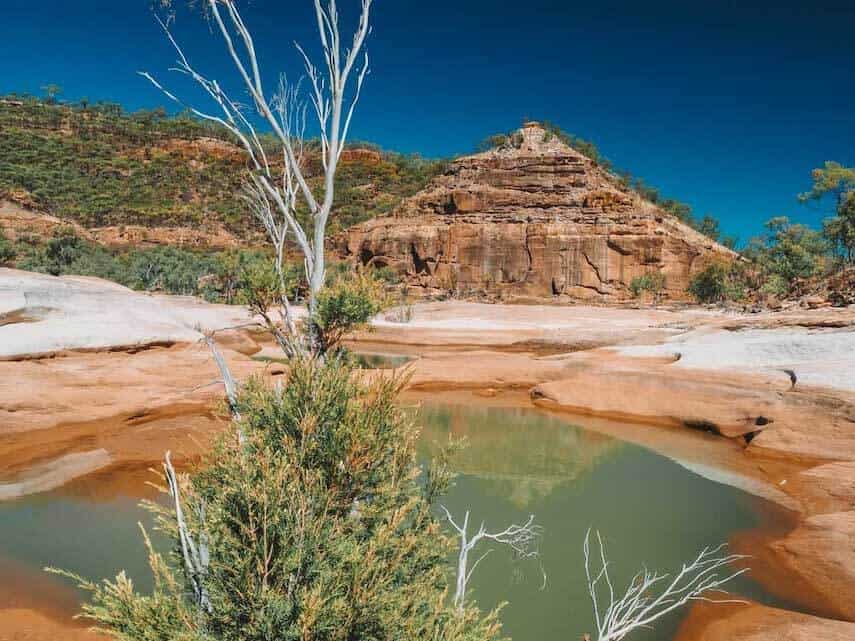 If you manage to venture to North West Queensland after some rain, you won't be disappointed. Most of the year, Porcupine Gorge can be very dry, which allows you to explore and walk over the creek bed. Over the years, water has eroded deep crevices and holes, which doubles as brilliant rock pools for swimming.
If the area is too dry, these rock pools are very stagnant and not great for swimming, but after some rain, can be very refreshing. What makes this gorge unique is a large rock-formed Pyramid overlooking the area and sometimes referred to as Australia's Little Grand Canyon.
Mitchell's Great Artesian Spa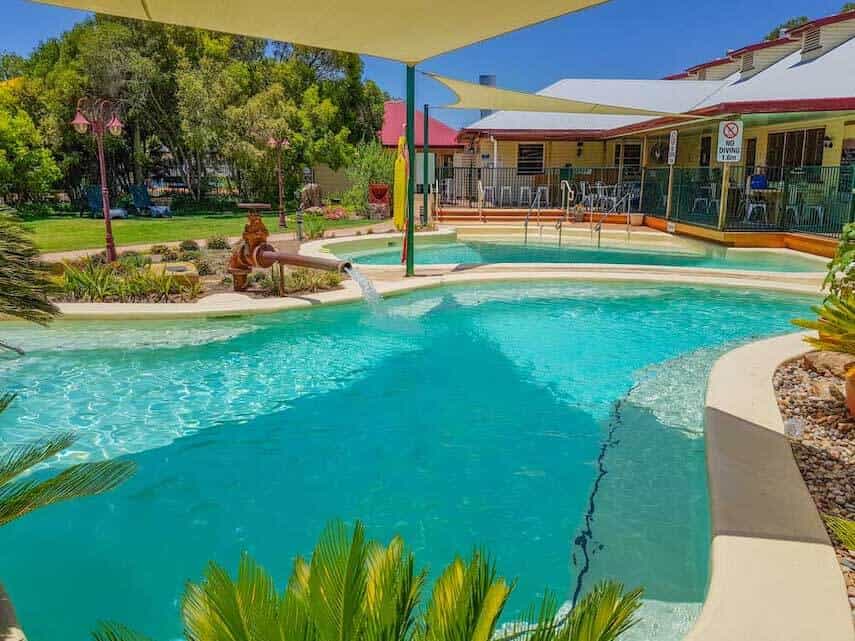 Sit back and relax in one of the many hot artesian baths available to you all over Outback Queensland. Artesian water is free-flowing, spring water that comes from underground wells. Unlike traditional wells, pressure brings water in artesian wells to the surface naturally, where others need a pump. The water temperature can be anything close to 40 degrees Celsius, and essentially, it feels like a hot bath.
The Mitchell Great Artesian Spa centre holds a regular pool and another with artesian waters, so you can interchange between the two of them for a relaxing soak. Reap the benefits of the swim with things like removing toxins from the body, relieving sore muscles, and producing healthy skin.
Carnarvon Gorge National Park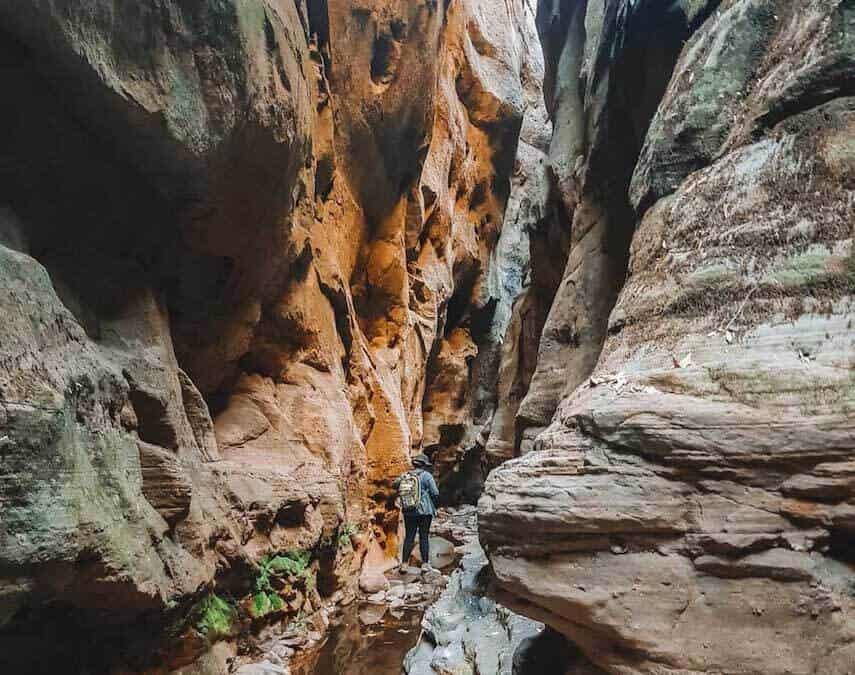 About 8 hours' drive inland from Brisbane you have the ever-popular Carnarvon Gorge. This is one place you will need a few days, to a week to explore its natural beauty. The main hike down the gorge is 22 kilometres return, and this is a long day's hike on its own. You will spend the day trekking down both sides of the Gorge while crossing the stream several times.
Along the way, you have a few shorter routes coming off the track to see some particular and unique areas of the Gorge. This includes the Moss Garden, Amphitheatre, Wards Canyon, Art Gallery, and Boowinda Bluff. The hike as a whole is fairly easy, with very little elevation and stairs only in a few sections.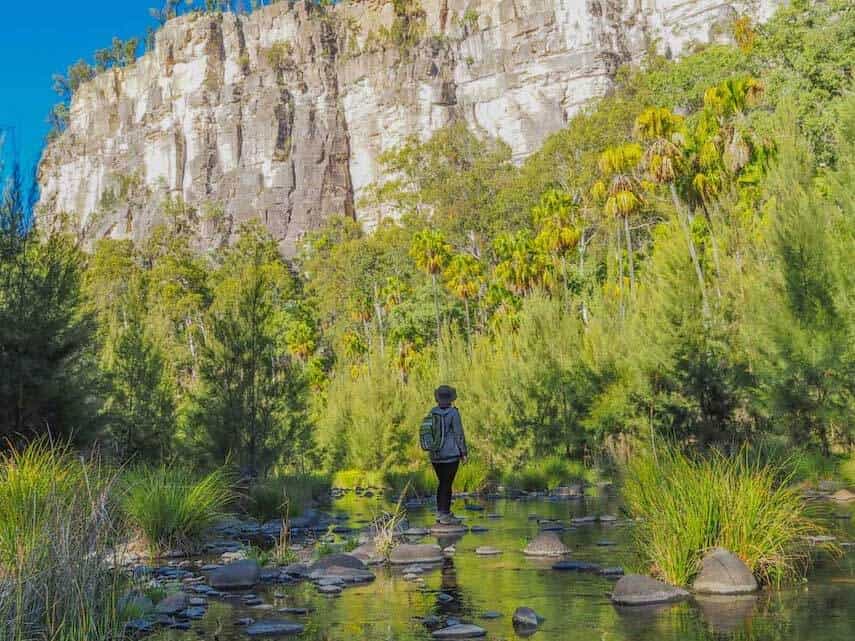 Apart from that, you have several other smaller hikes you can split between the day's relaxation and recovery. There are both cabins and two camping locations available to stay in the National Park. Alternatively, you have options to stay an hour away in a small town called Rolleston.
Charleville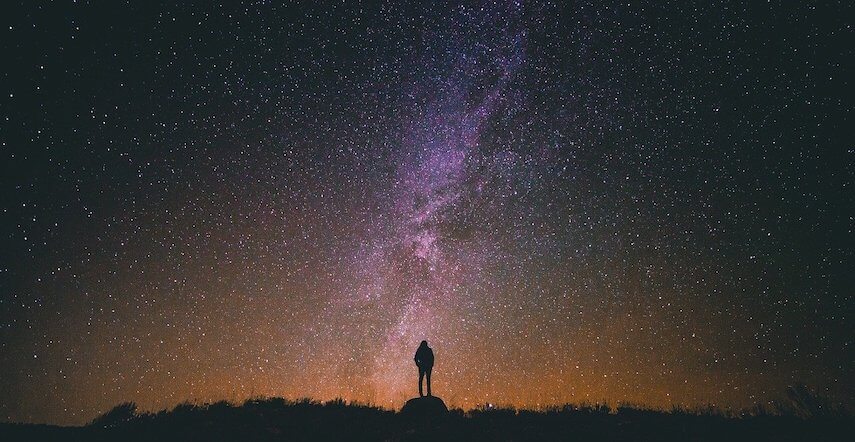 Practically anywhere you find yourself in Outback QLD, you will be treated to some incredible big sky moments. But if you would like to kick it up a notch, be sure to visit the Charleville Cosmos Centre and tea a peek at what is up there via the 14″ Meade telescopes at the Big Sky Observatory.
As the largest town in Murweh Shire, Charleville also has plenty of other attractions and things to do to keep visitors occupied. Visit the Secret WWII Base where 3500 US Air Force personnel were stationed; get a glimpse into the iconic flying doctor service which provided medical services to outback communities at Charleville Royal Flying Doctor Service Visitor Centre or join two of the 'Secret' tours – Stars and Secrets Tour (for local lore) and WWII Secrets Tour.
McKinlay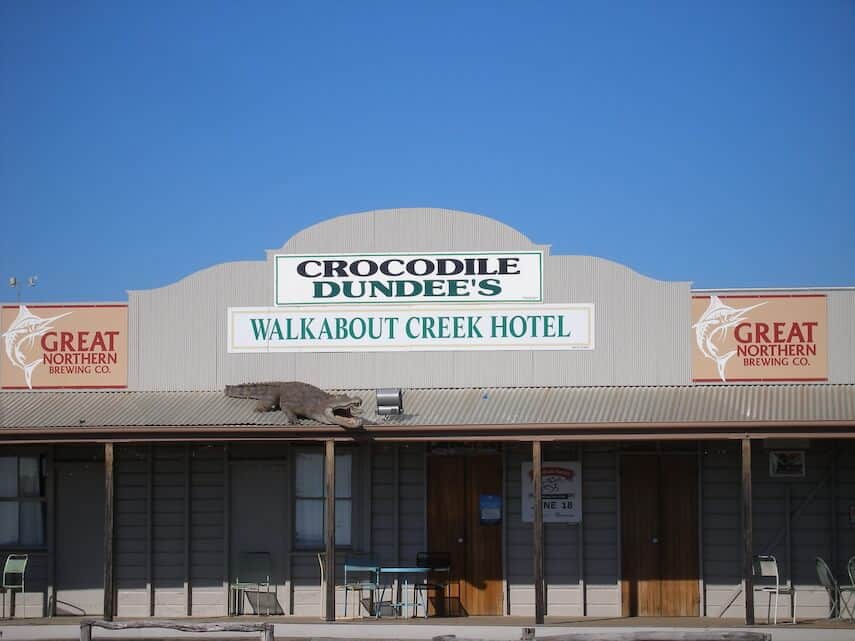 The Walkabout Creek Hotel – home of Crocodile Dundee, in the town of McKinlay – came to represent what the rest of the world knew about the Aussie outback – and for a lot of people, has remained their only interaction with it.
Today the town has a tiny population of under 200 people but is home to much-loved relics and bits of memorabilia from the film including Mick's Truck and the original bar still standing proudly in the Walkabout Creek Hotel. Additionally, you'll find Queensland's smallest library and museum (on Middleton Street) and the Crafty Old School House's Coolibah Tree – created from vintage metal objects collected from stations in the area.
Silo Art at Yelarbon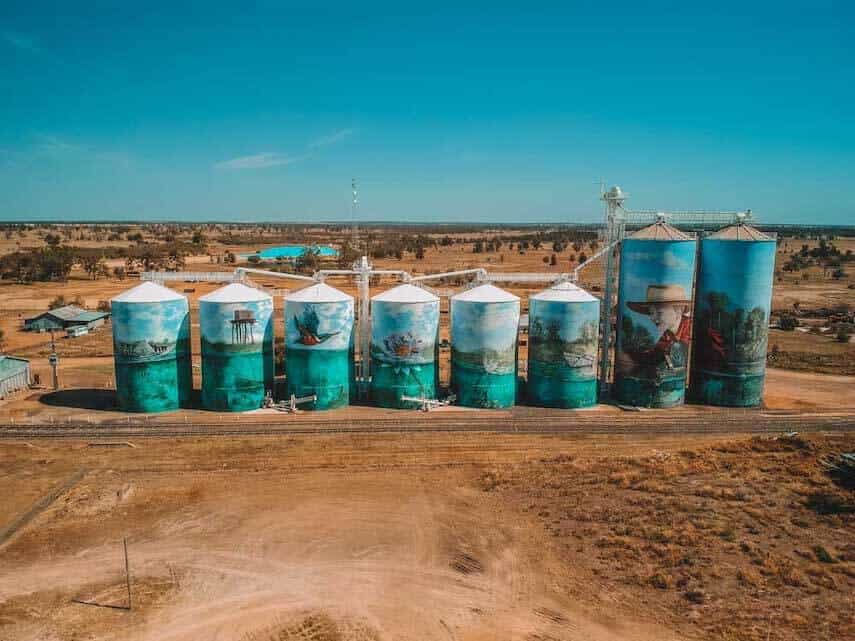 Chasing the Silo art trail around Australia has become increasingly popular over the years. Displays and followers started in country Victoria and have slowly ventured into the other states over the years. Queensland alone has only a few painted Silo Art Pieces, and one is located at Yelarbon. This is not far from Goondiwindi and very close to the New South Wales Border. It won't require a lengthy stop to see it, but you can learn about the artist, and the story depicted in the painting.
Things to do in Mount Isa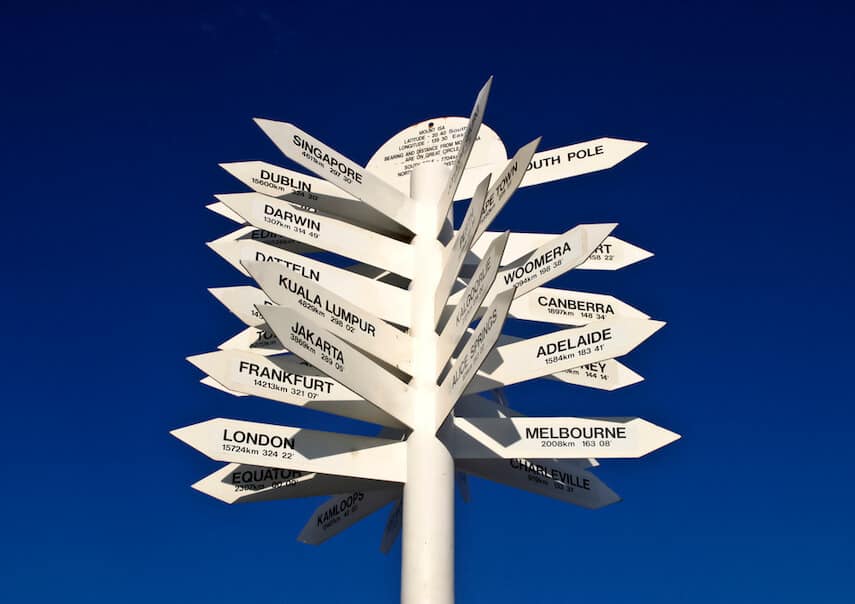 Mt Isa is billed as the heart of North Queensland, an oasis in the Outback, and a great starting point for your outback adventure (especially with its proximity to Longreach and Winston, above).
Nestled among the ochre-red Selwyn Ranges, on the banks of the Leichhardt River, Mount Isa is a bustling melting pot of culture and industry and has lots for visitors to see and do. Learn about mining culture on the Hard Time Mine Tour; dust off your cowboy boots and soak in the vibes at the Mount Isa Mines Rotary Rodeo – the southern hemisphere's largest rodeo; take in the views of Transport Bay when you catch a sunset at Lake Moondarra; visit the Mary Kathleen Mine – an old Uranium mine which gives of old western/John Wayne vibes; and see the city lights in the outback from the Mt Isa City Lookout.
Birdsville

This tiny outback town, population 115, is home to some big events! Back a winner at the famous Birdsville Races; enjoy a bevvie and curried camel pie at the Birdsville Hotel, dance the night away at the Birdsville Big Red Bash (which is also one of the highest sand dunes in the Simpson Desert) and laze the day away with the birdlife, fish, yabbies and marsupials at the Birdsville Billabong.
And that's a wrap guys! We hope our outback Queensland guide has been helpful in planning your trip and introduced you to some of the incredible sights, sounds and national parks in Outback Queensland Australia. And if you can't get out there just yet – you could always head to the popular Outback Steakhouse Queensland for their famous chicken and shrimp pasta. It's pretty darn good!
Oh, and if you liked this post please share on Facebook, tweet or pin – I'd really appreciate it! Click the P in the share bar for the full-size image!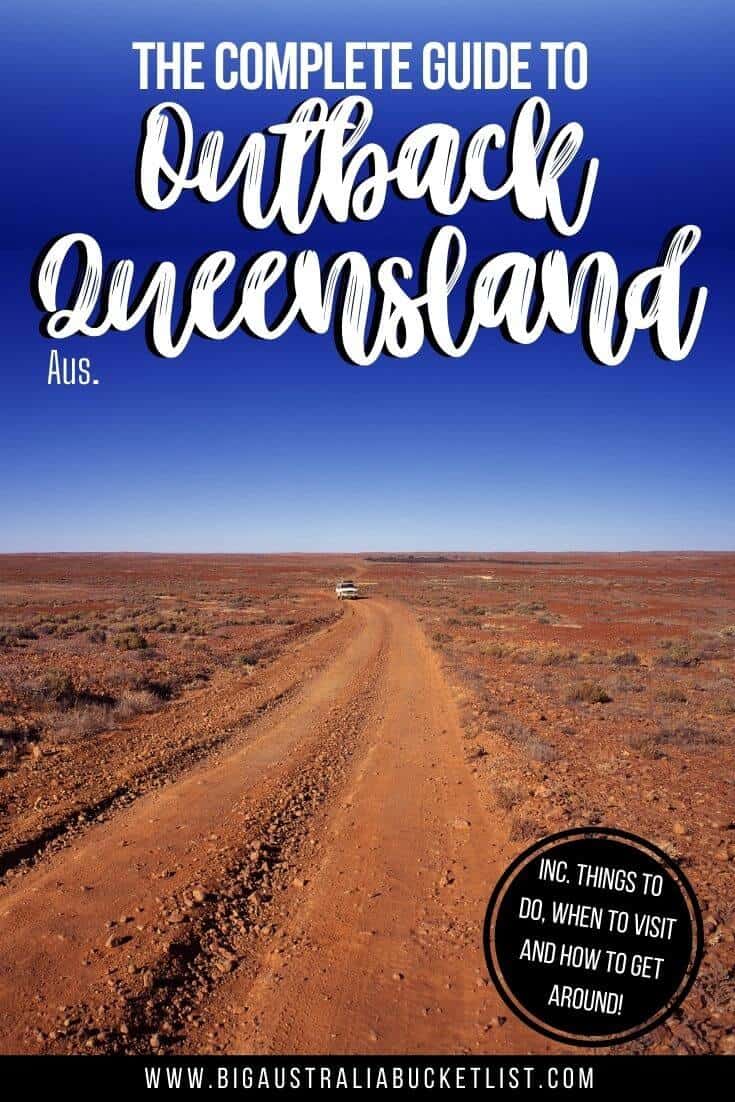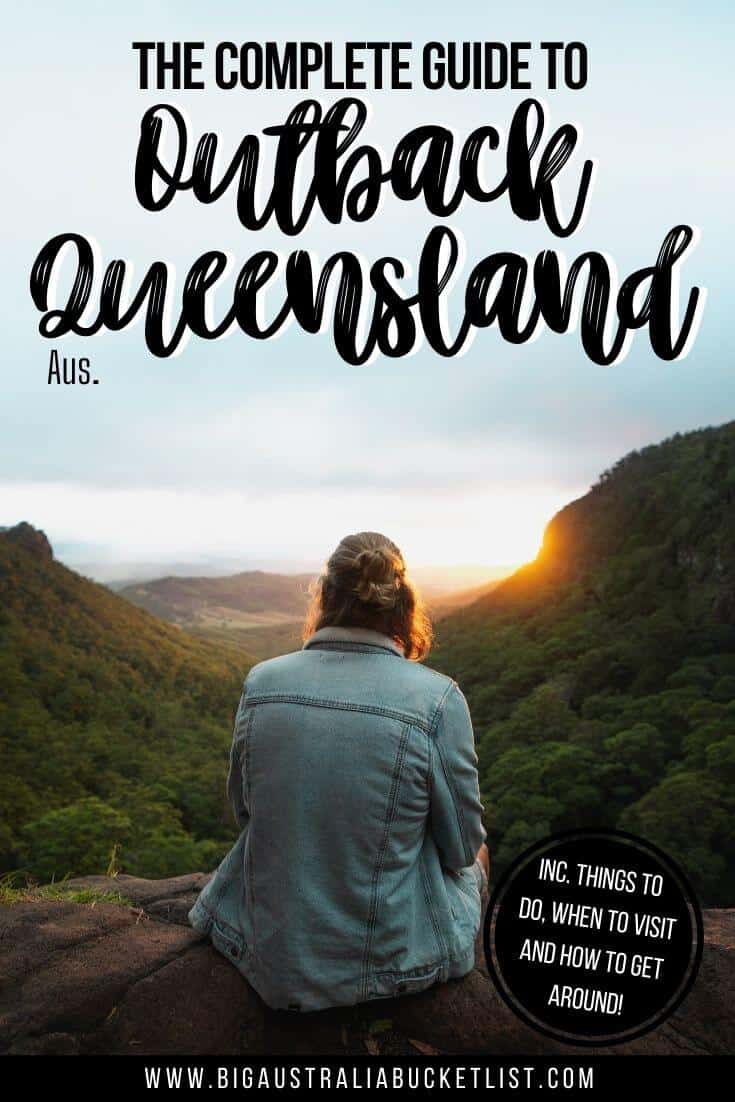 READY MORE TRAVEL INSPIRATION? YOU MIGHT BE INTERESTED IN THESE RECENT POSTS, TRAVEL ARTICLES, TRAVEL TIPS, DESTINATION GUIDES, TRAVELER RESOURCES, TRAVEL GEAR GUIDES AND RELATED POSTS ABOUT OTHER AMAZING PLACES AROUND AUSTRALIA:
Test Your Aussie Knowledge: The Big Australia Trivia Quiz + 80 Facts About Australia everyone should know + Australian Slang 101
South Australia: Adelaide Travel Guide (Perfect for First Time Visitors)
Don't miss our Big Australia Bucket List including Port Douglas, Fraser Island, the Northern Territory, Great Ocean Road, Flinders Ranges, Phillip Island, Fleurieu Peninsula, Kangaroo Island, the Yarra Valley & more!)
Queensland: QLD Bucket List (inc. the Queensland Outback and some of the best spots on the East Coast Australia – think Gold Coast, Capricorn Coast, Central Coast, Sunshine Coast, Airlie Beach, and the Great Barrier Reef)
New South Wales: Top Things to do in Sydney, Best Places to visit in NSW (including the Opera House, Blue Mountains National Park)
Western Australia Bucket List (inc. Margaret River, Lake Hillier, Wave Rock, Lucky Bay, Esperance & more!)
Victoria: The Ultimate Victoria Bucketlist, Melbourne Travel Guide (Perfect for First Timers), Best Time to Visit Melbourne, Free Things to do in Melbourne + 16 Best Day Trips from Melbourne
General Australia Inspiration: 25 Best Places to Visit in Australia (inc. Alice Springs and the NT) + Best Australian Travel Apps + Australia Travel Tips to Know Before You Go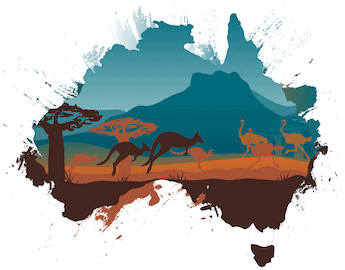 Hi There! Thanks for reading our guide to Top Things to do in Outback Queensland (+ Planning Tips). I just wanted to let you know that this post contains affiliate links, which means if you purchase something after clicking a link, I may get a small commission – which is at absolutely no cost to you. If you enjoyed this article and are going to be searching for some of the things I mention anyway, I would love it if you could click through from the links above & thank you in advance! Read my full Disclosure here.