Whether you're brushing up on your Australiana or looking for some fun and interesting Australia facts for your next quiz night, we've put together over 80 facts about Australia that will prove to you just how incredible (and slightly wacky!) this big, beautiful country really is.
To help you narrow down what type of Aussie fact will best pique your interest we've separated them into fun facts about Australia, interesting facts about Australia, weird facts about Australia (that you probably won't believe!), some amazing facts about our Australian animals, facts about Australian foodie favourites, and finally some mind-blowing facts about Australia that you absolutely should now (whether you're an Australian or not!)
p.s. each section has some great Australia facts for kids – especially in the animals and weird fact sections!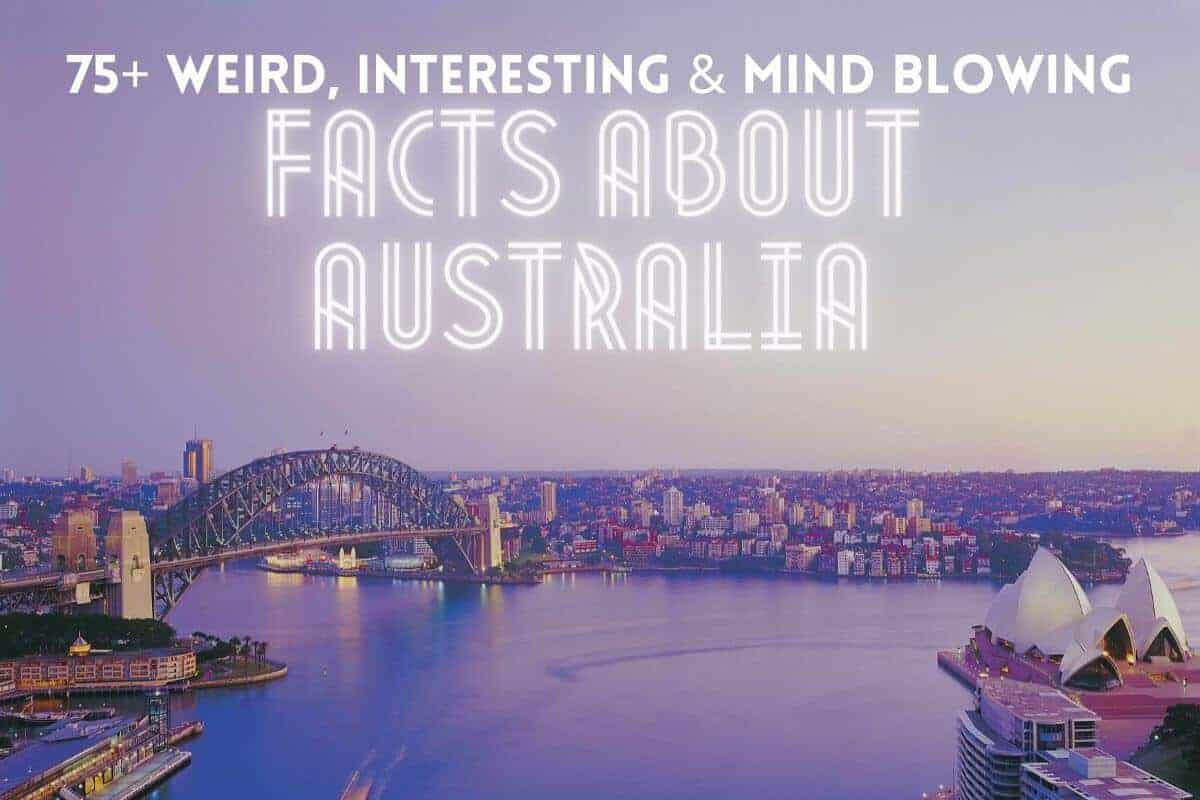 Disclaimer: Almost all posts on this site contain affiliate links, and this one with 75+ Facts About Australia (Fun Facts about Australia, Interesting Facts About Australia, Weird Facts About Australia and Mind-Blowing Australia Facts) is no different. This means that if you click on any of the links in this post (and make a purchase) I may receive a small commission at absolutely no cost to you. Each post is carefully crafted to (hopefully!) answer all your questions and recommendations are made where we believe they will improve your trip and help with your planning. As such we thank you in advance should you decide to click & buy. Read my full disclosure here.
Basic Facts About Australia
1. The currency is the Australian Dollar (it's also considered the most advanced currency in the world – it's waterproof, made of polymer and notoriously hard to counterfeit.)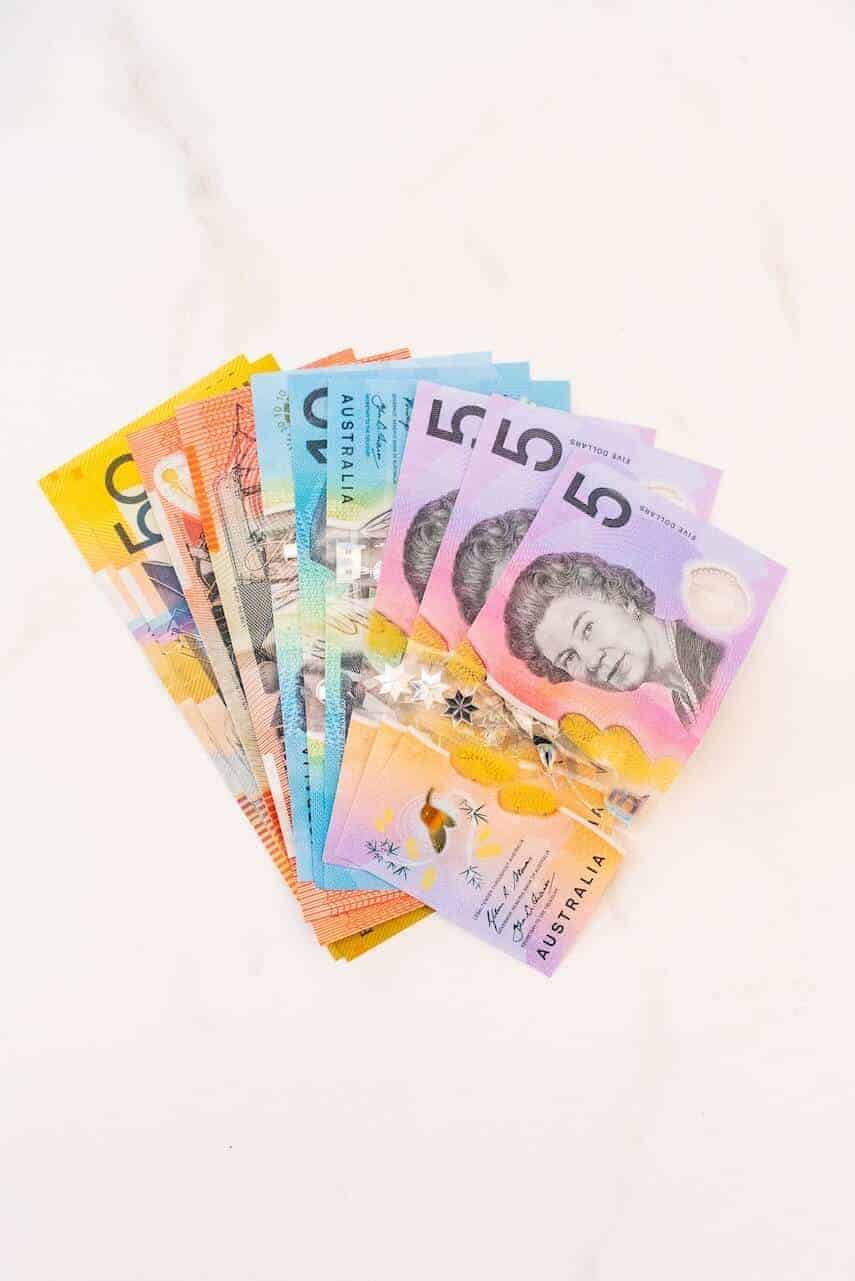 2. As an Island, Australia is surrounded by 3 different Oceans – the Southern Ocean to the South, the Indian Ocean to the West and the Pacific Ocean to the East.
3. Australia is the only continent covered by a single country.
4. Australia is the only continent that is geographically located wholly in the southern hemisphere.
Fun Facts About Australia
5. In Australia, sheep outnumber people 2.5 to 1 (in 2020).
6. Canberra was decided as the capital city of Australia because in bygone times, Sydney and Melbourne couldn't stop arguing who should get it (and to be honest, the rivalry about who is 'better' city continues to this day!)
7. 90% of the Australian population live within 50km of the coast.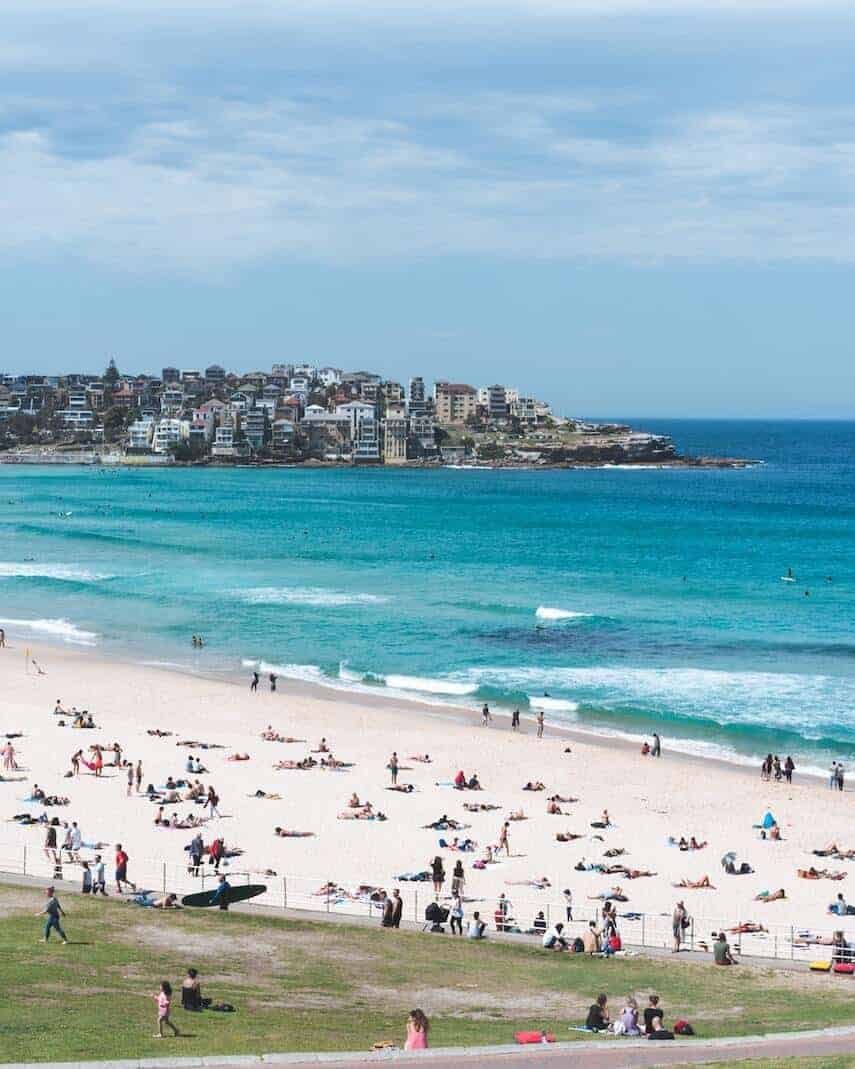 8. Australia has 20 world heritage listed sites including historic townships, cities and landscapes.
9. More than 25% of all Australians were born in another country
10. The world's longest golf course – a unique 18-hole par 72 golf course along the Nullabor Plain (which is also the longest straight road in the world) and encompassing 2 states (WA & SA) is a whopping 1,365 km (850 miles) long.
11. You can fly from Perth (WA) to Melbourne (VIC) faster than you can fly from the South to the North of Western Australia!
12. Australia is almost the same size as mainland USA (North America).
13. The first Police Force in Australia was made up of the most well-behaved convicts.
14. The Great Barrier Reef has its own post box.
15. AFL (Australian Rules Football) was invented to keep Cricketers fit in the offseason.
16. Approximately 45 million packs of Tim Tam are sold each year (that's over 670 million individual tim tams!)
17. Lamingtons – the national cake of Australia – were named for Lord Lamington (even though he hated them, describing the cakes as "those bloody poofy woolly biscuits").
18. Caramello Koalas actually have a real name: George.
19. The world's oldest fossil was discovered in Australia (3.4 billion years old)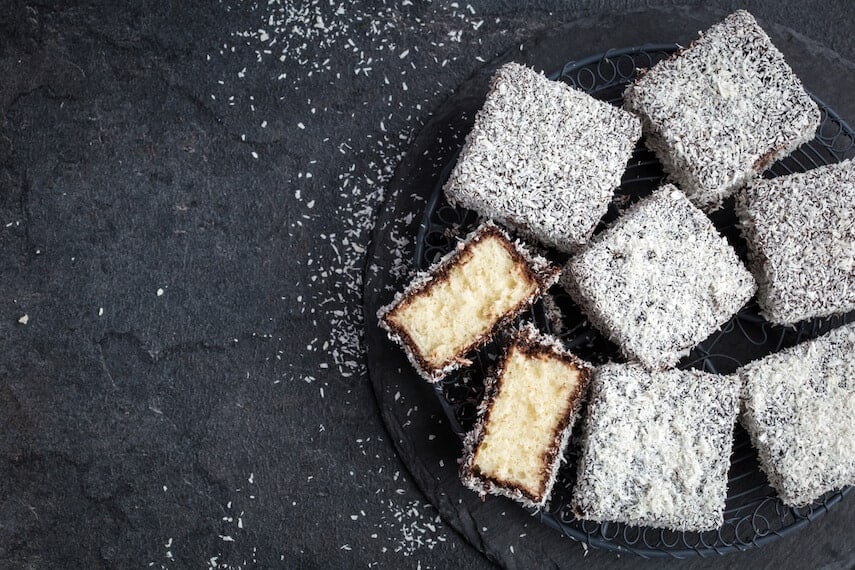 Interesting Facts About Australia
20. Australia is home to 10,685 beaches (which means it would take over 29 years to visit a different one every day!)
21. Australia is the 6th largest country by size – covering 7.692 million km²
22. … but with a population of just over 25 million (in 2020) it is only 55th on the list of largest countries by population.
23. Australia was the second country to give women the vote in 1902.
24. Australia is the only continent that doesn't have an active volcano.
25. The largest Greek population – outside Athens – can be found in Melbourne.
26. Between Port Augusta (SA) and Kalgoorlie (WA) across the remote Nullarbor Plain, the Trans Australia train line (home to the iconic Indian Pacific route) has a 478-kilometre (297 mi) stretch of dead straight train tracks – the longest in the world.
27. Aboriginal culture is the oldest on Earth – it is estimated that the continent's original inhabitants, the aboriginal people, have been in Australia for between 40,000-60,000 years.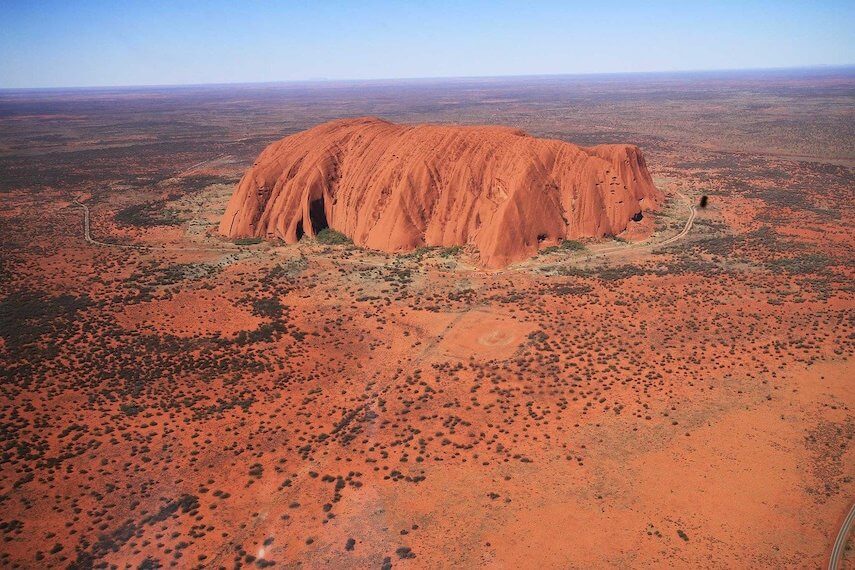 28. The world's largest rock is not Uluru (also known as Ayers Rock) but is Mount Augustus in Western Australia (and is twice the size of Uluru! – so it's pretty darn big)
29. Australia invented the world's first seat belt law in 1970.
30. The Australian climate is one of extremes with the highest temperature ever recorded being 50.7 °C (123.3 °F) on 2 Jan 1960 in Oodnadatta (SA) and the lowest, −23.0 °C (−9.4 °F) on 29 June 1994 at Charlotte's Pass (NSW).
31. Australia has around 600 varieties of eucalypts, often called gum trees.
32. Australia was one of the founding members of the United Nations
33. Stonemasons in Australia instituted the 8-hour working day back in 1856.
34. In Aboriginal culture women are not allowed to play the didgeridoo.
Weird Facts about Australia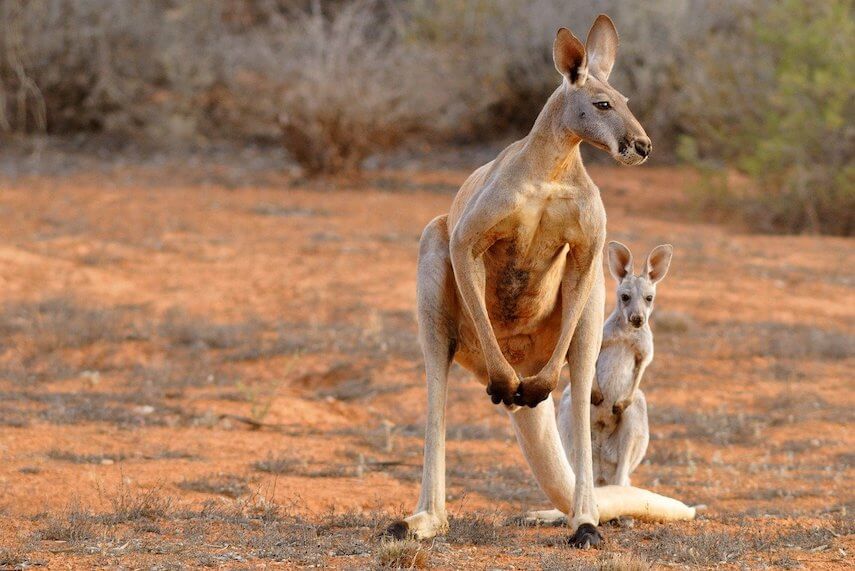 35. Australian's eat both of the animals on the countries national emblem (Kangaroo and Emu)
36. Brisbane holds the World Championship of Cockroach Racing each year (On Australia day no less!)
37. An Aussie man once tried to sell our neighbour, New Zealand, on eBay!
38. The Dingo Fence runs over 5,530km through Queensland and South Australia. It is the longest fence in the world and is 3 times the length of the Great Wall of China!
39. Former Prime Minister Bob Hawke set a world record for sculling 2.5 pints of beer in 11 seconds.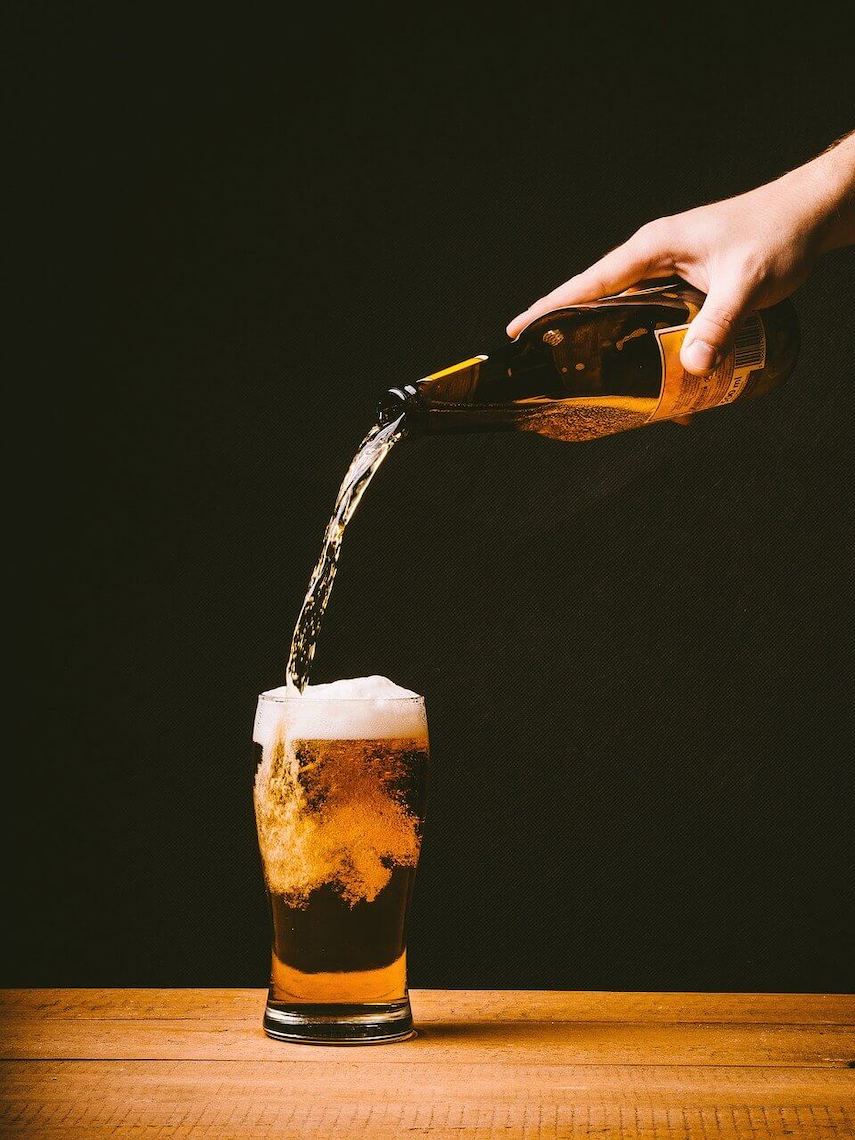 40. Melbourne was briefly called Batmania (and you can still visit Batman Park in Melbourne)
41. In 2005, security guards at Canberra's Parliament House were banned from calling people 'mate'. The ban lasted only one day.
42. Each week, more than 70 people overstay their Visa (this one isn't really a weird fact about Australia, I mean, who wouldn't want to stay?!)
43. Qantas once powered an interstate flight with cooking oil.
44. Between 1838 and 1902, it was illegal to swim at the beach during the day (in NSW)
45. Australians use classical music to fight crime. (In 2013, Knox Council in Victoria decided to blast Bach and Beethoven from speakers at shopping centres at night to deter teenage loiterers!)
Amazing Facts about Australian Animals
46. More than 80% of Australia's plants and animals are unique to our Island(s) and are found nowhere else in the world and include the Tasmanian Devil, Koalas, Kangaroos and Echidnas.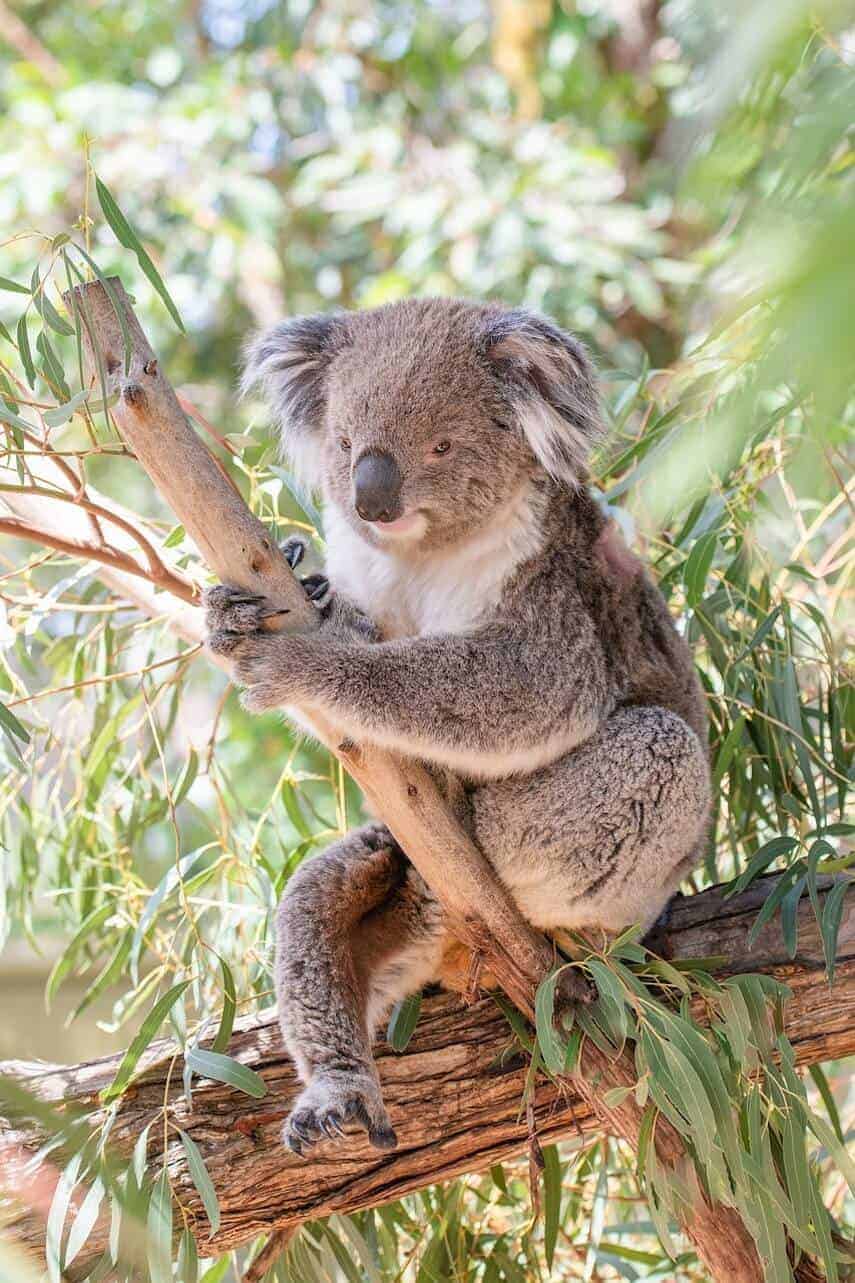 47. There are over 60 different types of Kangaroo.
48. Australia is home to 21 of the world's 25 most poisonous snakes
49. The venom of the elusive platypus can kill a small dog.
50. Australia's most deadly marine animal is the Box Jellyfish – and is responsible for more deaths per year than snakes, sharks and saltwater crocodiles.
51. There are 63.8 million sheep in Australia.
52. Dingoes are more closely related to the Indian wolf than dogs and do not bark. Instead, they howl.
53. The only two mammals in the world that lay eggs are found in Australia – the echidna and platypus.
54. Australia has the largest population of feral camels (wild camels) in the world. There are an estimated 1.2 million camels roaming around 37% of the Australian mainland across Western Australia, South Australia, Queensland and the Northern Territory.
55. There are 10 times more camels than Koalas.
56. Thinking they didn't have enough deadly animals to scare tourists – mainstream institutions (including the Australia Museum) created the Drop Bear – which was/is said to drop from trees and attack people!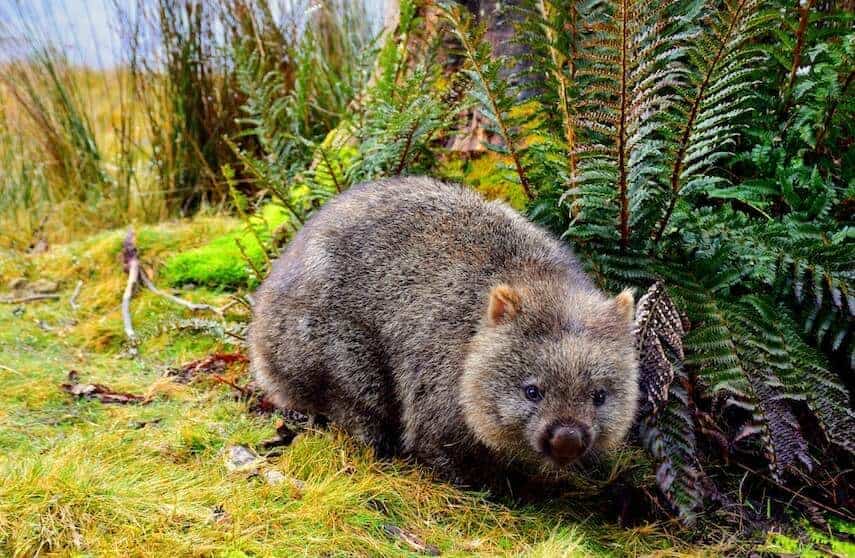 57. A wombat's poop is cubed shaped.
58. Before the arrival of humans, Australia was home to megafauna: three-metre tall kangaroos, seven-metre long goanna's, horse-sized ducks, and a marsupial lion the size of a leopard.
59. Australian wallabies have been known to break into opium crops, get high, and run around creating "crop circles".
60. Both kangaroos and emus lack the ability to walk backwards (and it was for this reason they were chosen for Australia's coat of arms – to symbolise a country always moving forwards).
61. The termite mounds that can be found in Australia are the tallest animal-made structures on Earth
62. Australia is home to more than 1,500 species of spiders.
Whoever authorized the evolution of the spiders of Australia should be summarily dragged out into the street and shot." – Mira Grant: read our 50 BEST Quotes about Australia for more like this!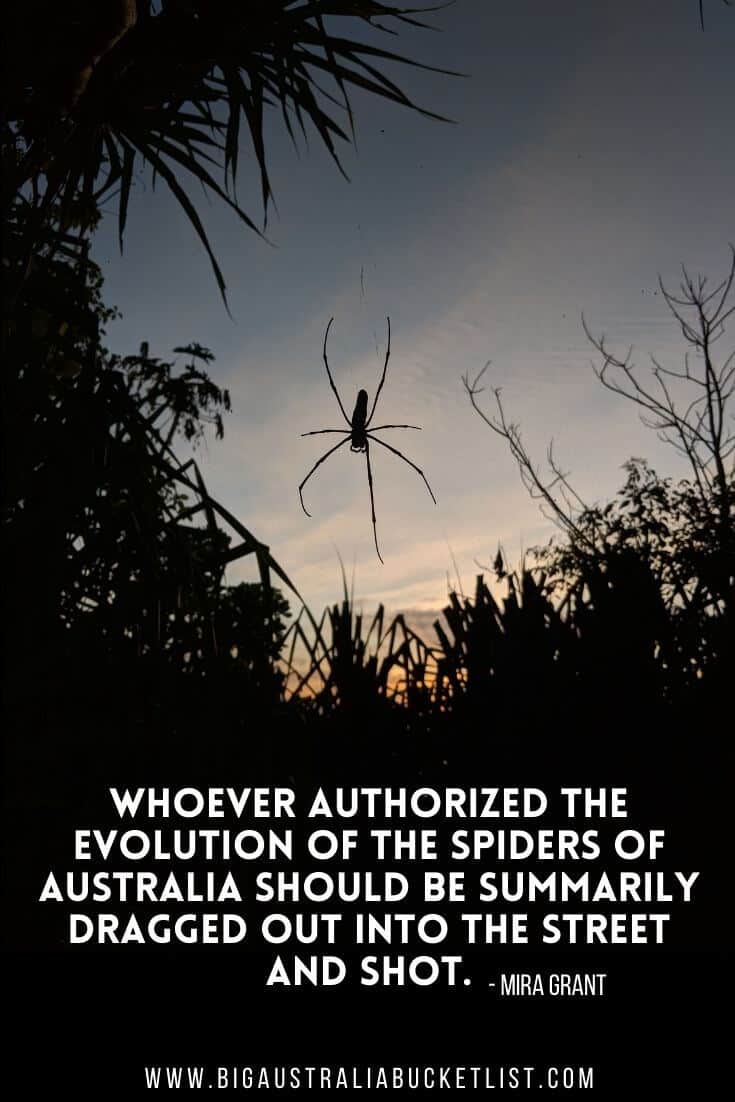 Foodie Facts about Australia
63. There are over 60 designated wine regions in Australia (the majority of which are in Victoria and New South Wales) and collectively they produce approximately 1.35 trillion bottles of wine every year (and it's bloody good!)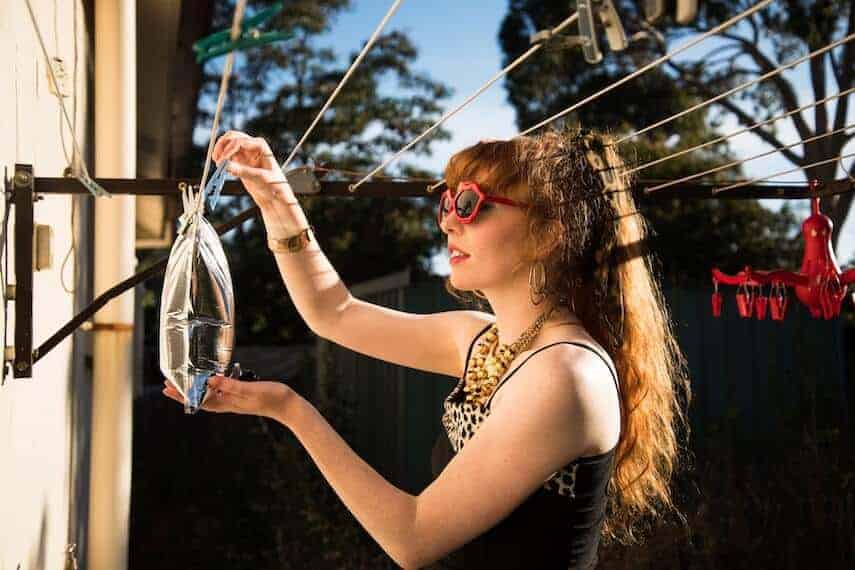 64. The wine cask (goon!) was invented in Australia (It's believed goon got its name as a shortened version of "flagon" when winemaker Tom Angove was looking for a way to sell half-gallon flagons of wine.)
65. Aussies drink 1.7 billion litres of beer per year (that's about 680 bottles of beer for each adult.)
66. Vegemite was invented in Melbourne in 1922 using the leftover Yeast used to create Beer.
67. The ANZAC Biscuit (sweet and crunchy baked good made of rolled oats and desiccated coconut) was made for WW1 soldiers. And there is a law against calling them cookies(!)
68. The most basic of Australian foods, a soda bread called 'Damper'. Created with just 3 ingredients, wheat flour, water and salt, which are baked over coals.
69. Australia's oldest chocolate bar is the Cadbury's Cherry Ripe – and was first produced in 1924.
70. Aussies eat over 270 million meat pies a year.
71. The 'long black' and 'flat white' are Australian coffee variations.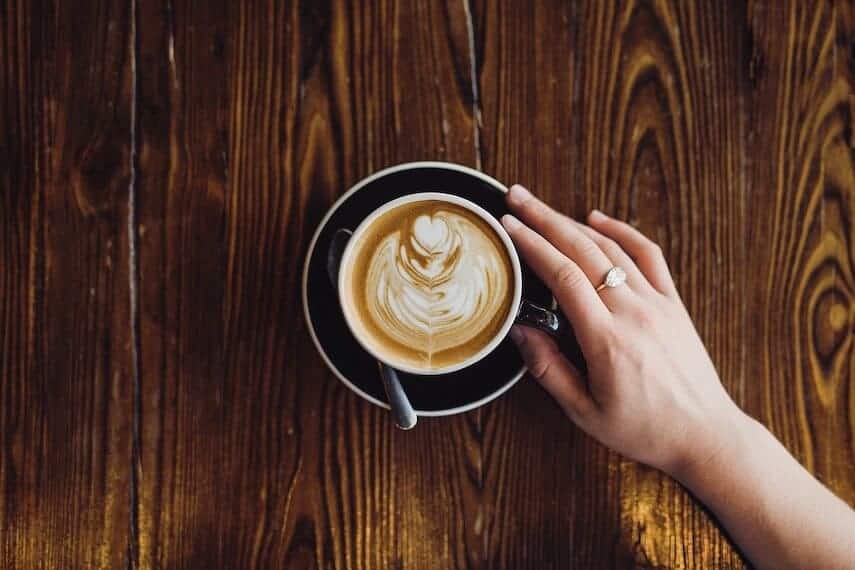 Mind-Blowing Australia Facts
71. The Australian Alps regularly receive more snow than Switzerland (take that, snow snobs!)
72. 20% of the worlds gambling machines (pokies) can be found in Australia, with more than 80% of Aussie's participating in some form of gambling (move over, Las Vegas!)
73. Australia's population (25.49 million) is closest to the population of the Chinese city of Shanghai (25.5 million) despite being 1213 times it's size!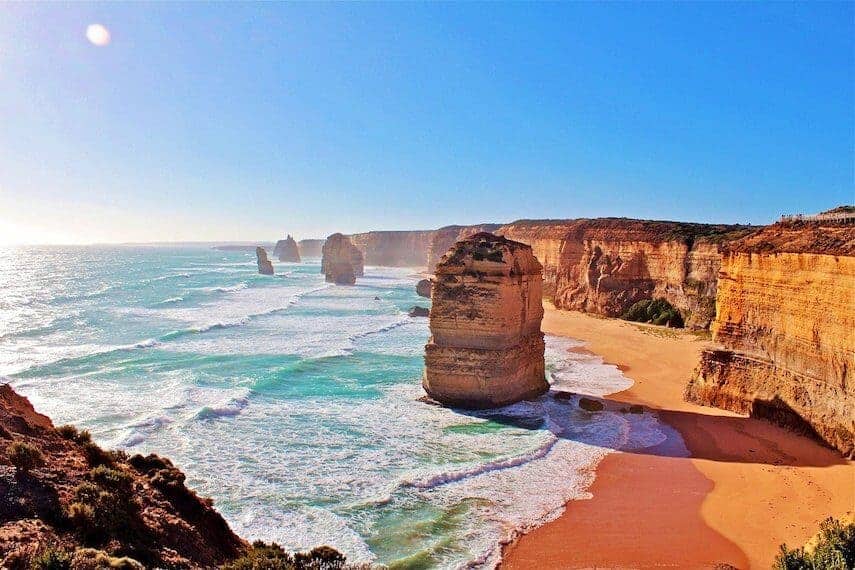 74. The Great Ocean Road is the largest war memorial in the world, built by and in honour of returning and fallen soldiers from the first world war.
75. Tasmania has the cleanest air in the world
76. Australia is as wide as the distance between London and Moscow.
77. The Great Barrier Reef is the largest living structure in the world – is made up of nearly 3,000 individual reefs and can be seen from space.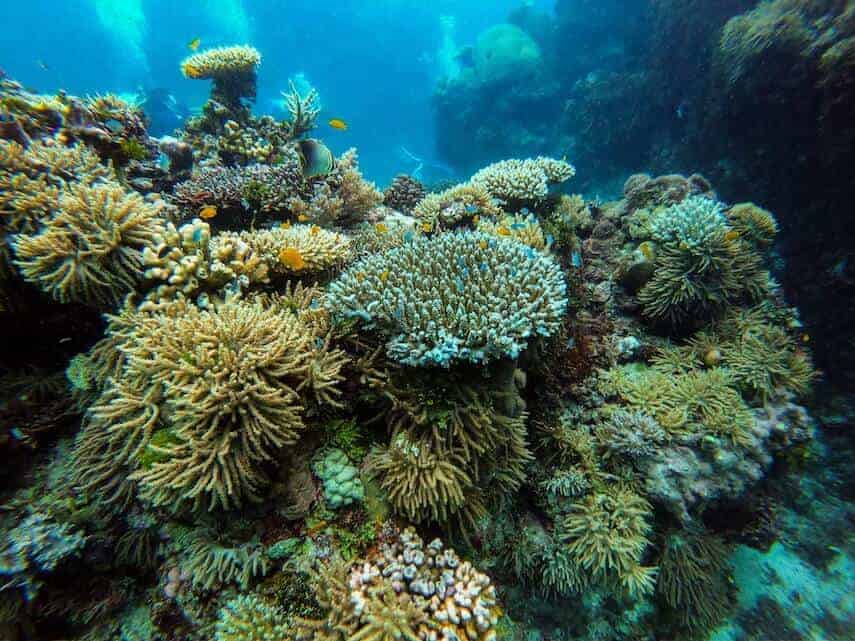 78. K'gari / Fraser Island (QLD) is the largest sand island in the world.
79. Anna Creek Ranch in South Australia is the worlds largest single cattle ranch – and is larger than Israel.
80. The Gold Coast has the world's largest canal system, which is larger than those of both Venice and Amsterdam combined.
81. The Great Victoria Desert is bigger than the whole of the United Kingdom.
82. Moomba, Australia's largest free festival held in Melbourne, means 'up your bum' in many Aboriginal languages.
83. In Australia, Maltesers were originally marketed as a weight-loss food. (Oh my, if only!)
And that's a wrap! Whether you live in Australia or are planning to visit in the near future – we hope that some (or all!) of these Australian facts have given you a little insight into this wonderful country of ours and have helped convince you that Oz is one of the most incredible countries in the world.
And if you don't mind sharing the love for these facts about Australia, a tweet, flip, pin, or Facebook share would be much appreciated! (Full-sized pins available by clicking the share bar on the left – and all the images above are pins too!)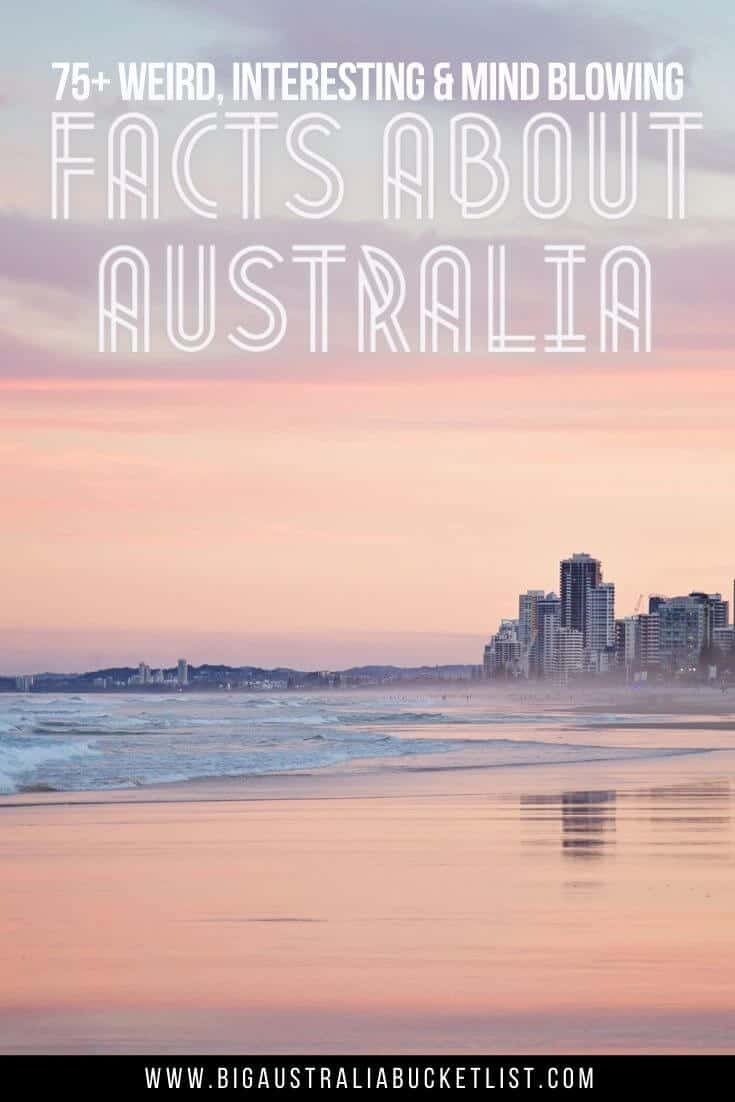 READY FOR MORE TRAVEL INSPIRATION? YOU MIGHT BE INTERESTED IN THESE RECENT POSTS, TRAVEL ARTICLES, TRAVEL TIPS, DESTINATION GUIDES, TRAVELER RESOURCES, TRAVEL GEAR GUIDES AND RELATED POSTS ABOUT OTHER AMAZING PLACES AROUND AUSTRALIA: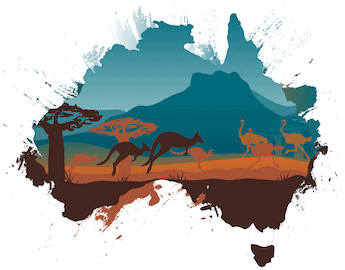 Hi There! Thanks for reading our post about 80+ Aussie Facts and Interesting & Weird Facts About Australia. I just wanted to let you know that this post contains affiliate links, which means if you purchase something after clicking a link, I may get a small commission – which is at absolutely no cost to you. If you enjoyed this article and are going to be searching for some of the things I mention anyway, I would love it if you could click through from the links above & thank you in advance! Read my full Disclosure here.