If you're an Aussie, you'll already know that you can ski and snowboard in Australia (mostly in New South Wales and Victoria with 2 small resorts in Tasmania), but it is often a huge surprise for international visitors. Regardless, if you're planning a trip to the snow this winter, our complete guide to the best ski resorts NSW is just what you need.
There are 4 ski resorts in NSW: Thredbo, Perisher, Charlottes Pass and Selwyn Snow Fields and for each, we will cover
It's suitability for beginners, intermediate and experts;
The number of runs – and their difficulty levels;
The number and types of lifts (and average lift pass prices);
Different types of accommodation available, in the resort and close by; and
Drinking and Dining Options in the ski village & surrounds;
We hope all these details will help you plan the perfect snowy mountain escape and help get you out on the hill. The skiing season in Australia runs between June and October (depending on snow conditions) – so be sure to plan your skiing holidays in line with resort openings!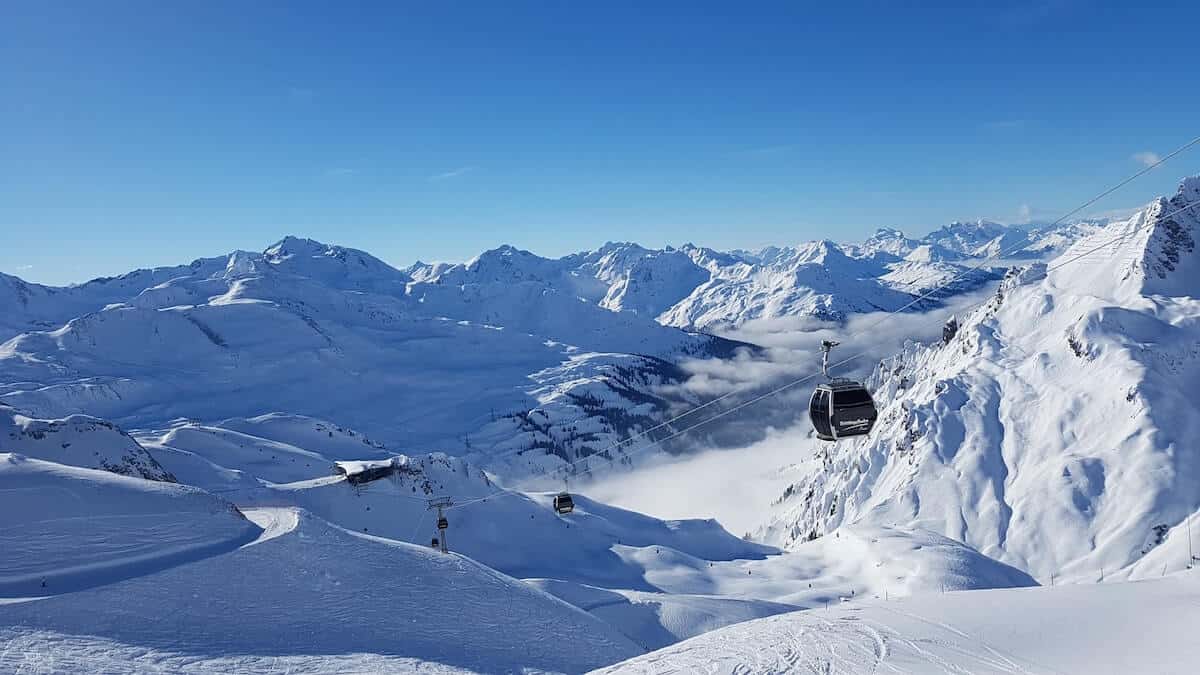 Disclaimer: Almost all posts on this site contain affiliate links, and this one about The Best Ski Resorts NSW is no different. This means that if you click on any of the links in this post (and make a purchase) I may receive a small commission at absolutely no cost to you. Each post is carefully crafted to (hopefully!) answer all your questions and recommendations are made where we believe they will improve your trip and help with your planning. As such we thank you in advance should you decide to click & buy. Read my full disclosure here.
Complete Guide to Best Ski Resorts NSW
Thredbo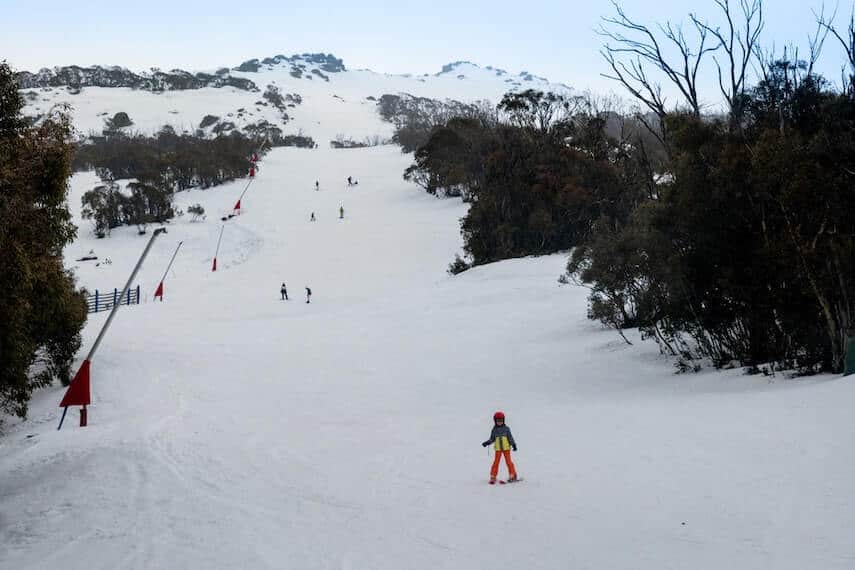 Quick Facts & Ski Facilities at Thredbo
Elevation: 1365m – 2037m (672m Gain)
Ski Slope Length: 70km / 54 Ski Runs


Easy/Blue

– 7km (10%)

|

Intermediate/Red – 60km (86%)

|

Difficult/Black – 3km (4%)

Ski Lifts: 11
1x Gondola | 5x Chairlift | 5x T-Bar Lift | 1x People Mover | 2x Kids Magic Carpet
Lift Prices Per Day:
Adult (22-64) – $169 | Youth (18-21) – $159 | Teen (13-17) – $99 | Child (5-12) – $89 | Baby/Toddler (0-4) – $10
Extra Features:
Snow Park / Fun Park, CrossCountry Skiing + Ski School
Accommodation Areas (distance from town centre):
Thredbo Village (On Mountain Resort)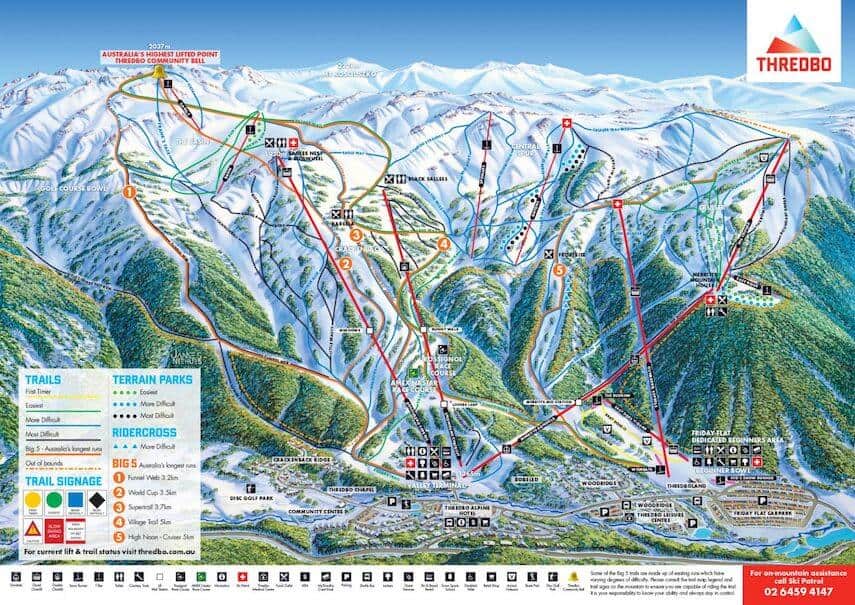 Thredbo Resort Overview
Thredbo has won the prestigious 'Best Ski Resort in Australia' award from the World Ski Awards for the past 4 years in a row, and in 2020 the resort also picked up the 'Best Family Ski Resort' from the Ski & Snowboard with Kids Awards. It is home to what is known as the 'Big 5' – which is a collection of 5 of the longest runs in Australia. These are High Noon – Cruiser (5km), Village Trail (5km), Supertrail (3.7km), World Cup (3.5km) and Funnel Web (3.2km).
The majority of the pistes are aimed at intermediate skiers, but there are a few challenging back runs for the advanced skiers and snowboarders out there, and the Friday Flats area is fantastic for beginners and children just finding their snow legs..
Once you've worked up an appetite exploring the mountain, there are 9 different on-mountain dining venues (Bar, BBQ, Bistro etc) to fuel you on the hill and an additional 19 Restaurants (Burger Bar, Pub, Cafe's, Grill, Tapas) in the village for apres ski and your evening meal.
There are also a range of non-ski related activities available on the mountain including Saturday night fireworks (live and free every Saturday in Winter), visit the Thredbo Alpine Museum, hit the spa – and even the opportunity to ride the Gondola or take a Snowcat ride under the stars to an incredible on-mountain dining experience.
However you get up there – day or night – don't forget to give the Thredbo Community Bell a ring at the top of the Karels T-Bar Lift.
Where to stay in Thredbo: Our Picks for Luxury, Budget, Groups & Families
RELATED:
Looking for information about Victorian Ski Areas such Mt Baw Baw, Mount Buller, Mt Hotham (and more) be sure to check out our guide to the Best Ski Resorts Victoria edition!
Perisher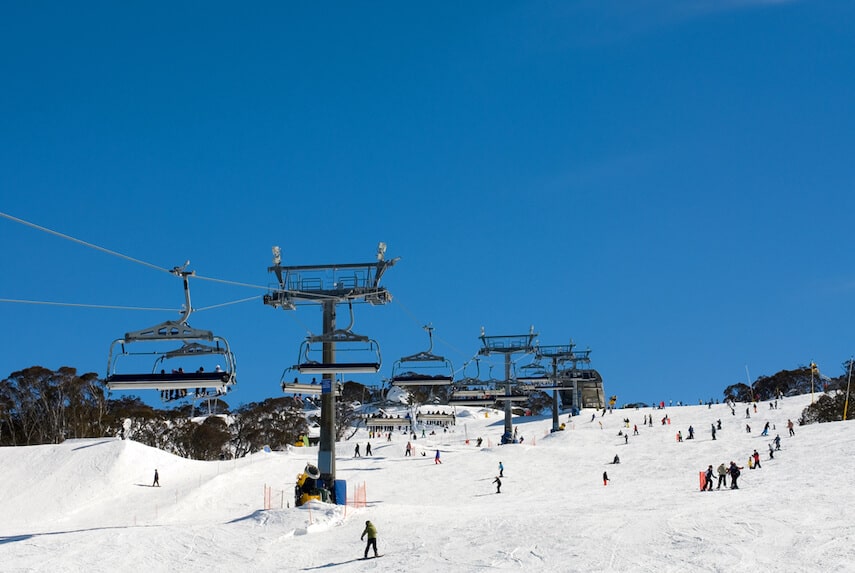 Ski Elevation: 1605m – 2034m (429m Gain)
Ski Slope Length: 100km / 113 Ski Runs


Easy/Blue

– 22km (22%)

|

Intermediate/Red – 60km (60%)

|

Difficult/Black – 18km (18%)

Ski Lifts: 47
1x Gondola | 15x Chairlift | 23x T-Bar/Button Lift | 5x People Mover | 3x Kids Rope Tow
Lift Prices Per Day:
Adult (22-64) – $195 | Youth (18-21) – $159 | Teen (13-17) – $99 | Child (5-12) – $89 | Baby/Toddler (0-4) – $10
Extra Features & Snow Activities:
Terrain Parks, Half Pipe & Ridercross + Cross Country Skiing (in the Mount Kosciuszko National Park area via backcountry tours)
Accommodation Areas (distance from town centre):
Perisher Valley Alpine Resort (0.3km), Smiggin Holes (0.6km), Jindabyne (21km)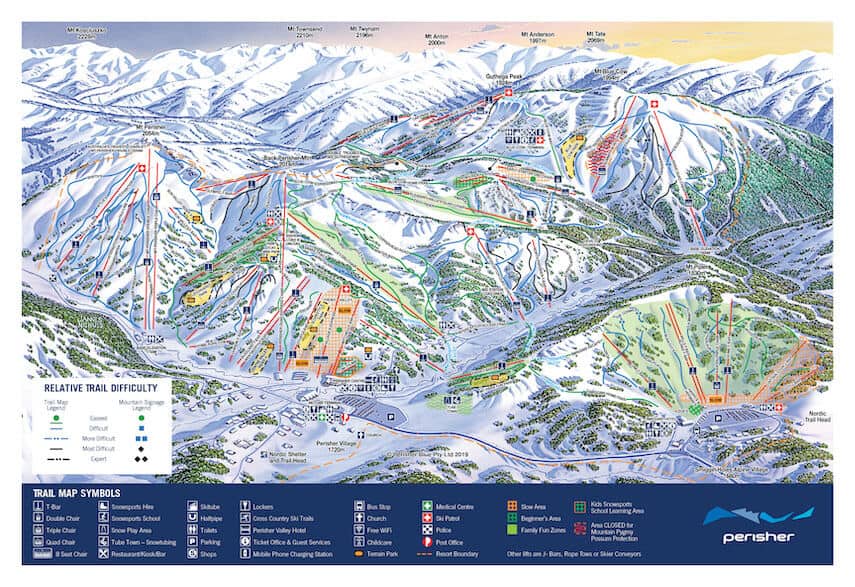 Perisher Resort Overview
Perisher is the largest ski resort in Australia, and by combining 4 ski areas they make up the largest resorts in New South Wales. Perisher Valley, Perisher Blue Cow, Guthenga, and Smiggins Hole, offer a combined 47 ski lifts and 38 restaurants and bars (great for après ski) across the 3,000 acres of skiable terrain.
The ski fields are perfect for downhill skiing and snowboarding, and if you are looking to ski beyond the trail boundaries, there are plenty of backcountry skiing opportunities between the resorts. Although we highly recommend joining a guided backcountry tour to not only stay safe, but get the best from your off-piste adventures.
For those that can't get enough of being on the piste, be sure to join in one of the Neon Night Skiing and boarding sessions, or hop on a toboggan and ride down the mountain on your butt (on purpose, as opposed to falling on it!); or get nordic with some snow-shoeing, telemarking or cross country skiing. The possibilities are endless!
And after all that, if you still want more, join a Groomer Tour – where guests get to ride in one of the resorts piste bashers (they're the machines that 'groom the piste' and create those fresh courdroy carpet vibes you see at first tracks). It's a very unique experience and a must-do for any mountain lover.
Oh, and if you have little ones that you'd like to escape from for a few hours, this premier NSW ski resort offers a snowy mountains babysitting service. You can thank us later.
Where to stay in Perisher: Our Picks for Luxury, Budget, Groups & Families
Charlottes Pass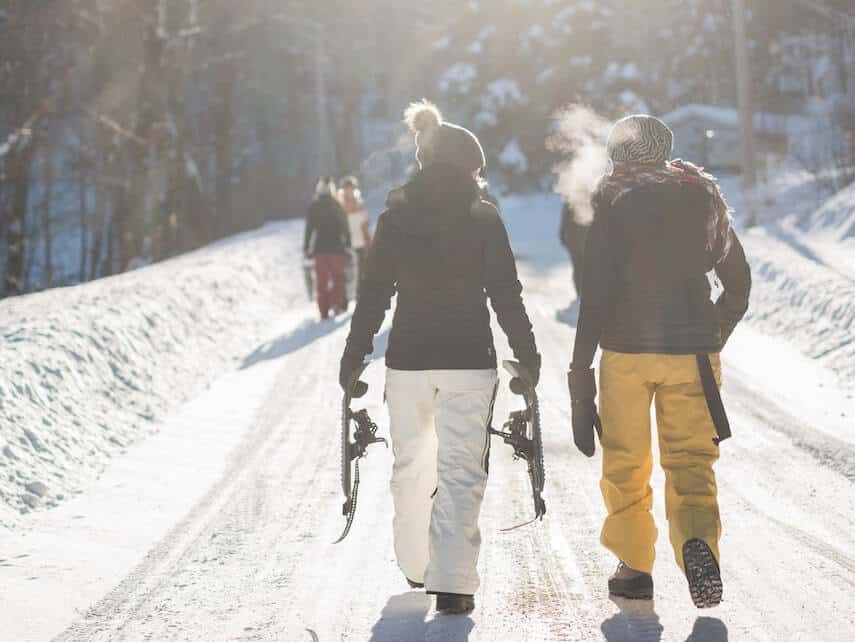 Ski Elevation: 1765m – 1954m (189m Gain)
Ski Slope Length: 10km / 25 Runs


Easy/Blue

– 1km (10%)

|

Intermediate/Red – 8km (80%)

|

Difficult/Black – 1km (10%)

Ski Lifts: 5
1x Chairlift | 3x T-Bar/Button Lift | 1x People Mover
Lift Pass Prices Per Day:
Adult – $119 | Children – $75 | Senior – $95
Accommodation Areas (distance from town centre):
13 Lodges/Hotels in Resort, Perisher Valley (9km), Jindabyne (42km)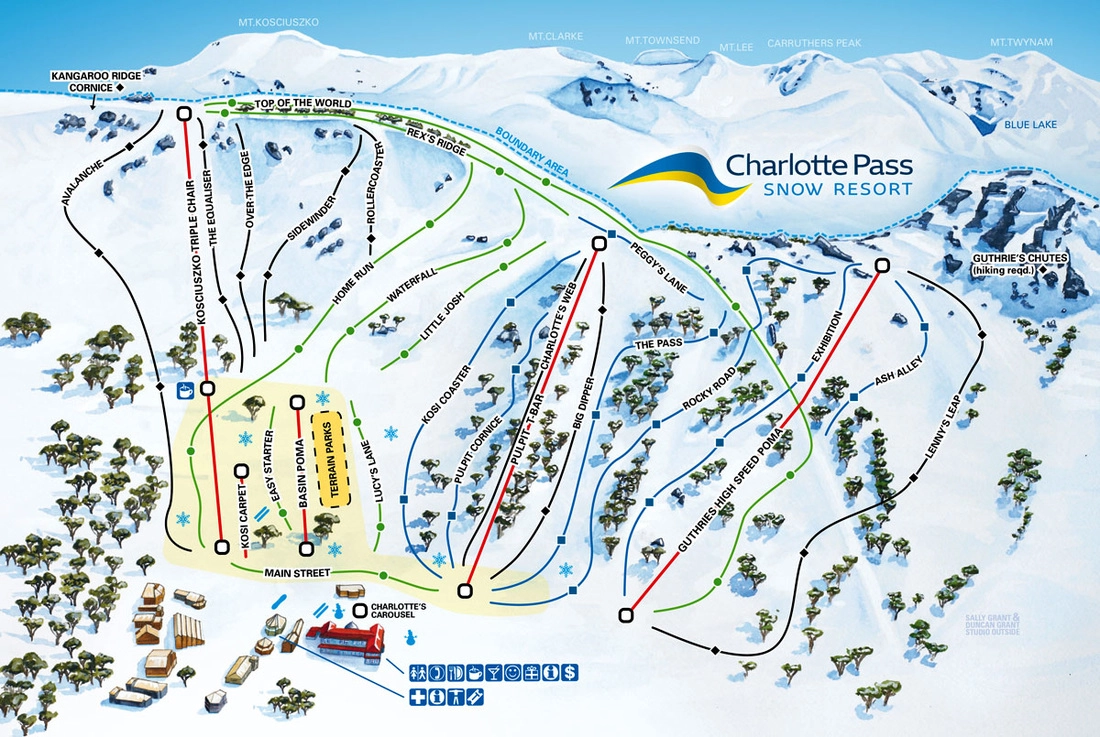 Charlottes Pass Resort Overview
Charlottes Pass is Australias highest resort, offering 10km of piste, 6 restaurants and bars and a handful of hotels and lodges in-resort, making it one of the smallest, most unique, boutique ski resorts in the world.
As heavy snowfall cuts off the mountain road in winter, it can only be reached via an Oversnow vehicles from Perisher, at a cost of $60 each way.
If you don't end up staying in Charlottes Pass (accommodation can fill up quickly) but would still like to ski the resort, considered purchasing on the of the Day Tripper passes on offer. These passes must be purchased online, in advance and can either include your lift pass, return overnow transfers from Perisher, and lunch at China King in resort; OR a 2.5h Guided snowshoe tour, return oversnow transport and picnic lunch overlooking the range.
Selwyn Snow Resort
Ski Elevation: 1492m – 1614m (122m Gain)
Ski Slope Length: 10km / 17 Skiing Trails


Easy/Blue

– 9km (9%)

|

Intermediate/Red – 0km (0%)

|

Difficult/Black – 1km (10%)

Ski Lifts: 9
2x Chairlift | 5x T-Bar/Button Lift | 1x People Mover | 2x Kids Rope Tow
Lift Prices Per Day:
Unavailable at this time
Accommodation Areas (distance from town centre):
Adaminaby (45km)
Selwyn Snowfields Resort Overview
Selwyn Snowfields is set to reopen on 2 July 2022 with a brand new expanded Selwyn Centre housing all guest facilities in the one building. This include ski and snowboard hire, food and drink facilities and improved bathroom amenities.
There have also been improvements to ski lift facilities throughout the resort, a relocated learning area with 2 new magic carpet lifts (perfect for beginners) and the installation of 10 new snow making cannons makes for some of the best powder in the Southern hemisphere (even when the weather doesn't play nice!)
Selwyn is the closest Ski Resort to Canberra in the Australian Capital Territory
And that's a wrap. We hope our Australias ski resorts guide and top tips to skiing in New South Wales in the Australian Alps has been super helpful in planning your winter escape to the snow, but if there is anything we haven't covered, be sure to let us know in the comments below.
Skiing is of the most fun holidays in Australia and we hope that whether it's your first trip to the snow or your favourite time of year, that you all enjoy the snow season! And if you know of anyone heading to the snow, or planning their first NSW ski trip, please share this article with them via Facebook, Pinterest, Twitter, Whatsapp or Flipboard. Just remember, sharing is caring!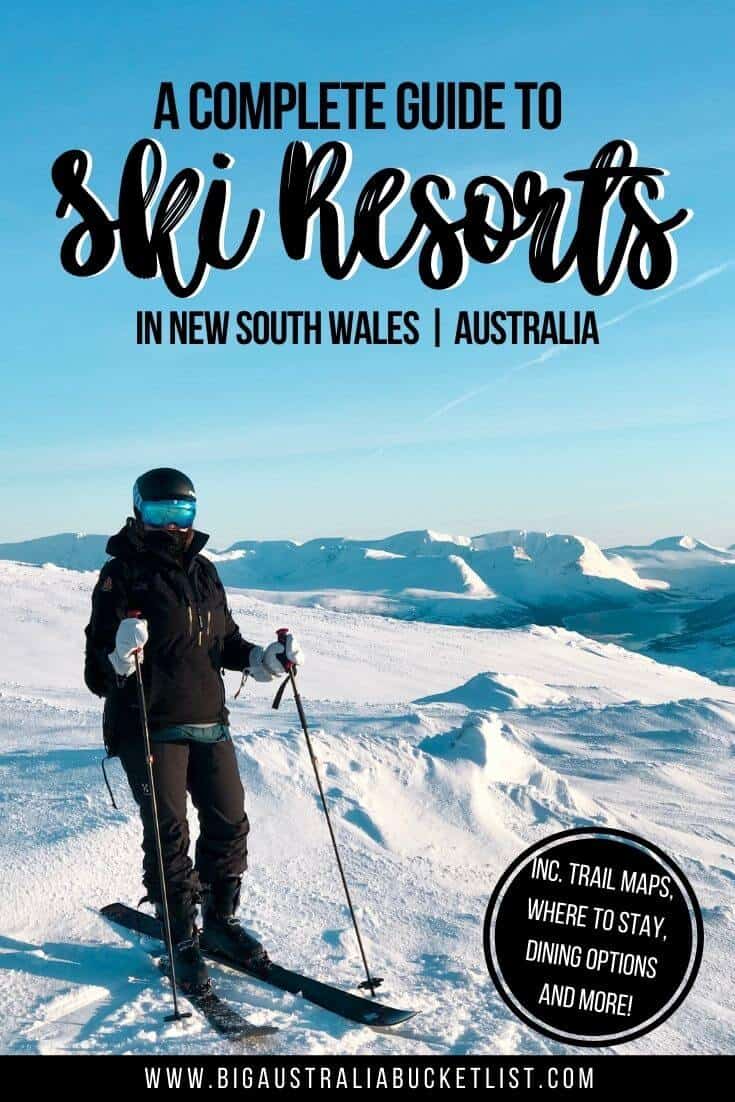 READY MORE TRAVEL INSPIRATION? YOU MIGHT BE INTERESTED IN THESE RECENT POSTS, TRAVEL ARTICLES, DESTINATION GUIDES, TRAVELER RESOURCES, TRAVEL GEAR GUIDES AND RELATED POSTS ABOUT OTHER AMAZING PLACES AROUND AUSTRALIA:
[optinform]
Hi There! Thanks for reading our guide to The Best Ski Resorts NSW. I just wanted to let you know that this post contains affiliate links, which means if you purchase something after clicking a link, I may get a small commission – which is at absolutely no cost to you. If you enjoyed this article and are going to be searching for some of the things I mention anyway, I would love it if you could click through from the links above & thank you in advance! Read my full disclosure here.