Located on the South Eastern coast of Australia, Melbourne is its second-most populous city in Oz, as well as the capital and most populous city in the state of Victoria. (Not to mention, the BEST city in Australia – I am a local and biased but there is a reason we won 'the most livable city 7 years in a row!')
Covering almost 10,000 square kilometres, it is an all-weather metropolis, filled with places to go and things to do and see. This can, however, bring with it some problems of its own, as it will leave many with questions when it comes to planning their own trip. Where are the best places to stay in Melbourne? When is the best time to visit Melbourne? How many days in Melbourne is enough? What are the best things to do in Melbourne? Are there any Free Things to do in Melbourne?
All of these can be issues for even experienced travellers, let alone those who are visiting the city, or perhaps even the country, for the very first time. If you don't get things like these right, there is a good chance that what should have been the trip of a lifetime ends up being a little disappointing.
That is why today, I want to try and help you with one of those things, as I am going to look at what is the best time to visit Melbourne Australia. I will show you what the highlights of each season are, give you some information about the sorts of temperatures, events, and amount of daylight that will be present when you visit, as well as suggesting who each time of year might be best suited for.
Hopefully, this should give you all the information you need to ensure your trip to Melbourne is as enjoyable and memorable as it could possibly be.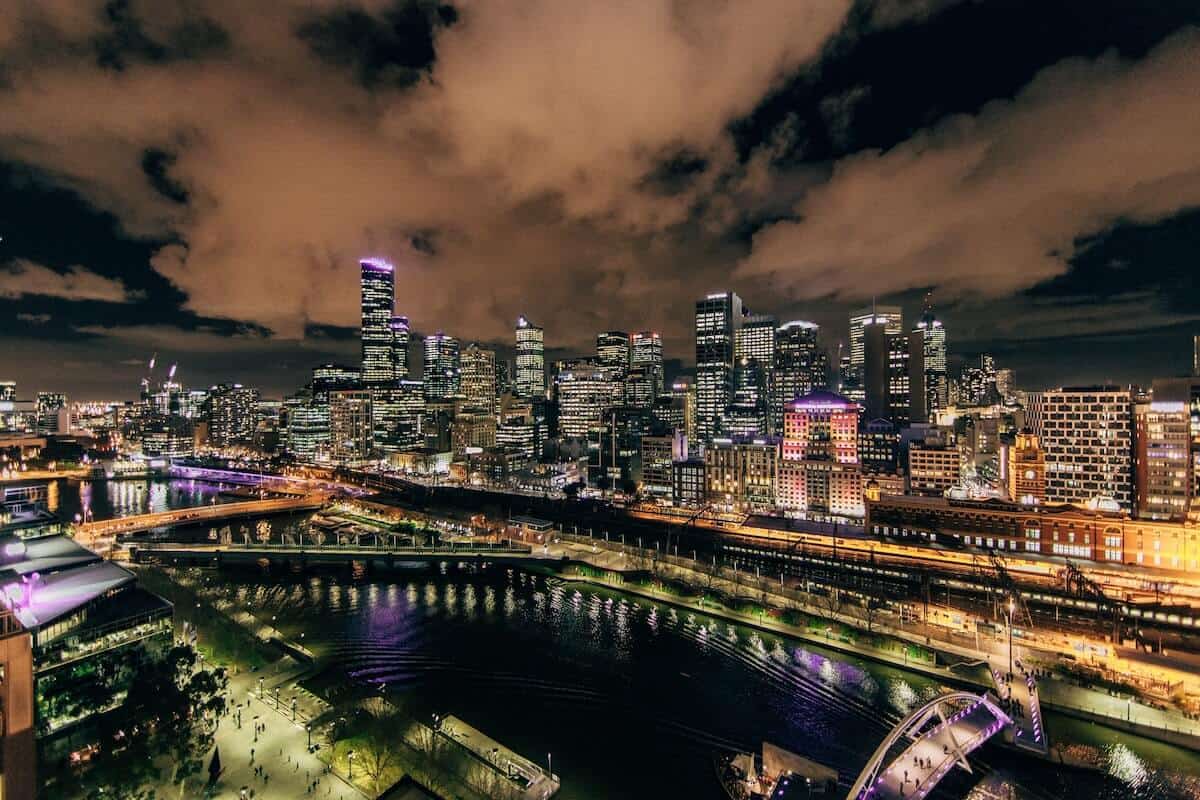 Disclaimer: Almost all posts on this site contain affiliate links, and this one about Best Time to Visit Melbourne Australia [Month by Month Guide] is no different. This means that if you click on any of the links in this post (and make a purchase) I may receive a small commission at absolutely no cost to you. Each post is carefully crafted to (hopefully!) answer all your questions and recommendations are made where we believe they will improve your trip and help with your planning. As such we thank you in advance should you decide to click & buy. Read my full disclosure here.
This post was co-written with Linda of EasyTravel4U
PUBLIC SERVICE ANNOUNCEMENT! As most of you will be aware, Australia is located in the Southern Hemisphere, which means that our seasons are the reverse of the Northern Hemisphere. So if you're international travelers from Europe, the USA, Asia etc the travel seasons are flipped: your winter is our summer; your spring is our autumn etc. Be sure to check the months over the 'seasons' if you are a little unsure to help you plan the perfect trip down under.
Best Time To Visit Melbourne: A Guide to Visiting Melbourne in Summer (December – February)
Summer in Australia (December to February) the hottest time of year, with temperatures in Melbourne reaching as high as 46.4ºC/115.5ºF. This makes it a great place to visit for anyone looking to escape the darkness, leave their (northern hemisphere!) winter blues behind and get some 'winter' sun.
With miles of incredible beaches and crystal clear waters, summer in Melbourne is the perfect time to top up your tan, go for a swim, or perhaps take part in some new activities, like surfing, snorkelling, water sports or scuba diving.
While it is certainly possible that the temperatures around this time of year will be a little too much for some people – as with any season in Melbourne, it is a distinct possibility that you can and will experience all 4 seasons in a day. A favourite Melbourne saying is 'if you don't like the Melbourne weather, wait a minute'.
But those who like it nice and warm are in for a real treat, with mostly warm to hot days, and slightly cooler nights and a gorgeous city to enjoy.
Things to do in Melbourne in Summer
For those who love Christmas, this is a great chance to experience the holidays in a different season. Christmas in Australia is more about seafood, sunshine, beaches – and cricket(!) than donning your daggy Christmas jumper to eat ham and turkey.
The summer also means spending a lot of time outside enjoying the weather and for most families – the summer school holidays. From walks to road trips, winery tours to river cruises, rooftop bars and outdoor cinemas. You will also have access to all the amenities you would expect from a beach destination during the traditional summer months, such as beach sports, boat trips and sightseeing tours.
OUR TOP TIP: Make sure to take part in some of the traditional Christmas festivities. For those from most parts of the world, experiencing Christmas in the blistering heat will be a truly unique occasion.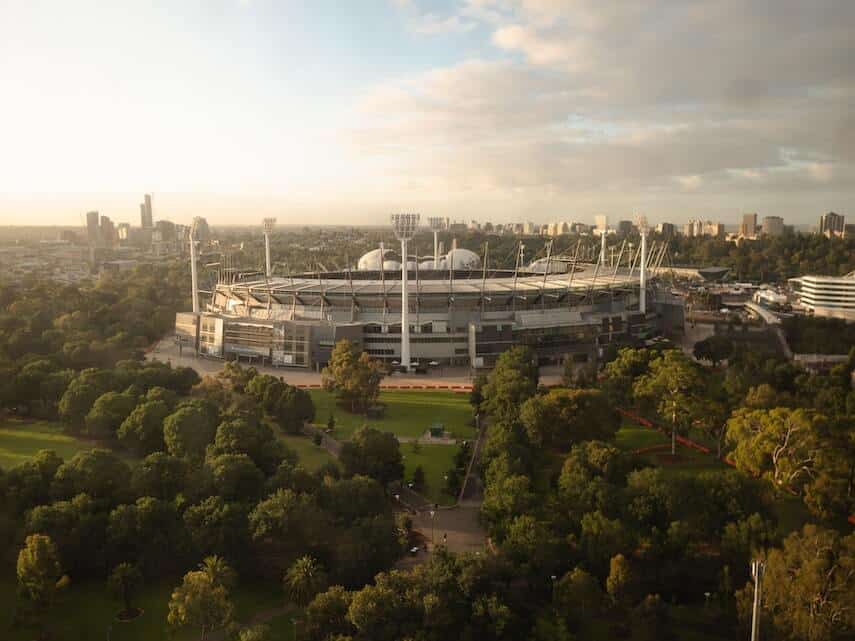 Events and Festivals in Melbourne in Summer
Summer is a great time for events in Melbourne, and in a city that loves its sports, there are 2 major events in that visitors have the chance to experience.
The first is the Boxing Day Test at the MCG (Melbourne Cricket Ground) where up to 100,000 people pack the largest stadium in Australia to see two teams don their whites and hit the turf. And at the end of January, there is the chance to spend a day at the Australian Open, which is one of the 4 major tournaments on the tennis calendar.
December
Hours Of Daylight:
14-15 hours
Average Low: 4.4ºC/39.9ºF
Average High: 24.8ºC/76.6ºF
January
Hours Of Daylight:
14-15 hours
Average Low: 16.1ºC/61ºF
Average High: 27ºC/80.6ºF

February
Hours Of Daylight:
13-14 hours
Average Low: 16.4ºC/61.5ºF
Average High: 26.9ºC/80.4ºF
Best Time To Visit Melbourne: A Guide to Visiting Melbourne in Autumn (March-May)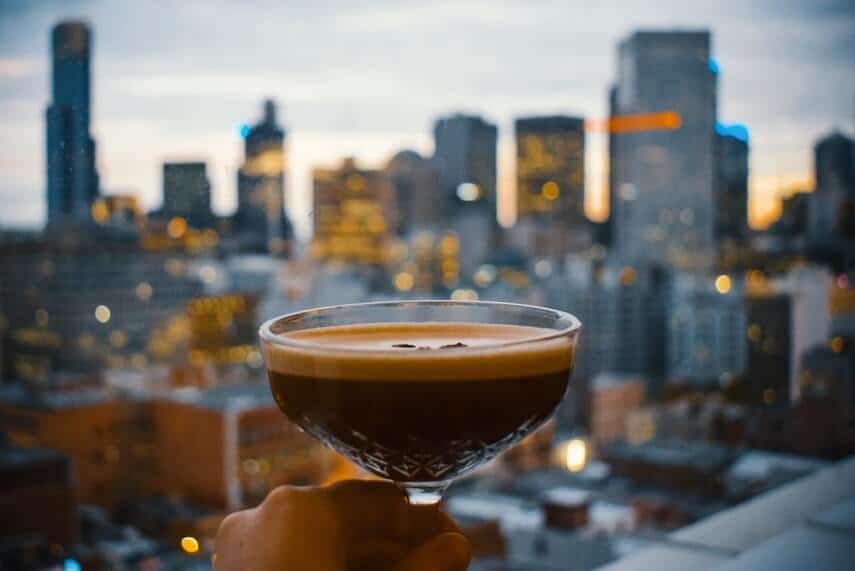 Between March and April/ May is an incredibly popular time for tourists to visit Melbourne, as it features the sort of climate you would associate with late summer. Beautiful days give way to warm nights, creating a pleasant temperature for the duration of your stay. Perfect for shoulder season tourism.
This means that nothing is off limits, no matter what you have planned for your trip. Whether you want to spend days lazing on the beach or exploring the attractions, nights dining al fresco, or even venturing outside the city, you will never have to worry about being too hot or too cold to do so.
The increased popularity of this time of year means you aren't likely to find the same sort of value that you can at other times. That said, it is a far cry from the peak of high season and there are still deals to be had if you look hard enough.
Things to do in Melbourne in Autumn
With average temperatures just starting to cool off, this is an ideal time to enjoy some relaxing outdoor activities in a climate that is nice and warm but not overbearing.
Spend a little time at the beach, enjoy some traditional Australian BBQ and relax outdoors in the city's fabulous bars and restaurants.
It is even a great time to explore beyond the limits of the city as well. Healesville Sanctuary and the Yarra Valley are near Melbourne CBD; plus Grampians National Park, Macedon Ranges, Dandenong Ranges, the Great Ocean Road, Phillip Island and Sovereign Hill are all located just a few hours from Melbourne (and make for perfect day trips) and are fabulous destinations for anyone interested in the history, wildlife or landscapes of the region.
OUR TOP TIP: Get prepared for the feeling of late summer sun. This is when the weather is just starting to cool off, providing visitors with some of the most pleasant, comfortable temperatures that you will find at any point of the year in Melbourne.

Festivals & Events in Melbourne in Autumn
Autumn is a great time to visit Melbourne for anyone wanting to get a glimpse at the culture of the city. Melbourne Fashion Festival and Melbourne Food and Wine Festivals are both held in March, while Melbourne International Comedy Festival begins at the end of March and runs into April.
April also sees one of the most important public holidays – Anzac Day, which commemorates the service of fallen military in a traditional remembrance day service. These events give visitors a great way to experience the food, drink, style, humour and humility of the region.
2021 will also see the unveiling of a new Melbourne Festival – RISING – which will replace White Night. Held under the full moon between 26 May to 6 June, it's going to be a wonderful outdoor festival combining public art, performance and music; and alongside the annual Moomba Festival and Midsumma Festival, is a great time to experience the city.
Also, sports fans are not neglected in Autumn – the start of March sees the first event on the F1 calendar when Albert Park is turned into a race track for the Formula 1 Melbourne Grand Prix.
March
Hours Of Daylight:
12-13 Hours
Average Low: 14.6ºC/58.3ºF
Average High: 24.6ºC/76.3ºF
April
Hours Of Daylight:
11-12 Hours
Average Low: 11.8ºC/53.2ºF
Average High: 21.1ºC/70ºF

May
Hours Of Daylight:
10-11 Hours
Average Low: 9.8ºC/53.2ºF
Average High: 17.6ºC/63.7ºF
Best Time To Visit Melbourne: A Guide to Visiting Melbourne in Winter (June-August)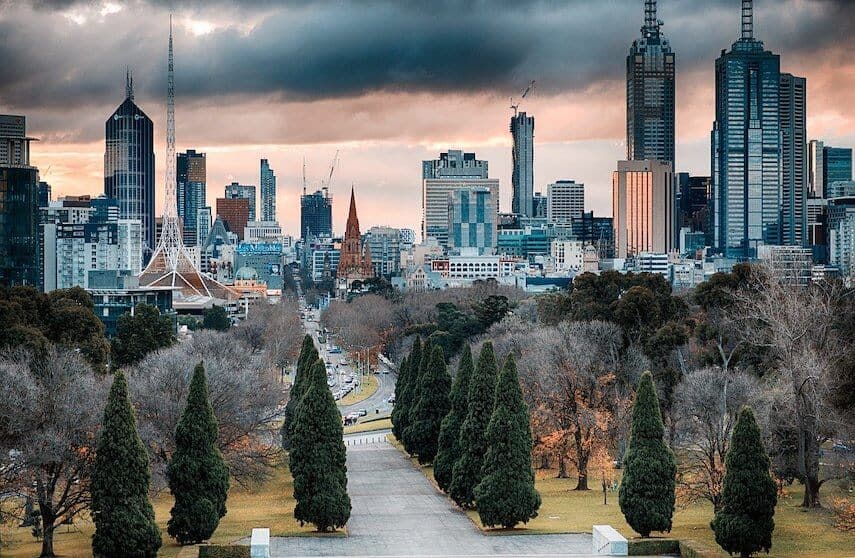 When packing for a vacation between June and August, be sure to pack your coast and jumpers and be prepared for a few rainy days with Melbourne enjoying the lowest temperatures of the year. Don't be too worried by that though, as you are still unlikely to find temperatures dropping much below 10ºC/50ºF – you may just get a bit rained on!
That makes it a great time to visit for anyone who is interested in visiting Australia but has been put off by the high summer temperatures it's famous for. Now is the time that you can make your visit and experience everything the city has to offer, without constantly worrying about looking for shade, drinks or air-conditioning all the time.
Things to do in Melbourne in Winter
Winter (June to August) is a great time to explore the city, without the heat becoming too much. Take a stroll around the Royal Botanic Gardens, check out some of the amazing museums, or enjoy any of the other activities that don't rely on glorious sunshine the whole time. There is also the Queen Victoria Night Markets for food, live music and artisan stalls every Wednesday night between the beginning of June and the end of August.
Despite not being something Melbourne, or Australia in general for that matter, is known for, there's also ski resorts located out in the Victoria mountains. For those who are feeling truly adventurous, why not head out and hit the slopes, and experience skiing in Australia.
OUR TOP TIP: Bring your warmer clothes, and prepare to layer up. As we mentioned above, Melbourne can easily experience all 4 seasons in a day!
Festivals & Events in Melbourne in Winter
When it comes to winter festivals in Melbourne, it is something best suited to those who are interested in the arts. With the Melbourne International Film Festival held throughout August, as well as the Melbourne Writers Festival running through August and into September, it is a great time to see some of the talent the city has to offer in terms of acting, story writing and so much more.
June
Hours Of Daylight:
9-10 Hours
Average Low: 8.2ºC/46.8ºF
Average High: 15.1ºC/59.2ºF
July
Hours Of Daylight:
9-10 Hours
Average Low: 7.5ºC/45.5ºF
Average High: 14.5ºC/58.1ºF

August
Hours Of Daylight:
10-11 hours
Average Low: 7.9ºC/46.2ºF
Average High: 15.9ºC/60.6ºF
Best Time To Visit Melbourne: Visiting Melbourne in Spring (September-November)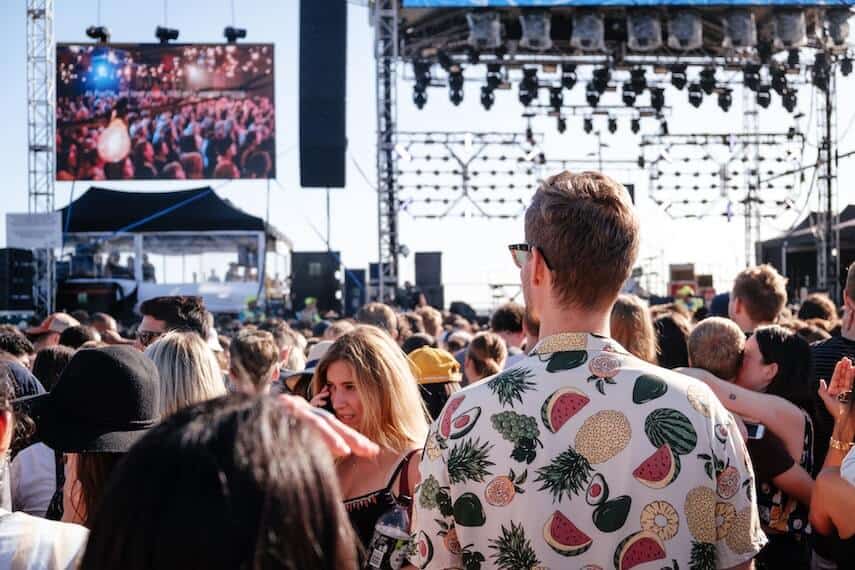 While a lot of the seasons in Australia are different to elsewhere around the world, Spring (September to November) is a time that is pretty much the same as anywhere else in the world. Neither too hot nor too cold, the pleasant temperatures are largely suitable for the majority of things on your checklist.
Meanwhile, being out of the traditional "holiday" periods means substantially less tourists will visit at this time of year.
For starters, that means you will find everything from attractions to bars and restaurants less crowded, making for a much more peaceful and relaxing stay.
The lack of people will also lead to much better value deals being available as well. Hotels and airlines all lower their prices to try and reach capacity, making it a great time to travel for anyone working on a tight budget.
Things to do in Melbourne in Spring
In truth, there isn't much you can't do in Melbourne at this time of year. That said, it is a particularly ideal time to do some of the outdoor activities that may be a little less enjoyable when surrounded by crowds or under the beating sun.
Enjoy attractions like the Melbourne Zoo or Queen Victoria Market. Explore Chinatown and discover the diversity of the city. Catch a show like The Australian Ballet or attend one of the many music festivals. Do things that let you capitalise on both the climate and population of your destination at this time of year.
OUR TOP TIP: This is the best time to travel for those looking for a great deal. Right between the high season and the school break, there is a tourist lull that allows you to find flights and accommodation for much more affordable rates.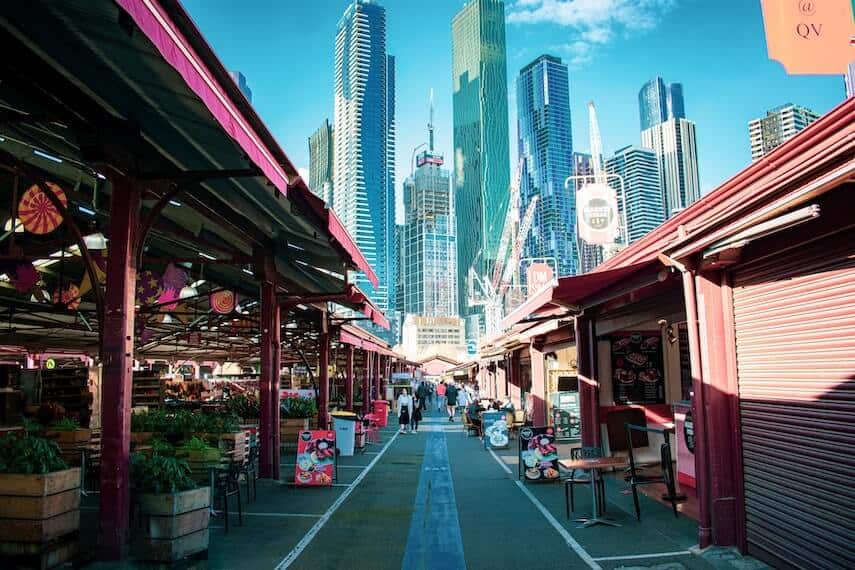 Festivals & Events in Melbourne in Spring
Spring, more specifically November is a fabulous time to visit Melbourne for anyone who is a fan of horse racing or finals footy. The Melbourne Cup, Australia's most famous thoroughbred horse race, is held on the first Tuesday of November; and the finals of Victoria's favourite winter sport – the AFL grand final (Australian Rules Football) is held at the MCG at the end of September.
No matter which event you attend, you're bound to be thrilled – and get a public holiday to boot!
September
Hours Of Daylight:
11-12 Hours
Average Low: 9.4ºC/48.9ºF
Average High: 18.1ºC/64.6ºF
October
Hours Of Daylight:
13-14 Hours
Average Low: 10.9ºC/51.6ºF
Average High: 20.5ºC/68.8ºF

November
Hours Of Daylight:
14-15 Hours
Average Low: 12.8ºC/55ºF
Average High: 22.9ºC/73.2ºF
Our Final Thoughts on the Best Time to Visit Melbourne Australia
Considering most people come to Melbourne Victoria to enjoy warm weather and beautiful beaches, the best time for the vast majority of people to visit will be between November and March. While there are plenty of reasons to visit Melbourne throughout the year, this period gives you a great opportunity to make the most of the reversed seasons and have a winter break in the sun.
However, those seeking cooler temperatures will prefer winter with the best month to visit being between June and August, and anyone travelling on a tight budget will find great deals in the shoulder seasons of spring and autumn (Fall), while travellers looking for the most comfortable daytime temperatures will have a great time in the spring.
As I said at the outset, Melbourne is a great city, no matter when you choose to visit. The reason to get the timing right is not to make sure you can enjoy your trip; it is to turn what is sure to be a great break into the vacation of a lifetime.
So, there you have it, a complete rundown of the best times to visit Melbourne and what each different part of the year has to offer. Hopefully, this should have given you everything you need to decide on the perfect time to visit the city.
All that's left is to start getting things booked, so you can jet off as soon as possible and start experiencing it all for yourself.
Oh, and if you liked this post please share on Facebook, tweet or pin – I'd really appreciate it! Click the P in the share bar for the full-size image!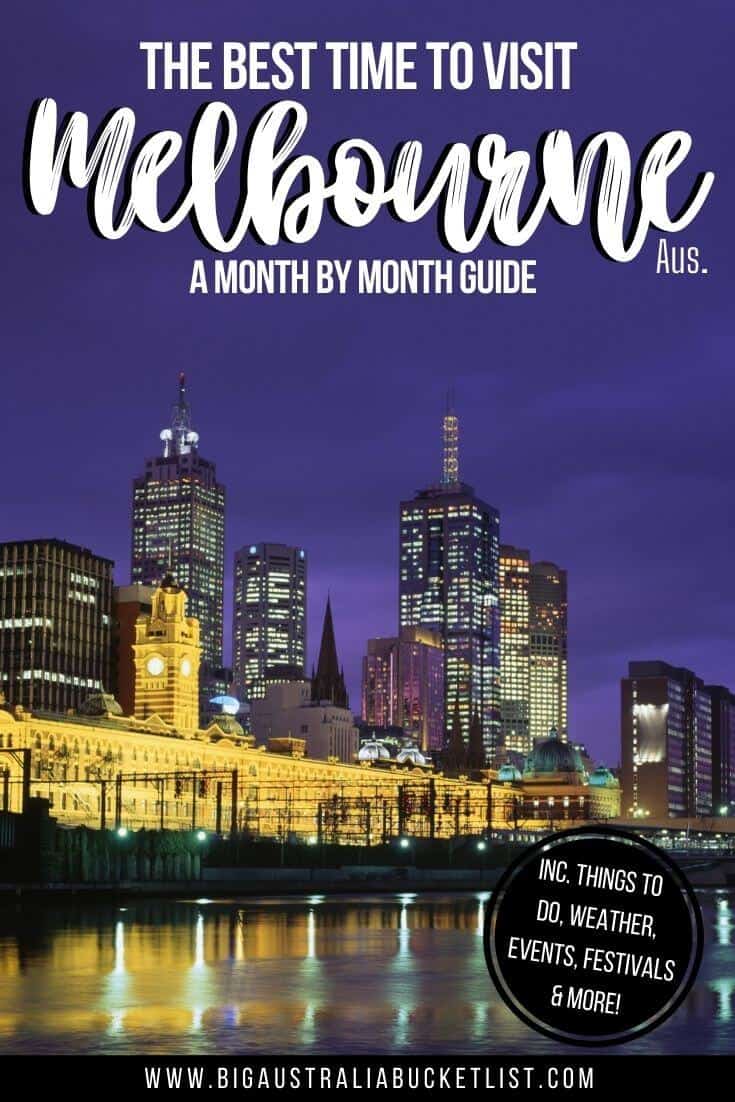 READY MORE TRAVEL INSPIRATION? YOU MIGHT BE INTERESTED IN THESE RECENT POSTS, TRAVEL ARTICLES, TRAVEL TIPS, DESTINATION GUIDES, TRAVELER RESOURCES, TRAVEL GEAR GUIDES AND RELATED POSTS ABOUT OTHER AMAZING PLACES AROUND AUSTRALIA:
Test Your Aussie Knowledge: The Big Australia Trivia Quiz + 80 Facts About Australia everyone should know + Australian Slang 101
South Australia: Adelaide Travel Guide (Perfect for First Time Visitors)
Australian Capital Territory: Top Things to do in the ACT
Queensland: QLD Bucket List (inc. the some of the best spots on the East Coast Australia – think Gold Coast, Sunshine Coast, Airlie Beach, and the Great Barrier Reef)
New South Wales: Top Things to do in Sydney, Best Places to visit in NSW (including the Opera House, Blue Mountains National Park)
Victoria: The Ultimate Victoria Bucketlist, Melbourne Travel Guide (Perfect for First Timers)
General Australia Inspiration: 25 Best Places to Visit in Australia (inc. Alice Springs in the NT!)
Rest of the World via MakeTimeToSeeTheWorld inc North America (San Francisco, Los Angeles, Las Vegas etc) Hong Kong, South Pacific, Middle East & More.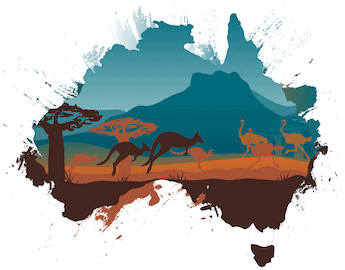 Hi There! Thanks for reading our guide to The Best Time to Visit Melbourne Australia [Month by Month Guide]. I just wanted to let you know that this post contains affiliate links, which means if you purchase something after clicking a link, I may get a small commission – which is at absolutely no cost to you. If you enjoyed this article and are going to be searching for some of the things I mention anyway, I would love it if you could click through from the links above & thank you in advance! Read my full Disclosure here.