The Blue Mountains are not exactly what you would imagine when picturing Australia (but our guide to the best things to do in Blue Mountains including walks, stays and eats might be enough to change your mind and help you understand why visiting is an essential Australia bucket list experience!)
With spectacular waterfalls tumbling into deep valleys, forested mountains of verdant green, small mountain villages with friendly locals, a hippy vibe, and even snow in winter, the Blue Mountains are about as far removed from coastal life in nearby Sydney as you can get.
The Blue Mountains are named for the blue haze that is seen when gazing out over them, commonly believed to be created by the oil of the many Eucalyptus trees that cover the mountains reflecting light. This is best seen at sunset when they are at their bluest.
This gorgeous region is home to a thriving creative community, with artists across many disciplines, photographers, actors and writers choosing this slice of paradise as their home.
Because of their influence, the Blue Mountains is now an art and culture hub, with many festivals and events taking place throughout the year in the various towns and villages, as well as a number of artists retreats and galleries.
The locals take their food very seriously and this is reflected in the dining scene which is exploding at the moment. There is a wide selection of inventive restaurants focusing on local produce and representing cuisines from across the globe, many of which are award-winning.
A lot of travellers head to the Blue Mountains on day tours from Sydney and this would be a great day trip if you are short on time, but the charms of the Blue Mountain region are best appreciated by lingering.
And the good news is that even if you are on a tight budget, you can still see the best that the Blue Mountains has to offer.
So hang around for a while, try different cafes, wander different towns, do a few hiking trails. These mountains are undoubtedly special, as you will find out for yourself if you spend some time there. You may never want to leave.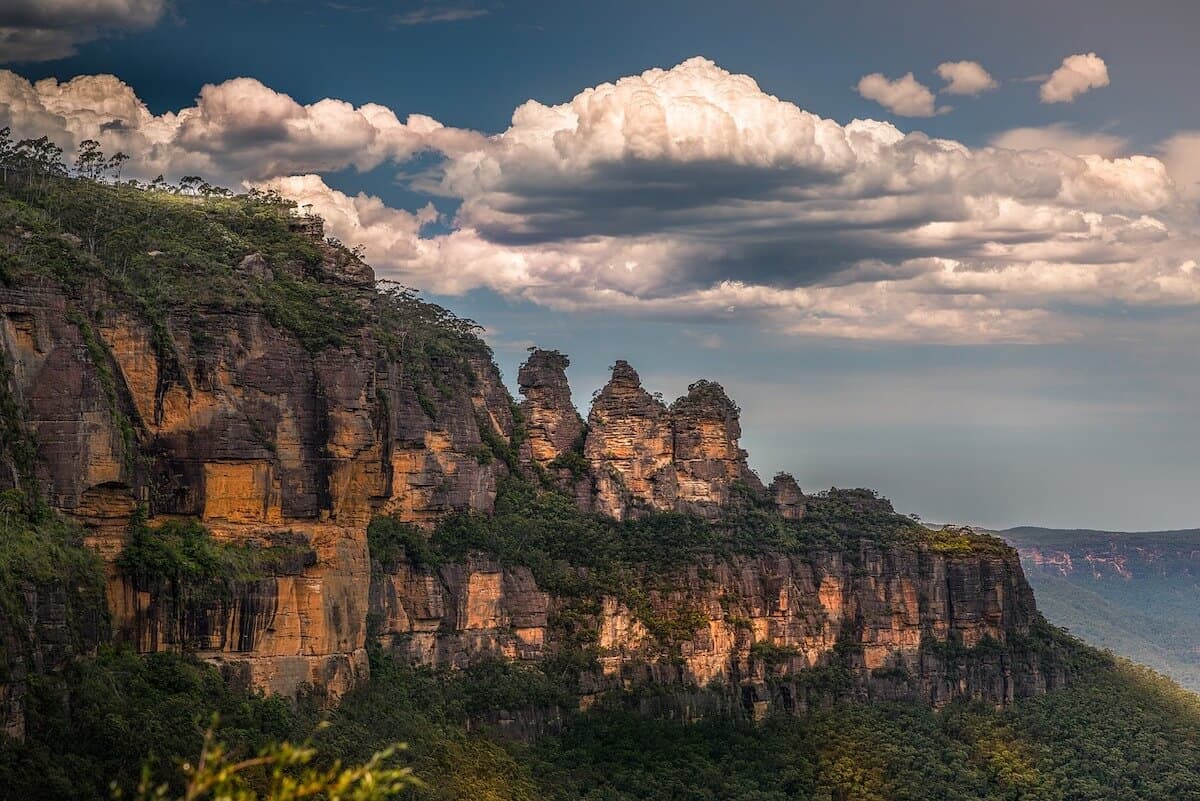 Disclaimer: Almost all posts on this site contain affiliate links, and this one about Best Things to Do in Blue Mountains Sydney (and Blue Mountains Travel Guide) is no different. This means that if you click on any of the links in this post (and make a purchase) I may receive a small commission at absolutely no cost to you. Each post is carefully crafted to (hopefully!) answer all your questions and recommendations are made where we believe they will improve your trip and help with your planning. As such we thank you in advance should you decide to click & buy. Read my full disclosure here.
This post was written by Katie of The World on my Necklace – a native New Zealander who has been living abroad for 17 years and currently calls Colorado home.
Essentials Blue Mountains Travel Tips to Know Before You Go
There is no entry fee into Blue Mountains National Park
Book Accommodation in advance, especially during long weekends, budget accommodation such as hostels can book out quickly.
There are large Coles and Woolworths supermarkets located in Katoomba, within walking distance of the main street. If you are looking for something special, check out Carrington Cellars and Deli underneath the Carrington Hotel, which has a vast array of gourmet and speciality foods, fine wines, and craft beers.
There are numerous ATMs in the Blue Mountains villages
How To Get To the Blue Mountains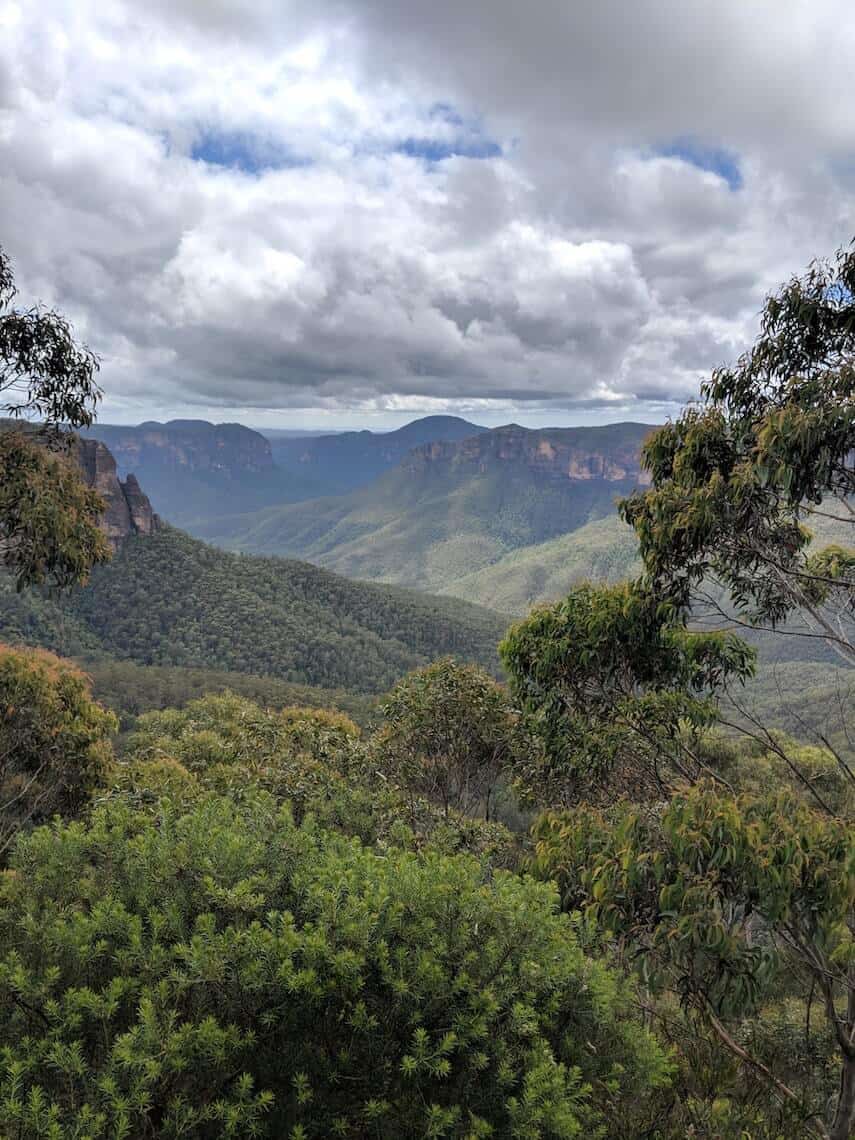 The popular tourist towns of Leura and Katoomba in the Blue Mountains are a 90-minute drive from Sydney.
If you don't have a vehicle then it is easy to catch a train from Central Station in Sydney to various points in the southern Blue Mountains including Katoomba, Leura, Wentworth Falls, and Blackheath. Trains leave regularly throughout the day and the trip takes approximately two hours.
Getting around between the main Blue Mountains villages mentioned above is pretty easy, with regular trains running between the stations. For other Blue Mountains towns and hiking trails, you will need a car or catch a taxi.
If you want to get between Katoomba and Leura and you don't mind a bit of a walk, it only takes 25-30 minutes one way.
Where To Stay in the Blue Mountains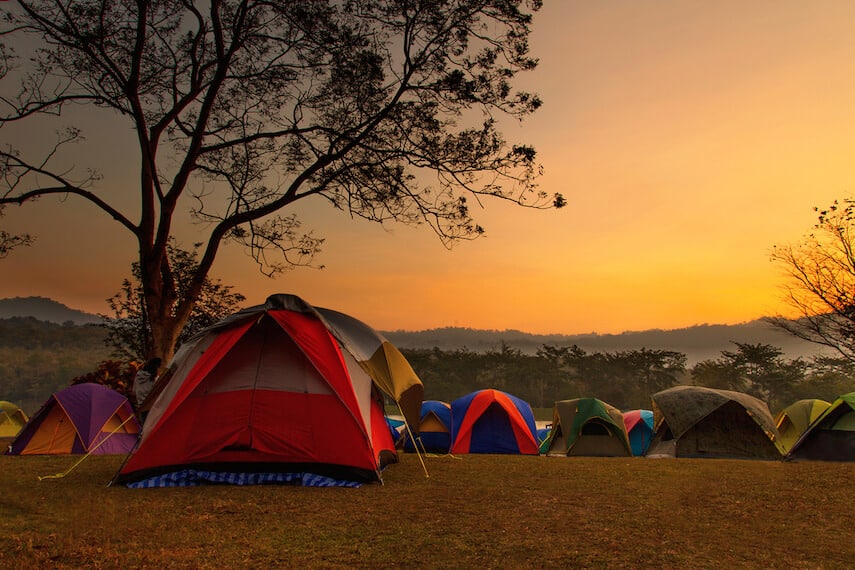 For cheap accommodation options in the Blue Mountains, the best place to base yourself in is Katoomba which is home to a number of hostels. There are also a couple of viable camping options although they would be hard to get to without a car.
Flying Fox Backpackers – Katoomba
A cosy, colourful hostel that is a great spot to meet fellow travellers, the Flying Fox Backpackers offers a free breakfast each morning. There is a mix of private rooms, mixed dorms and a female dorm and they run regular specials on accommodation. Free wifi.
No. 14 Lovel Street Hostel – Katoomba
Quiet and clean, the No. 14 Lovel Street Hostel is a great spot if you want to relax after a day of exploring. Spotless private rooms are available with good quality bedding. Central heating, free breakfast and free wifi.
Blue Mountains YHA – Katoomba
Award-winning hostel housed in a restored National Trust Building, the Blue Mountains YHA is perfect for large groups and families, with dorms, private and family rooms available. There is a large kitchen, wifi hot spots and a cosy lounge with a fireplace for guests.
Ingar Campground – Wentworth Falls
A beautiful spot in front of a deep pool perfect for swimming, Ingar Campground has eight basic campsites. Sites are free although you need to pay a $6 booking fee, and you can reserve online or by phone. Facilities include BBQs and pit toilets. Bring your own water.
Perry's Lookdown Campground – Blackheath
Incredible views from a clifftop location, Perry's Lookdown is a basic camping ground with five sites. It is free to camp here but you will need to book it and there is a $6 booking fee. Make sure to bring your own water. Pit toilets are available.
You can also visit the Blue Mountains as a day trip from Sydney although I recommend staying longer if you have the chance.
Where To Eat and Drink in the Blue Mountains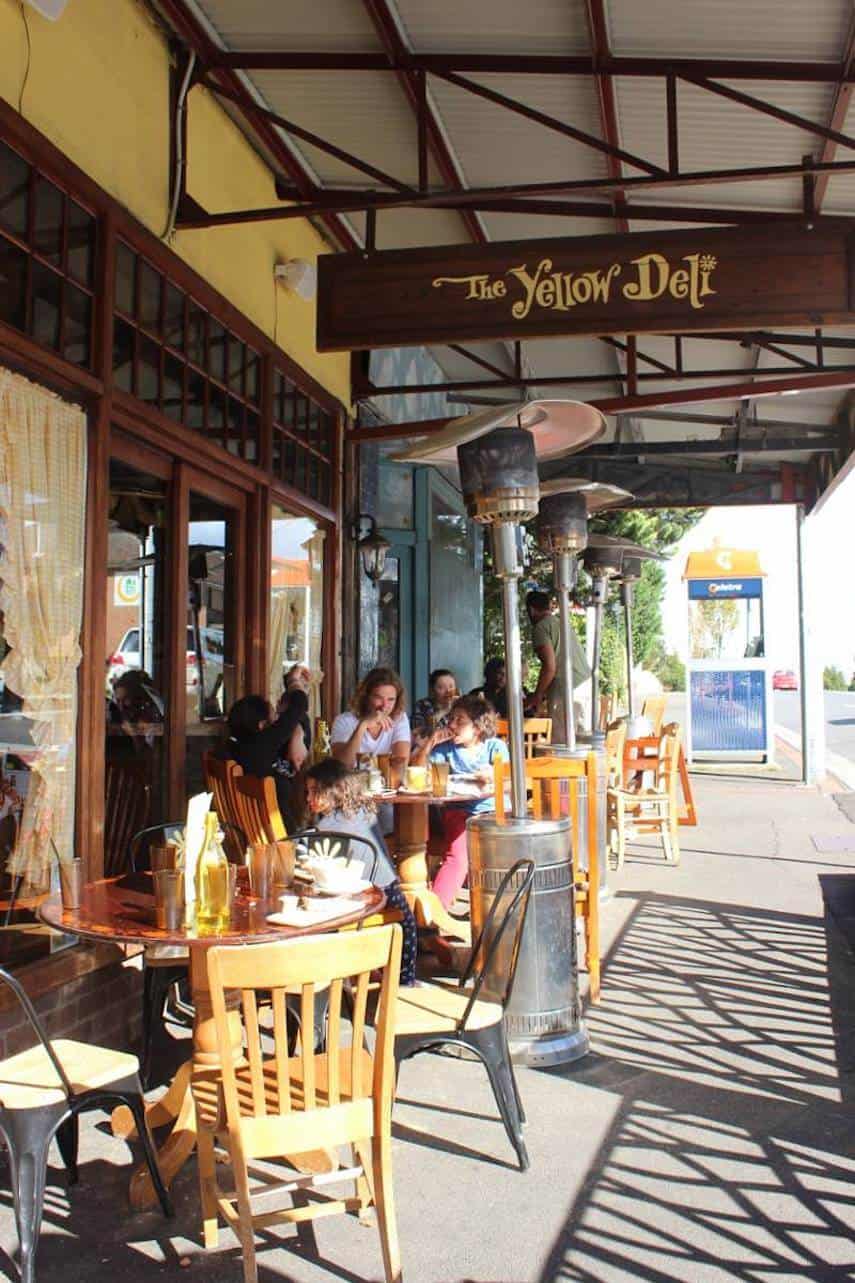 Katoomba
The Yellow Deli – Hands down my favourite place to eat in the Blue Mountains region, stepping into the Yellow Deli feels like stepping into Hobbiton, with its beautiful split level wooden interior, a roaring fireplace, and small handmade tables and chairs. The menu is wholesome and delicious with breakfasts, salads, sandwiches and soups along with a range of teas, juices and smoothies.
Sanwiye – Korean Cafe offering soups, noodle dishes and my favourite, bulgogi, a Korean style stir-fry with meat options and vegetables in a delicious sauce. a peaceful ambience and cheap prices.
The Old City Bank Bar & Brasserie – A vibrant bar and restaurant serving pub-style meals and a large selection of beers. There is live music most weekends. A lively option if you are looking for a night out in Katoomba.
Hominy Bakery – An artisan bakery offering incredible pies, cakes and pastries along with a range of bread. The perfect place to grab a picnic lunch from if you are heading out for a day of hiking.
Leura
Bakehouse on Wentworth – A gourmet bakery with inventive handcrafted pies, delicious cakes and tarts, a wide range of organic bread, and awesome coffee. There are also locations in Blackheath, Glenbrook and Springwood in the Blue Mountains.
Blackheath
Victory Cafe – Housed in the foyer of a beautiful Art Deco building that used to be home to a cinema, the Victory Cafe is one of the most popular cafes in Blackheath, and serves up seasonal brunch and lunch menus with local produce used as much as possible.
Pizza Delish – A well-loved pizza place with one of the longest pizza menus I have ever seen. You can find all of the traditional pizzas as well as more inventive creations. If you are eating with others, go for one of their special deals which are great value.
Wentworth Falls
The Conservation Hut – With possibly the best view of any of the cafes in the Blue Mountains, the Conservation Hut overlooks stunning Jamison Valley and offers breakfast, lunch, hot drinks, and snacks throughout the day. A great place to stop if you are hiking in the area.
Mountain High Pies – The award-winning pies at Mountain High Pies are drool-worthy, and there are so many to choose from including sweet pies and a range of vegetarian and vegan pies. Try their popular breakfast pie, the big breakfast, which is filled with sausage, homemade baked beans, chorizo, poached egg, mashed potato and bacon.
Incredible Things To Do in Blue Mountains
Ogling the Three Sisters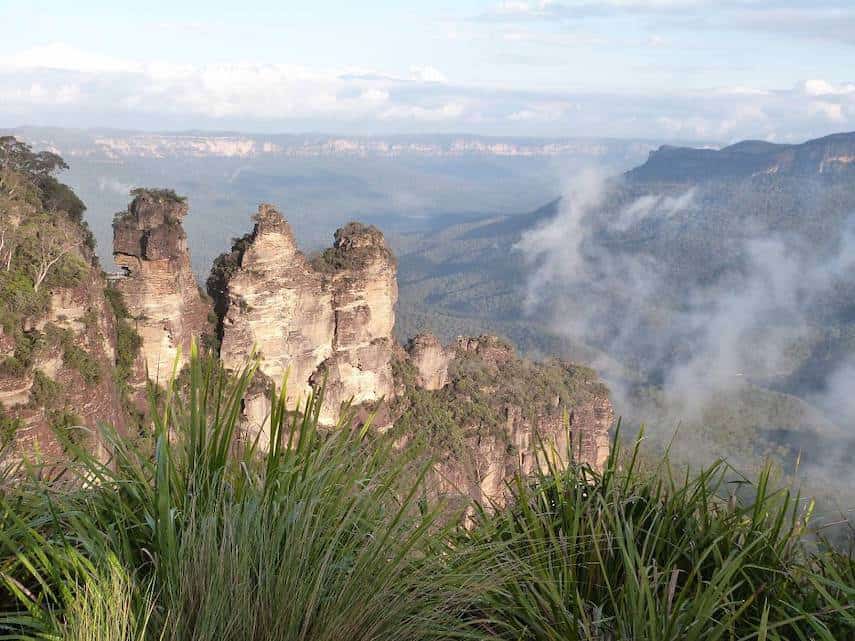 The most famous attraction of the Blue Mountains is undoubtedly the Three Sisters, a cluster of rock formations perched on the edge of a cliff above the Jamison Valley in Katoomba.
These iconic rocky outcrops are popular for a reason, and looking out over them offers truly one of the most beautiful views in the whole country. Get there early to avoid the crowds, or go just before sunset for some incredible photos.
Get Out Into the Wilderness of the Australian Bush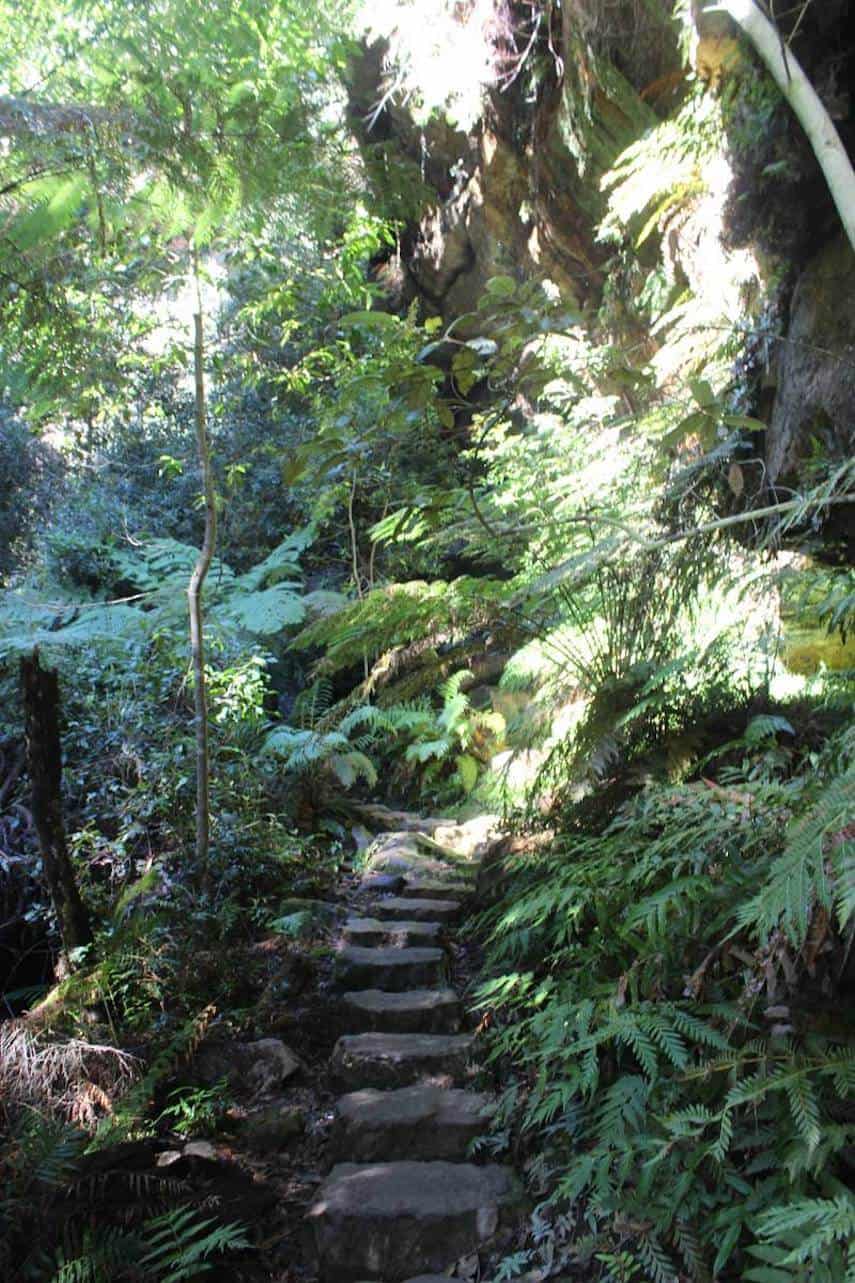 In my opinion, you can't go to the Blue Mountains without doing at least one hike, and with trails to suit every fitness level there really is no excuse.
There are trails that lead to viewpoints with spectacular views, to impressive waterfalls, into deep canyons, and through dense native bush.
Even a short hike will start to give you a feel for the impressive natural beauty of the area. You can find a list of my favourites in the next section of this guide.
Discover Your Favourite Blue Mountains Town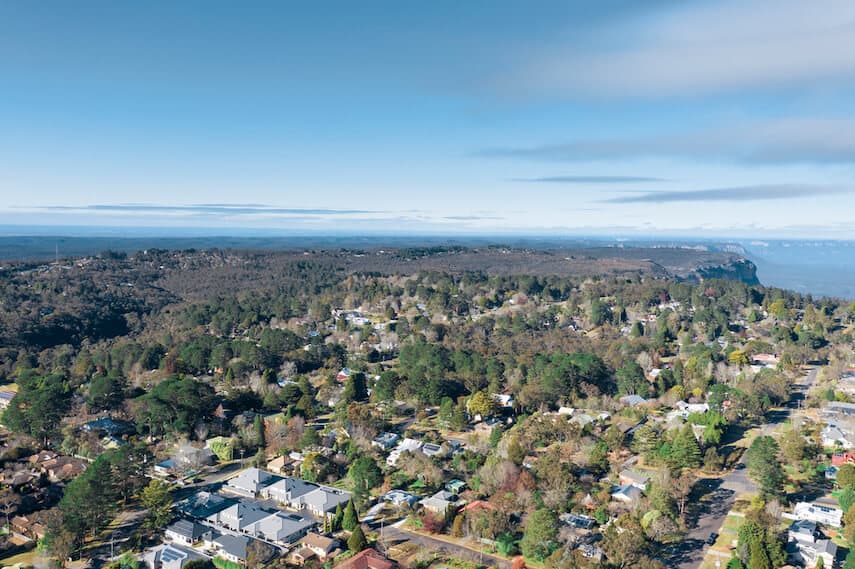 With so many beautiful small towns to explore in the Blue Mountains, there is something for everyone.
Tourist-friendly Katoomba has a bohemian vibe and is where you can find wonderful cafes and shops housed in historic buildings. Katoomba is also a great place to browse for antiques, with many antique and secondhand stores along the main street.
Elegant Leura is possibly the most beautiful town in the region. Upmarket Leura Mall is lined with galleries, boutiques and restaurants, and has an attractive median strip planted with cherry trees.
Blackheath is the highest town in the Blue Mountains and is a quieter alternative to Leura and Katoomba. It is home to a vibrant and creative community.
Mount Wilson is a small village that is known for its beautiful private gardens. The town centre consists of just a church, a community notice board and a Village Hall.
Wentworth Falls is another small and pretty village with a handful of excellent cafes and restaurants, and great hikes nearby.
Admire the Autumn Colours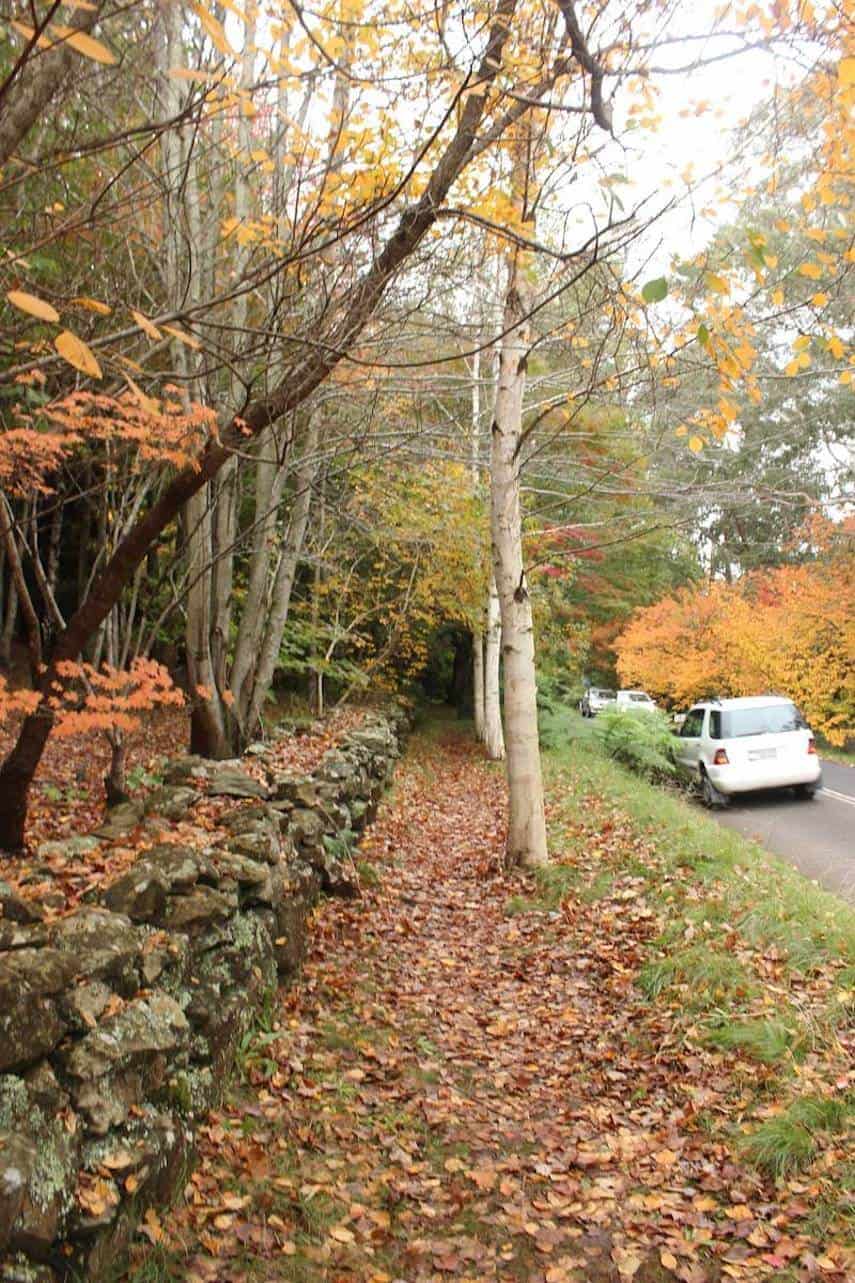 While autumn is a season that goes virtually undetected along the coast of New South Wales, vivid reds, oranges and yellows light up the small towns and roadsides of the Blue Mountains.
There is a pleasant nip in the air, with perfect temperatures for long walks through autumnal woods, with a hot chocolate or coffee in hand.
In particular, the back streets of Katoomba, the small mountain hamlet of Mount Wilson with its private gardens, and the Mount Tomah Botanical Gardens offer spectacular autumn foliage.
Visit the Blue Mountains Botanical Gardens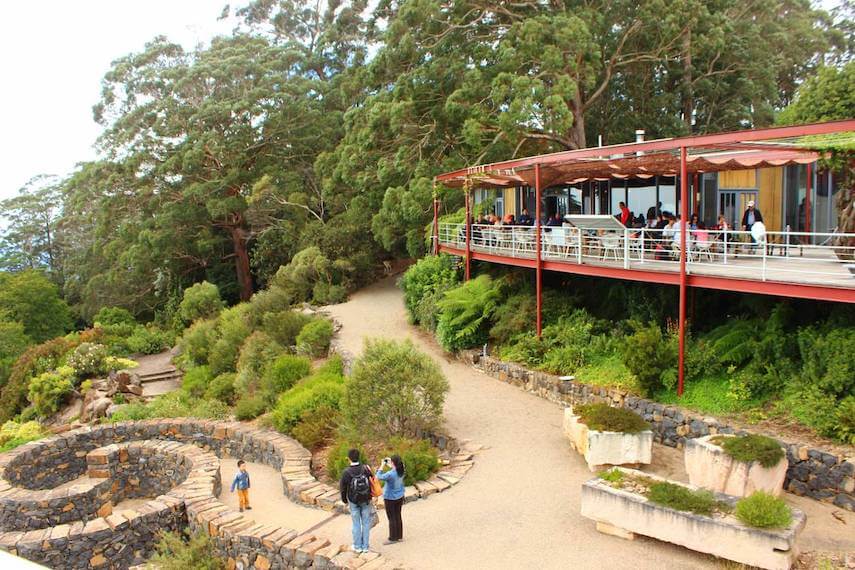 The Blue Mountains Botanical Gardens in Mount Tomah are the place to go for a peaceful walk through beautifully manicured grounds, with trails through native rainforest and woodlands as well as a hanging swamp, formal flower gardens and grassy meadows.
In this 28 hectare garden, there are plants from cooler climates around the world. Come in spring to see a sea of yellow daffodils, or in autumn for a park awash with reds and yellows.
Sample Apple Pie in Bilpin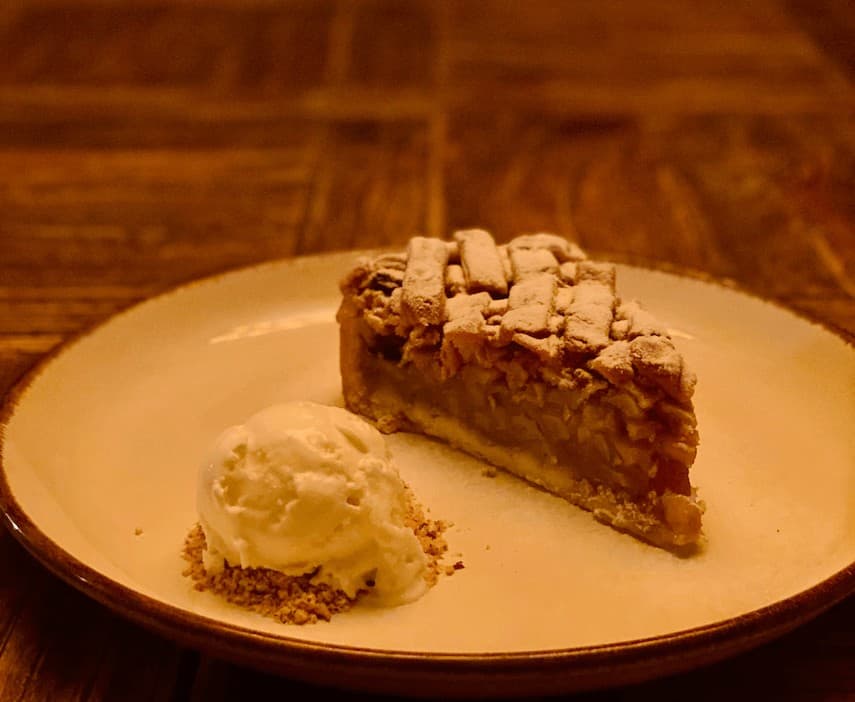 There's not a lot in the small drive through town of Bilpin, but people do stop there in droves – for the apple pie. With a lot of orchards in the area, Bilpin has become a bit of an apple pie mecca and is definitely worth a stop if you are, like me, a fan of this classic sweet pie.
I have been told that the Bilpin Fruit Bowl has the best pie, and of the two places I had pie, this was certainly the best.
If you want to spend longer in the area you can also go apple picking at some of the orchards as well as picking up fresh apple juice, apple cider, or just plain apples in their purest form. This place is definitely for all you apple lovers out there.
Gaze Upon Beautiful Waterfalls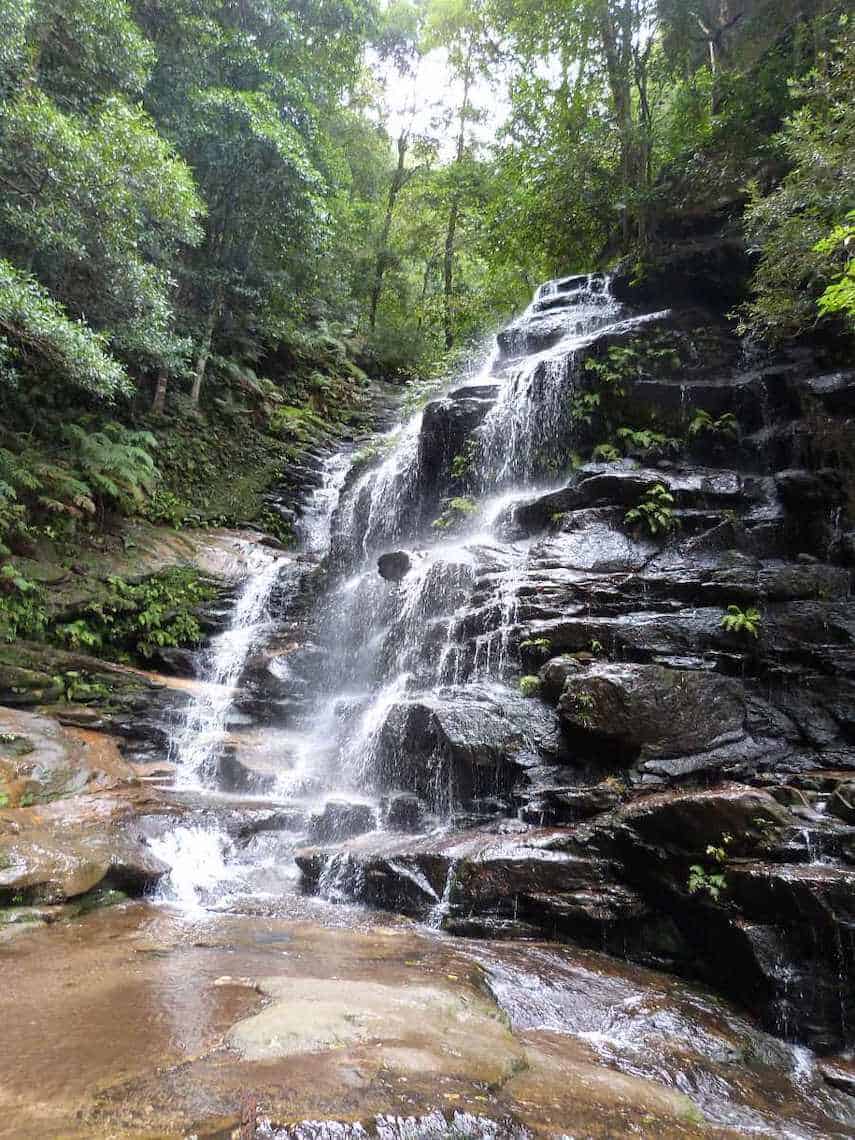 Some of the best waterfalls I have ever laid eyes on are in the Blue Mountains, with two of the most impressive being easily accessible either by car or on foot. Wentworth Falls is a three-tiered waterfall fed by Jamison Creek that cascades in ribbons of water into the Jamison Valley below.
You can reach the bottom of the falls by hiking down steep stone-cut stairs. Bridal Veil Falls is my favourite and is a wispy fall dropping straight down from a high clifftop into the rugged Grose Valley, best seen from Govett's Leap lookout.
Smaller waterfalls such as the Leura Cascades and Katoomba Falls are pleasant stops for a picnic, and there are even a few waterfalls that you can swim under in summer.
Visit a Weekend Market
If markets are your thing, there is a myriad of choices in the Blue Mountains, with almost every Blue Mountain town holding one or more markets at least once a month.
These local markets sell everything from locally made products such as candles and knitted clothing items, through to local jams and chutneys, fruits and vegetables and other bric-a-brac.
Purchasing goods at a local market is a great way to support local farmers and vendors and a great way to get a sense of the local community.
Chestnut Collecting on an Autumn Day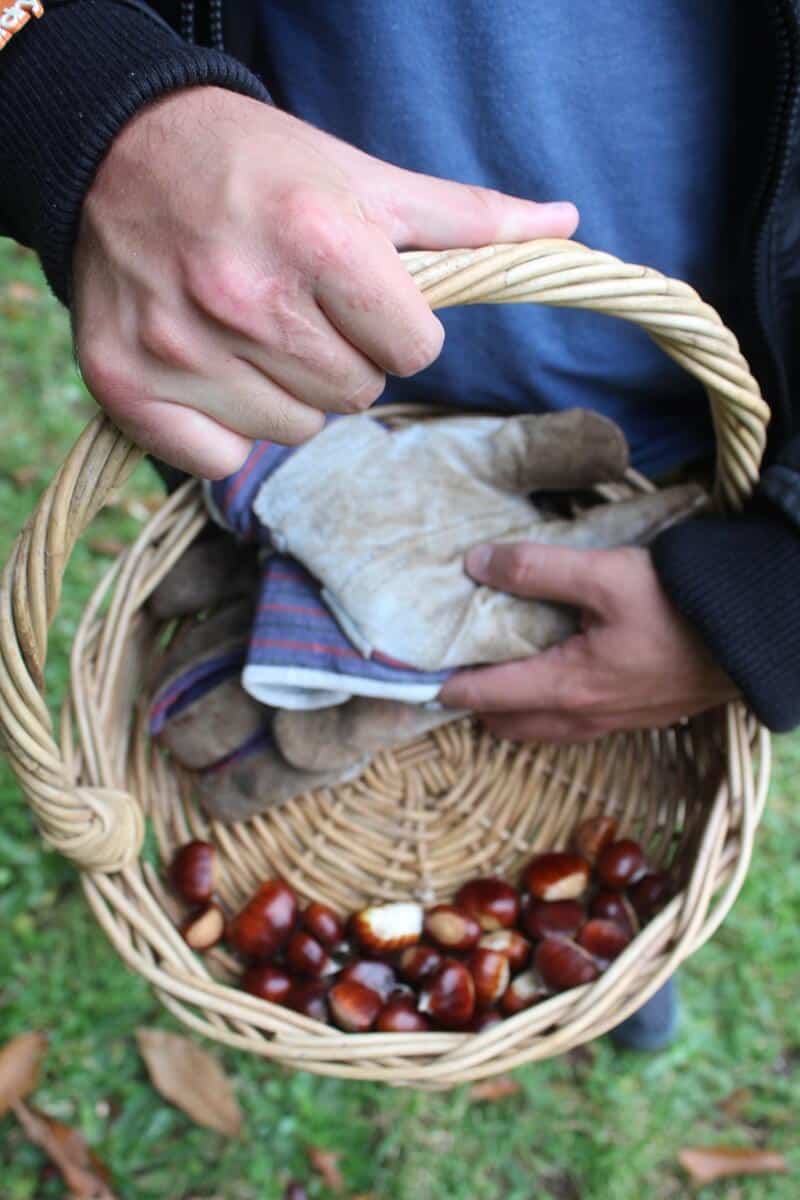 If you are visiting the Blue Mountains in autumn, make sure to set aside some time to do some chestnut collecting in the small town of Mount Wilson.
I had never done it before and I found it so much fun wandering under the large chestnut trees, foraging in the long grass for hidden chestnuts and trying to beat others to the ones that we saw falling off the trees.
We quickly collected a basket full of them and I loved roasting them in the oven to eat once we got home.
Cool Off in a Swimming Hole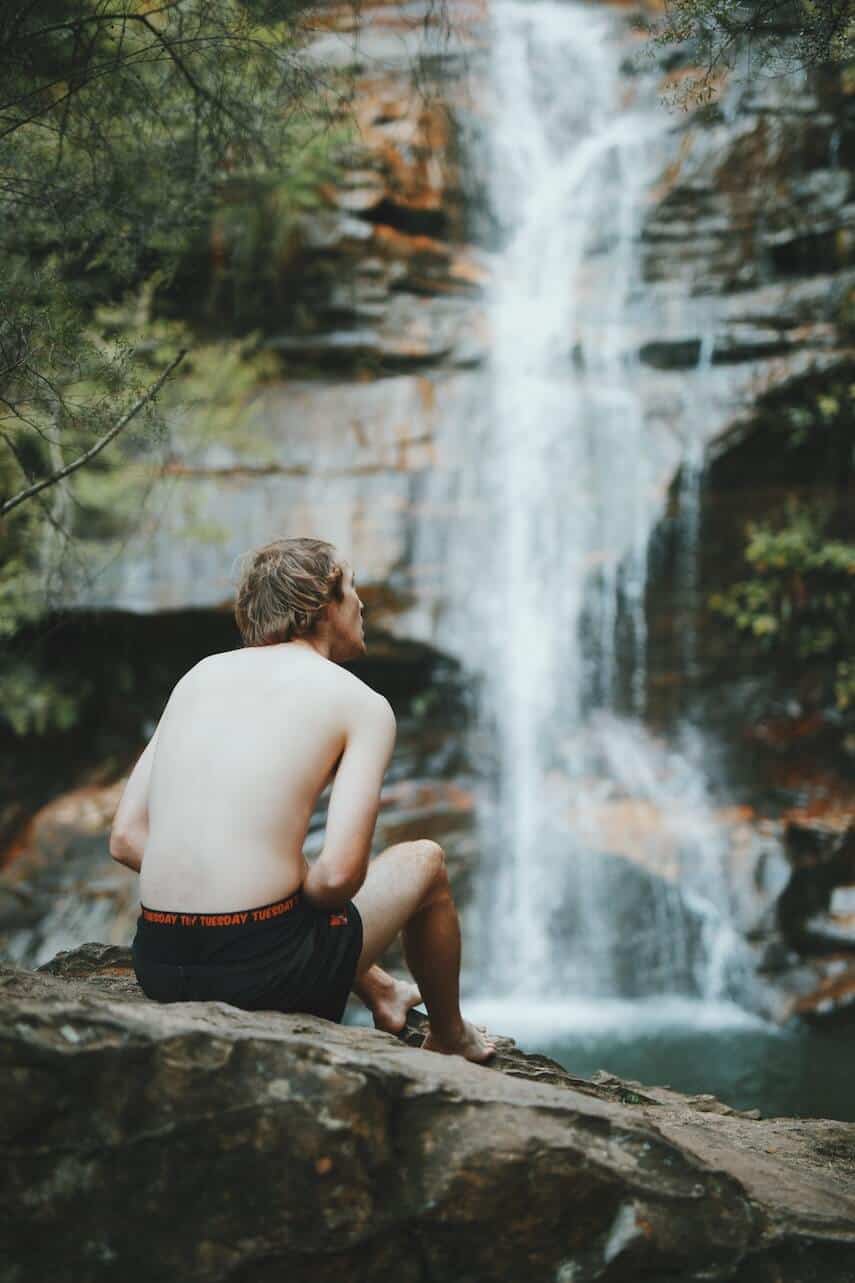 During the summer months when temperatures soar, one of the best ways to cool off is by taking a dip in one of the many swimming holes dotted throughout the Blue Mountains area. The water is cool and refreshing and some pools have sandy beaches to lay out on and waterfalls to swim under.
A few of the best are Minnehaha Falls in Katoomba, Ingar Campground near Wentworth Falls, and Jellybean pool in Glenbrook.
The Best Blue Mountains Walks & Hiking Trails
There are so many hiking trails in the Blue Mountains area including multi-day backcountry hikes. People have been known to get lost in these mountains on a regular basis so make sure to follow signs and take plenty of water and food.
Grand Canyon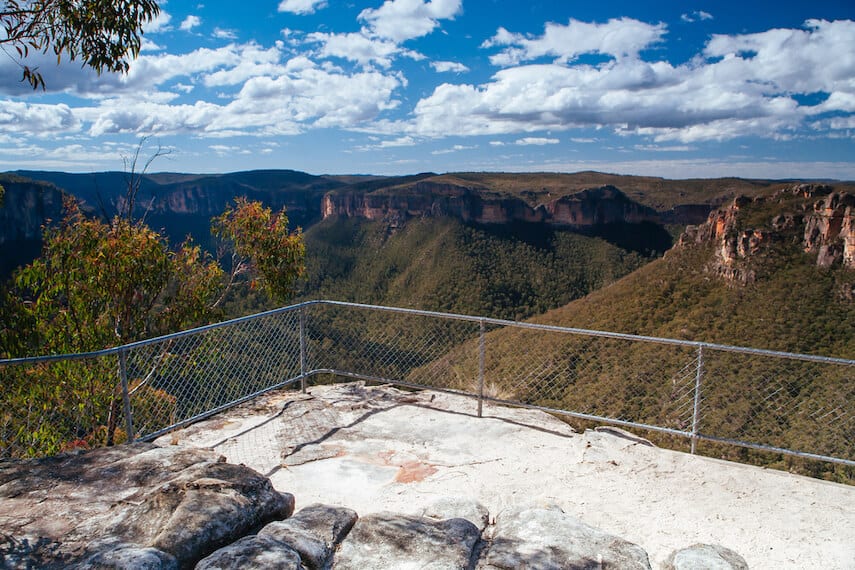 Distance: 4.35miles/7km loop
Difficulty: Intermediate
Trailhead: Turn off the Great Western Highway just outside of Blackheath Village, look for signposted to Evans Lookout. You can start the hike from Evans Point, Neates Glen or Grand Canyon Loop Track car parks.
A narrow slot canyon filled with dense rainforest and waterfalls, the Grand Canyon is very different from its American counterpart but still very beautiful and peaceful.
The hike descends into the canyon and continues along a creek and by waterfalls, before exiting the canyon to stunning views over the valley. The trail then loops back along the road to the car park from Evans Lookout.
Wentworth Pass Loop Trail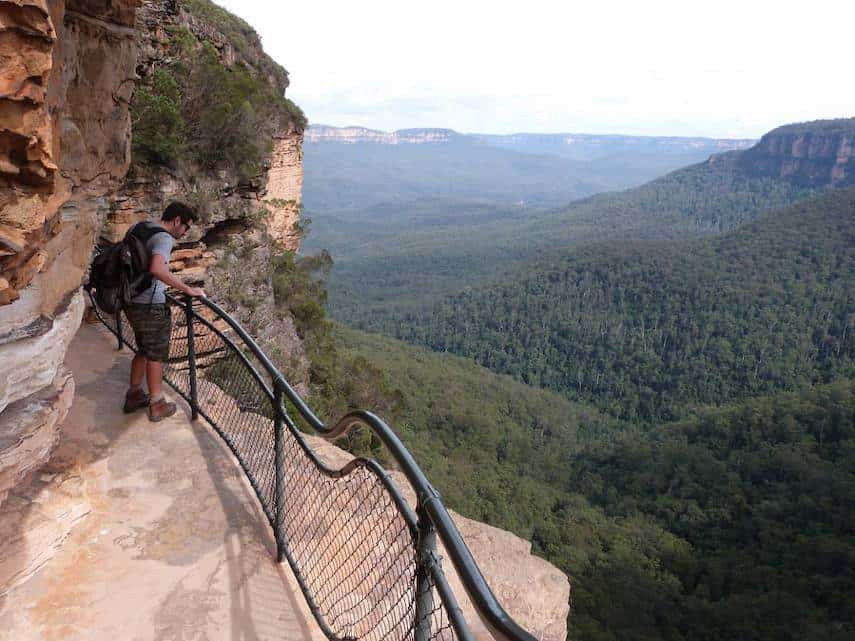 Distance: 3miles/5km loop
Difficulty: Intermediate
Trailhead: Starts and finishes at Wentworth Falls Lookout
Probably my favourite trail in the Blue Mountains, the Wentworth Pass Loop begins with stunning views of Wentworth Falls and into the forested Jamison Valley, before descending rock stairs that were cut into the side of the cliffs over 100 years ago.
From the base of the falls, the trail descends further into the valley where it leads through dense rainforest before climbing back out again near Conservation Hut.
Charles Darwin Walk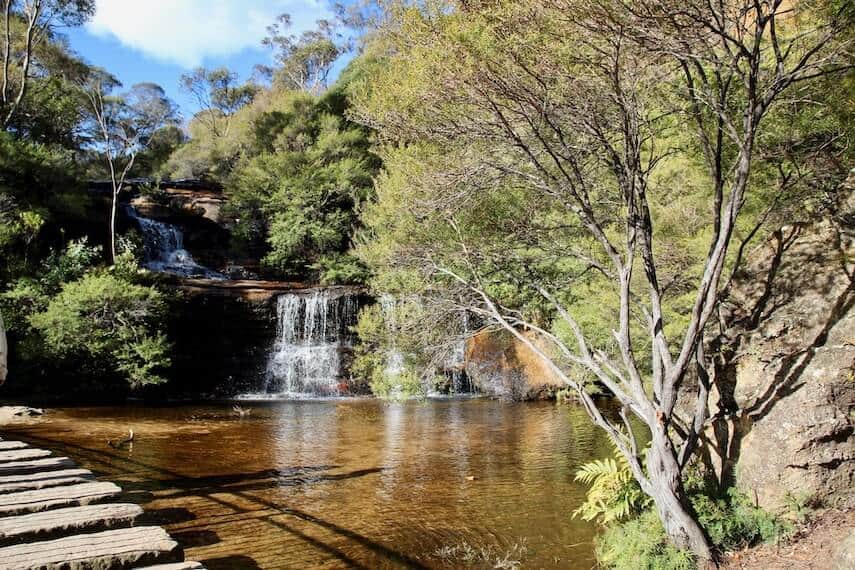 Distance: 1.5miles/2.4km one way
Difficulty: Easy
Trailhead: Wentworth Falls Train Station
A gentle trail, the Charles Darwin trail is a pleasant bush walk following Jamison Creek from the train station to the Wentworth Falls lookout. A great walk if you want to get to the Wentworth Falls trails and you don't have a car. Charles Darwin himself walked this trail in 1836.
Three Sisters Walk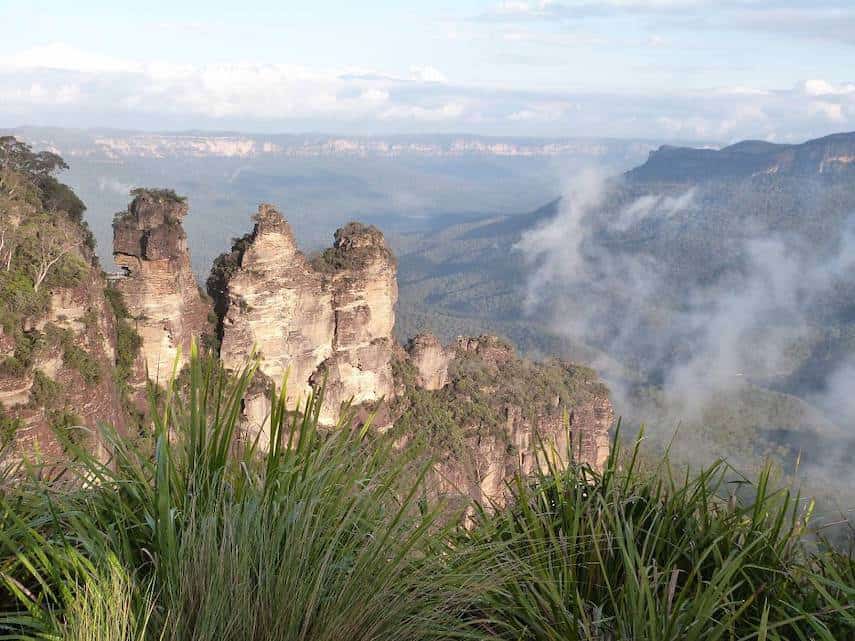 Distance: 0.6miles/1km return
Difficulty: Easy
Trailhead: Echo Point in Katoomba
A short but worthwhile walk, the Three Sisters Walk leads along the top of the valley for a short distance before descending steeply down to the Three Sisters rock formations. You can sit on a bench inside the first sister and there are great views of the Jamison Valley below.
Dardanelles Pass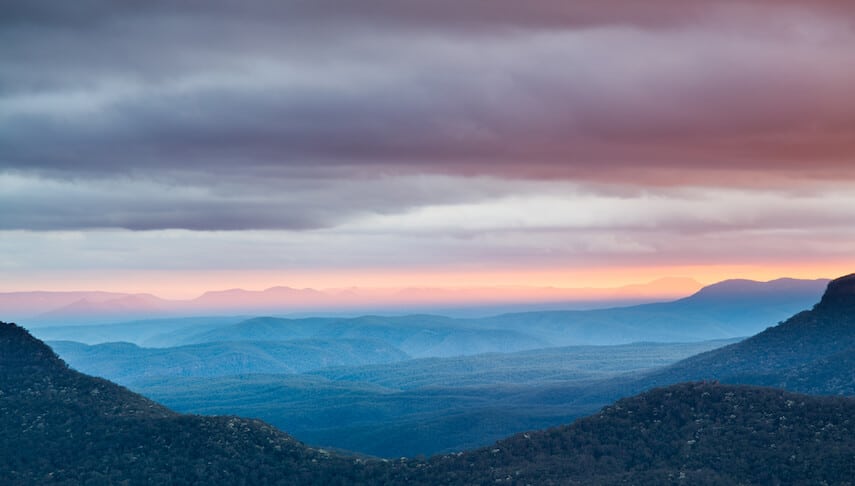 Distance: 3.3miles/5.3km loop
Difficulty: Intermediate
Trailhead: Echo Point in Katoomba
For a longer walk in the Katoomba area, the Dardanelles Pass loop is great choice. Descend further into the valley from the Three Sisters and along a thickly forested path, home to the ubiquitous lyrebird that you may get the chance to see if you are lucky.
The trail rises back out of the valley at Leura Cascades then continues along the clifftops back to Echo Point.
Katoomba Falls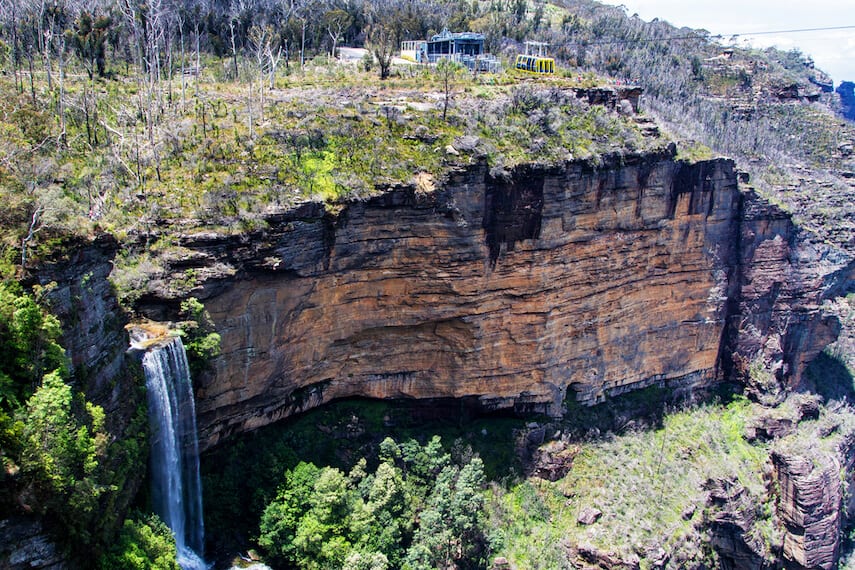 Distance: 2miles/3.1km return
Difficulty: Easy
Trailhead: Echo Point in Katoomba
A paved trail from Echo Point to Katoomba Falls that is privy to outstanding views of the Jamison Valley along the way.
So there you have it – hopefully we've given you enough information help you plan your trip to the Blue Mountains – and given you a great list of Things To Do in Blue Mountains to make sure you get the most from your visit. Don't forget to let me know your own highlights once you're back!

Oh, and if you liked this post please share on Facebook, tweet or pin – I'd really appreciate it! Click the P in the share bar for the full size image!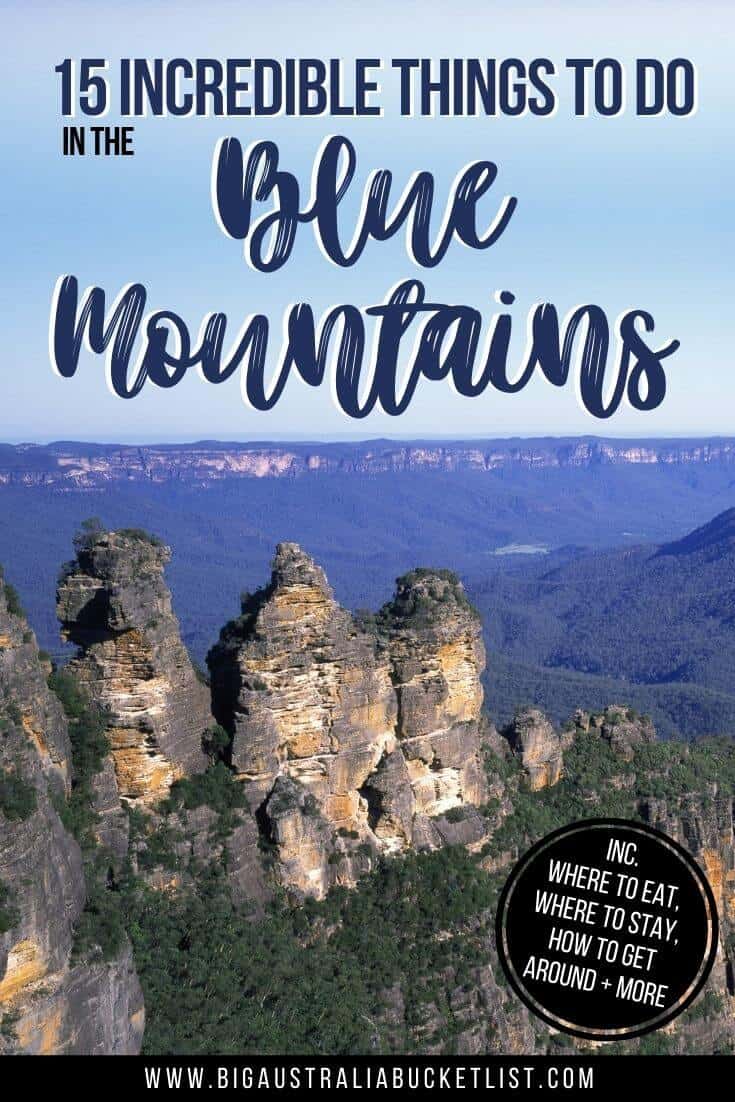 READY MORE TRAVEL INSPIRATION? YOU MIGHT BE INTERESTED IN THESE RECENT POSTS, TRAVEL ARTICLES, TRAVEL TIPS, DESTINATION GUIDES, TRAVELER RESOURCES, TRAVEL GEAR GUIDES AND RELATED POSTS ABOUT OTHER AMAZING PLACES AROUND AUSTRALIA:
Test Your Aussie Knowledge: The Big Australia Trivia Quiz + 80 Facts About Australia everyone should know
South Australia: Adelaide Travel Guide (Perfect for First Time Visitors)
Australian Capital Territory: Top Things to do in the ACT
Queensland: QLD Bucket List (inc. the some of the best spots on the East Coast Australia – think Gold Coast, Sunshine Coast, Airlie Beach, and the Great Barrier Reef)
New South Wales: Top Things to do in Sydney, Best Places to visit in NSW (including the Opera House, Blue Mountains National Park)
Victoria: The Ultimate Victoria Bucketlist, Melbourne Travel Guide (Perfect for First Timers) + Free Things to do in Melbourne
General Australia Inspiration: 25 Best Places to Visit in Australia (inc. Alice Springs in the NT!)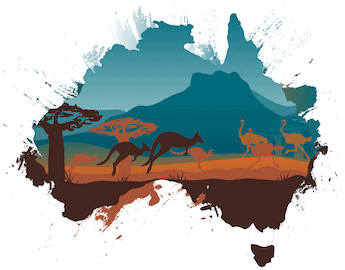 Hi There! Thanks for reading our guide to The Best Things to do in Blue Mountains + Blue Mountains Travel Guide. I just wanted to let you know that this post contains affiliate links, which means if you purchase something after clicking a link, I may get a small commission – which is at absolutely no cost to you. If you enjoyed this article and are going to be searching for some of the things I mention anyway, I would love it if you could click through from the links above & thank you in advance! Read my full Disclosure here.