While Australia doesn't really have many of it's own 'passed down through generations' traditional heritage dishes, or a reputation for gourmet Australian cuisine – we do have some foodie favourites that we Aussies love to call our own and have become staples of Australian food culture.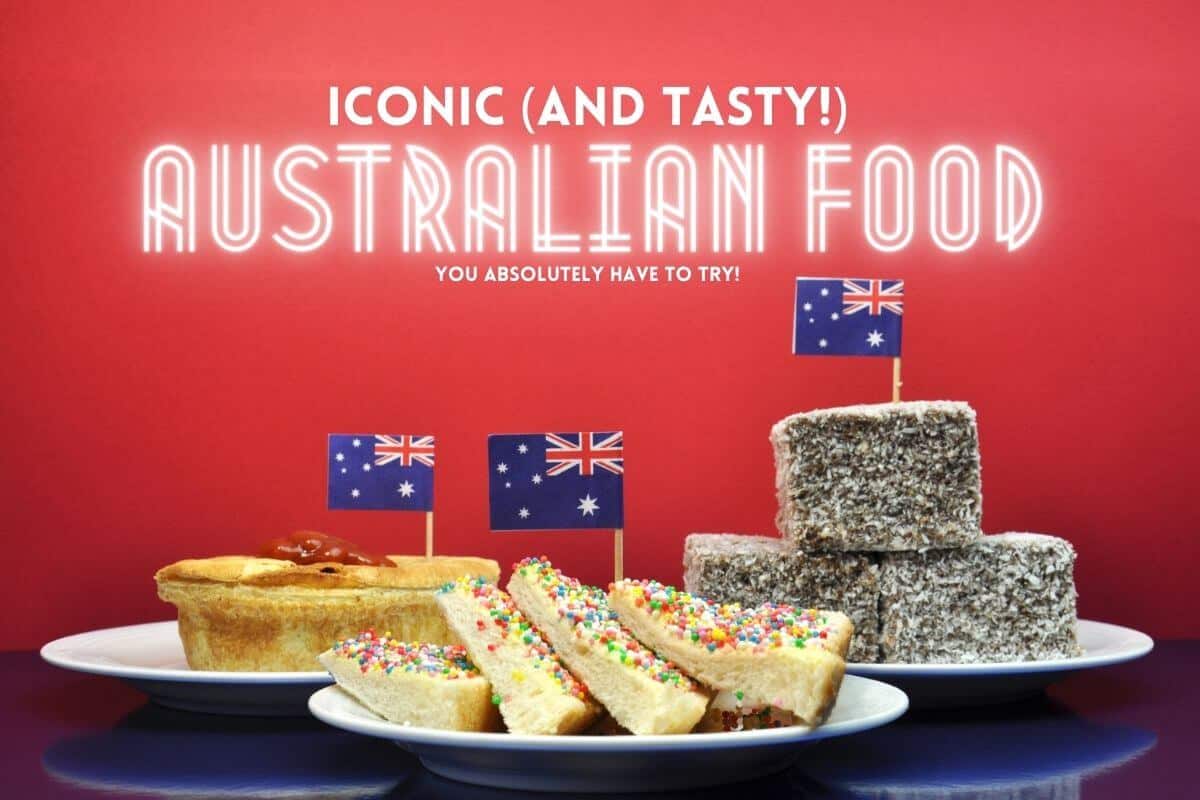 Disclaimer: Almost all posts on this site contain affiliate links, and this one about Iconic Australian Food: 35+ Things You HAVE to Try in Oz! is no different. This means that if you click on any of the links in this post (and make a purchase) I may receive a small commission at absolutely no cost to you. Each post is carefully crafted to (hopefully!) answer all your questions and recommendations are made where we believe they will improve your trip and help with your planning. As such we thank you in advance should you decide to click & buy. Read my full disclosure here.
Iconic Australian Foods: The Savory Stuff
Vegemite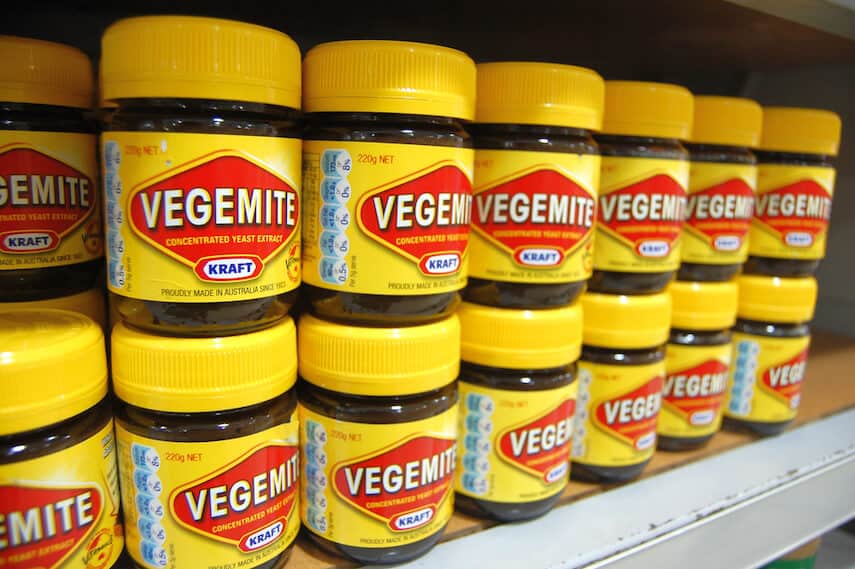 A dark brown paste made from various vegetables, yeast extract and spice additives. Regardless of anyone telling you not to try it because it tastes weird, I say still do! Who knows, you might like it. Although, go gently and use it sparingly. A thin layer of vegemite on toast will be enough – don't go wild. A small amount of this popular Australian spread is enough!
You can buy vegemite in supermarkets, convenience stores, health food stores etc.
Hot Chips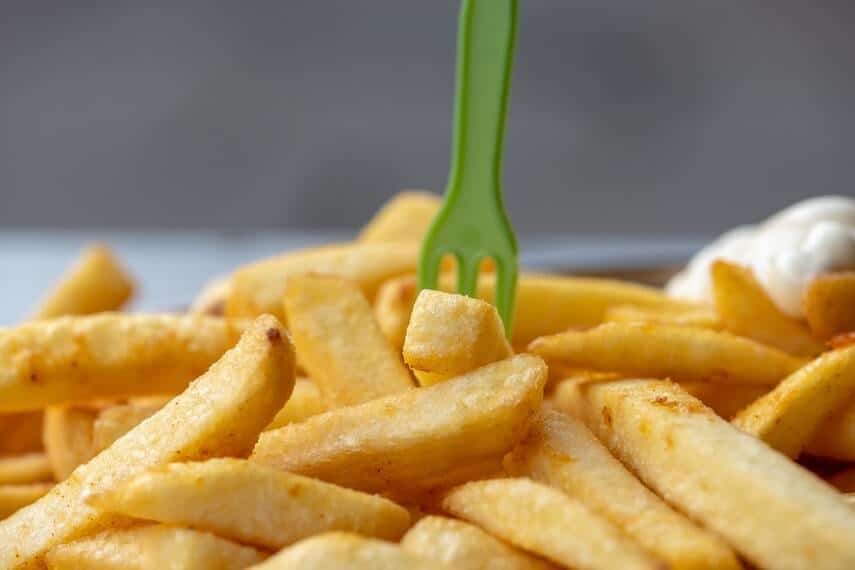 These are what the rest of the world simply call chips or french fries, but in Australia, we call them hot chips. This is because we call potato chips, chips too, and so to differentiate between the two we add a descriptor and a temperature was the easiest way to go and so 'hot chips' was born.
For the UK folks, this can seem counter-intuitive, as why would chips be cold (Brits call potato chips, crisps; 'hot' chips are all they know), and American visitors find it as strange as in the 'States they are known as french fries. But in comparison to the US, our hot chips tend to be chunky rather than skinny – unless you get them from a fast food joint such as a Maccas (McDonald's) or Hungry Jacks (Burger King).
Chicken Parmigiana aka. The Chicken Parma / Chicken Parmi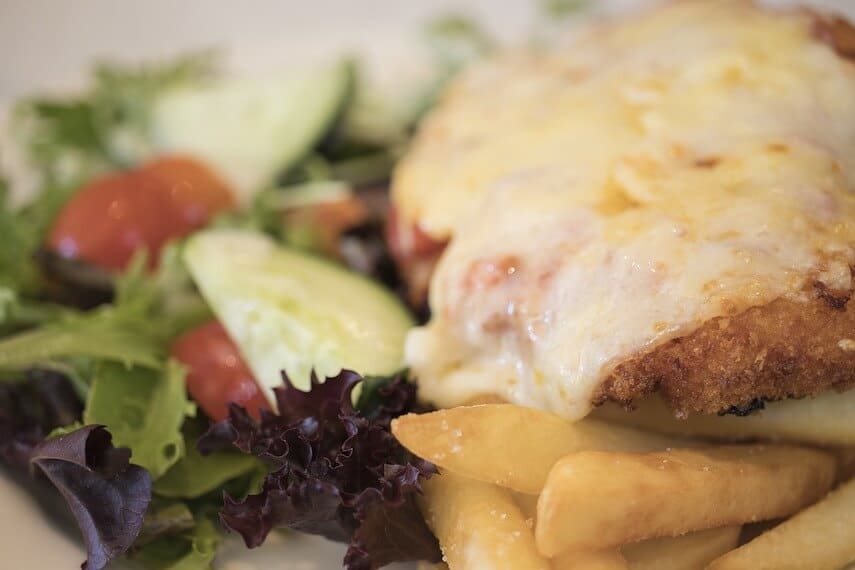 Not particularly of Australian descent (its original incantation was with eggplant in Italy), you will encounter this dish in practically any Australian pub – and as an Aussie institution (I'd go as far as to say it's one of our national dishes!), you have to try it at least once while you are in the country.
Just be warned, you probably won't see it by its full name on a menu, but rather – as Aussies like to shorten everything – the 'Chicken Parmi' or 'Chicken Parma'. The Australian recipe calls for chicken schnitzel topped with tomato sauce, thinly sliced ham (or bacon) and melted cheese and always served with hot chips and side salad.
Beer Battered Fish (or Calamari) and Chips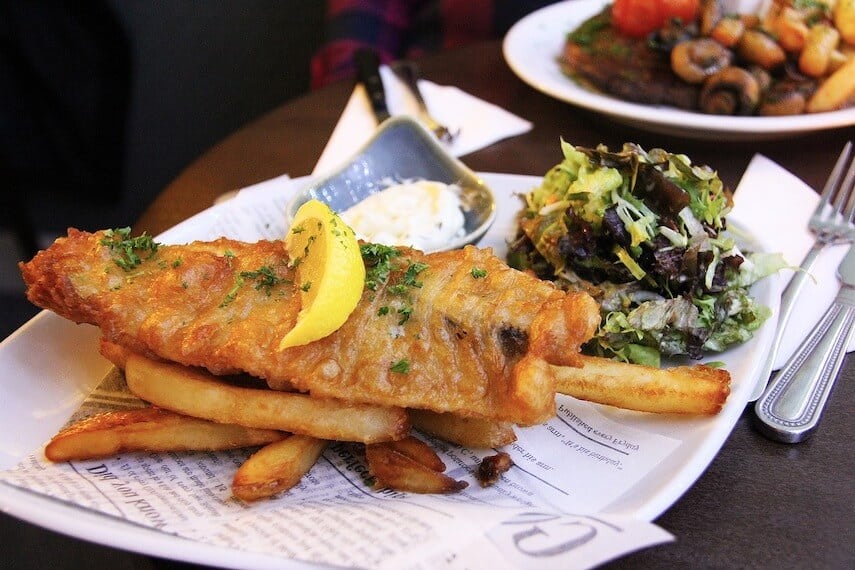 As the country is surrounded by oceans, it's easy to say that our fish recipes are the bomb – even if the original idea of frying fish came from the UK!
You can get fish or calamari (fried, crumbed or grilled) with hot chips on many a restaurant or bistro menu, and are a popular takeaway choice when you can't be bothered cooking. Your chips may also come with chicken salt (a mix of salt, herbs and spices such as garlic, onion, paprika, pepper etc) or gravy – but never with mushy peas (like in the UK). And is always served with a wedge of lemon.
Another difference between fish and chips in the UK and here in Australia, is the fish choices you will have. In Oz, it's popular to find flake – a type of gummy shark – on the menu, along with Australian fish such as barramundi, whiting and blue grenadier. You also have the option of flathead tails, Moreton bay bugs and salmon if you're feeling fancy.
*TOP TIP* If you're buying your fish and chips from the takeaway, be aware that an order of 'minimum chips' is generally enough to feed 3-4 people. There is nothing minimum about them.
And if you see a 'scallop' on a menu as an extra for around a $1 – these are potato scallops (thinly sliced potato dipped in batter and deep-fried) and not actual scallops.
Aussie Meat Pie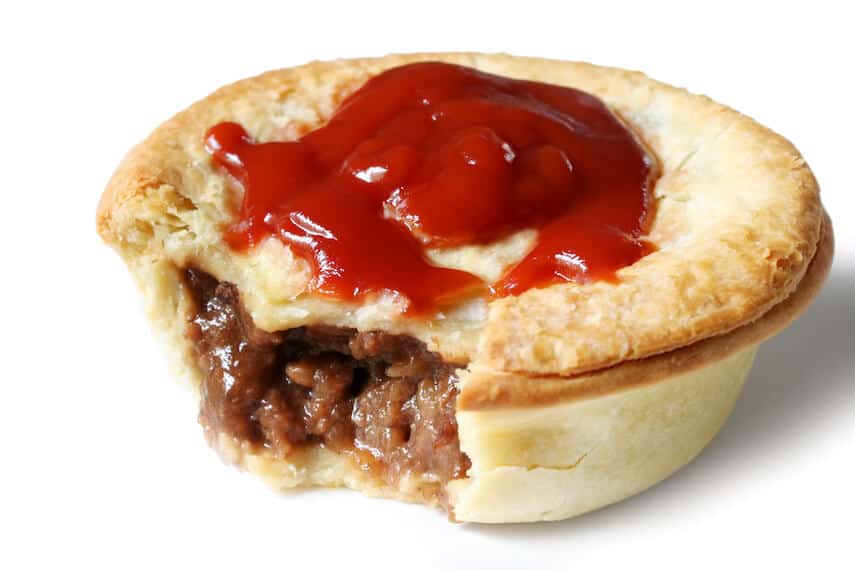 If you asked any Australian what the most iconic Australian food is, a good ol' fashioned Aussie meat pie – with tomato sauce – is probably the first thing they would come up with. Pastry that's crisp at the edges encasing diced/minced beef in gravy, steaming hot and topped with tommy sauce. It's the Aussie way.
Served as a snack at sports stadiums, it's practically the law that you have a pie while at the footy (or any other game your watching) and fresh from a bakery on the high street is a little slice of happiness.
But be aware, eating a meat pie without wearing any of it is an art form, and it may take you a few pies to master. Although once you've enjoyed one, we guarantee that you won't mind having another to help you practice.
Your meat pie also doesn't have to be beef, but can also be chicken, steak or vegetable-based. For example, chicken and mushroom, pepper steak, beef or chicken curry etc.
Pie Floater
This one is unique to Adelaide in South Australia, but it where you essentially 'dunk' an upside-down pie in a bowl of thick pea soup – and is a favoured late-night snack by party-goers. Very region-specific, even some Aussies haven't heard of it, so it is definitely not a typical Australian dish, if you're in the area (and suitable inebriated!) be sure to give a pie floater a try!
Lamb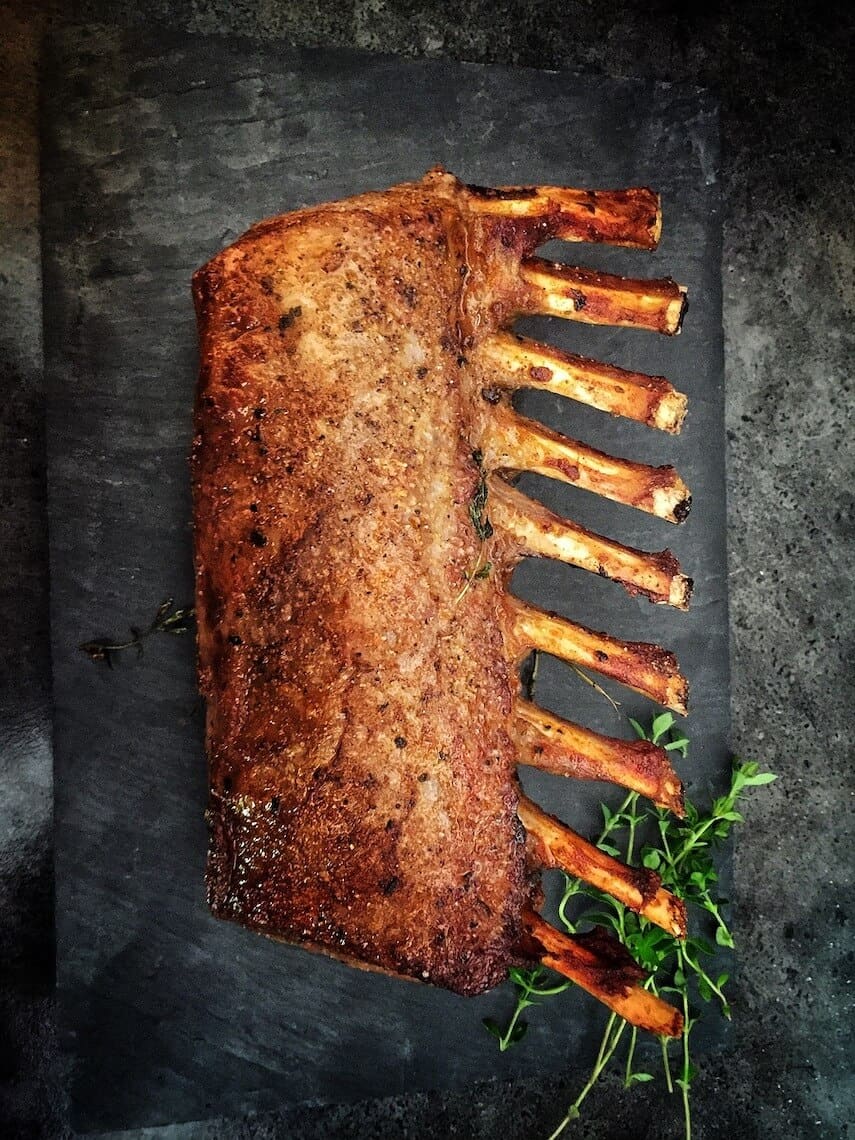 Aussies like their lamb in 3 ways – lamb chops, roast lamb and lamb cutlets (taken off the ribs).
A lamb roast with veggies is a traditional family meal, and lamb chops and cutlets make a great addition to any BBQ.
Burger with the Lot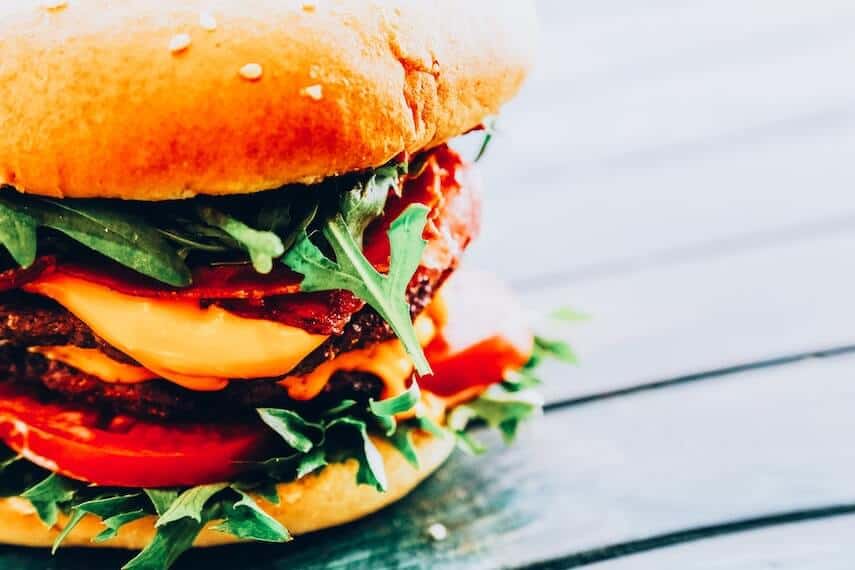 This is literally the biggest burger you could ever imagine – and limited only by your appetite, and the ingredients available!
At a basic level, a traditional Aussie burger with the lot consists of a soft burger bun, beef burger patty, lettuce, cheese, tomato, beetroot, onion, egg and sauce – but you can add whatever you want to it. A pineapple ring is a popular addition (although I personally don't think pineapple should be on pizzas or burgers), as are pickles, mushrooms, avocado and any other condiments (mayo, mustard etc).
You can also substitute the beef patty with one of chicken or vegetables. The possibilities are endless – go forth and create the burger of your dreams.
Chip Butty / Chip Sanga
Another very simple creation that is loved by many – but more for comfort value than nutritional benefit!
To put your chip sandwich (i.e. chip sanga or chip butty) together, take a slice of bread, place a layer of hot chips (see above) with a squeeze of tomato sauce, and top with the second slice of bread.
The same can also be done with potato chips – depending on your preference or what you have to hand.
Emu, Kangaroo or Crocodile (Bush Tucker / Bush Food)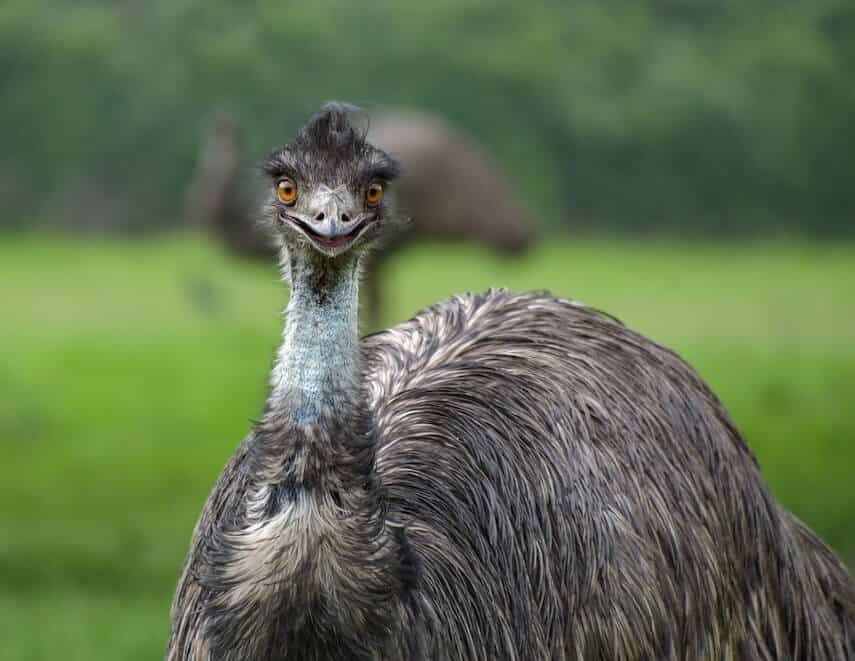 Although both the Kangaroo and Emu are on Australia's national emblem, it doesn't stop its citizens from eating them – along with other bush and aussie animals and grubs such as Crocodiles, Witchetty Grubs and Goannas.
Kangaroo meat is a high protein, very lean meat (containing only 2% fat) and as we have so many of them (they are considered a pest) and who are often humanely culled – it makes sense to eat the meat. If you can get past the 'skippy' imagery.
The Emu is a large flightless bird and while you don't get a lot of meat per animal, what you do get is low in cholesterol and very high in iron, making it a very healthy option, with a similar taste to lean beef.
Crocodile meat is common in the Northern Territory, northern Queensland and northern Western Australia (where crocodiles are usually found) and the white flesh has been compared to chicken or lean pork. Just beware of overcooking it as it can become tough.
Dim Sim
A wholly Aussie invention – based on Chinese dumplings – is a dough purse filled with meat and vegetables, that are steamed or fried. They can be found in Australian Chinese restaurants and takeaway shops. Some of the most famous ones are found at the South Melbourne Market – who are known to have the 'Best Dimmies in Melbourne'.
BBQ: Anything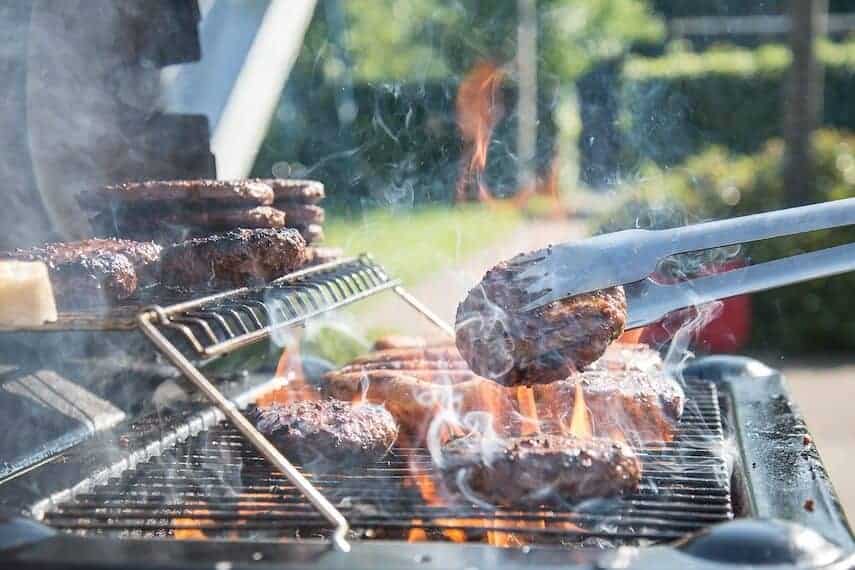 "Put another shrimp on the barbie" is such a common saying that it took a good old Australian BBQ and put it on the international stage (even if Aussie's don't call prawn's, shrimps!)
Our sunny Australian climate makes BBQ-ing a natural and common way to cook, especially when having people over. I mean, what's better than sitting outside with a few beers or glasses of wine with your mates while simultaneously being able to keep an eye on the food.
And more than that, having a BBQ is a classic Australian cultural pastime. If you're ever told to bring a plate, the host generally has the meat covered, it's your responsibility to bring the salad and sides. And a bottle for the host.
Damper (Bush Bread)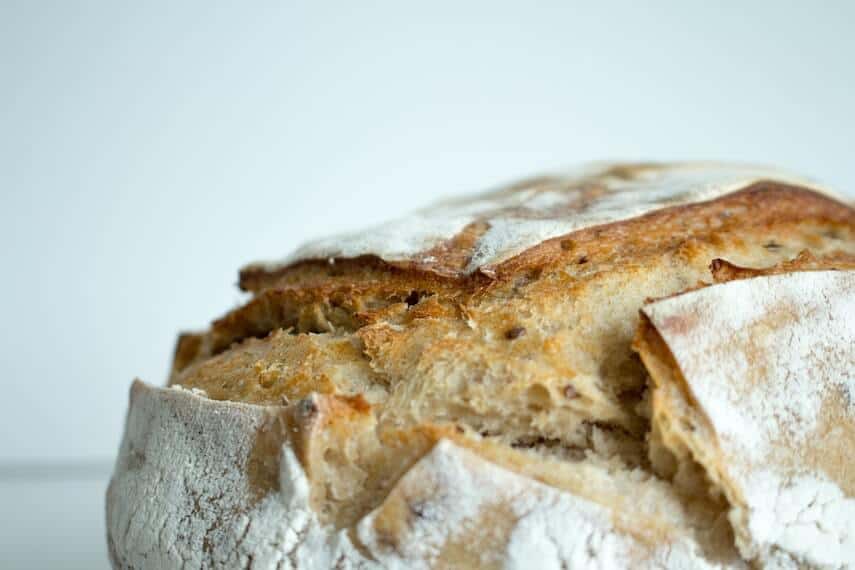 Known as Bush Bread, Damper is the bread that has been made by indigenous Australian Aboriginal people for thousands of years.
Traditionally, bread-making was very labour intensive and was usually carried out by a few women together. Seeds, legumes, grains, roots and nuts were ground down into a flour, after which water was added to make a dough, which was then baked over a fire.
These days the ground seeds have been replaced with a standard white flour to make the process easier. And modern-day damper is often enjoyed around a campfire and can be slathered with butter, jam, vegemite, syrup and cream.
Snags (Sausages)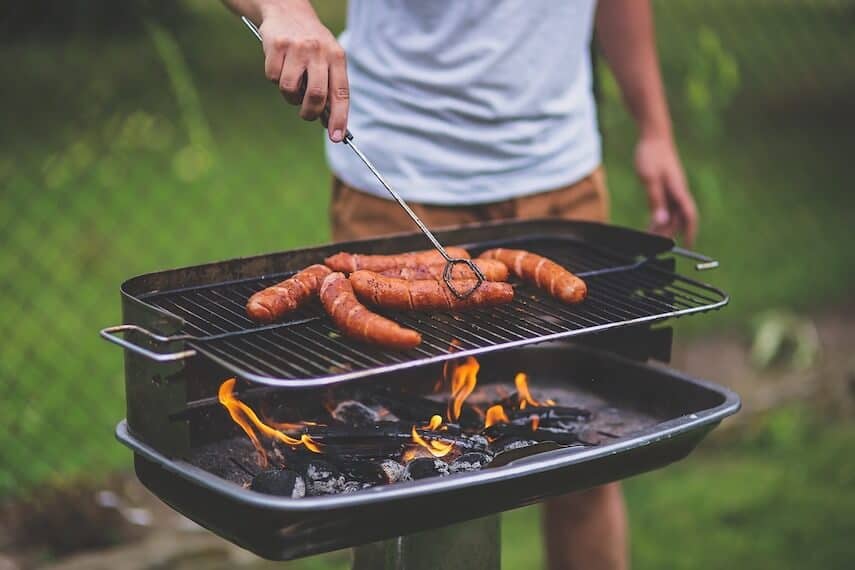 Sausages are a popular food in Australia. Whether served as bangers and mash, cooked on the BBQ, and especially if they are from a Sausage Sizzle at Bunnings. Although don't be surprised that they are served on bread rather than a hot dog bun.
(A Bunnings Sausage Sizzle is a distinctly Aussie tradition, where each weekend, outside the entrance to Bunnings Hardware Store, a different group of people (usually raising funds for a sports or community group) have a big BBQ where they cook up sausages and fried onions – which are served wrapped in a slice of bread and topped with a slug of tomato sauce.)
It's the Aussiest of Australian dishes and it is considered practically un-Australian to go to Bunnings at the weekend and not have a snag from the sausage sizzle.
Dagwood Dog / Pluto Pup
If you ever find yourself at a Royal Show in Australia (an agricultural festival with live animals, rides, attractions & show bags) you'll have the opportunity to try a Dagwood Dog (or Pluto Pup or Dippy Dog, depending on which state you are in) These are a hot dog on a stick, dipped in batter, deep-fried and topped with a slug of tomato sauce. (And are very similar to corn dogs in the USA.)
Smashed Avo on Toast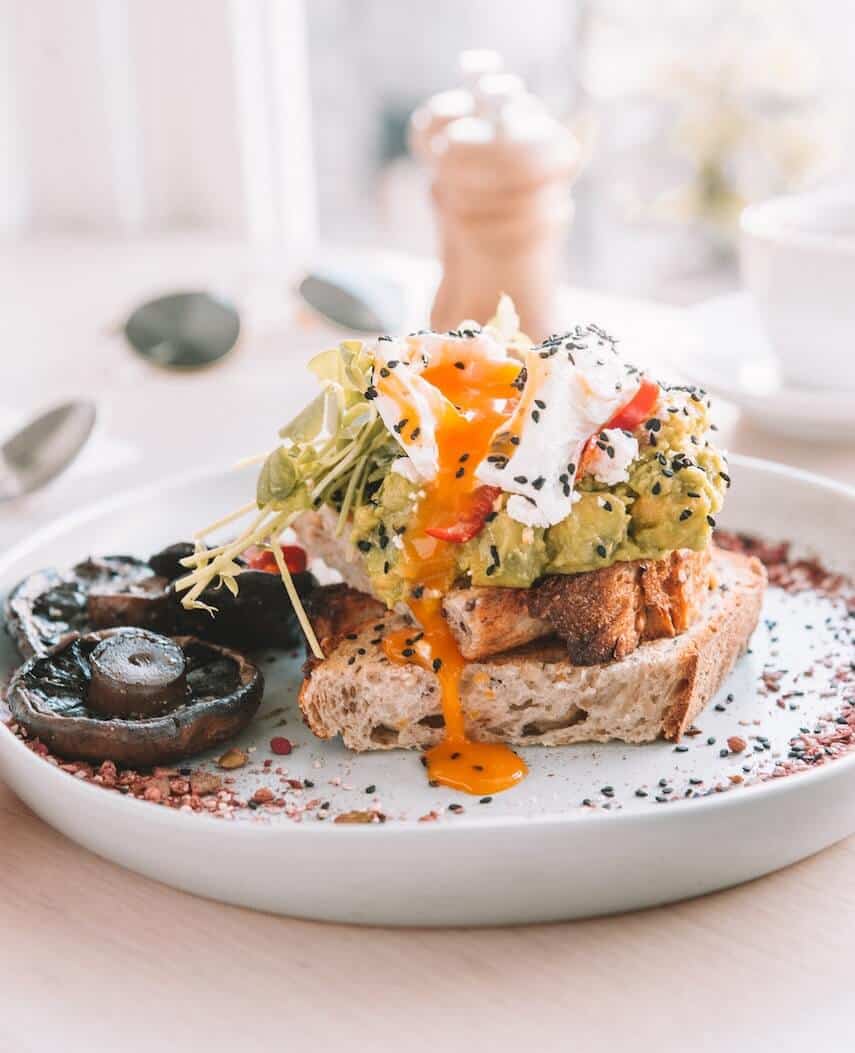 Smashed avocado on toast burst onto the Aussie restaurant scene in the late 1990s, and has been a staple on any breakfast menu ever since. It's simple, but delicious. Mush up a ripe avocado with a touch of lemon juice and slather it onto a piece of toasted sourdough and voila, a basic smashed avo on toast.
To kick it up a notch, mix in some chopped up cherry tomatoes, mint, diced red onions and top with crumbled feta cheese and/or a poached egg and you've got a gourmet brekky fit for royalty.
With the price of avocados (hint: they're never cheap!) it's no wonder it's a hipster favourite, and considered a bit of a luxury – although not without controversy. In 2017 it was blamed for the lack of affordable housing and as recently as 2021 was a reason Australia couldn't get to net-zero emissions. Although, spoiler alert, we can – if our government actually did its job and stopped spruiking the benefits of fossil fuels.
Roast Chicken Roll
A go-to meal for the can't be bothered to cook or those feeling completely uninspired, the roast chicken roll (roast chicken on a bread roll from Coles or Woolies) is an Aussie staple.
Simply duck into the supermarket, grab a cooked chook (cooked chicken) and a bag of bread rolls and you're good to go. And you'll always almost always have leftovers for the next day's lunchbox or late-night snack.
Sausage Roll


Another much-loved pastry item in Oz is the humble sausage roll. This simple combination of ground or minced meat and puff pastry can be found in cafes, bakeries, petrol stations and even some convenience stores – and make for the perfect hot lunch, or party snacks.
Iconic Australian Food: The Sweet Stuff
Watermelon & Mango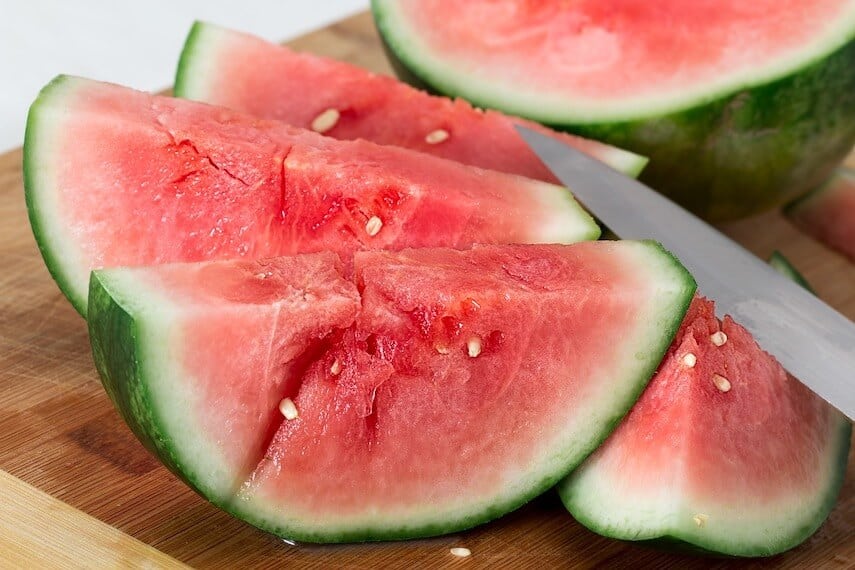 Chomping down on a slice of sweet, crunchy watermelon on a hot summer day is very much part of a traditional Australian summer. And a cubed Mango is a close second when it comes to the iconic taste of summer.
Fairy Bread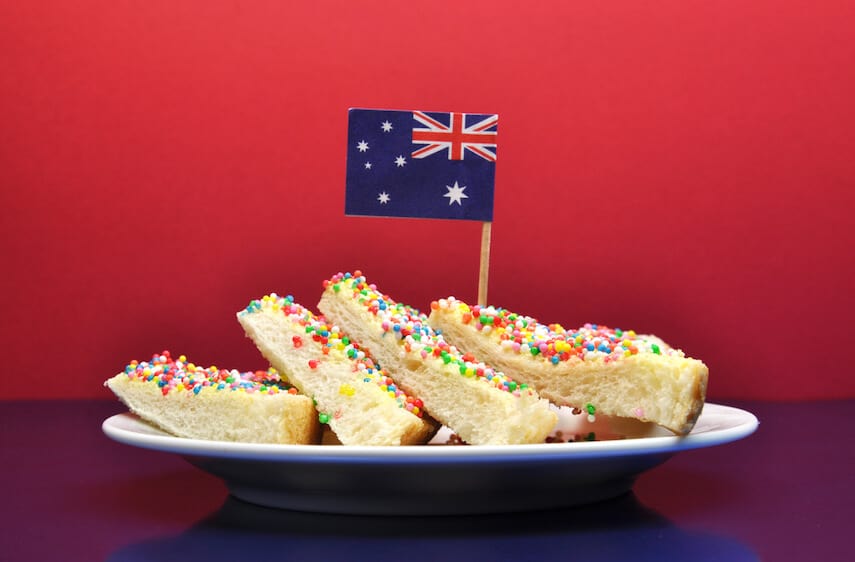 This one is simple and a staple a kids parties – get a slice of white bread, butter it and cover it in hundreds and thousands. Winner.
Lamingtons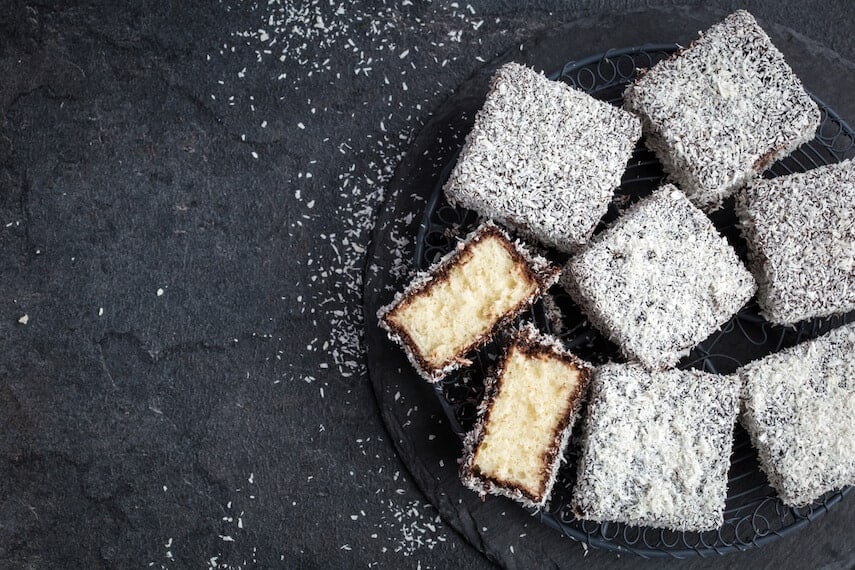 Famously invented by a Queensland chef in the early 1900s to feed unexpected visitors of his boss, Lord Lamington – they are now one of the most iconic Australian foods on the list.
Made of squares of butter cake or sponge cake coated in an outer layer of chocolate sauce and rolled in desiccated coconut, it was their publication in the Queensland Country Life newspaper which propelled them to stardom and enshrined them into popular culture.
Tim Tams (and the rest of the Arnotts Range)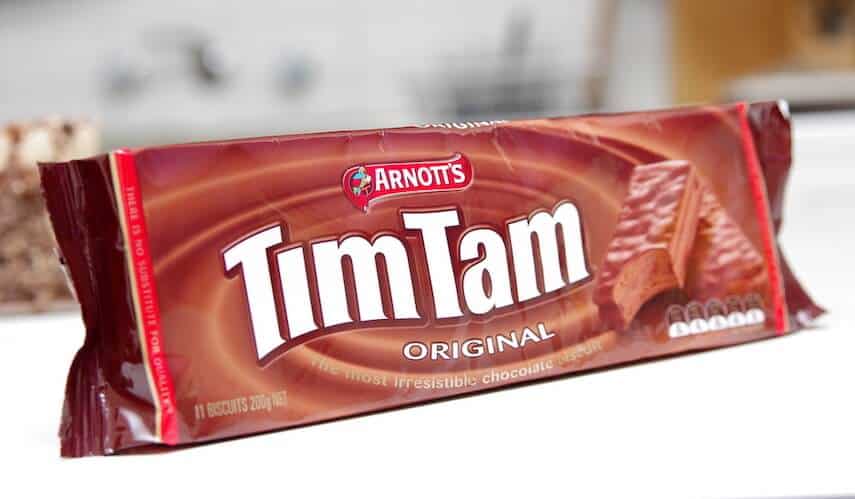 You can't have a cuppa (tea or coffee) without a Tim Tam. And you can barely stop at one when you have the pack in front of you. (And 1990s TV advertising practically said as much!)
This iconic chocolate-covered, chocolate cream-filled biscuit is now available in a multitude of flavours and even more frequently with gourmet pairings that showcase Aussie products – such as Murray River Salted Caramel, Dimbula Mountain Estate Coffee & Choc and Moreton Bay Raspberry and Dark Chocolate.
However – if you'd like to partake in a Tim Tam Slam, you'll need an original Tim Tam: bit off a small piece of opposite corners, stick the Tim Tam in your brew and suck up your coffee through the biscuit. Once you feel the liquid touch your tongue, slam that soggy Tim Tim into your mouth.
Other Arnott's favourites include Mint Slice, Chocolate Royals, Fancy & Cream Biscuits, Cookies, Shapes and Crackers.
Anzac Biscuits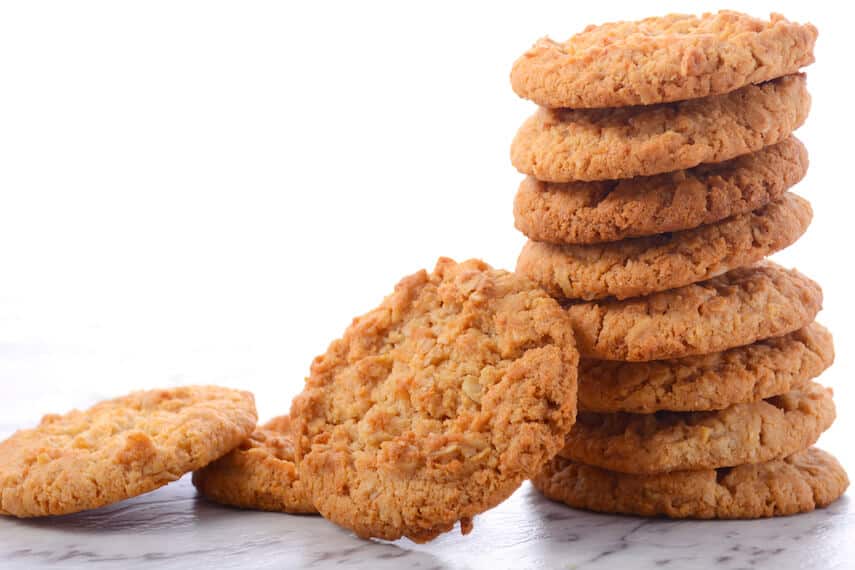 Made from rolled oats, flour, sugar, butter, coconut, golden syrup and baking soda, Anzac biscuits are one of the most iconic Australian foods on our list. Their history goes back to 1823 and was what wives and mothers used to send to their children in the military – the ANZACS (Australian and New Zealand Army Corps) serving overseas.
Anzac biscuits are crunchy on the outside and chewy on the inside and were created as something that wouldn't spoil on the journey to their recipients.
Pavlova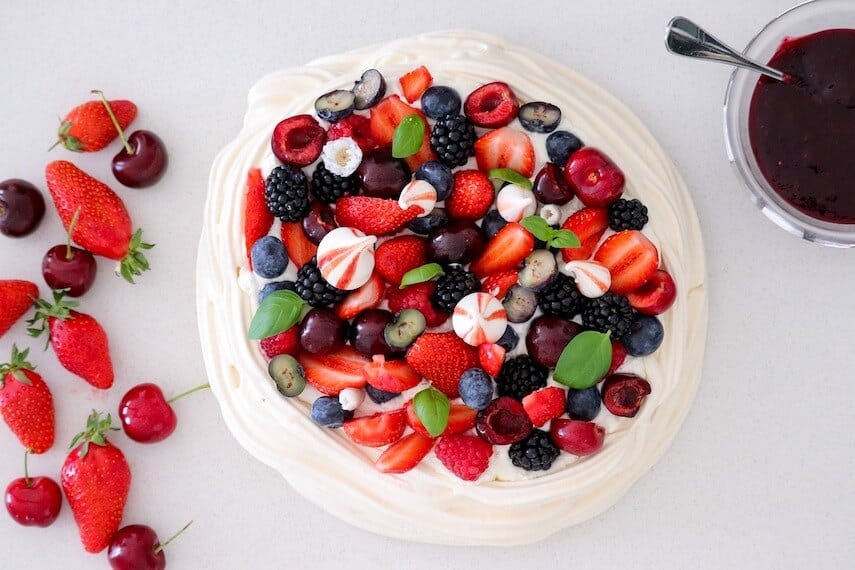 A Pavlova is a meringue cake base topped with whipped cream and fruit that you can buy from a cake shop, a bakery, or from major supermarket chains. Aussies claim it as their own, with recipes for a similar desert that have been found which date back as far as 1906, but NZ say it's theirs.
Today the story goes that it was named after Ana Pavlova, a Russian ballerina that toured Australia and New Zealand in 1926, and is a popular summer dessert in both countries.
*Our Top Tip* Don't start a conversation about the origins of Australian desserts and who lays claim to the beloved pav at a summer BBQ with a kiwi friend from across the ditch. It could get rowdy!
Cadbury Chocolate & Allens Lollies
Australians call sweets, lollies – and Allens is the undisputed king. Cadbury is the perfect chocolate creating counterpart and both create some of the most iconic Australian snacks – we're sure you will have tried some of them!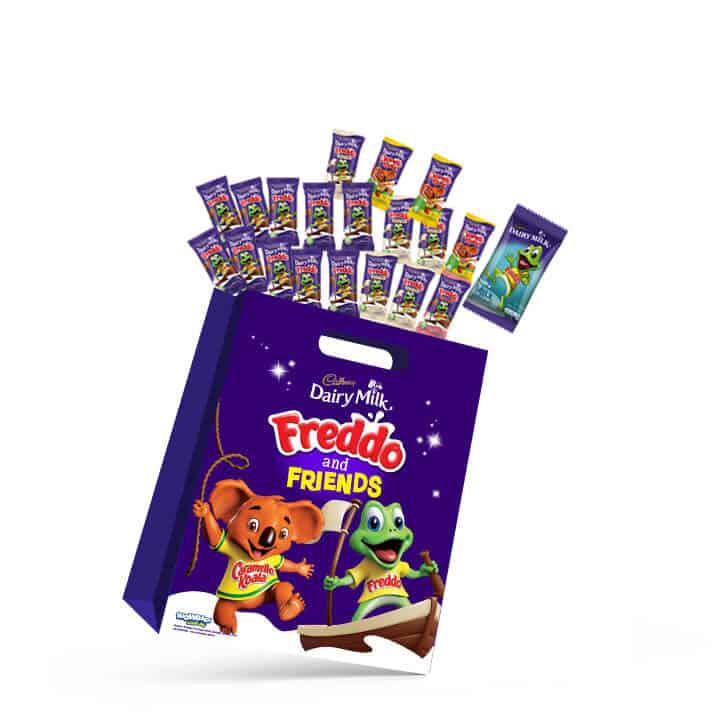 Freddo Frogs

Caramello Koalas

Cherry Ripe

Violet Crumble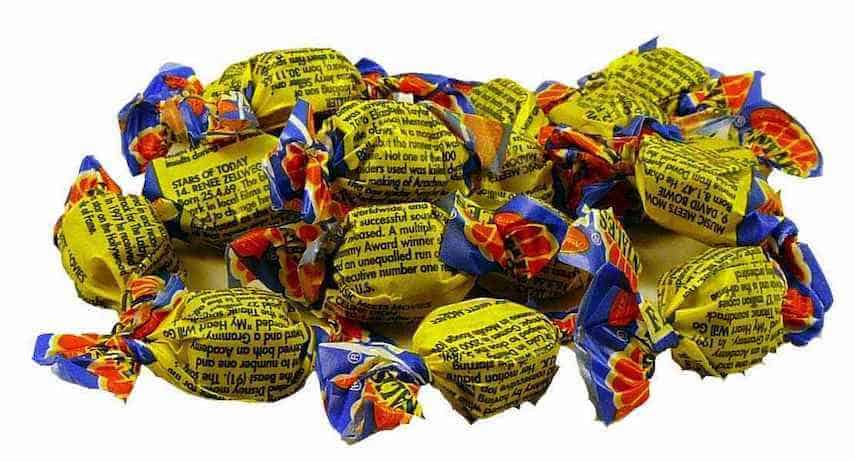 Fantales

Red Ripper (formerly, Red Skins)

Cheekies (formerly, Chickos)

Minties

Snakes

Lifesavers
Milo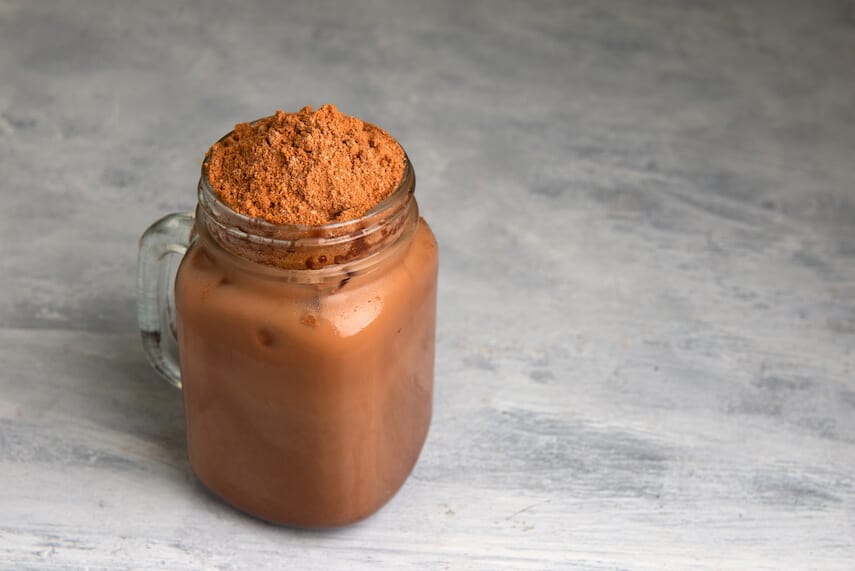 While everywhere else in the world enjoys a smooth hot chocolate, Aussies love the crunchy milky goodness of Milo. It's a malted barley and chocolate powder mix that you combine with milk and can be drunk hot or cold.
It's loved by kids and adults alike – and is super comforting on a cold winters morning or night. It can even be sprinkled on breakfast cereals, ice cream, cake or coffee, for a touch of extra flavour. Although, it's packed with sugar, so don't get too attached it!
Golden Gaytime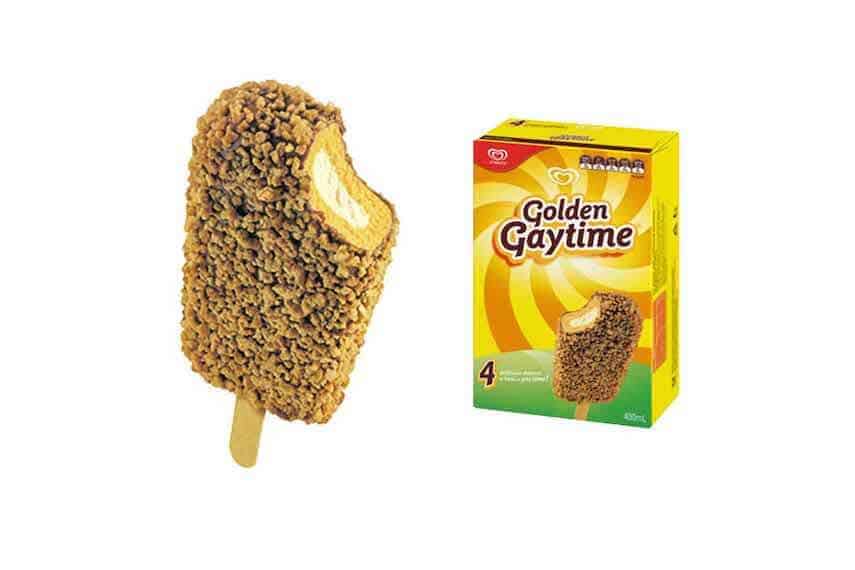 One of the most iconic ice-cream treats in Australia is the Golden Gaytime. A frozen treat with layers of vanilla and toffee ice cream at the centre dipped in chocolate and covered in biscuit pieces.
Despite its name being a little on the 'snigger-inducing' side, Golden Gaytimes were first released in the 1980s when gay typically meant happy,and it's slogan 'it's hard to have a gay time on your own was 'tongue-in-cheek' long before it became so in popular culture.
Australian Drinks
Coffee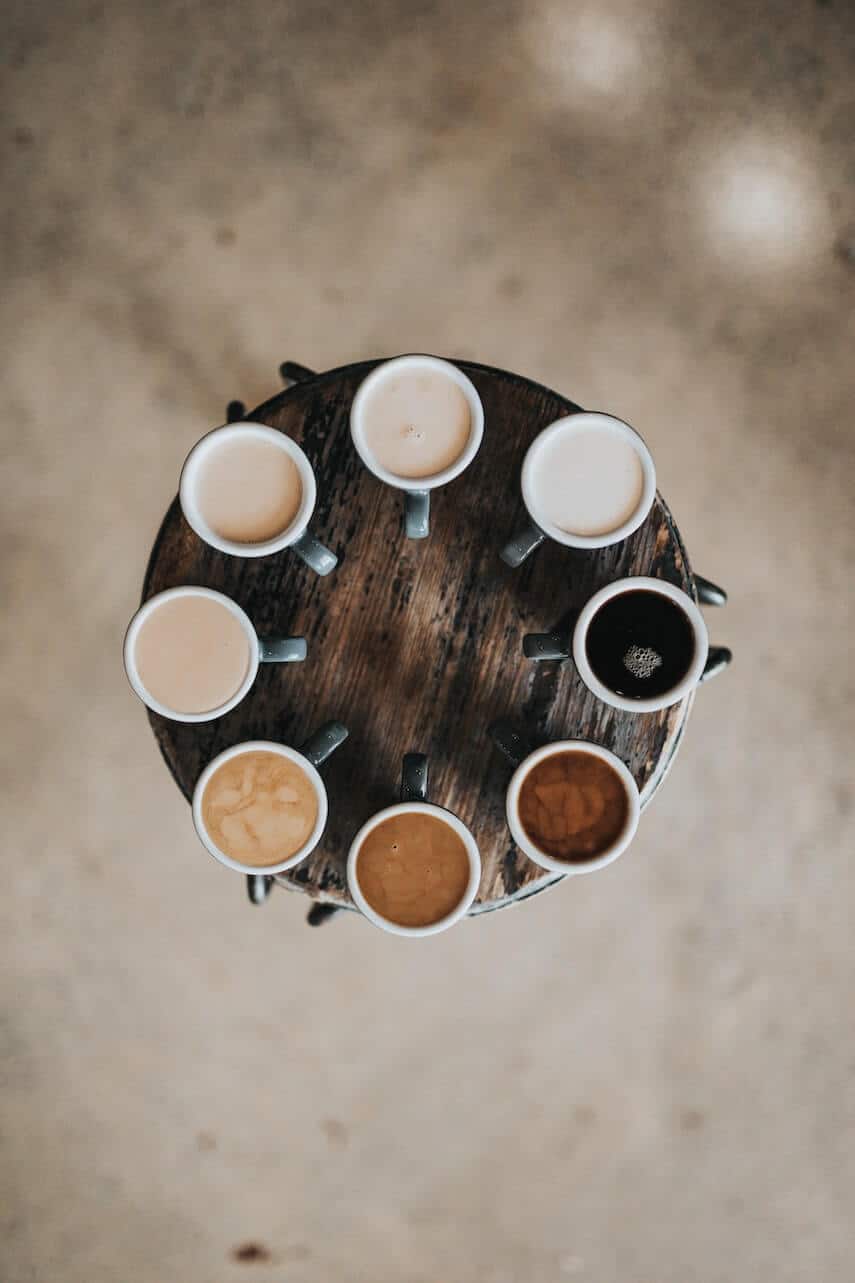 Australia – and Melbourne in particular – is known around the world for its coffee culture; to the point where most Aussies consider themselves to be coffee snobs. From the humble flat white (which was actually invented here) to cappuccinos – not to mention babyccinos and puppyccinos! – and any other coffee-related concoction you can think of. Australia has you covered.
Wine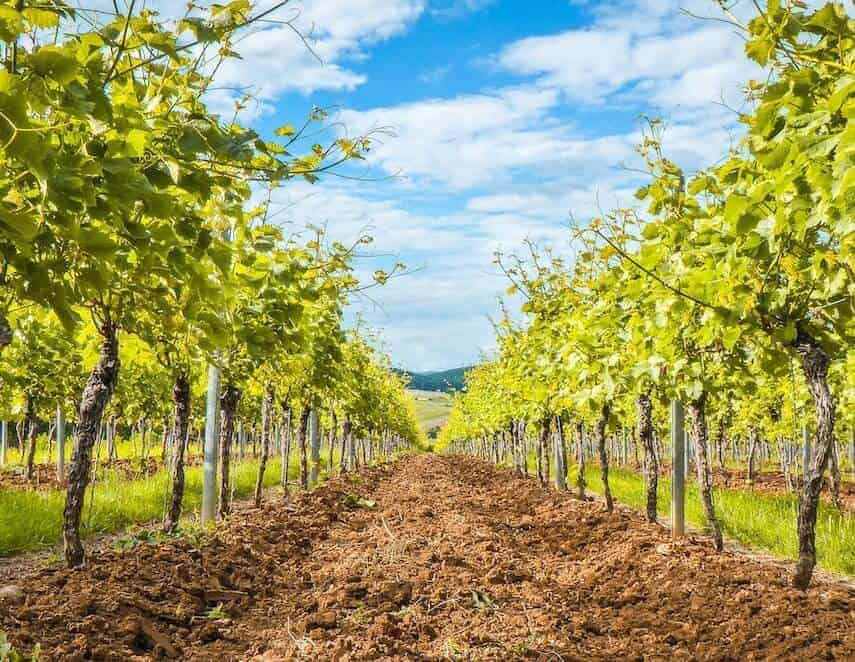 Australian red wine and white wine are some of our greatest creations (and exports). With over 2,500 wineries spread across 65 different wine regions, you'll never be far from a good drop. Be it the smooth pinot noirs from the soils of Victoria, the refreshingly fruity Sauvignon Blancs from the Hunter Valley, Adelaide Hills, Margaret River and parts of Tasmania; or the rich full-bodied Shiraz and Cabernets from the Coonawarra and Clare Valley and McLaren Vale.
One fun fact about Australian wine is sparkling varietals are often referred to as 'Champers' (despite the fact that 'champagne' can only be called as such when it comes from the Champagne region of France). But as we said above, Aussies do like to shorten everything – and in this case it probably keeps us out of trouble!
Craft Beer & Spirits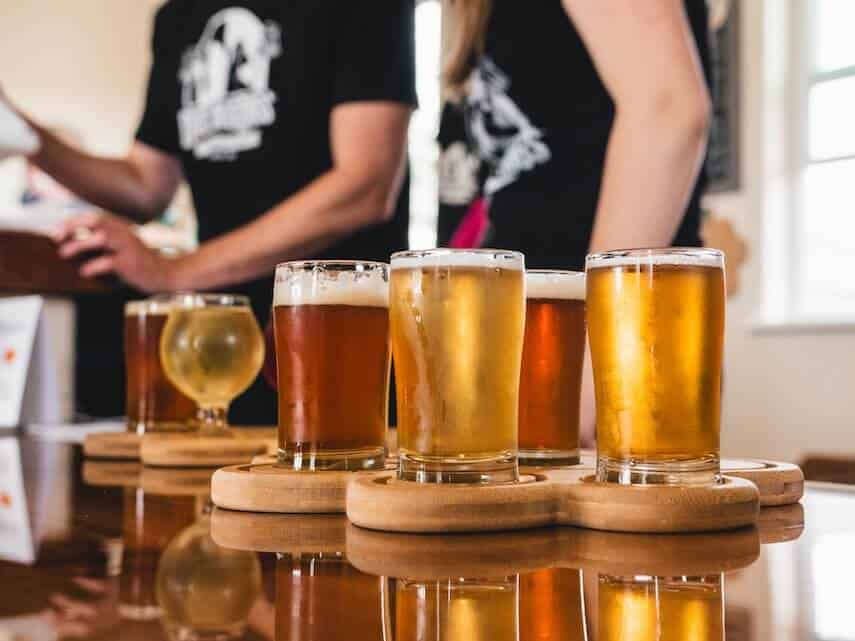 The modern Australian drinks landscape has been overrun with craft beer varietals, which are becoming as popular (and in some case more popular) than your traditional Australian brews such as XXXX (brewed in Queensland), Carlton and Victoria Bitter (VB) which are brewed in Victoria, and Tooheys, brewed in Sydney.
There has also been an increase in distilleries in Australia, typically creating boutique gins or small cask whiskeys.
*Fun Fact* Despite Foster's marketing themselves as the typical Australian beer in the UK (their slogan is 'Foster's – Australian for Beer) – it's barely drunk anywhere in the country! (Although it is rumoured to be being 'reintroduced' to the Aussie market in 2021 with CUB brewery upping production by 300%)
And if you know a foodie that would love to try these Iconic Australian Foods, be sure to share this article with them on Facebook, Twitter, Flipboard or Pinterest. Sharing is caring and we thank you in advance.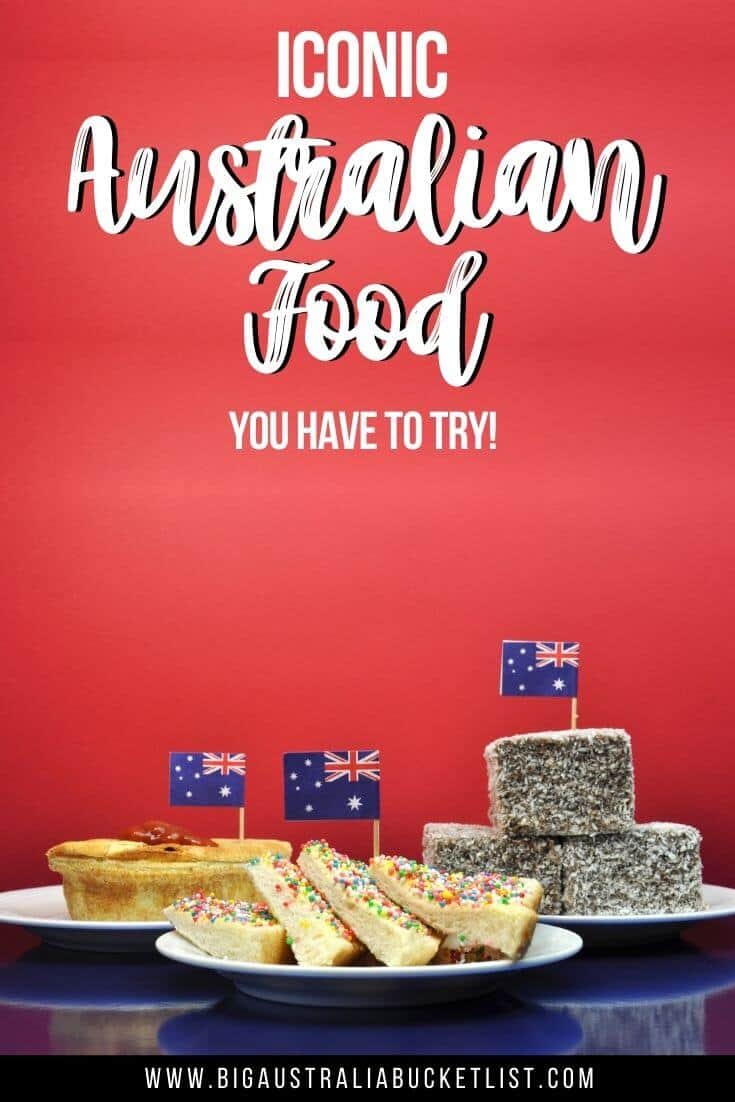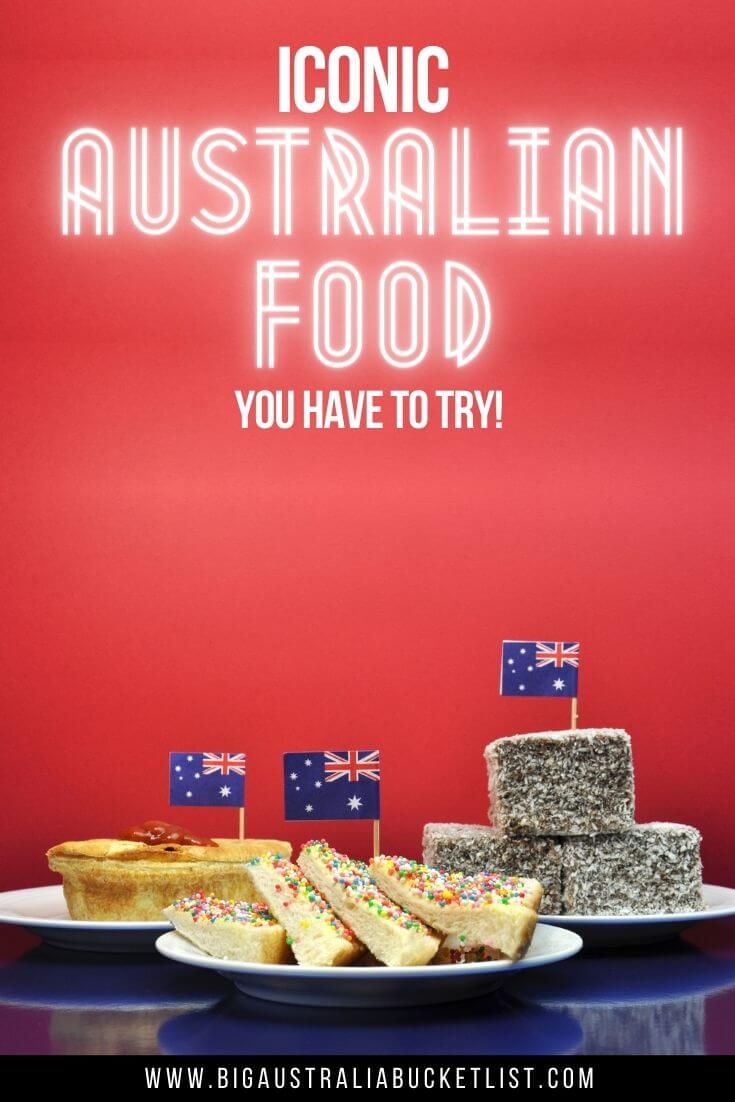 READY MORE TRAVEL INSPIRATION? YOU MIGHT BE INTERESTED IN THESE RECENT POSTS, TRAVEL ARTICLES, DESTINATION GUIDES, TRAVELER RESOURCES, TRAVEL GEAR GUIDES AND RELATED POSTS ABOUT OTHER AMAZING PLACES AROUND AUSTRALIA:
[optinform]
Hi There! Thanks for reading our guide to Iconic Australian Food: 35+ Australian Foods to Try in Oz Australia. I just wanted to let you know that this post contains affiliate links, which means if you purchase something after clicking a link, I may get a small commission – which is at absolutely no cost to you. If you enjoyed this article and are going to be searching for some of the things I mention anyway, I would love it if you could click through from the links above & thank you in advance! Read my full disclosure here.