With swirling sandbanks, aqua blue water and dreamy islands, the beaches of Queensland have acquired a near-legendary status for their beauty. And with over 1,700 beaches in the state, you'll never run out of options of wonderful beaches to spend time on!
But with that much choice, it can be difficult to narrow all of them down into a manageable list of the best beaches in Queensland. After all, even if you visited a new Queensland beach every single day, it'd still take you almost five years to see them all!
That's where this post comes in. With beaches from right on the New South Wales border to way up in Tropical North Queensland and island beaches to city beaches, this round-up spans the whole of this great state to share our hand-picked selection of 15 the very best beaches in Queensland to visit.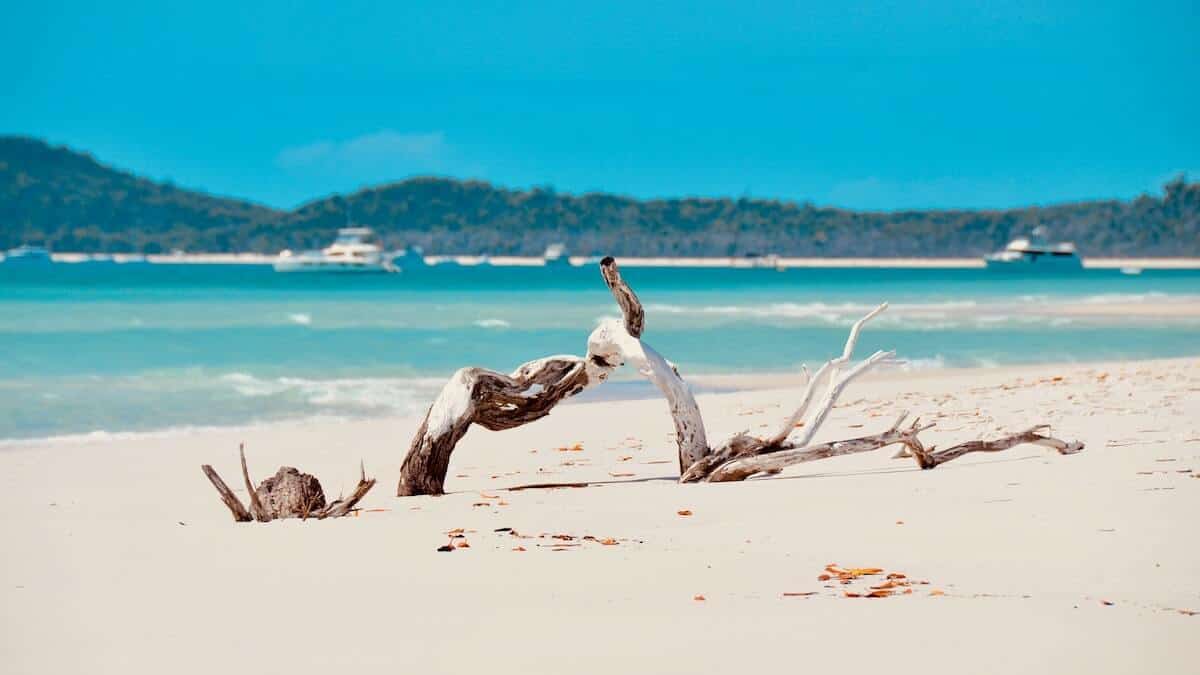 Disclaimer: Almost all posts on this site contain affiliate links, and this one with our Guide to the Best Beaches in Queensland (inc. Map & Photos) is no different. This means that if you click on any of the links in this post (and make a purchase) I may receive a small commission at absolutely no cost to you. Each post is carefully crafted to (hopefully!) answer all your questions and recommendations are made where we believe they will improve your trip and help with your planning. As such we thank you in advance should you decide to click & buy. Read my full disclosure here.
A Map of the Best Beaches in Queensland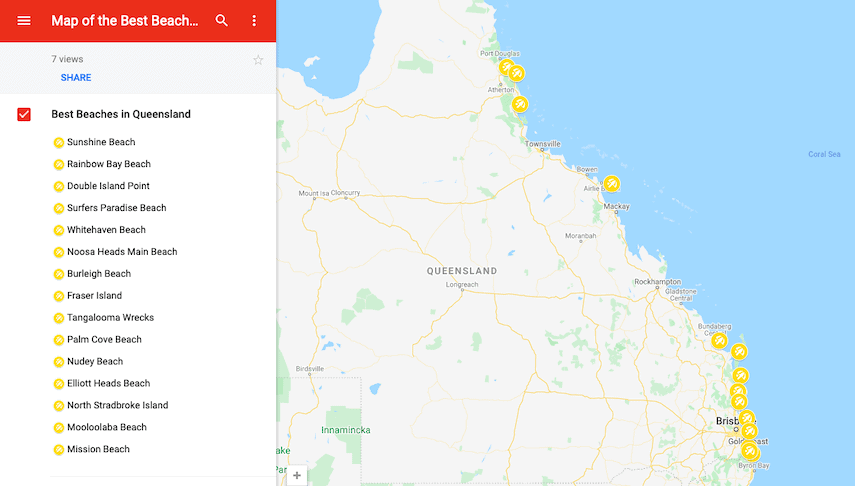 Click here or directly on the Best Beaches in Queensland Map above to open the map in Google Maps. You can then use the map to pin other destinations for your road trip and get A to B driving directions if you want to get straight to the good stuff.
Psst. If you're heading out on a road trip, check if you have downloaded our Best Apps for Travel.
Sunshine Beach, Noosa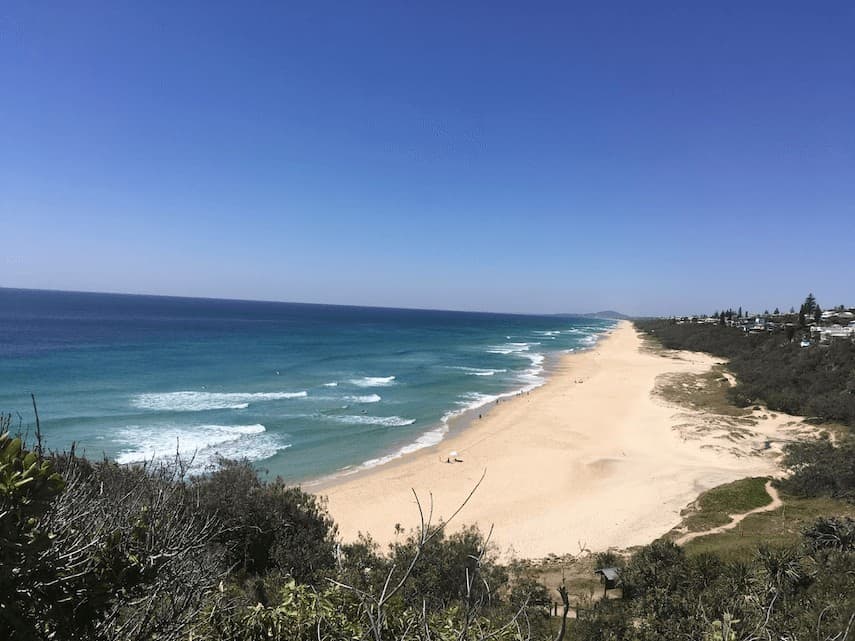 It's no secret that the Sunshine Coast is heaven for beachgoers, but if you're looking for one of the best beaches in Queensland, head to Sunshine Beach in the popular holiday town of Noosa.
Sunshine Beach marks the end of the 5.4km Noosa coastal walk, one of the best activities in Noosa. The walk starts in central Noosa, meandering through the forest, along the Noosa headland and passing by many of the other beaches in Noosa before finishing at beautiful Sunshine Beach.
Unlike the many other beaches in Noosa, Sunshine Beach is huge and also quiet. It's part of a 15km stretch of sand, so no matter how many people visit there is always plenty of space to spread out! A huge attraction of Sunshine Beach is its ideal surfing conditions, which draw surfers from across Australia. Even if surfing is not your thing, the beach is still a great place to relax and swim, and lifeguards patrol the beach every day.
How to get to Sunshine Beach: The coastal walk is the best way to get to the beach from central Noosa. The 620 and 627 buses both stop at Sunshine Beach from central Noosa. The journey takes around 10 minutes.
.
Rainbow Bay, Coolangatta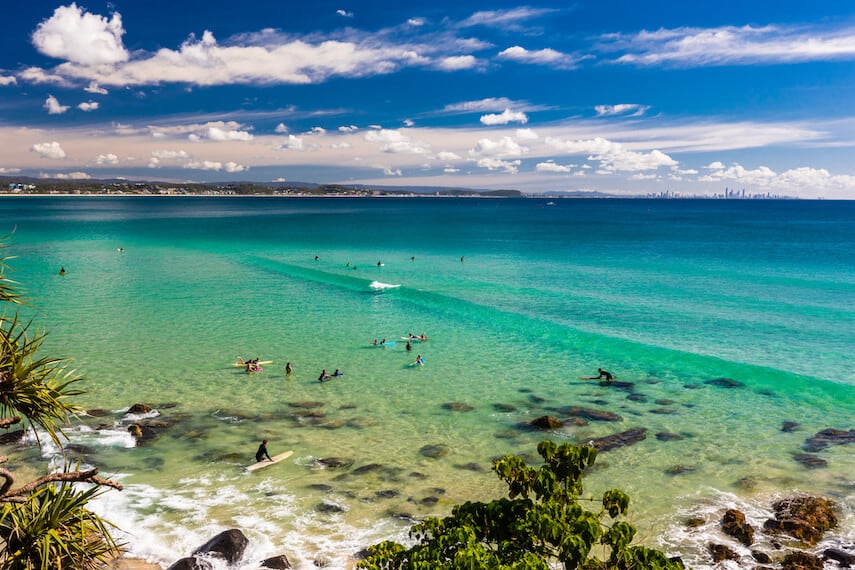 Rainbow Bay is located at the southern end of Coolangatta on the Gold Coast.
It is home to Rainbow Bay beach, also known as Greenmount Beach – which is known for its white sands and epic waves; Snapper Rocks – known for its rock pools with stunning ocean views; and Point Danger – known for its walking tracks and super scenic views.
Next door to all this loveliness there is also Coolangatta Beach (patrolled surf beach with smaller waves) and Kirra Beach – a huge expanse of white sands and calm waters, popular with families as one of the great swimming beaches in the area; and just a short 15-minute drive will take you to Currumbin Wildlife Sanctuary where you can meet some of our incredible native Australian animals.
How to Get to Rainbow Bay: Practically on the border with New South Wales, Rainbow Bay is just south of Gold Coast airport and easily reaching by following Highway 2.
.
Mooloolaba Beach, Sunshine Coast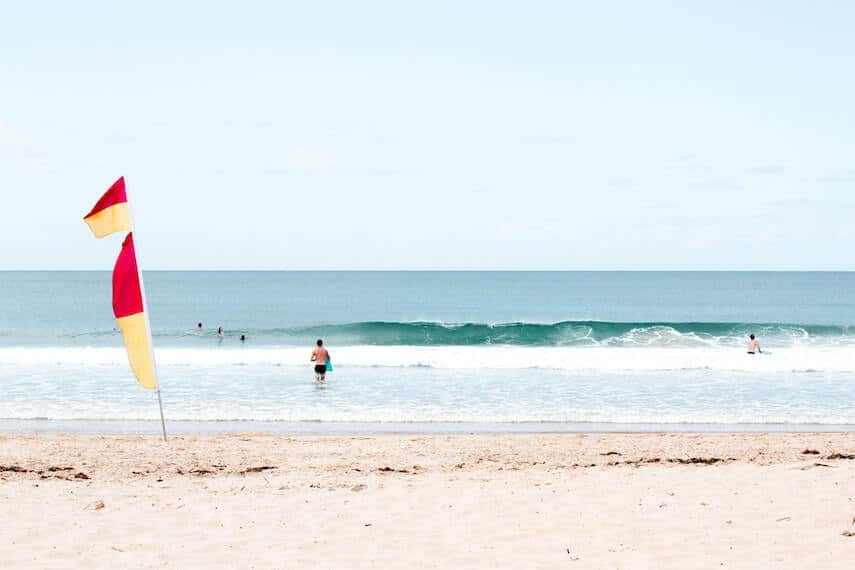 One of the most spectacular beaches on the Sunshine Coast (and in the whole of Australia), the expansive white sand beach is patrolled by the local surf lifesaving club 365 days a year which is just one of the reasons it is a firm family favourite.
Little kids will enjoy the rock pools at the northern end of the beach, while the bigger kids (and adults) can learn to surf with one of the local surf schools; and the nearby shops, bars and restaurants (including The Mooloolaba Surf Club) are great places to stay well-fed and hydrated.
Snorkellers and Scuba Divers will not be disappointed either, with the opportunity to dive the ex-HMS Brisbane Shipwreck just off the coast, while those preferring the stay on dry land can explore the area by bike or on foot.
Getting to Mooloolaba Beach: The closest airport is Maroochydore (MCY) – also known as the Sunshine Coast Airport. From there it is a short 15-minute drive to Mooloolaba Beach. Alternatively, it is 100km North of Brisbane, which takes approximately 1hr 30 minutes to drive.
.
Mission Beach, Cassowary Coast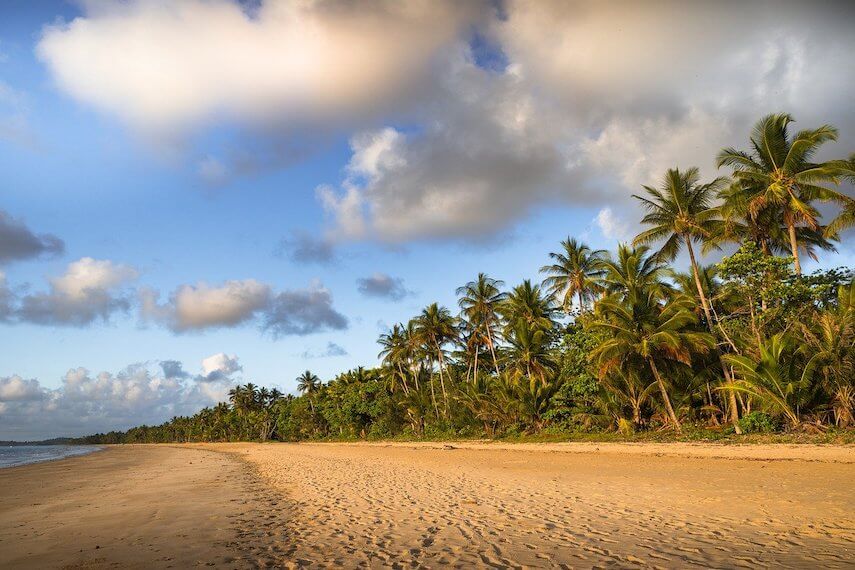 Mission Beach is one of the most famous East Coast beaches in Tropical North Queensland.
Situated midway between Townsville and Cairns it is made up of four beach villages (Bingil Bay, Mission Beach, Wongaling Beach and South Mission Beach) linked by 14 kilometres of wide golden sands and has a variety of accommodation options to suit every style of traveller on any budget.
Backpackers flock to Mission beach as a tropical paradise and a great place to Skydive, but there are also BnBs, Campgrounds, luxury boutique hotels and eco-friendly lodges.
Regardless of where you stay on Mission Beach, visitors can take tours of the Great Barrier Reef (from taking a helicopter above to diving below!), head inland to ride the Skyrail Rainforest Cableway, go fishing to catch your dinner, or simply swim in the ocean.
Due to its northern location, there are usually stinger nets deployed between October and May, but it is best to check on the North Queensland Surf Lifesaving website if the nets are currently active.
How to Get to Mission Beach: Mission Beach is located approximately 2 hours south of Cairns and 3 hours north of Townsville, both have airports that are serviced by flights from most major cities in Australia.
.
Double Island Point, Cooloola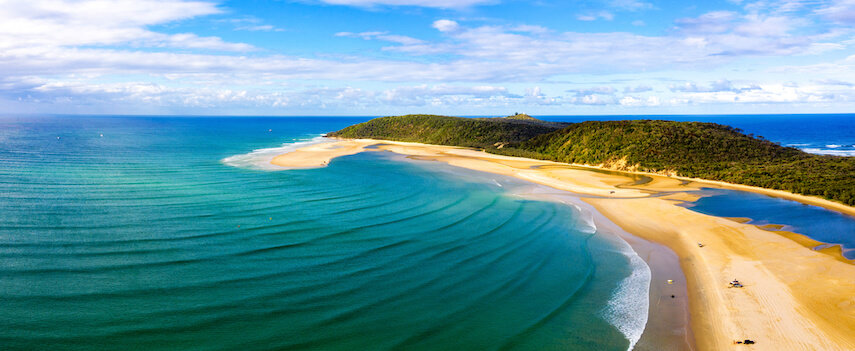 In Great Sandy National Park you'll find one of the most breathtaking beaches in Queensland – Double Island Point.
Despite its name, this isn't an island at all, but rather a long sand spit with huge sand dunes towering over it. This beach is undoubtedly one of the most beautiful in all of Australia. Here, you'll find powdery-white sand, transparent water and stunning views from the lighthouse which you can hike up to.
Double Island Point is a big hit with surfers, as it's home to Australia's longest right-hand break. Since the waves here break over sand, they're not too powerful and very clean – perfect for beginner and intermediate surfers.
Double Island Point is not an easy beach to get to, but if you do make the effort you'll be rewarded with an incredibly quiet beach with jaw-dropping beauty.
Getting to Double Island Point: Double Island Point is only accessible by 4wd. If you want to drive here yourself, you'll need to get a permit to drive in the Cooloola Recreation Area. If you don't want to drive yourself, tours run from both Noosa and Rainbow Beach.
If you're feeling fit, you can also walk from Rainbow Beach to Double Island Point. The walk is 15km and takes almost a full day. Because of this, it's common for people to spend a day walking to Double Island Point then camp there for a few days before making the return journey.
Surfers Paradise Beach, Gold Coast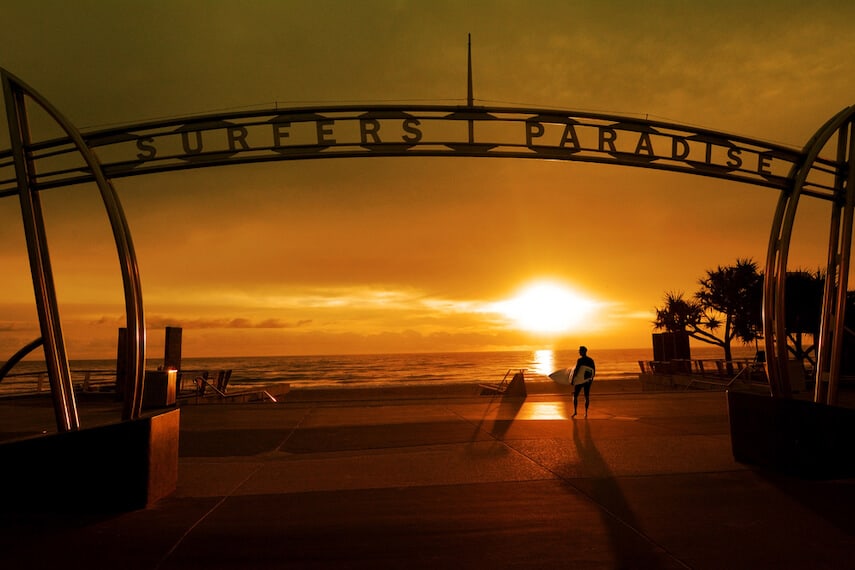 If you ever googled 'Australian beaches' or just 'Queensland' in general, it is highly likely you have seen a photograph of Surfers Paradises famous archway framing the beach beyond.
Obviously, and as indicated by the name, the 2km of golden sands at Surfers Paradise are part of the surfing beach, with the towering skyscrapers of the Gold Coast providing an incredible backdrop.
The beach is patrolled by surf lifeguards in various sections, and as always, we encourage people to swim between the flags where they are present. (Even if you consider yourself a strong swimmer – our Aussie rips can be dangerous, especially if you don't know what you're looking for).
Locate at the heart of the Gold Coast, there are restaurants, bars, theme parks and more for visitors to enjoy.
How to get to Surfers Paradise: From Gold Coast airport it is a 30-minute drive to Surfers Paradise by car. Alternatively, you can take a bus (no.700 or 777) to Broadbeach station from where you can hop on a tram up to Surfers Paradise. If travelling from Brisbane it is a straight shot south along the Pacific Motorway which takes approximately 1 hour by car.
.
Whitehaven Beach, Whitsunday Islands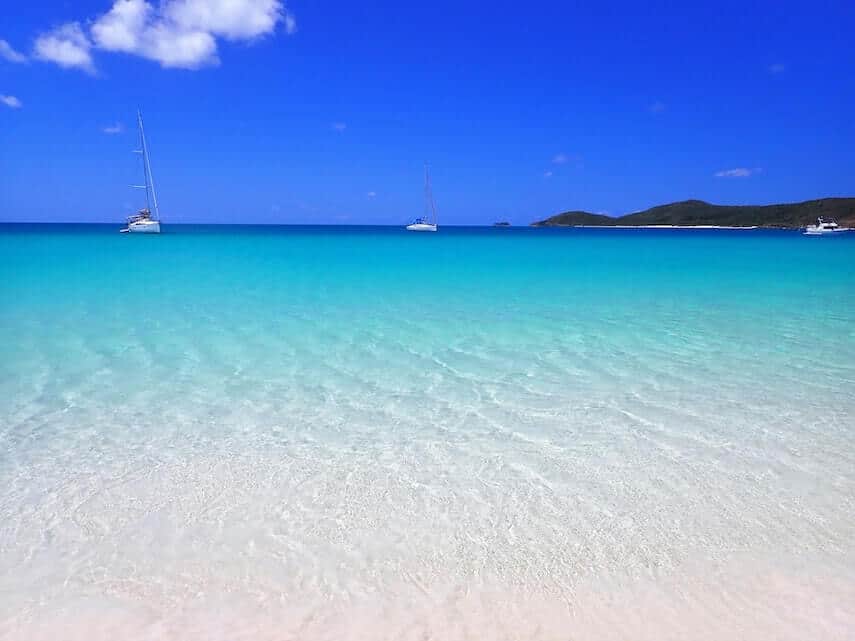 Whitehaven Beach is easily one of the most recognisable beaches in all of Australia. After all, those swirling sandbanks look too good to be true – but they're just as beautiful in real life as they are in photos!
Not only is Whitehaven Beach surrounded by miles of natural beauty in the Whitsunday Islands National Park, but it's also in the heart of the Great Barrier Reef. It's just not possible to find a beach in a more picturesque location!
The beach stretches for 7 kilometres and the sand fades out into the ocean in swoon-worthy swirls of blue, green and white. The best way to view the beach is from a scenic plane ride, as you'll be able to take in the full view of the sand swirls from above.
A much cheaper way to see Whitehaven Beach from above is to walk to the Hill Inlet Lookout, an unmissable viewpoint. The walk is only a 1.3km return journey from the beach, but it's very steep. It's definitely worth it though, as this is the best place on Whitsunday Island to take photos of the beach and the ocean.
On the beach itself, it's possible and safe to swim in the water, although a stinger suit will be necessary from October to May.
Getting to Whitehaven Beach: The easiest way to get to Whitehaven Beach is on a sailing cruise tour from either Airlie Beach or Hamilton Island. These tours can last for a half-day, a full day, or multiple days including overnight stops. The only other option is to charter a private boat.
.
Noosa Heads, Sunshine Coast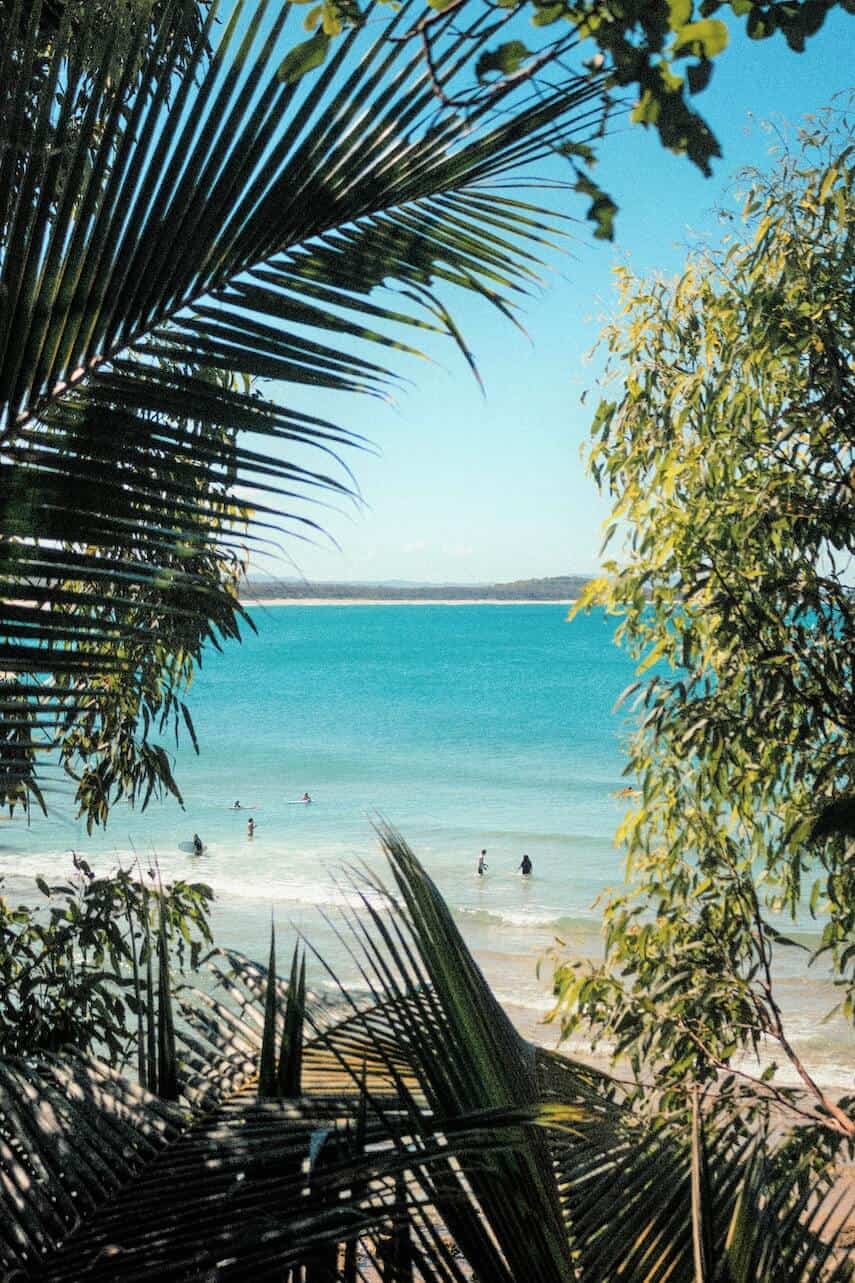 Noosa is full of stunning beaches but we felt we should include a special shout out to Noosa Main Beach. The calm waters mean it is generally a lot busier than Sunshine Beach (mentioned above), but its access to Hastings Street with its cafes, restaurants and nightlife means it is a great place to base yourself on your Queensland holiday and totally deserves to be known as a glamorous resort town.
Although Noosa has kilometres of pristine coastline, Noosa Heads isn't just about the beaches but is also home to some of Australia's most spectacular natural environments. From Noosa National Park to the Noosa Everglades; Noosa Biosphere Reserve and Great Sand Biosphere; not to mention the nearby Glass House Mountains, Mapleton Falls National Park and the Sunshine Coast Hinterland.
How to Get To Noosa: The closest airport to Noosa is the Sunshine Coast Airport located 30 minutes south of the town. Alternatively, it is a 2-hour drive north of Brisbane, either by car or shuttle bus.
.
Burleigh Heads Beach, Gold Coast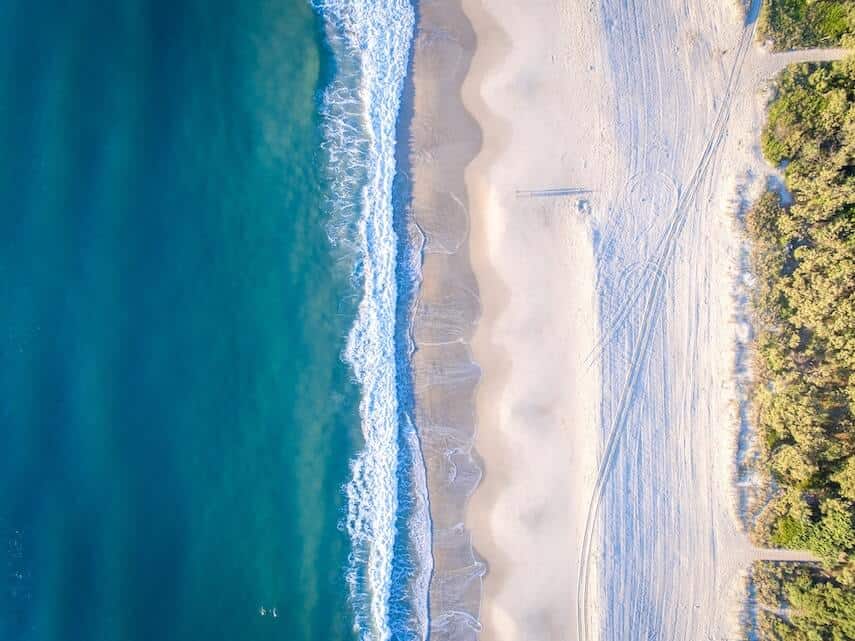 Burleigh Heads is one of the best beaches in Queensland, attracting over 100,000 visitors every year! Despite its many visitors, Burleigh manages to retain all of its natural beauty and charm that made it so beloved in the first place.
Burleigh Heads Beach is safe for swimming, but it's the epic surfing conditions that really put Burleigh Heads on the map. After all, the first one-on-one professional surfing competition was held here!
The beach is famous for its incredible sunrises, when the sky is streaked with vibrant pinks, oranges and yellows. The locals love to watch the sunrise on the beach and follow it up with breakfast at one of Burleigh's most beloved spots – Commune Cafe.
There's also a short coastal walk you can join at Burleigh Heads which lasts for 1.5 miles and takes in the beauty spot of Tallebudgera Creek.
How to get to Burleigh Heads Beach: Burleigh Heads is just above the QLD-NSW border in Burleigh Heads National Park, 13km south of Gold Coast and 85km south of Brisbane. It's easy to visit by car or public transport.
.
North Stradbroke Island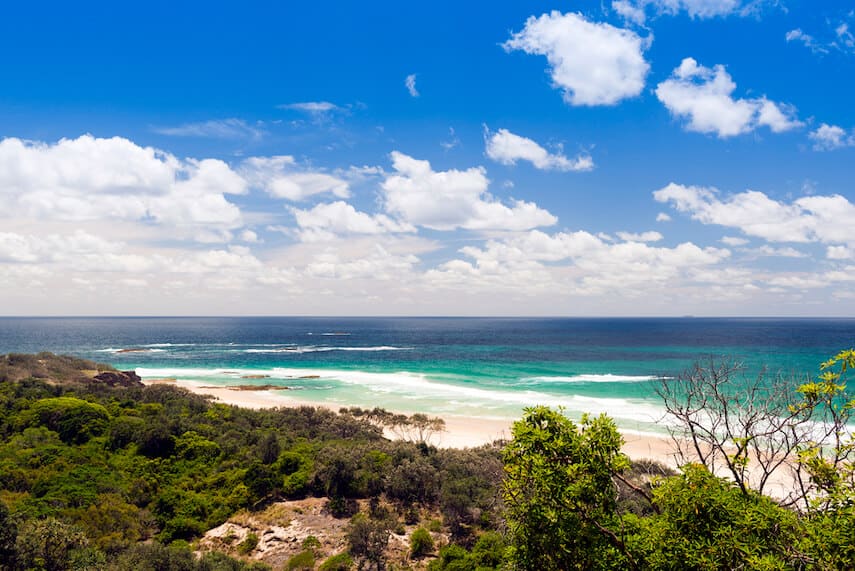 North Stradbroke Island, or Straddie – as it is affectionately known by the locals – is a sub-tropical island, located 30 km southeast of Brisbane. At approximately 38 km long and 11 km wide it is the world's second-largest sand island surrounded by turquoise waters and peppered with stunning beaches.
This does not make it easy to try and pinpoint where the best beach on Straddie is though, and to be honest, will depend on what you are looking for in a beach. For clear blue waters and a long stretch of golden sand, head to Adams Beach; for fishing or crabbing, Bradbury's Beach is the place for you and surfers can't go wrong with the beaches at Point Lookout. And if none of these take your fancy, there are plenty more to chose from!
How to get to North Stradbroke Island: From Brisbane, head to Cleveland for all water taxi, passenger and vehicle ferries. It's an approximately 50-minute drive from Brisbane CBD.
.
Elliott Heads Beach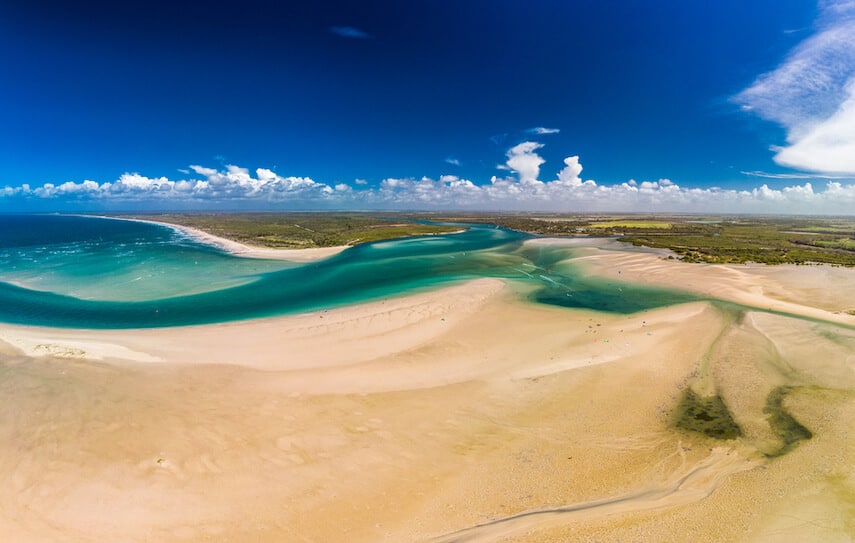 One of the most stunning QLD beaches, Elliott Heads is a short 15-minute drive from Bundaberg Central Business District (CBD) and has a really remote feel with its huge expanse of sand which is surrounded by rural cane and small crop farms.
This surf beach is seasonally patrolled, although is extremely tidal, so if you are visiting with littlies, we recommend you stick to the Elliott River mouth area where the waters are calmer and there are plenty of rockpools to play in. It's also a great place to snorkel or hop on a stand-up paddleboard.
Elliott Heads is also popular with sufers, jet-skiers, kite-surfers as well as fishermen.
How to get to Elliot Heads Beach: Popular with campers and grey nomads, Elliott heads is a 4-5 hour drive north of Brisbane (and is often overlooked by nearby Hervey Bay and Fraser Island). Simply hit the M1, keep driving until you hit the A1 and turn right when you see the signs. Or hop on a domestic flight to Bundaberg Airport, from where it is a 25 minute drive to Elliott Heads.
.
75-Mile Beach, Fraser Island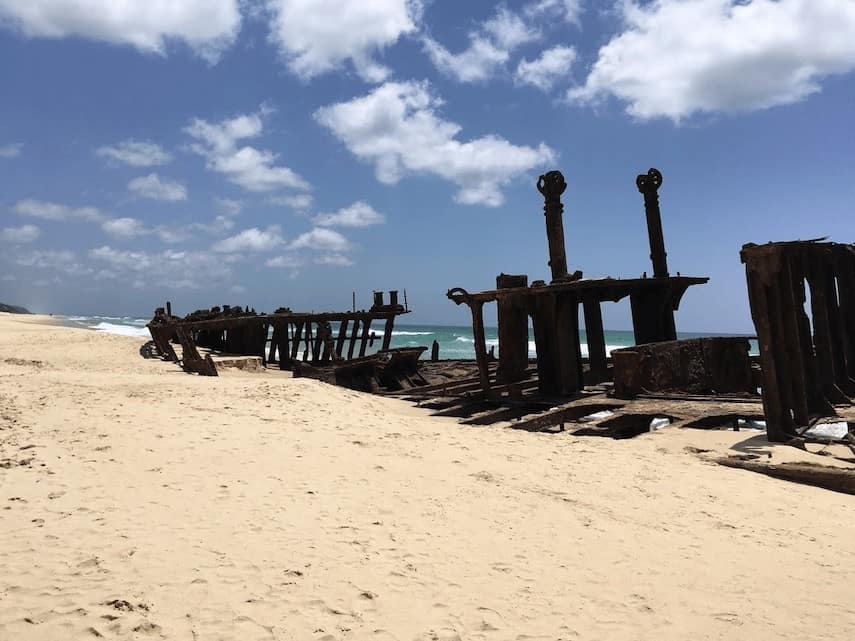 Unlike a typical beach, you're unlikely to do any sunbathing on 75 Mile Beach. This huge stretch of sand lines the entire Eastern side of Fraser Island, and acts as the main 'road' of the island.
Unfortunately, due to dangerous rip tides and a huge population of sharks, you can't swim at 75-mile beach, but the beautiful swimming spots of Lake Wabby and Lake McKenzie are just a short drive away from 75 mile beach and are ideal for sunbathing and swimming.
The best activity to do on 75 mile beach is to zoom along it in a 4wd vehicle. As you do this you can take in the isolated beauty of Fraser Island, try to spot some of the native dingoes, and stop off at some of Fraser Island's best tourist attractions. These include the Wreck of the SS Maheno, which is right on the beach, and floating down Eli Creek to cool off.
How to Get to Fraser Island: To get to Fraser Island, you'll either need a very durable 4wd, or to join a group tour. Ferries run from Rainbow Beach to Fraser Island daily, between 6am and 5pm.
.
Tangalooma Wrecks Beach, Moreton Island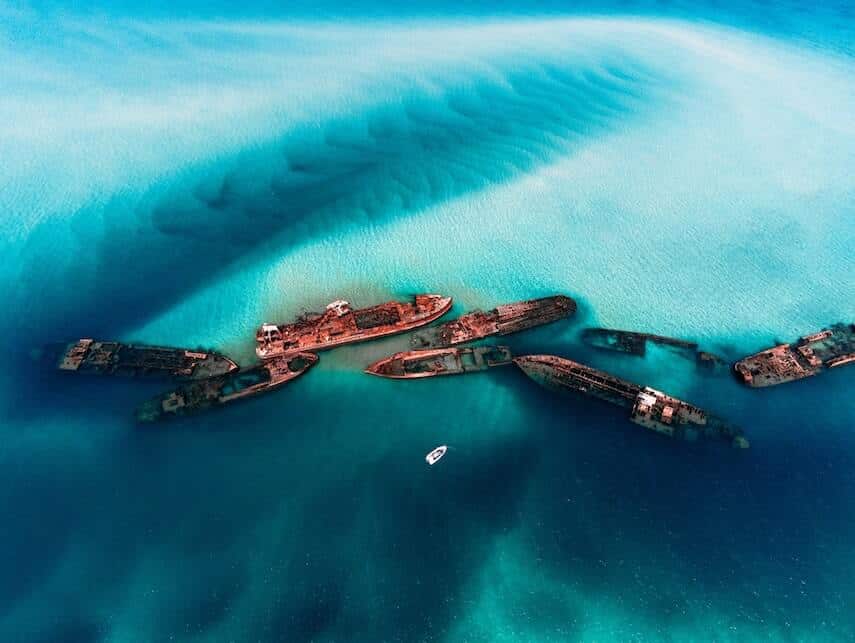 Just a 75 minute ferry ride away from Brisbane is Moreton Island, a popular day trip destination and the third largest sand island in the world. Right by the ferry port you'll find the famous Tangalooma Wrecks beach, one of the main tourist attractions on the island.
This beach has perfect powdery white sand, clear blue waters and, of course, the Tangalooma Wrecks, a set of ships deliberately sunk in 1963 to create a safe harbour for small boats to dock at the island. Snorkelling or kayaking around the wrecks is the best way to explore them, and you'll be amazed at all the weird and brightly coloured fish swimming in the water around the wrecks.
The water is safe to swim in around the wreck area, but we wouldn't recommend swimming past the wrecks or in areas further away from them, as there are no lifeguards on the beach.
Getting to Tangalooma Beach: Ferries run between Holt Street Wharf in Brisbane and Tangalooma Beach on Moreton Island multiple times a day. If you're just staying at the beach or visiting the Tangalooma Resort you can arrive on the island on foot. If you're planning to drive on the island you'll need a sturdy 4wd.
Day tours of Moreton Island from Brisbane are incredibly popular and are the ideal way to explore the island without your own vehicle.
.
Palm Cove Beach, Palm Cove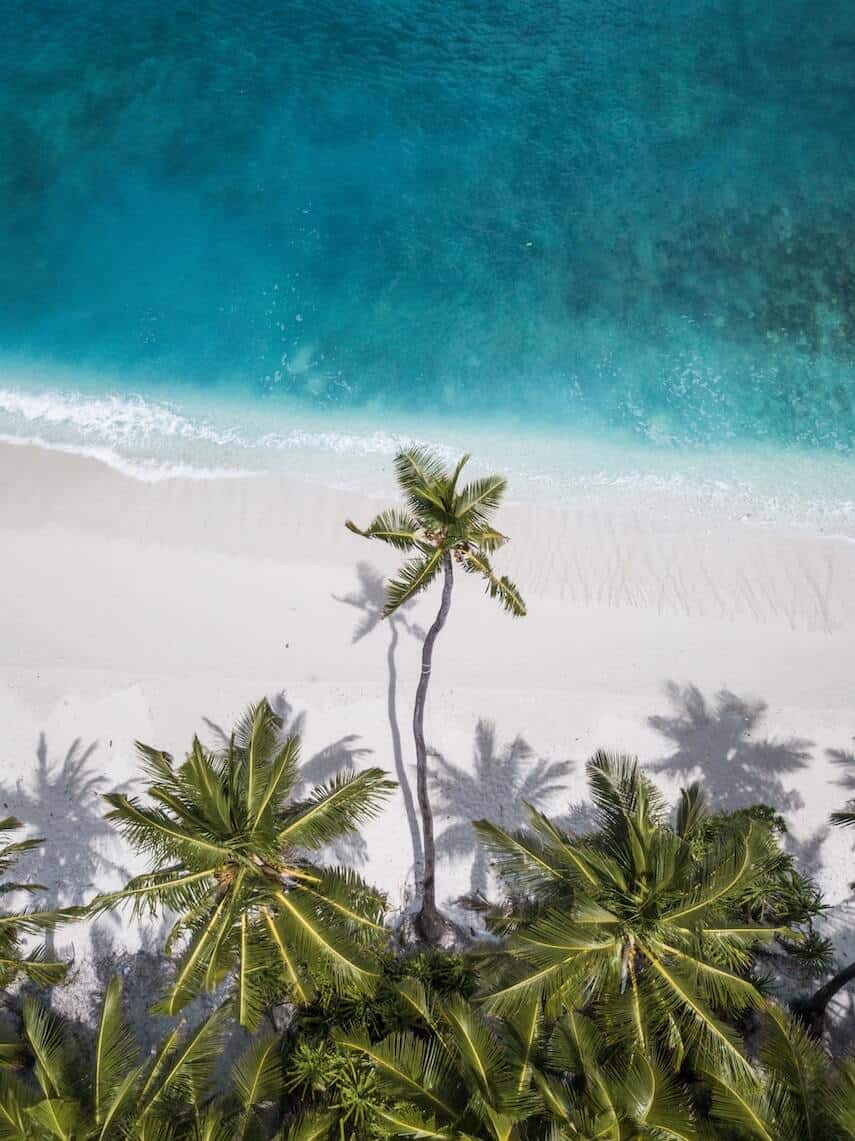 If you're looking for the best beach near Cairns, look no further than Palm Cove Beach, which is just a 25-minute drive away from the city. Since the beach is in Tropical North Queensland, stinger season runs from October-May. Fortunately, Palm Cove Beach has stinger nets during this time, meaning you can swim safely in calm waters.
Unfortunately, you can't surf this far north. However, near the beach, you'll find a watersports shop where you can hire kayaks and stand up paddleboards.
The palm trees lining the beach offer shade from the harsh sun, perfect for sheltering during the hottest parts of the day, and the beach is clean and perfect for sunbathing.
How to Get to Palm Cove Beach: The drive from Cairns to Palm Cove Beach is around 25 minutes, and direct buses also run between Cairns and Palm Cove Beach.
*OUR TOP TIP* If you're this far north, be sure to include a trip up to Port Douglas, Cape Tribulation and the Daintree Rainforest – they are some of the most beautiful places to visit in Queensland.
.
Nudey Beach, Fitzroy Island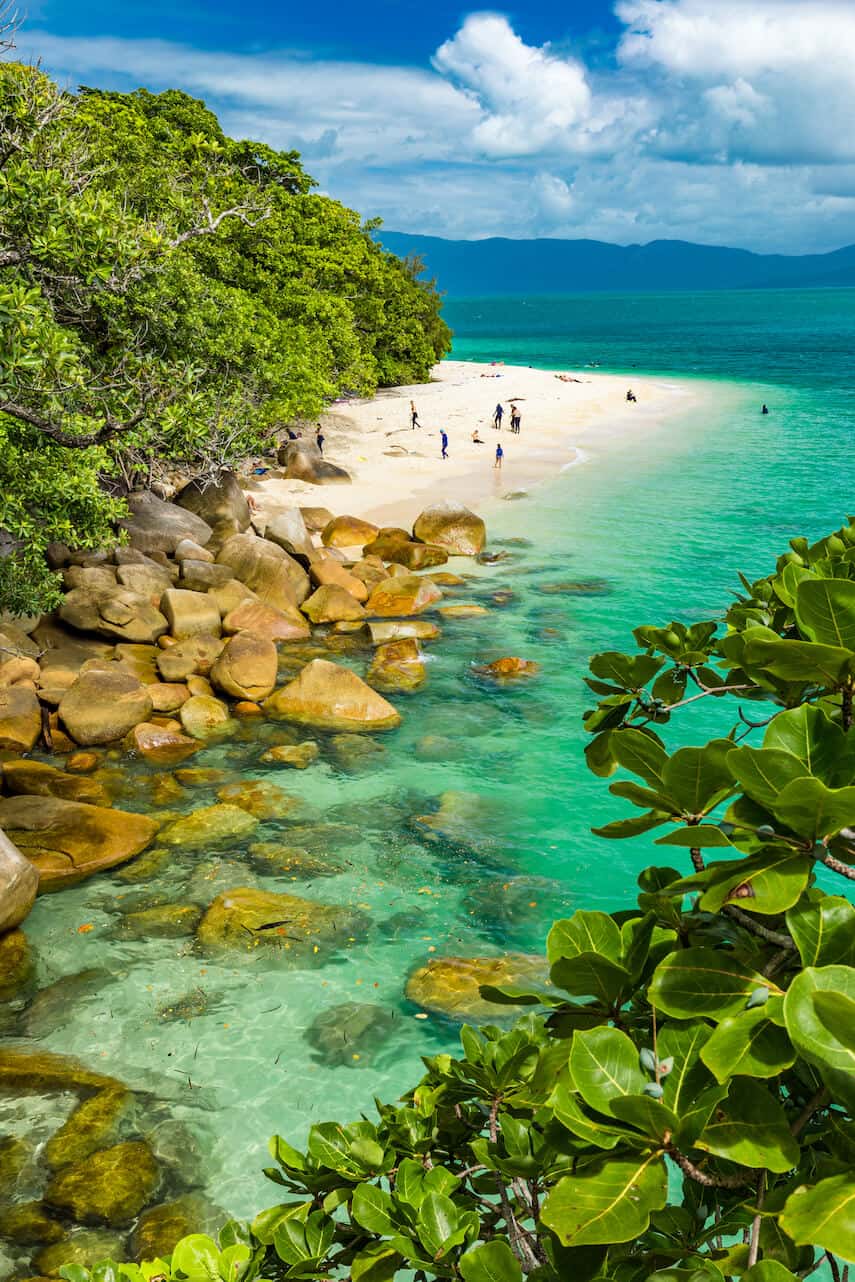 Nudey Beach is one of the main attractions of Fitzroy Island, and with pristine white sands, tropical warm water and often only a handful of others to share the beach with, it's no surprise why.
Located in Far North Tropical Queensland, Nudey Beach gets warm weather year-round, making it perfect for some winter sunbathing. If you're looking to be more active, Nudey Beach is a perfect spot for swimming and snorkelling. Coral reefs surround the beach, making it the ideal spot to explore part of the Great Barrier Reef without having to join an expensive tour.
Despite its unusual name, Nudey Beach is not, in fact, a nudist beach, and is actually very family-friendly!
Getting to Nudey Beach: Ferries run between Cairns and Welcome Bay on Fitzroy Island daily, and the journey takes just 45 minutes. From Welcome Bay, Nudey Beach is a very scenic 15-minute walk away.
.
And that's a wrap folks! We hope you enjoyed our guide to the best beaches in Queensland Australia and Queensland travel guide. With 15 epic beaches to add to your Queensland bucket list, we know that you'll soon be falling as hard for Queensland as we did!
Are any of the beaches we mentioned your favourite beach in Queensland? Let us know in the comments! And if you know of anyone heading to QLD who love the beach, please share this article with them via Facebook, Pinterest, Twitter, Whatsapp or Flipboard. Just remember, sharing is caring!
READY MORE TRAVEL INSPIRATION? YOU MIGHT BE INTERESTED IN THESE RECENT POSTS, TRAVEL ARTICLES, DESTINATION GUIDES, TRAVELER RESOURCES, TRAVEL GEAR GUIDES AND RELATED POSTS ABOUT OTHER AMAZING PLACES AROUND AUSTRALIA: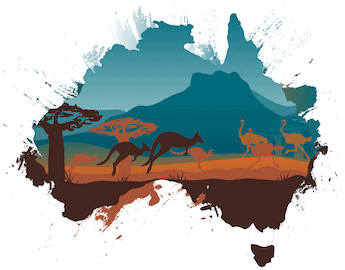 Hi There! Thanks for reading our guide to The Best Beaches in Queensland (inc. Map & Photos) I just wanted to let you know that this post contains affiliate links, which means if you purchase something after clicking a link, I may get a small commission – which is at absolutely no cost to you. If you enjoyed this article and are going to be searching for some of the things I mention anyway, I would love it if you could click through from the links above & thank you in advance! Read my full disclosure here.