Heading out on the open road makes for some of the best adventures + these iconic Australian Road Trips should be all the inspiration you need to hit the road and explore Australia in 2022.
Australia's rich and diverse landscape is a reason that world travellers have visiting Australia on their bucket list. There is no better way to see some of the magnificent hidden gems than by road. Even Australians have some sort of road trip on their travel bucket list.
From desert to beaches, wild native scrub to historical towns, Australia does not disappoint when it comes to sightseeing.
Not in any particular order, here are 16 bucket-list-worthy road trips in Australia.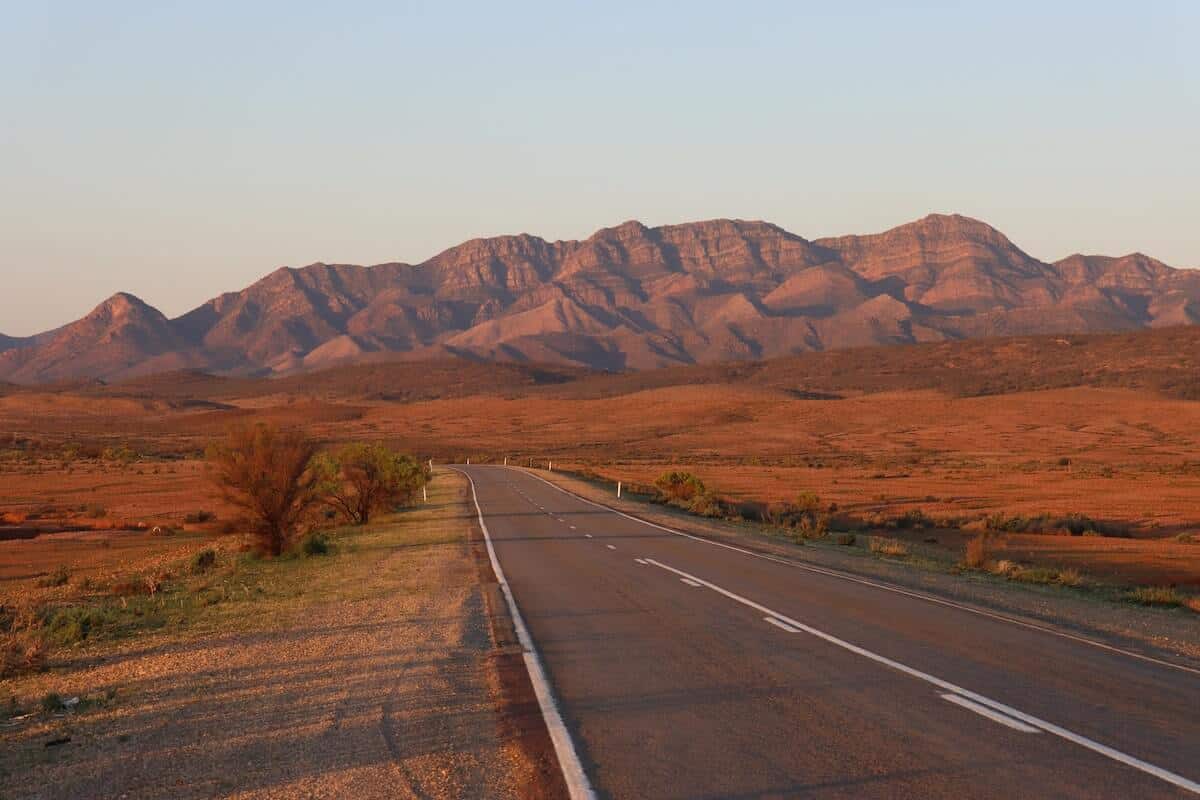 Disclaimer: Almost all posts on this site contain affiliate links. This means that if you click on any of the links in our guide to the best road trips in Australia, we may receive a small commission at absolutely no cost to you. Each post is carefully crafted to (hopefully!) answer all your questions and recommendations are made where we believe they will improve your trip and help with your planning. As such we thank you in advance should you decide to click, buy or book. Read our full Disclosure here.
The Big Lap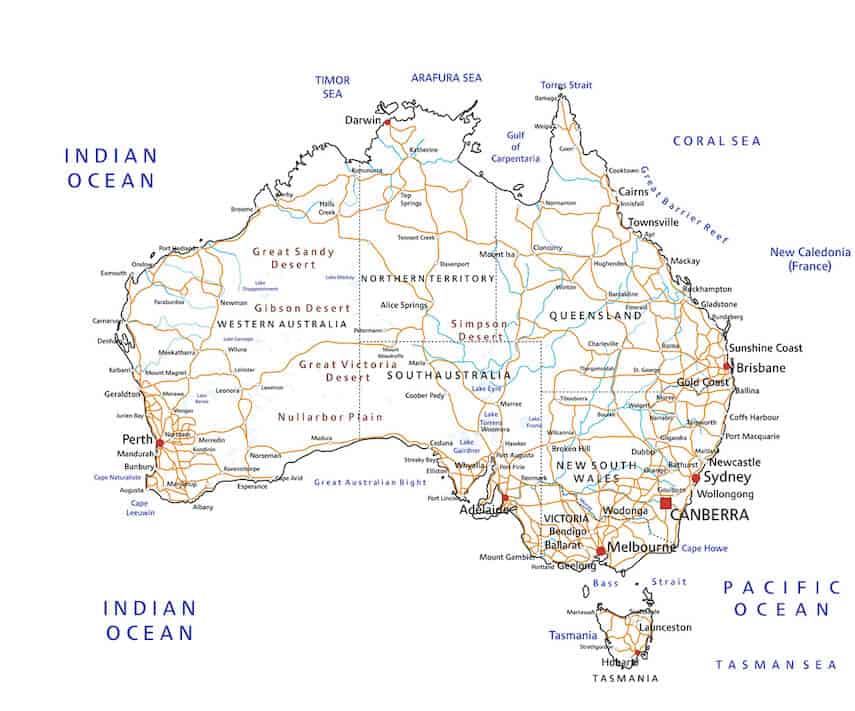 Route: Start and End points can be anywhere – you're going in one huge loop!
Highlights: Everything!
You can't start a list about bucket list worthy road trips in Australia without mentioning The Big Lap. Stretching around the country, from capital city to capital city on the mainland, it is often a road trip lover's dream to travel all around Australia with a fully stocked caravan or mobile home. (Click here to learn more about living in a van!)
Travel the 14,500 kilometres through some of the most spectacular sites of mainland Australia, a lot of which feature on this list! Don't forget to add on Tasmania if you can, and try to complete the Big Lap without an end date. You want to be able to enjoy everything at your own pace especially with a road trip as epic as this.
Red Centre Way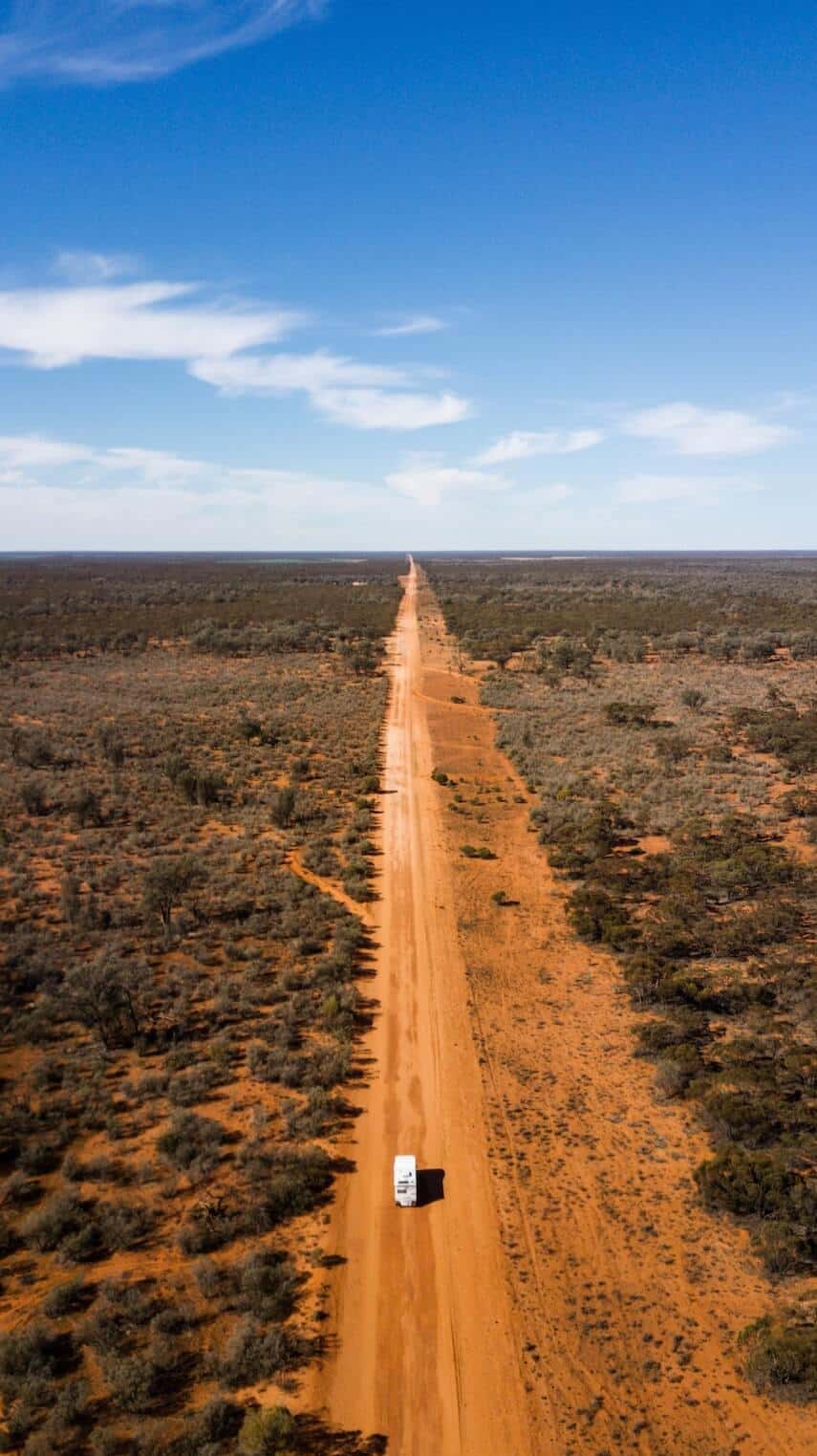 Route: Alice Springs to Alice Springs (via the 'outer loop' – Namatjira Drive)
Highlights: Uluru, Kata Tjuta, Watarrka / Kings Canyon, West MacDonnell Ranges, Simpsons Gap, Standley Chasm, Ellery Creek Big Hole etc.
A 4WD is definitely recommended for this outback road trip in the Northern Territory which starts in Alice Springs and takes you through the magnificent West MacDonnell Ranges, Watarrka/Kings Canyon, and ends at Uluru.
Waterhole swimming, magnificent gorges and breath-taking Indigenous sites are all part of this 1135 kilometre journey. Bring plenty of water, don't wear white and be in awe of the stunning rock formations and colours throughout this journey.
If you are new to road tripping in remote areas, there are tour groups you can join for the Red Centre Way, some allowing you to use your own car.
EXTRA: Get back to city life and extend your road trip through the middle of Australia by continuing to drive South to Adelaide which will give you the opportunity to visit the underground town of Coober Pedy, the wine region of Clare Valley and (with a slight detour) explore the magnificent Ikara Flinders Ranges National Park.
75 Mile Beach Road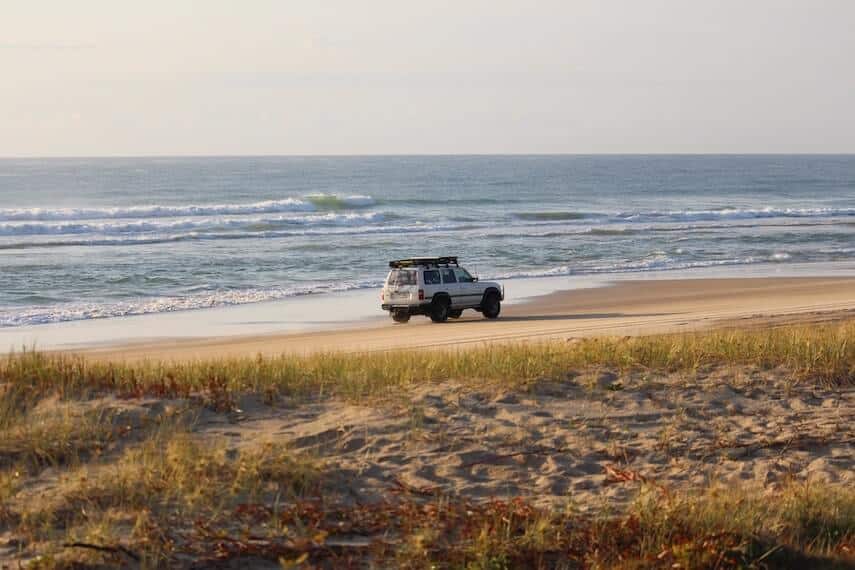 Route: On the East side of Fraser Island, the beach road runs from the top to the bottom.
Highlights: Maheno shipwreck, Champagne Pools, beach fishing and the volcanic rock formation of Indian Head.
Safe to say that if you are working your way through some of Australia's bucket worthy road trips then you are probably doing so in a four-wheel drive (4WD).
As one of the most memorable coastal drives in the world, 75 Mile Beach Road is incredible. But driving along here isn't for the faint-hearted. The east coast of Fraser Island has tides that change the surface regularly, making hidden bumps and potholes and changing the texture of the sand. Then there is the population of dingoes to keep an eye out for.
While it is a challenge, this memorable and unique style of road trip and a spot of beach driving is worthy of anyone's bucket list. It is a place for adventure, a challenging drive complemented by stunning beauty.
The Savannah Way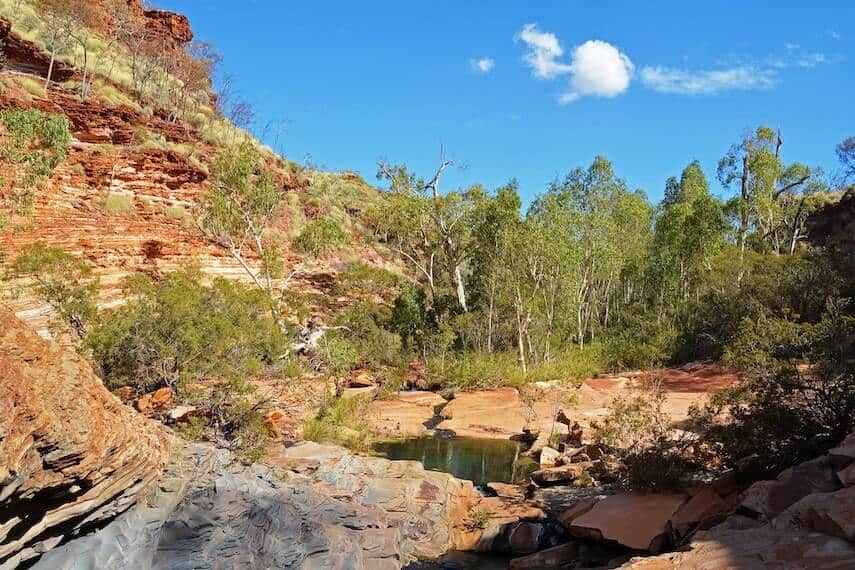 Route: Broome to Cairns via Katherine (option to detour north from Katherine to Darwin via Kakadu National Park & Litchfield National Park)
Highlights: Emma Gorge, the Horizontal Waterfall, Purnululu, (the Bungle Bungles), Nitmiluk Gorge, Adel's Grove, The Lost City, Hell's Gate, Undara Lava Tubes, Atherton Tablelands
You'll need a minimum of 2 weeks to travel through 3 Australian States, 20 National Parks and 5 World Heritage Sites when taking on this epic road trip along The Savannah Way.
This journey will take you to breathtaking waterfalls that fall to calm rock pools, and sacred indigenous sites. A 4WD is recommended as the terrain is quite diverse and not all parts of this road trip are sealed.
The 3,700-kilometre journey is best accompanied by easy to set up camping equipment, fishing gear, and no set itinerary, as this will be one of the most special road trips you ever do – especially when you include Cable Beach, Katherine Gorge and so many other incredible sights!
Regardless of whether you start in Broome, Western Australia or Cairns in Queensland, and depending on your vehicle (i.e. if you have a 4 Wheel Drive), you may also have the option to include another bucket list worthy Australian road trip – the Gibb River Road (Number 15, below), ticking off two road trips from this list!
Great Alpine Road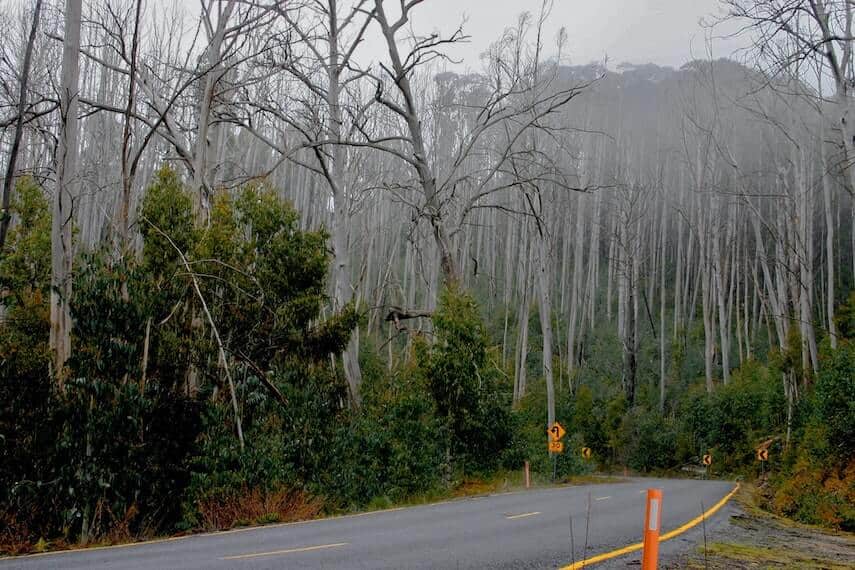 Route: Wangaratta to Bairnsdale (or reverse).
Highlights: Gippsland Lakes, Mount Hotham, Mount Buffalo National Park, Ninety Mile Beach
Winding 339 kilometres through rural Victoria, you'll encounter some of the most epic landscapes in the state. From forests, vineyards, the alpine region and glistening waters of the Gippsland Coast. Rich in history from the gold rush era, you will be surrounded by natural wonders during this trip.
Depending on the season, you can enjoy this road trip in a regular car as all the roads are sealed. However, be aware for possible snowfall when travelling in winter to ensure you have the correct tyres and associated cold weather gear to enjoy this road trip.
The Convict Trail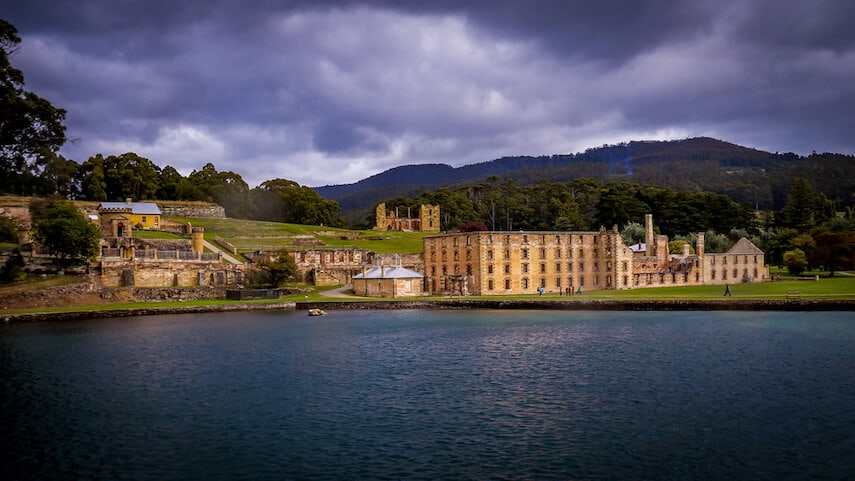 Route: Hobart to Richmond to Port Arthur to Hobart
Highlights: Port Arthur Historic Site, Coal River Valley wine region, Pirates Bay, Rock formations of Devil's Kitchen, Tasman Arch and Remarkable Cave.
There is nothing quite like a road trip around Tasmania, so it is sad to think that some people don't include it in their Big Lap. Regardless of when you get there, road trips in Tasmania are some of the most special in Australia, and the convict trail is one of them.
A suggested four-day itinerary of the Convict Trail is the way to go. It allows you to see all the important historical sites and takes no more than one hour and a half of driving daily, from stop to stop.
Visit the Richmond Gaol set in the beautiful countryside and nearby, have the chance to try some of the best pies in Tassie at the Richmond Bakery. The trail also takes you to the infamous Port Arthur – a site to see not only for its rich history but for its sad significance in modern Australia.
Cairns to Cape York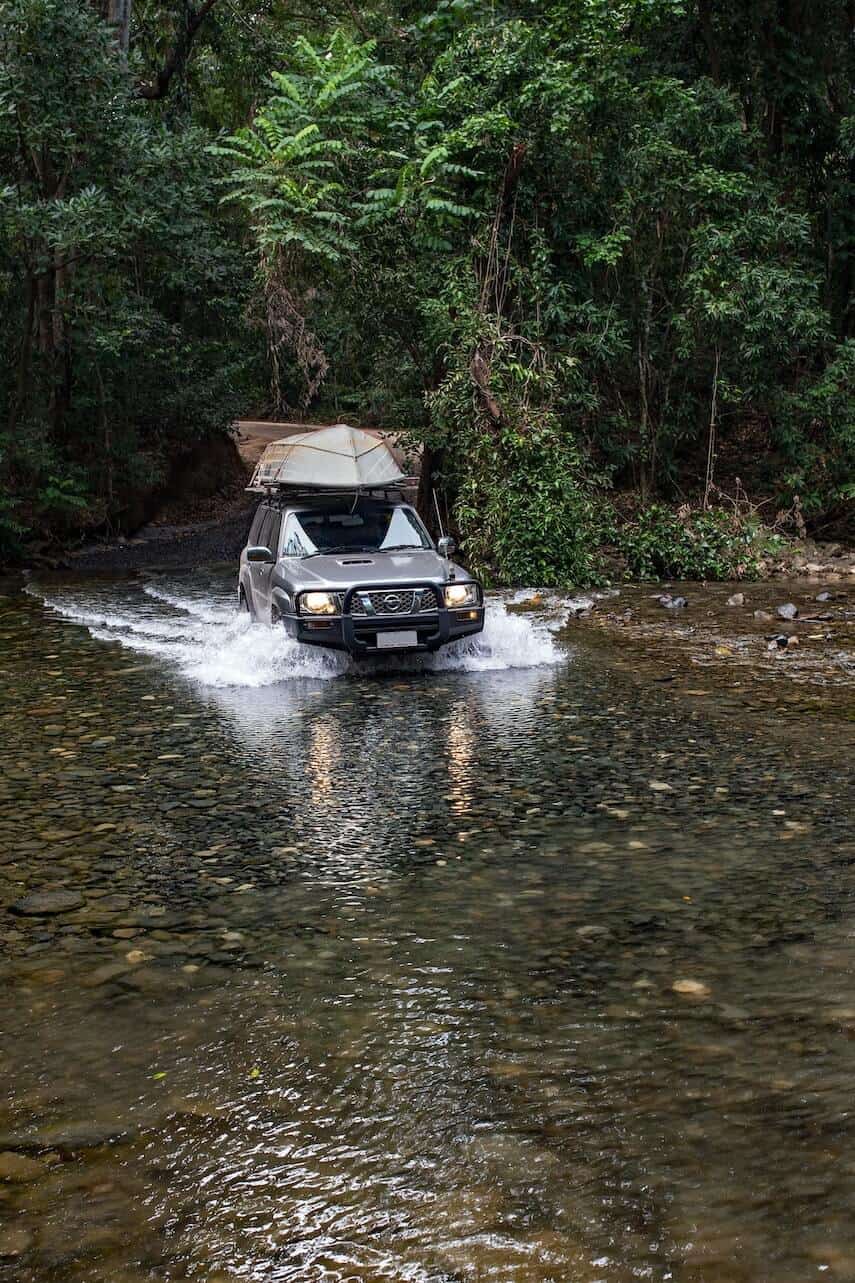 Route: Cairns to Cape York via Cooktown
Highlights: Mossman Gorge, Karunda Markets, Port Douglas, Bloomfield Track, James Cook Museum, Rinyirru (Lakefield) National Park, Fruit Bat Falls.
Hopping in a 4WD and driving to the tropical North of Australia is certainly up there on a road trip bucket list. The goal is to make it to the famous "You Are Standing at the Northernmost Point of the Australian Continent" sign, which obviously points out where you are (and we recommend you take a photo to mark the overwhelming sensation of where you really are!)
Not only are you met with gorgeous scenery for the whole of the 1,964-kilometres of this Queensland road trip, from Cairns to Cape Tribulation (and beyond!) you can drive through the incredible Daintree Rainforest and once you get to Cape York, exploring on foot is the best part. With two walks known as the Top Walk and the Bottom Walk, you can stroll along them to explore the rock pools and enjoy the unique coastal landscape.
.
Extra: Take an optional detour from the tip of the top and tour the Torres Strait Islands – some of the most incredible islands of Australia.
The Great Ocean Road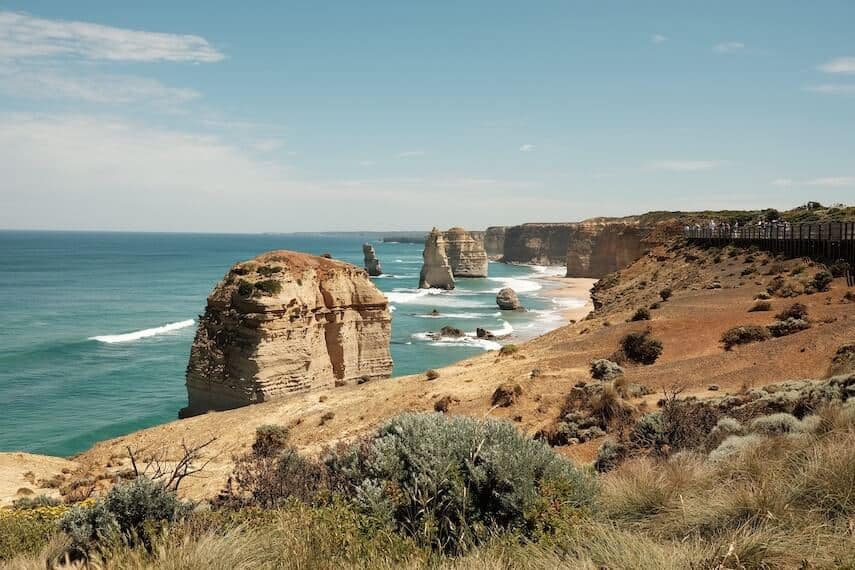 Route: Torquay to Allansford
Highlights: Twelve Apostles, Gibson Steps, Loch Ard Gorge, Erskine Falls, Hopeton Falls, Redwood Forest, Memorial Arch
Probably the best-known road trip outside of Australia is the road trip to see the iconic Twelve Apostles in Victoria. Start this journey from the surfing hot spot Torquay and keep venturing past tranquil beaches, explore cute towns, hike the ancient Otway Rainforest and chase more waterfalls than you can shake a stick at!
The Great Ocean Road Victoria is easily done by car and offers lots of great camping spots for those who have tents or have a van where you can sleep on the roof. There is also plenty of traditional accommodation (hotels, BnB's, vacation rentals etc), making it a great getaway option for any time of year.
Kangaroo Island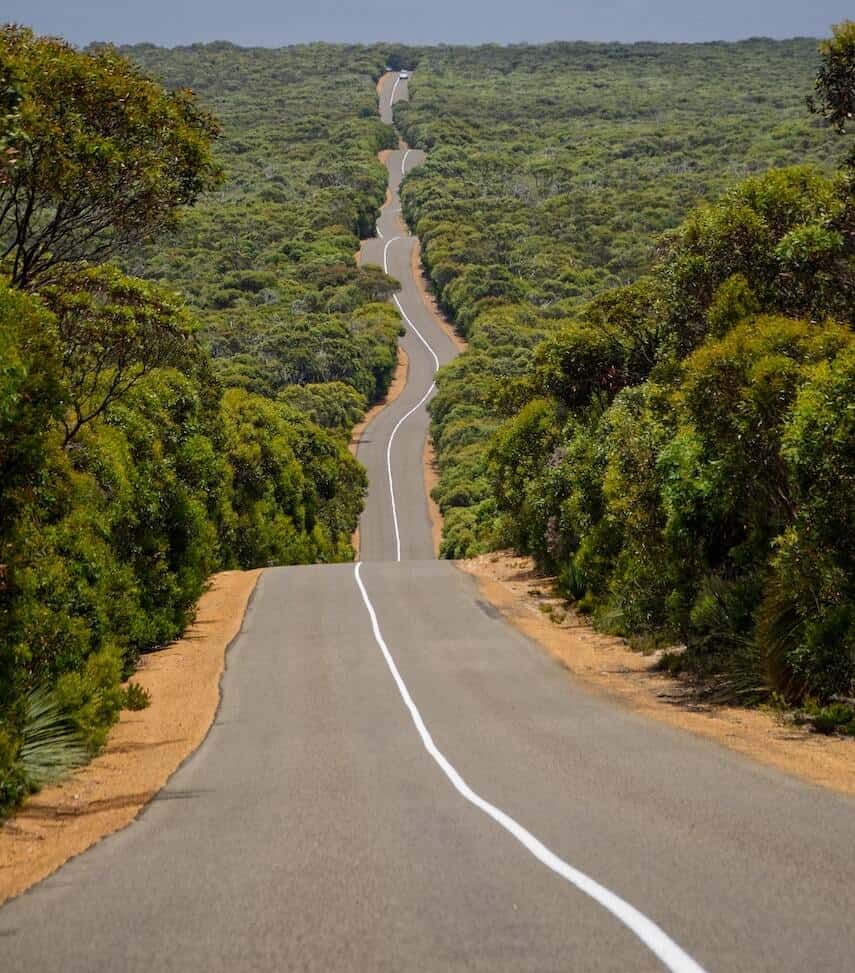 Route: This one is pretty much up to you! The island is quite small (150km x 57km) so you can see quite a lot in the 3-4 days.
Highlights: Flinders Chase National Park, Stokes Bay, King George Beach, Emu Bay, Cape Du Couedic road (that's the windy one through the National Park, above!), Remarkable Rocks, Little Sahara, Prospect Hill, Vivonne Bay.
Do your travel-loving self a favour and spend (al least!) three days driving around Kangaroo Island. Perfect for a long weekend road trip, you will see some of Australia's most stunning beaches on the edge of bushland full of unique Australian wildlife.
There are many set routes that you can take, or see where the wind (or the road) takes you.
With every road you take you will find amazing local produce, such as lavender or honey and of course, seafood. There are even more than 10 wineries – one of which you can sit and sip a local blend while actually looking at mainland Australia!
Sydney to Brisbane Coastal Drive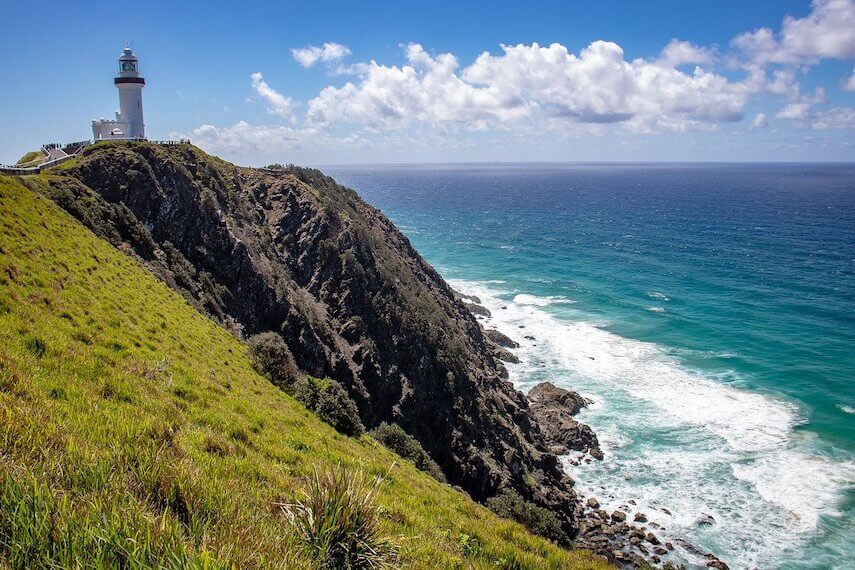 Route: Sydney to Brisbane (or reverse).
Highlights: Port Stephens, Newcastle, Seal Rocks, Booti Booti National Park, Port Macquarie, Yamba, Byron Bay, Lamington National Park, Burleigh Heads, Gold Coast.
The coastal drive from Brisbane to Sydney can be pieced together depending on the types of stops that you make. Surfing, cute coffee shops and farmer's markets are in abundance along this stunning coast.
The complete journey from the QLD capital city to the NSW capital city is 920 km on the coast road, and 974km via the inland highway. To really see all the best stops allow anywhere for 7 to 14 days for your journey, meaning that each time you drive you won't need to be in the car for long at all.
From the iconic Byron Bay to Gold Coast theme parks, Stradbroke Island and national parks waiting for you to explore, this is a road trip where you can plan every detail or leave everything to chance, especially if you are free camping along the legendary Pacific Coast.
The Nullarbor Plain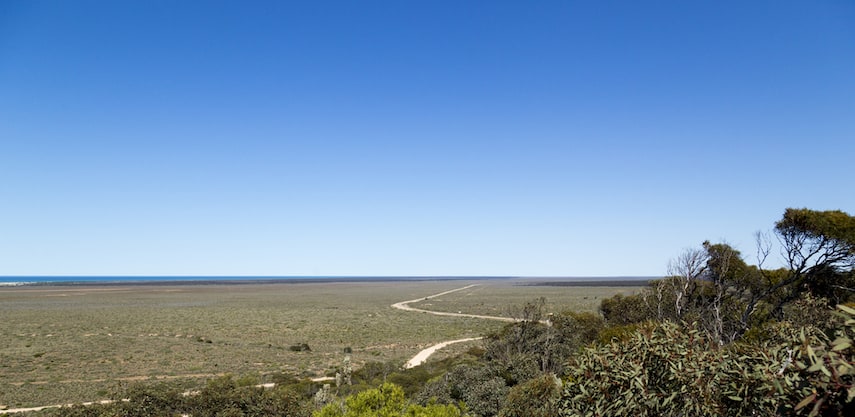 Route: Norseman in Western Australia to Ceduna in South Australia – or reverse.
Highlights: Drive the longest, straightest, flattest road in Australia, explore the Eyre Peninsula, go Whale Watching along the world's longest line of sea cliffs, keep an eye out for Space Junk that fell to earth.
It can seem overwhelming to think about the vast road ahead of you before you take on the Nullarbor plain. Drive from Adelaide to Perth via the Eyre Highway through the stunning Eyre Peninsula and the Western Australian goldfields.
This 1,256-kilometre journey will take 6 days with moderate stopping. Open plains one minute and native scrub the next, you can tailor the drive around wildlife spotting, with whale watching on the coast and camels, emus, kangaroos, and the possibility of spotting a wombat – or maybe even a thorny dragon – inland.
Tackle this journey in a 4WD and be careful at dusk when the unique Australian wildlife likes to come out to play.
Great Eastern Drive Tasmania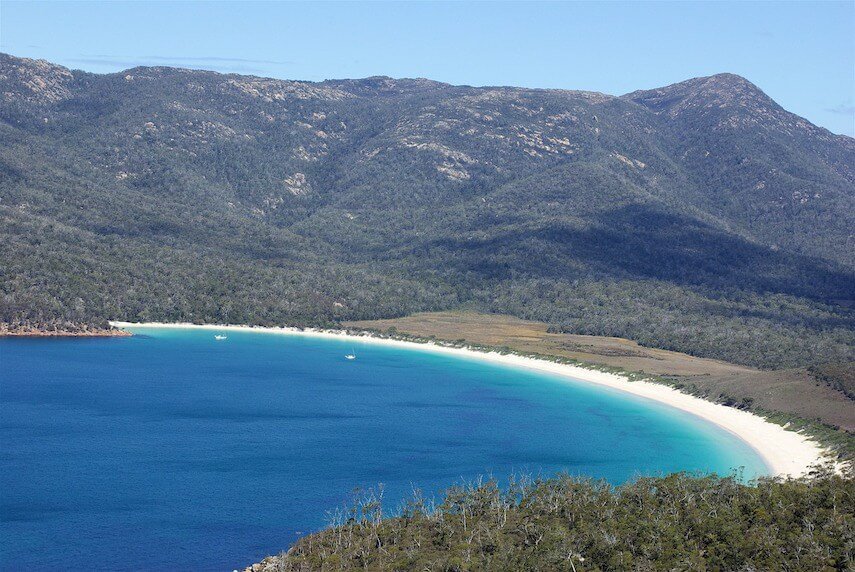 Route: Hobart to Orford to St Helen's to Bay of Fires (or reverse).
Highlights: Maria Island National Park, Freycinet National Park, Wineglass Bay, Mayfield Beach, Spiky Beach.
Heading to Tasmania again, this five-day drive takes you through seaside villages, all surrounded by nature along 176km of Tasmania's East Coast,
You will be hiking in peaceful national parks in the morning and heading on sandy walking trails at sunset. Dine on fresh seafood, with scenery that is like nothing else you will see in Australia.
The breathtaking Wineglass Bay in Freycinet National Park and the beautiful Bay of Fires are the main reasons that this road trip needs to be on the bucket list, as the waters in these areas do appear like they are hundreds of different shades of blue.
Grand Pacific Highway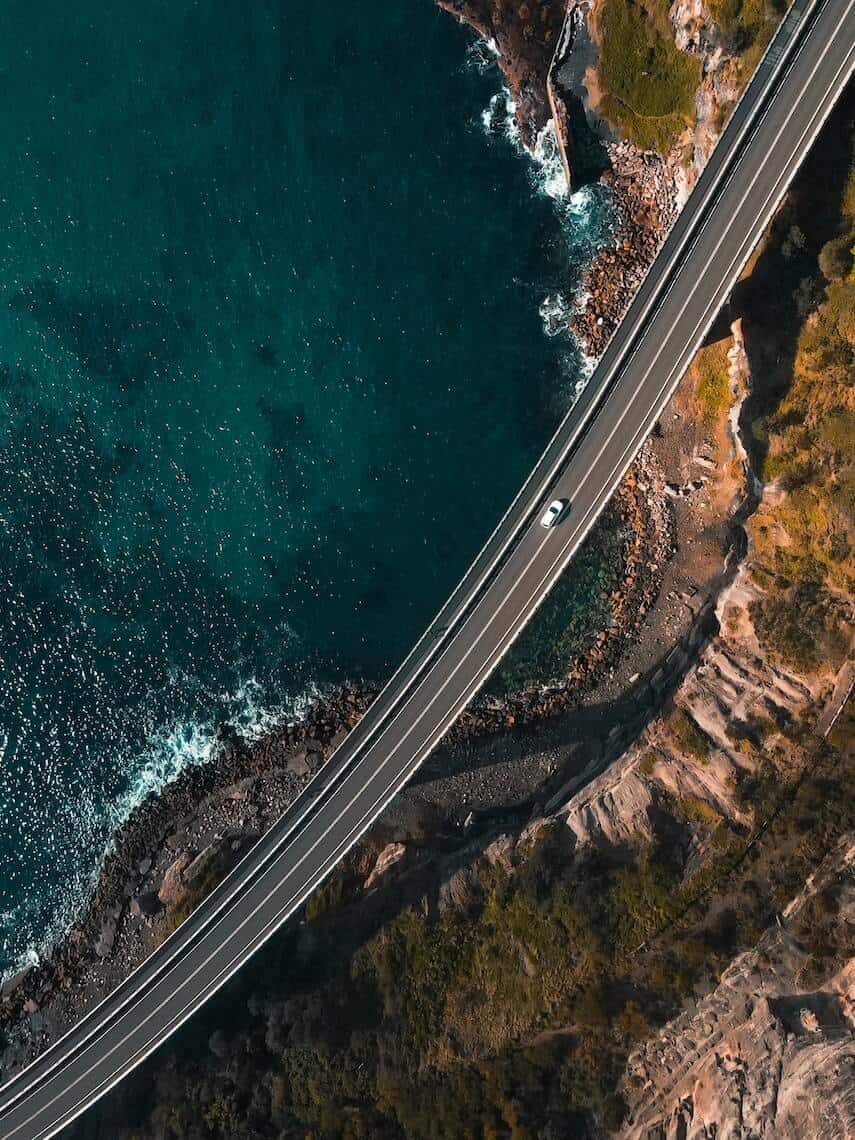 Route: Loftus to Nowra (or reverse)
Highlights: Royal National Park, Sea Cliff Bridge, Symbio Wildlife Park, Wollongong, Kiama, Jervis Bay, Drakes Glenbernie Orchard, Belmore Basin, Shellharbour, Minnamurra Rainforest.
Drive out of bustling Sydney to the Grand Pacific Highway. At only 140 kilometres long, the Grand Pacific Drive is a perfect road trip for a long weekend, as it is one of the most incredible, chilled-out, ocean drives.
What makes this Pacific Coast road trip so unique is that some stretches of the road – such as the Sea Cliff Bridge (above) – appear to hover over the ocean and make you feel like you are flying over the rocky coastline.
And to pick your own snacks, time the planning of this well-loved road trip with picking your own fruit (in season) from Darkes Glenbernie Orchard, or strap yourself into the longest zipline in Australia at Illawarra Fly Treetop Adventures.
Great Barrier Reef Drive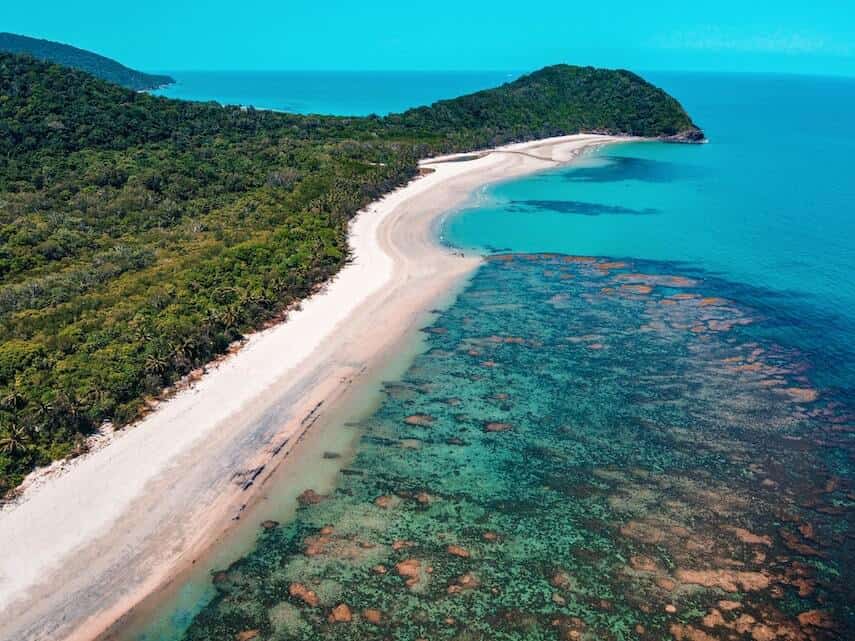 Route: Cairns to Cape Tribulation
Highlights: Mossman Gorge, Daintree Rainforest, Rex Lookout, Daintree Village, Great Barrier Reef, Palm Cove.
Whether you are a foodie or a water lover, then this road trip is great for you. The coastal road that runs along the spectacular coastline hugging two World Heritage areas, the Great Barrier Reef and the Wet Tropics rainforest and is home to some of Queensland's best beaches.
Base yourself in the beautiful town of Port Douglas and eat your body weight in fresh seafood from stunning restaurants or hop on a boat to discover more of the Great Barrier Reef up close; Or ride the Skyrail from Mossman Gorge and return via the Karunda Scenic Railway to experience the highs and the lows of the Daintree Rainforest.
Gibb River Road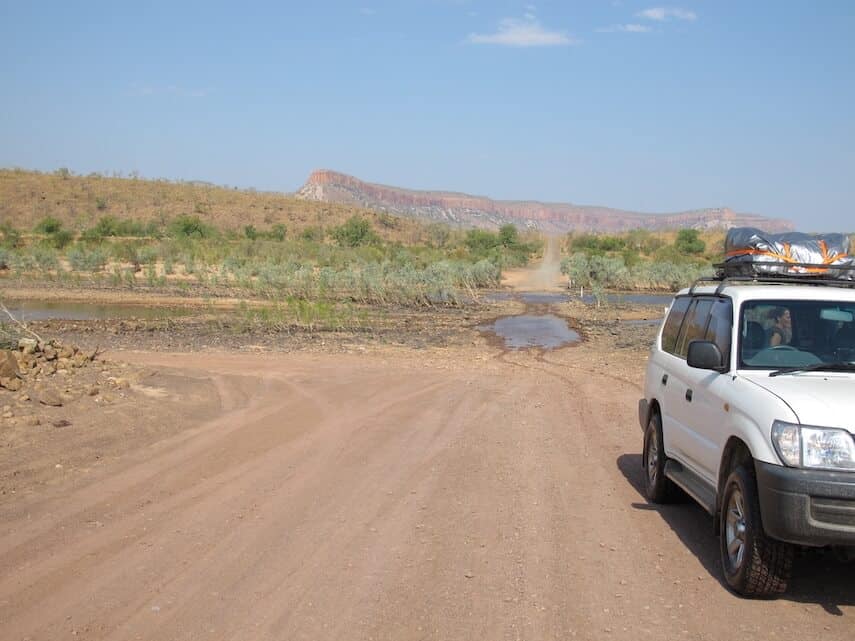 Route: Derby to Kununurra (or Wyndham) – or reverse.
Highlights: Windjana Gorge, Dimalurru (Tunnel Creek), Bell Gorge, Wunaamin-Miliwundi Ranges, Galvans Gorge, the beach at Hann River, El Questro Wilderness Park.
This is one of the outback drives that needs to be on a road trip lovers bucket list. The 660 kilometre stretch of road is only open from April to October due to weather so make sure you plan ahead and take your time to not miss anything – we'd recommend at least 14 days.
In Kununurra and Derby, you can find great Visitors Centres to help you plan your journey and to make sure you do not miss a site. Get ready to be in awe of waterfalls, wild swimming holes and the possibility to fish for barramundi.
A 4WD and being set up with enough supplies to camp is a must, as well as a fully charged camera to capture the breathtaking scenery.
Perth to Broome (Or Broome to Perth!)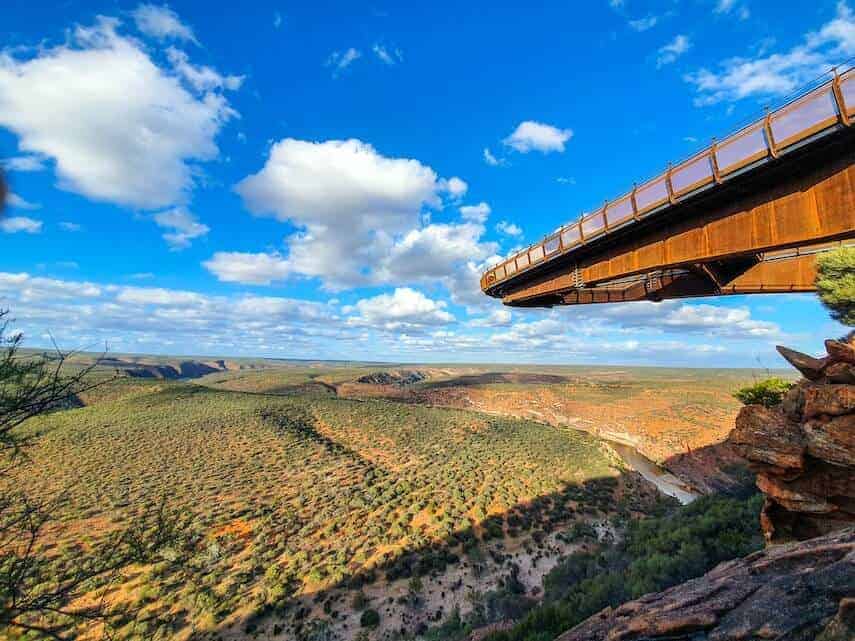 Route: Perth to Broome (or Broome to Perth)
Highlights: Monkey Mia, Ningaloo Reef, Pinnacles Desert (Nambung National Park), Cable Beach, Karijini National Park, Kalbarri National Park (above), Hutt Lagoon for the Pink Lake,
The coast of Western Australia is quite remote outside the major towns of Perth and Broome, and so while this does mean there are some big driving days, it doesn't mean there isn't an incredible amount of stunning places to see and experience.
Hug the coastline as you look for dolphins in Monkey Mia, swim with Whale Sharks (in season) on the Ningaloo Reef, relax on Eighty Mile Beach in Coral Bay, stare through Nature's Window in Kalbarri National Park and wander the Mars-like landscape of Nambung National Park (The Pinnacles) – just to name a few of the road trips attractions!
And whether you start or finish this Australian road trip in Perth, it would be criminal not to add on a sneaky little trip to the incredible Rottnest Island – clear blue waters, white sandy beaches, and of course, quokkas.
Related: While you're in WA, be sure to explore the South West including the Margaret River wine region,
Final Thoughts on these Iconic Australian Road Trips
As you can see Australia has road trips for everyone. Families who need all amenities and experienced off-roaders can find a stretch of road that is perfect for them to explore. Regardless of your road trip difficulty level, always make sure you are prepared with a working phone, plenty of bottled water and roadside assistance and your trip will run smoothly and will be one you remember for years.
We hope you enjoyed our guide to some of the Best Road Trips in Australia! Let us know where you want to head to first in the comments below, or alternatively let us know if you have already driven some of these amazing Australian road trips and what your favourite one was!
And if you know someone planning to road trip in Australia, or just needs a little inspiration to organise their next Australia road trip, be sure to share this post (and others!) with them using the share boxes below. Sharing is caring and we thank you in advance!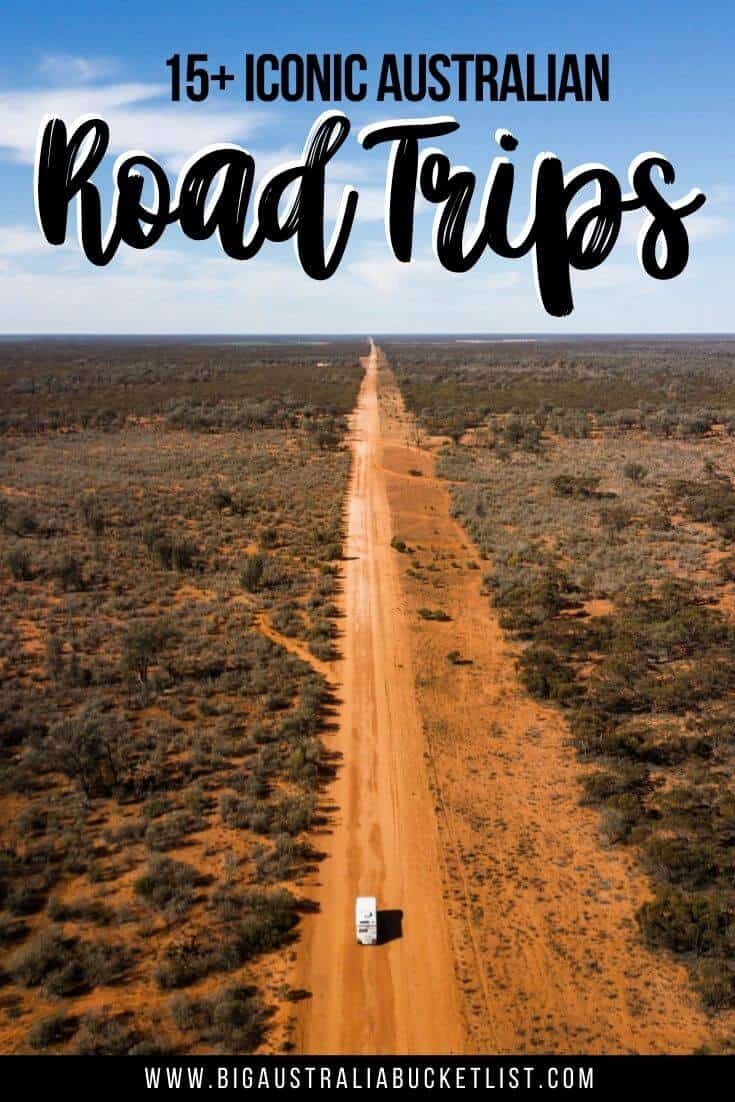 IF YOU ARE READY FOR SOME TRAVEL INSPIRATION YOU MIGHT BE INTERESTED IN THESE RECENT POSTS, TRAVEL ARTICLES, ROAD TRIP ITINERARIES, DESTINATION GUIDES, VISITOR GUIDES, TRAVELER RESOURCES, TRAVEL GEAR GUIDES AND RELATED POSTS ABOUT OTHER AMAZING PLACES AROUND AUSTRALIA: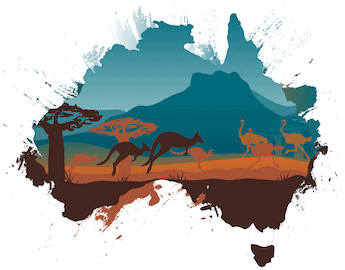 Hi There! Thanks for reading our travel guide to The Best Road Trips in Australia. I just wanted to let you know that this post may contain affiliate links, which means if you purchase something after clicking a link, I may get a small commission – which is at absolutely no cost to you. If you enjoyed this article and are going to be searching for some of the things I mention anyway, I would love it if you could click through from the links above & thank you in advance! Read my full disclosure here.